34,000 trees planted on Jurong Island since 2020 to enhance the environment, more than quadrupling the tree population on the island
The streetscapes of Jurong Island have undergone a lush facelift with the completion of a three-year greening project by JTC, the National Parks Board (NParks) and stakeholders to plant 34,000 trees on the island. This brings the total number of trees on Jurong Island today to 44,000, up from 10,000 in 2019, and enhances the island's greenery and biodiversity. This was possible due to the strong support of stakeholders on Jurong Island who contributed over $760,000 to support the tree-planting efforts by JTC and NParks and helped to plant trees. This reflects how the involvement of the community will continue to be key in Singapore's transformation into a City in Nature.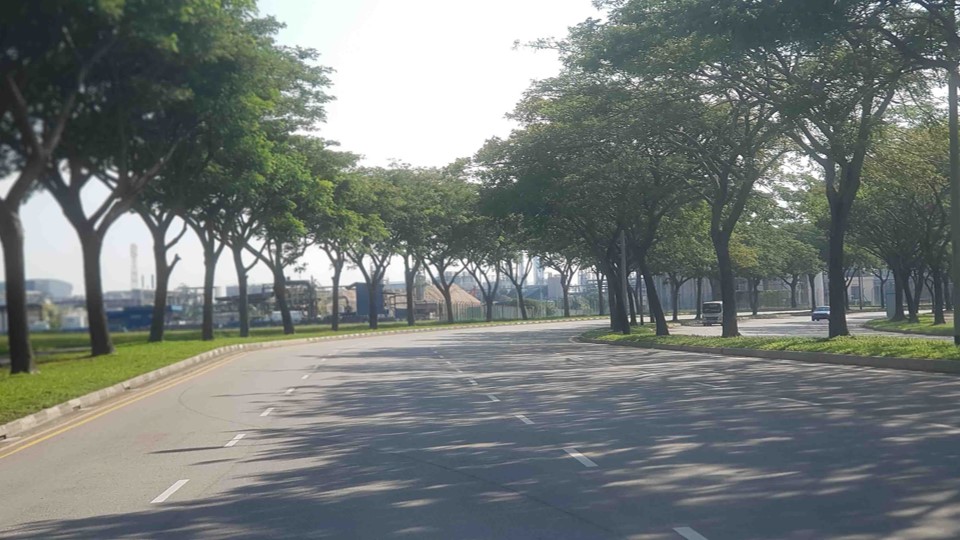 Before: Jurong Island Highway (photo taken in 2018)  Credit: NParks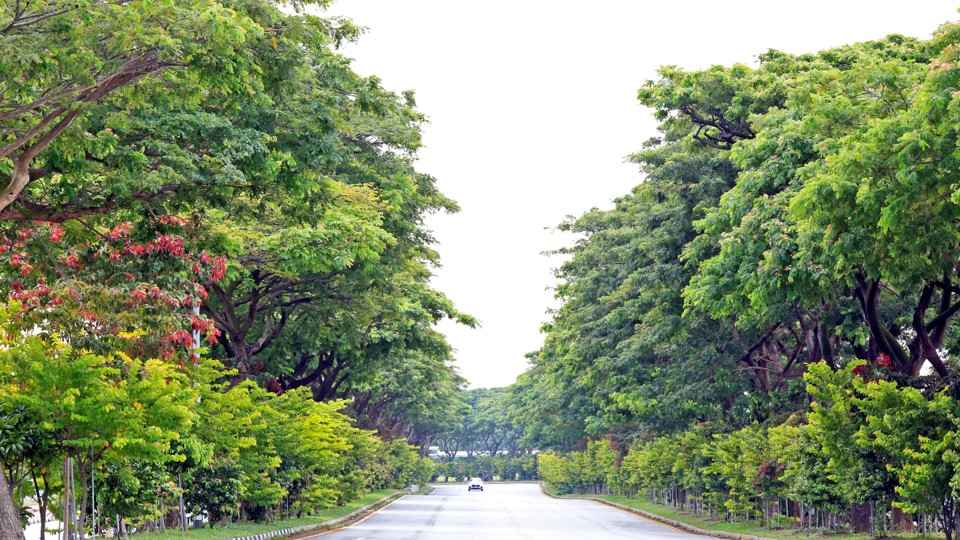 After: Jurong Island Highway (photo taken in 2022) Credit: NParks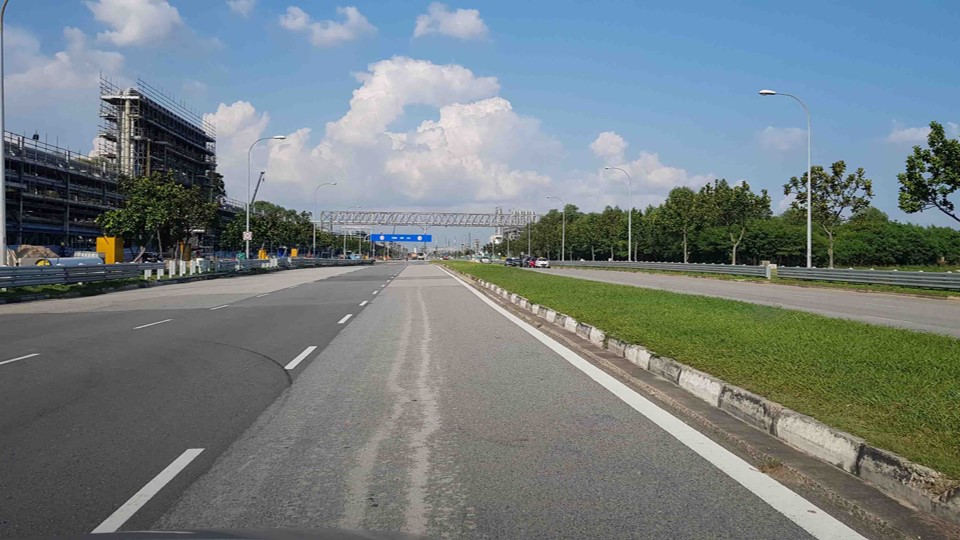 Before: Banyan Avenue (photo taken in 2018) Credit: NParks
After: Banyan Avenue (photo taken in 2022) Credit: NParks

Jurong Island's environment enhanced through tree planting
The project, dubbed the "Greening Jurong Island Masterplan", was first announced by JTC and NParks in 2019. It is part of NParks' OneMillionTrees movement, which aims to plant one million more trees across Singapore in ten years from 2020. JTC and NParks worked closely to develop and implement the masterplan, including carrying out soil remediation and identifying suitable plant material.
More than 80 new species of trees have been added to Jurong Island. They were chosen for their hardiness and drought tolerance, and ability to add shade, colour and vibrancy to the island. They were also selected to support the biodiversity in the area, for example, by providing habitats and enhancing ecological connectivity for butterflies and birds. The introduction of flowering trees and caterpillar food plants such as the Golden Senna (Senna surattensis) and Peacock Flower (Caesalpinia pulcherrima) have enhanced the richness of butterfly species on the island – since 2020, 12 new species of butterflies have been spotted on the man-made island. This includes the Leopard butterfly (Phalanta phalantha) whose host plant is the Batoko Plum (Flacourtia inermis). Several birds have also been sighted on the island, such as the Black-winged Kite (Elanus caeruleus) and Red-wattled Lapwing (Vanellus indicus). Please refer to the Annex for examples of trees planted.
The trees are planted in a multi-tiered manner resembling the look and feel of forests which not only greens and beautifies the estate, but also reduces the Urban Heat Island effect in one of the hotter areas in Singapore. According to modelling studies done by NParks, this multi-tiered manner of planting can reduce surface temperatures by up to six degrees Celsius along our roads and statelands. The 34,000 new trees also play a vital role in enhancing ecosystem services such as carbon sequestration, temperature regulation and reduction of air pollution.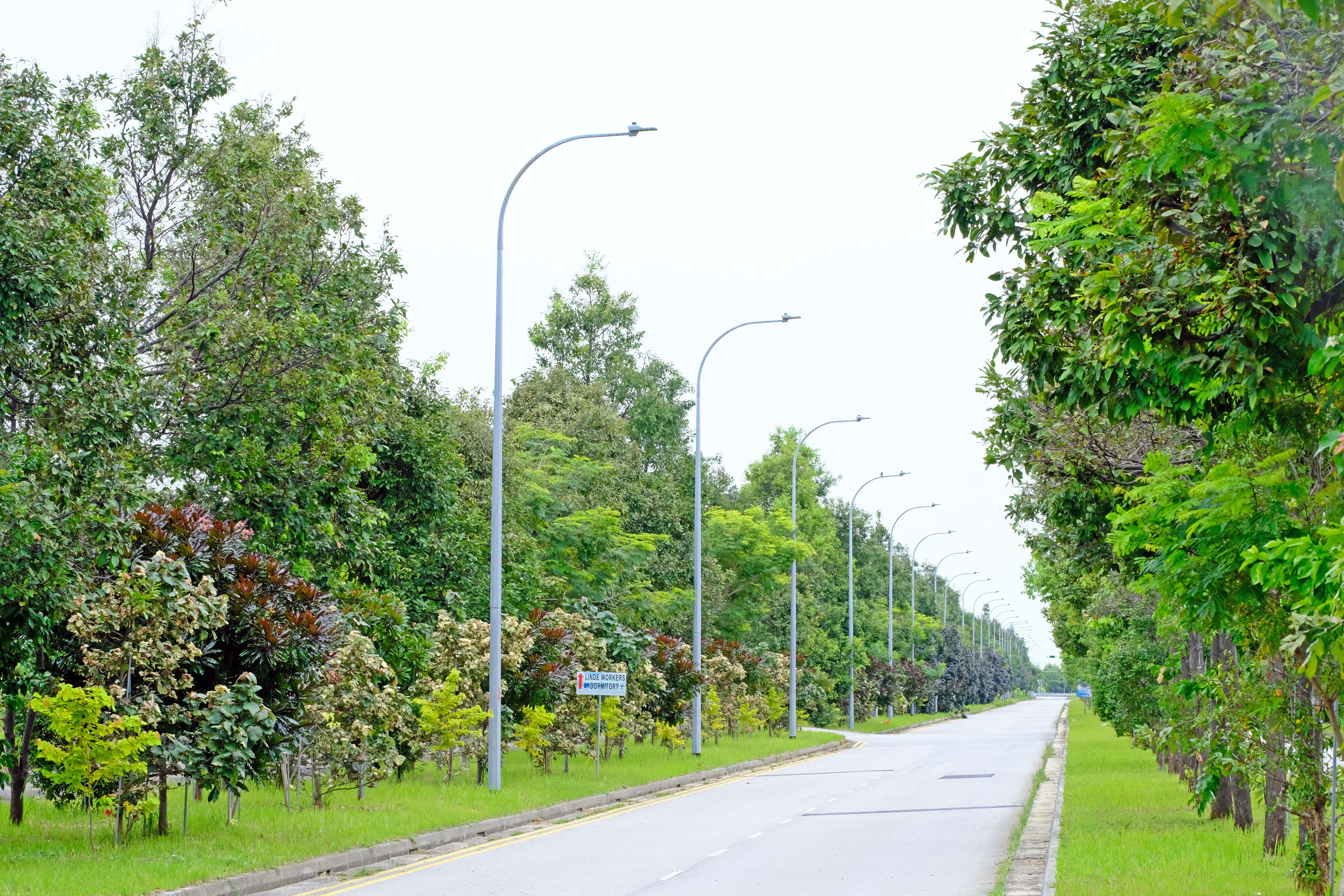 Trees planted in a multi-tiered manner along Meranti Avenue Credit: NParks

Support of community key to greening efforts
This project reflects a concerted effort by agencies and Jurong Island stakeholders to come together to enhance the attractiveness of the island for business and talent. Over 70 petroleum, petrochemical and specialty chemical companies operating on Jurong Island contributed to the tree-planting initiative by donating more than $760,000 to the Plant-A-Tree programme (PAT) through NParks' registered charity and Institution of a Public Character, the Garden City Fund (GCF). JTC also collaborated with these corporate organisations to arrange for hundreds of volunteers to participate in tree planting activities under PAT.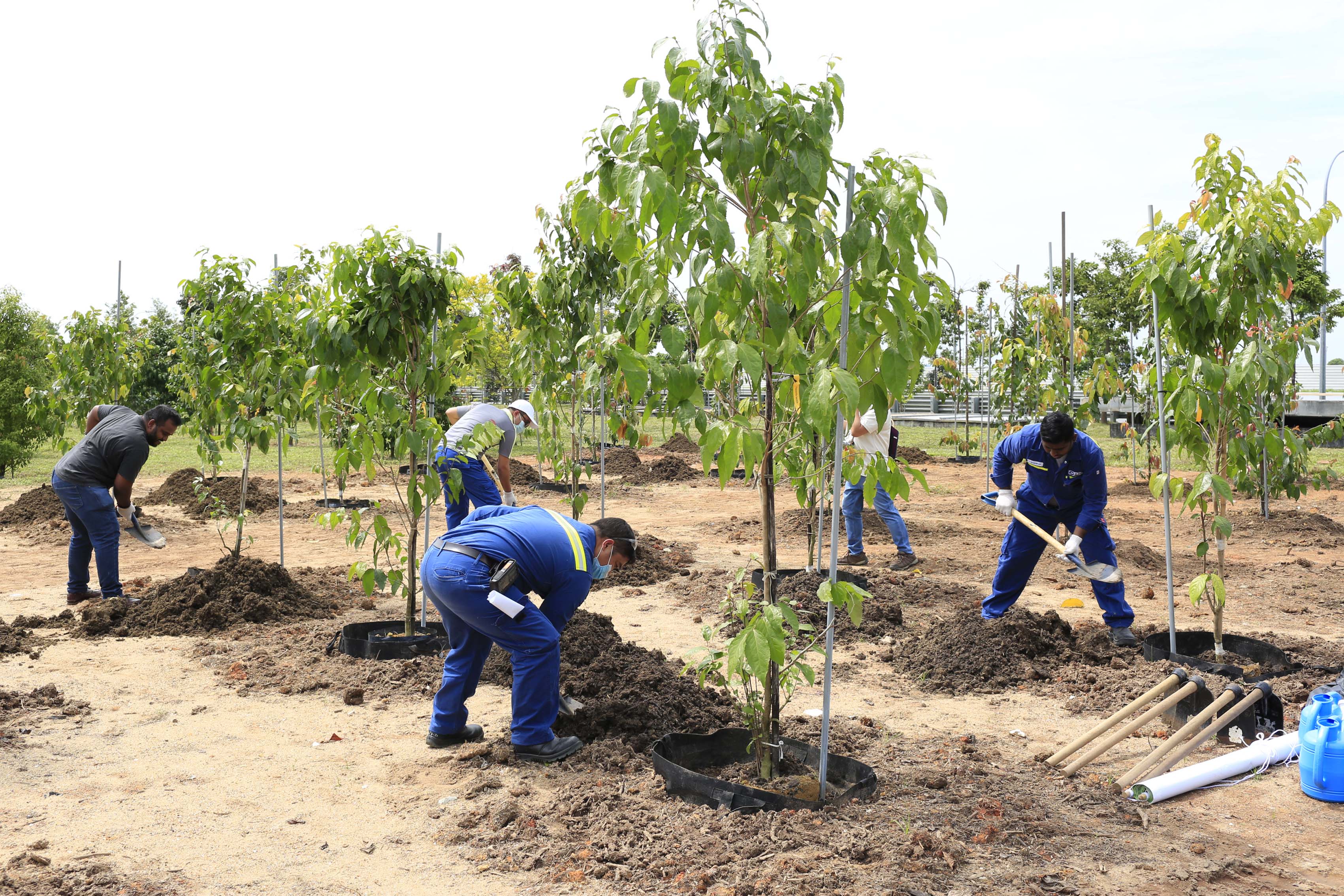 Jurong Island stakeholders participating in the Plant-A-Tree Programme in November 2021 Credit: NParks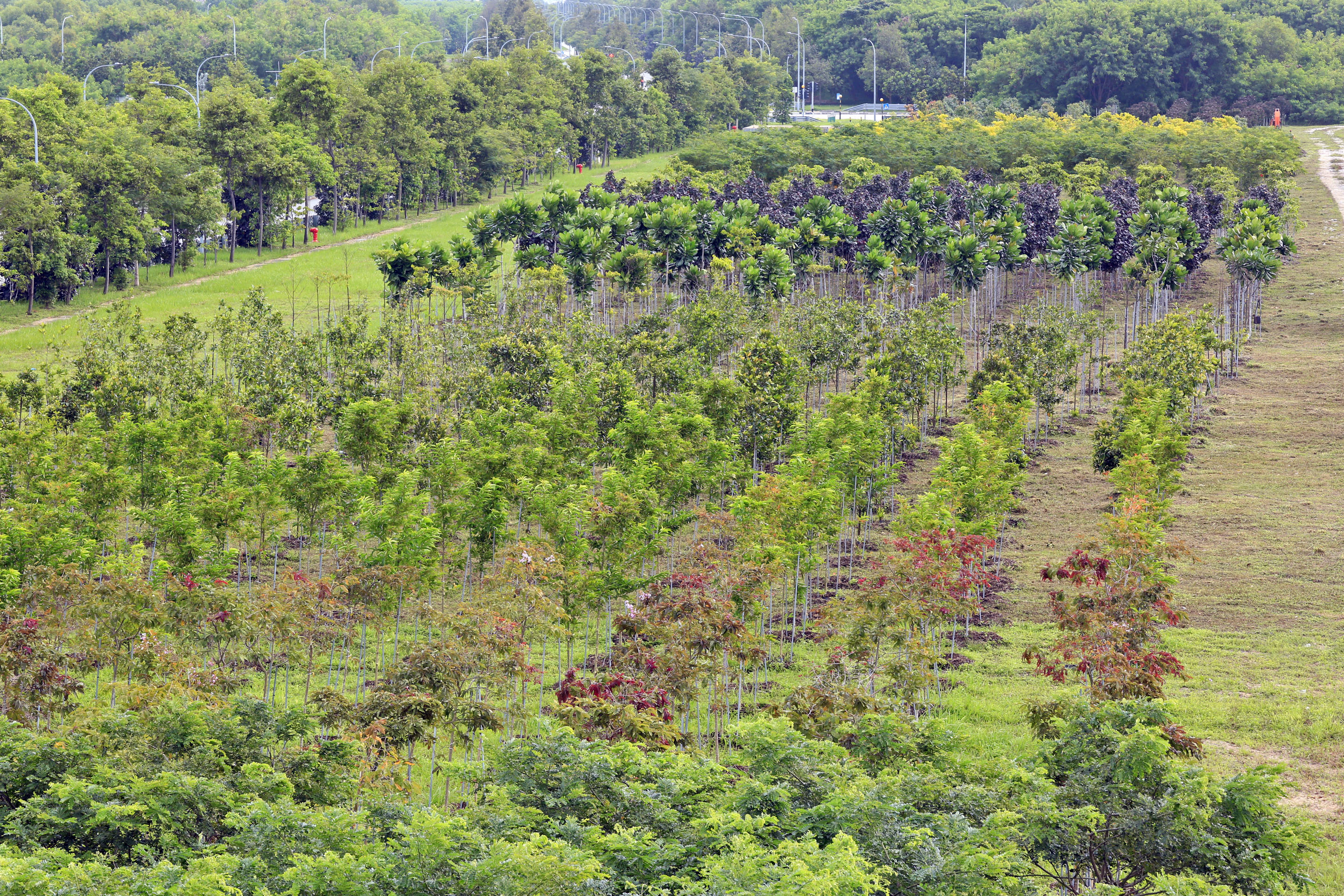 How the trees have grown a year later in November 2022 Credit: NParks

ExxonMobil was the single largest contributor, donating $120,000 to support the greening of Jurong Island. In addition, their employees donated nearly $10,000 to this effort. ExxonMobil Asia Pacific Pte. Ltd. Public and Government Affairs Director Ms Karen Wong said: "Jurong Island's greening initiative provides us an opportunity to contribute meaningfully to the environment and community where our operations are located. We recognise the vital roles that trees have in the environment. We, together with our employees, are glad to be doing our part in support of this good cause."
Said Ms Cindy Koh, Director, Energy & Chemicals Cluster, JTC, "As a leading energy and petrochemicals hub, Jurong Island is at the epicentre of Singapore's effort to achieve its climate goals. We are pleased to work with companies on Jurong Island to capture opportunities to transform Jurong Island into a more sustainable energy and chemicals park, in line with the Singapore Green Plan 2030.
"This initiative is one of the numerous sustainability partnerships taking place among the Jurong Island community. The others include the release of an industry-first circular economy study in 2021 as well as joint measures to reduce water consumption and waste, and adopt the use of solar panels in 2020."
Professor Leo Tan, Chairman of the Garden City Fund, said, "Intensifying greenery within industrial estates not only helps to mitigate the Urban Heat Island effect, but also brings people closer to nature and allows them to enjoy its associated benefits to health and well-being. The completion of this greening project to enhance Jurong Island's environment was only possible with the support of the Jurong Island community. As we commemorate 60 years of greening Singapore this year, I look forward to more partnerships with individuals and corporations to further our greening efforts and transform Singapore into a City in Nature together."
Ms Jerlyn Tan, VP People and Corporate Affairs, Advario Asia Pacific, said: "Apart from its natural beauty, the trees regenerate the natural environment, restore biodiversity, support the ecological balance, and contribute to the health and resilience of ecosystems, including the staff working on Jurong Island."
Mr Khew Sin Khoon, founder of Butterfly Circle, said, "I am delighted to hear that JTC's greening efforts for Jurong Island has increased the butterfly diversity in a habitat that is largely perceived as harsh and industrial. It shows that any intervention in environmental recovery can have a positive effect on biodiversity enhancement. JTC's master plan to green Jurong Island is a great step towards making Singapore's City in Nature vision a reality."