More sustainable. Less impact.
Our Commitment and Goals
Meeting global standards in sustainable development.
Sustainability isn't a buzzword. It's a responsibility that is ingrained into everything we do.
We explore every opportunity to lessen our impact on the environment and to help our customers operate more sustainably.
Singapore, as part of the Paris Agreement, is committed to reduce its carbon footprint. Through initiatives like our SolarRoof and SolarLand programmes, we help our nation live up to its promise.
Because sustainability knows no borders, global standards are our standards. We align our efforts to the United Nation's Sustainable Development Goals, playing our part to achieve:
Affordable and clean energy
Industry, innovation and infrastructure
Sustainable cities and communities
Climate action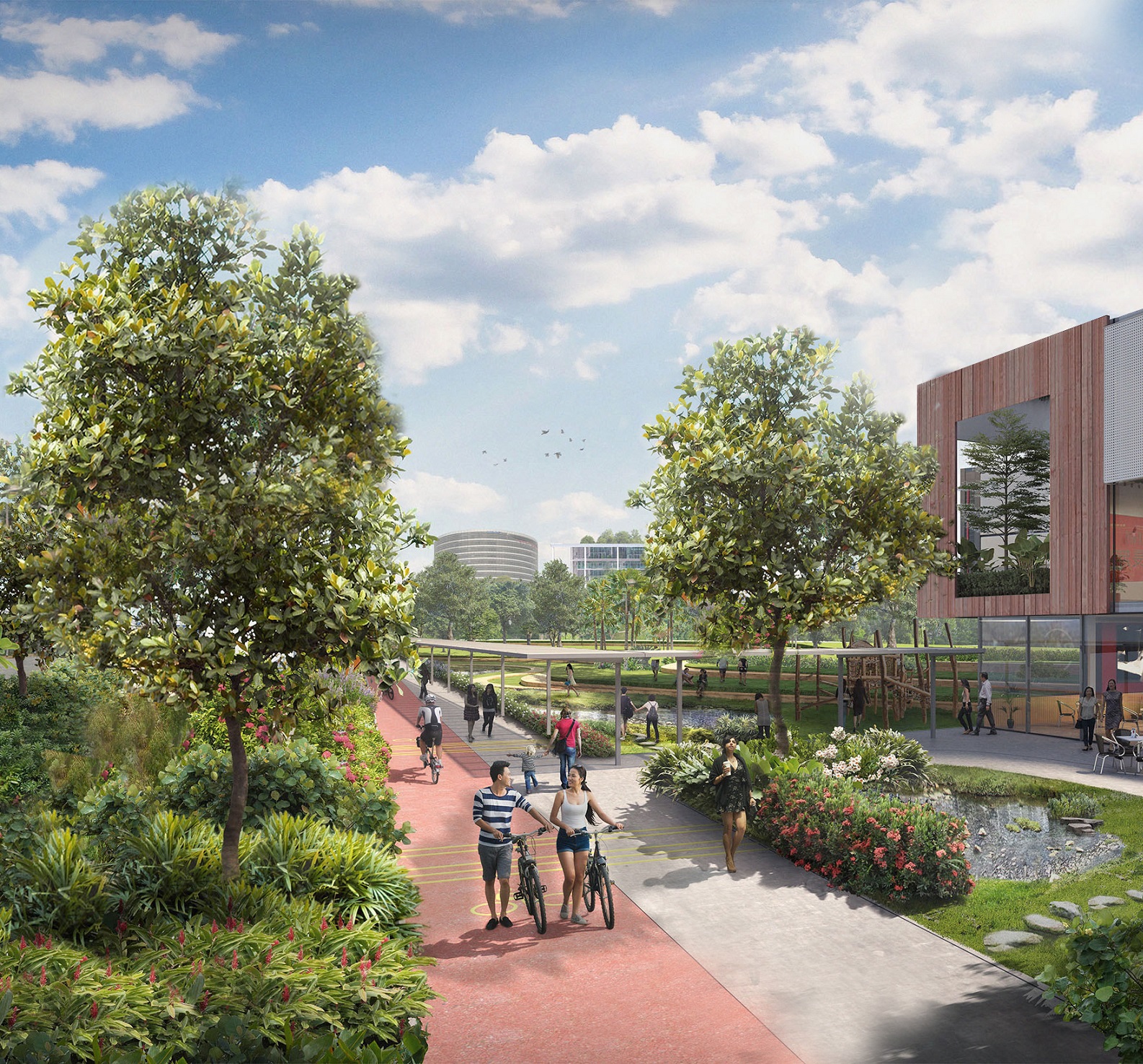 Adopting a sustainable approach in what we do
Our development projects undergo an evaluation process that addresses their potential impact on traffic, public health and safety, heritage, and the environment.

For development projects close to sensitive areas or as required by the relevant authorities, detailed environmental studies will be carried out, as they provide important biodiversity considerations to inform how we can plan and develop our estates sustainably. Technical agencies, nature groups and community stakeholders are consulted on the findings from our environmental studies, including the extent of potential impact and the proposed mitigation measures to be implemented.

Our environmental study reports are also published online for the public to provide their feedback.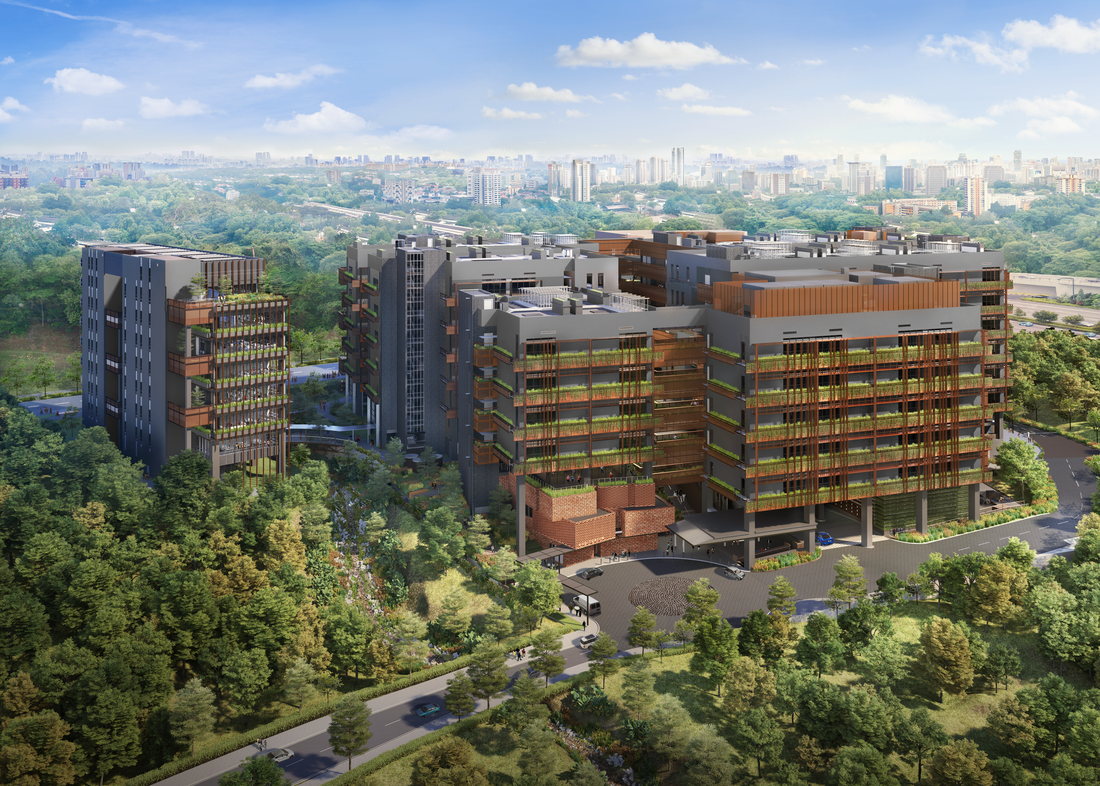 Singapore Building Carbon Calculator — a tool for your decarbonisation efforts
As the Public Sector Centre of Excellence for Building and Infrastructure, we are always looking at ways to help our communities build and operate more sustainably. That's why we developed the Singapore Building Carbon Calculator (SBCC) – Singapore's first localised, web-based embodied carbon calculator.

This collaborative, free-to-use tool will enable developers to easily track the carbon footprint of their buildings' materials. It's one of the ways we're helping to shape a greener Singapore.
Renewable Energy

Heating up demand for solar energy.

The more available solar energy is, the closer we are to a more sustainable future.

Through our SolarRoof and SolarLand programmes, we have turned over 740,000 sqm of underutilised spaces into highly productive solar farms.

Not only that, the programmes make renewable energy readily accessible to all. This will go a long way to boost demand and increase adoption.

Urban Heat Island Effects

Staying nice and cool, naturally.

Circular Economy

Why let wastes go to waste?

On Jurong Island, a Circular Economy study is discovering ways to regenerate one's wastes into a resource for another. Once successful, closed-loop systems will soon be a common sight in our developments.

But industrial wastes aren't the only one getting our attention.

Food waste digesters—to be deployed in seven developments by 2021—will find new use for mealtime by-products. Looks like a zero waste future may not be that far away.

Optimising Operations

Operations go cleaner and greener.

It takes a highly-coordinated effort to reduce our carbon footprint.

That's why our new developments feature . Using smart technology to optimise cooling as well as water and energy usage, we can cut resource wastage and improve efficiency.

Older buildings aren't left out. Upgrading is underway. We are also continuing to introduce ways to be even greener, such as issuing green leases to new customers, among others.
Sustainability is at the core of our work.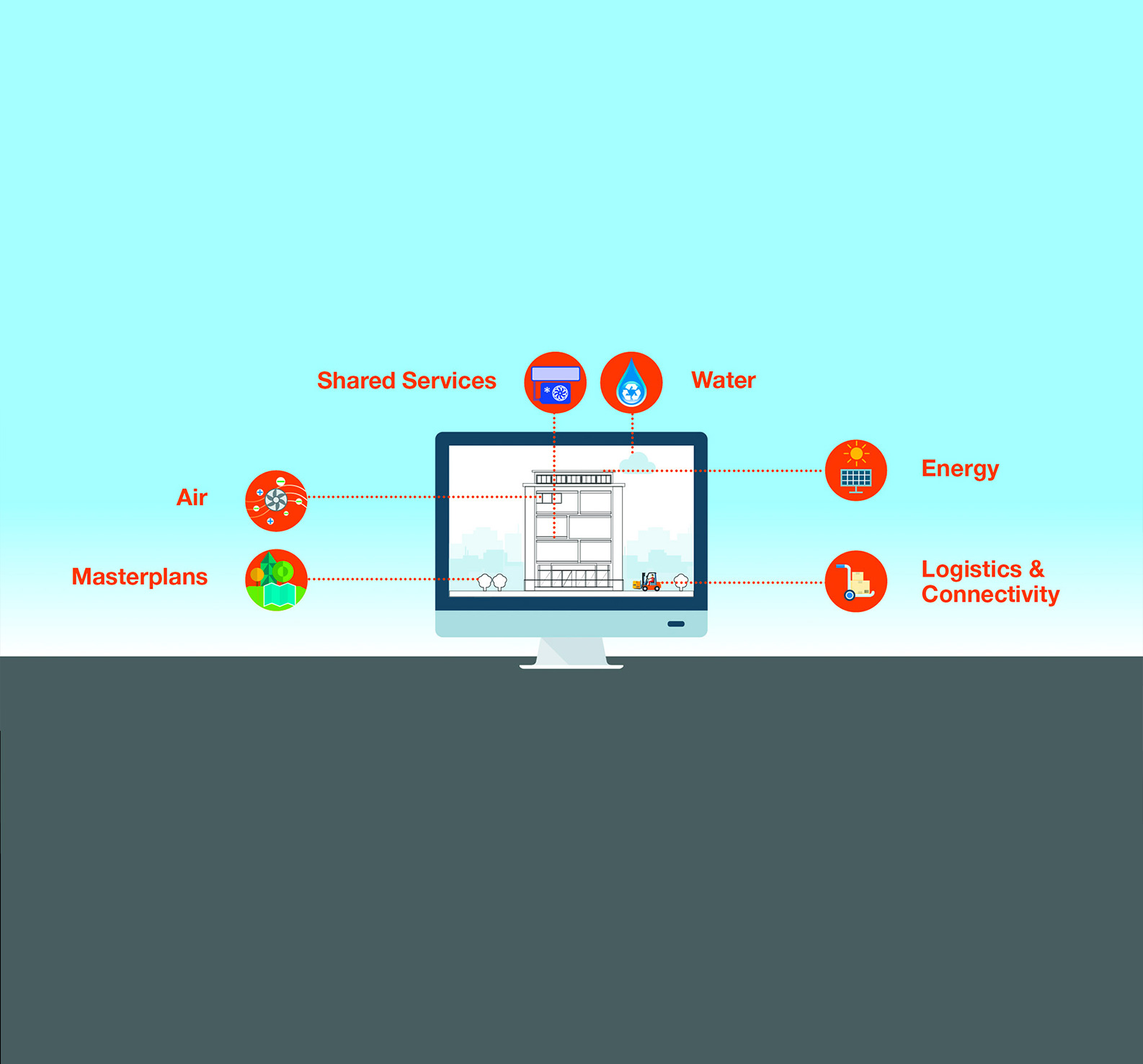 Phase 1: Planning
Development plans are aligned with our sustainability commitments
Green and blue master plans are formulated to balance biodiversity with commercial needs
Logistics and connectivity infrastructure are designed to reduce emissions, allowing for vehicle-lite environments
Buildings are designed to reduce energy and water consumption, with architectural features that cut air-conditioning needs and maximise water recycling
Shared services are integrated into our developments to improve efficient use of resources
Developments are designed to be solar-ready and clean energy-friendly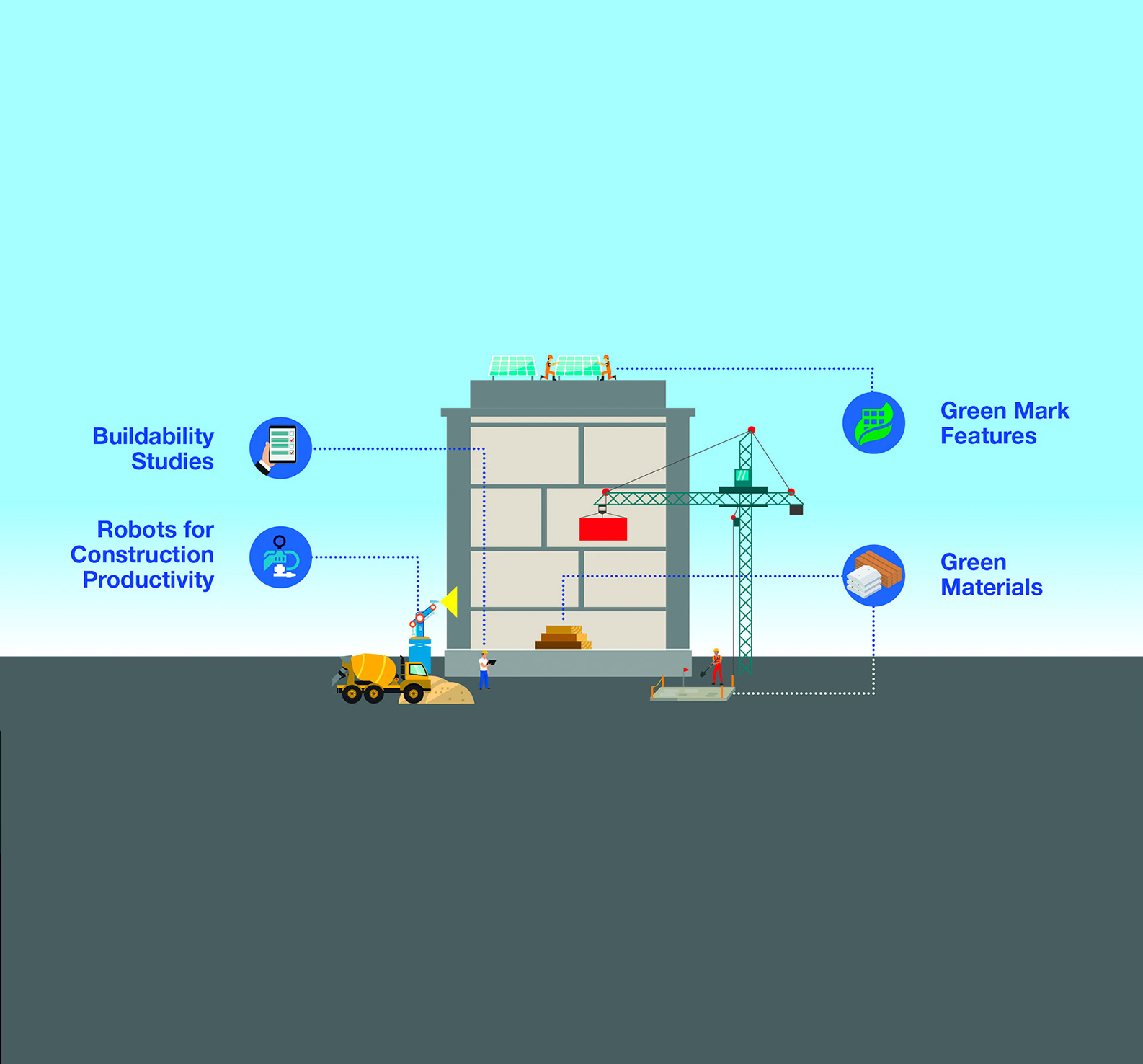 Phase 2: Design and construction
Technology and global best practices are used to ensure developments are built safely, efficiently and sustainably
Before construction begins, virtual design and construction are used to minimise resource wastage and potentially dangerous activities on site
At construction sites, robots such as PictoBot and Quicabot are used together with green building materials to improve productivity and safety while lowering maintenance needs
Green Mark features are also included in blueprints to ensure all districts and developments meet at least a Green Mark Certification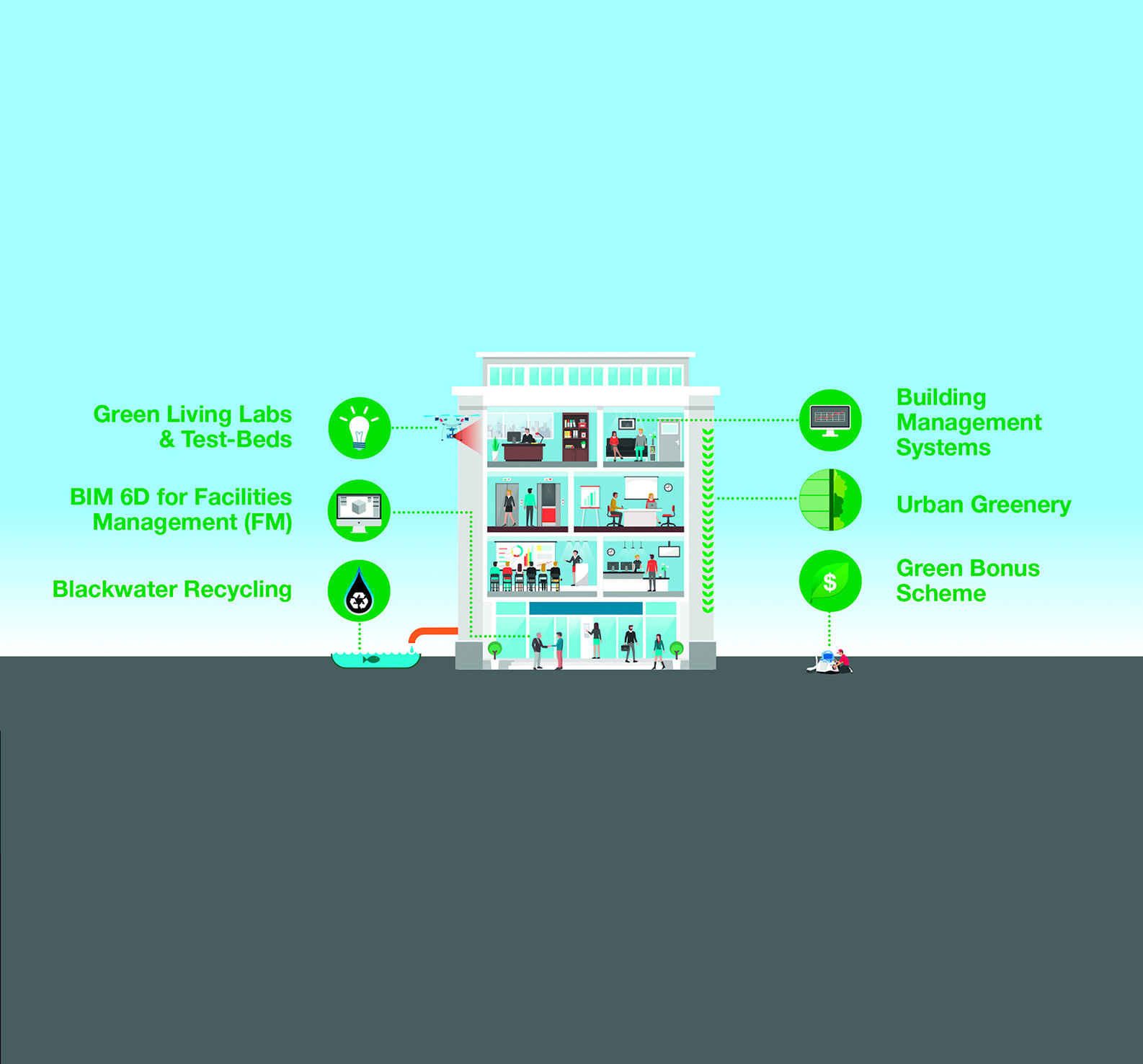 Phase 3: Operations
Design features such as urban greenery and blackwater recycling facilities are incorporated from the outset to insulate against heat (thus reduce cooling needs) and to cut wastewater
6D Building Information Modelling (BIM) is used to lay out developments, thereby ensuring facilities management can be done efficiently
Through the Green Bonus Scheme, facilities management partners are encouraged to adopt sustainable practices
New solutions are simultaneously sought from external parties through the JTC Innovation Challenge, with our estates serving as living labs and test beds
Integrated estates and building management systems help monitor, analyse and optimise operations, increasing resource efficiency for our developments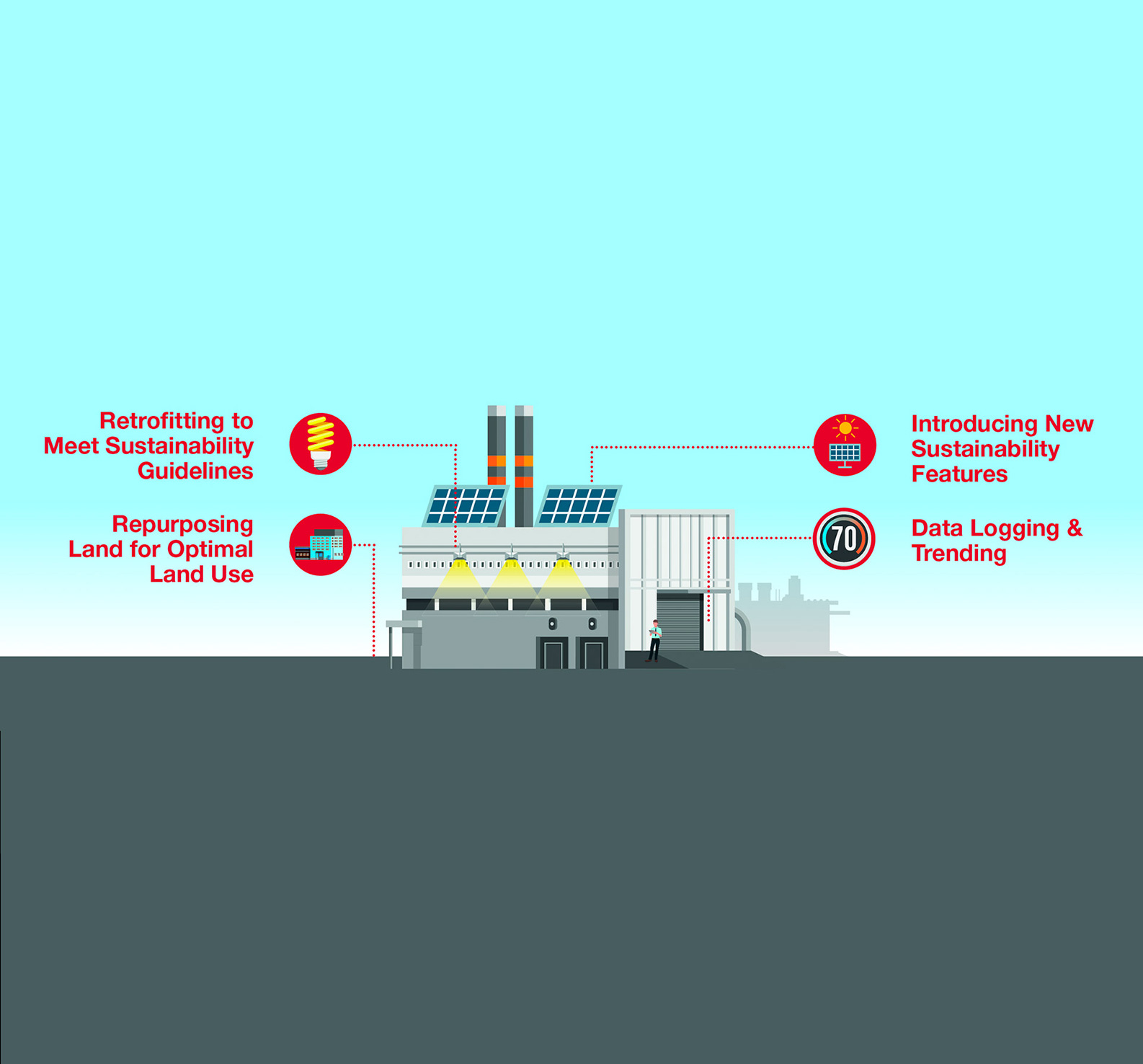 Phase 4: Rejuvenation
Aging buildings are rejuvenated or replaced to ensure better use of Singapore's limited land and natural resources
Data analytics is used to study occupancy and movement behaviour. It also helps us optimise lighting and cooling levels to reduce energy wastage
Older buildings are retrofitted with new features (solar panels, low-emissivity glass and smart sensors, etc.) so that they too will meet our high sustainability standards
Where necessary, mature developments and estates are repurposed to become more productive, efficient and future-ready spaces
Our Sustainability Goals and You
Find out how your business can benefit from our commitment to sustainability.