Optimising Resource Flows on Jurong Island
April 2019 – New solutions are being explored to reduce waste, water and energy use on Jurong Island. JTC, with the support of other government agencies including EDB, PUB, NEA and EMA, is collaborating with companies on Jurong Island to identify opportunities to reduce resource use at the system-level.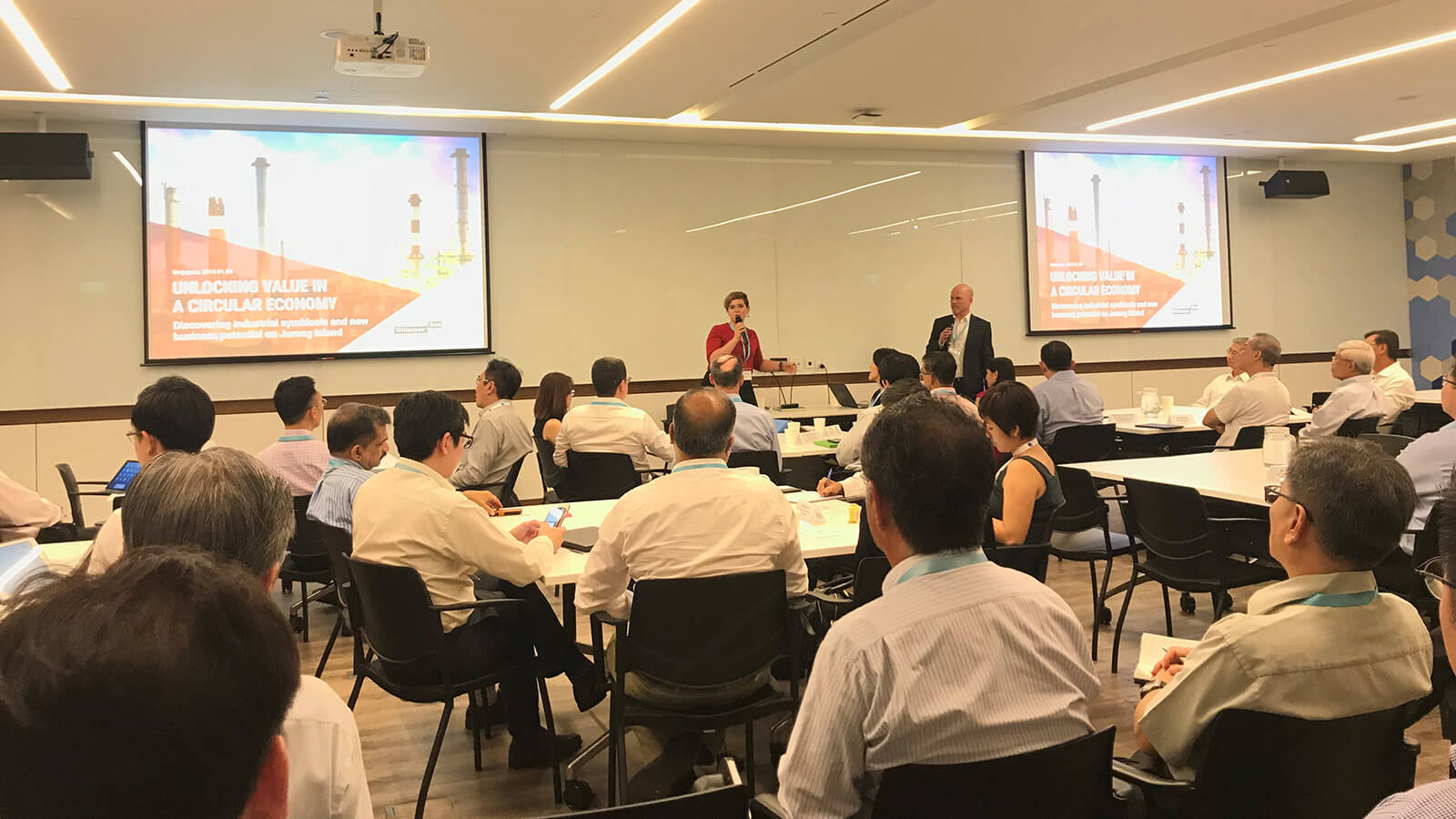 Witteveen+Bos and Metablic sharing about the study at the kick-off session on 30 January 2019
The project – Jurong Island Circular Economy Study - was kicked off on 30 January 2019 with a sharing session attended by Jurong Island companies and key government agencies. Held at Jurong Town Hall, more than 100 CEOs, CTOs and experts from more than 40 organisations were present to learn more about the project.
The study, which JTC had contracted Witteveen+Bos and sub-consultant Metabolic to conduct, seeks to map the current water, energy, and waste flows on Jurong Island, and tap on the expertise of the Jurong Island companies to jointly identify potential synergies to reduce resource use at the system-level. The aim is to move towards a circular economy approach, where resources are reused and recycled for as long as possible, while bringing about environmental and economic gains to companies.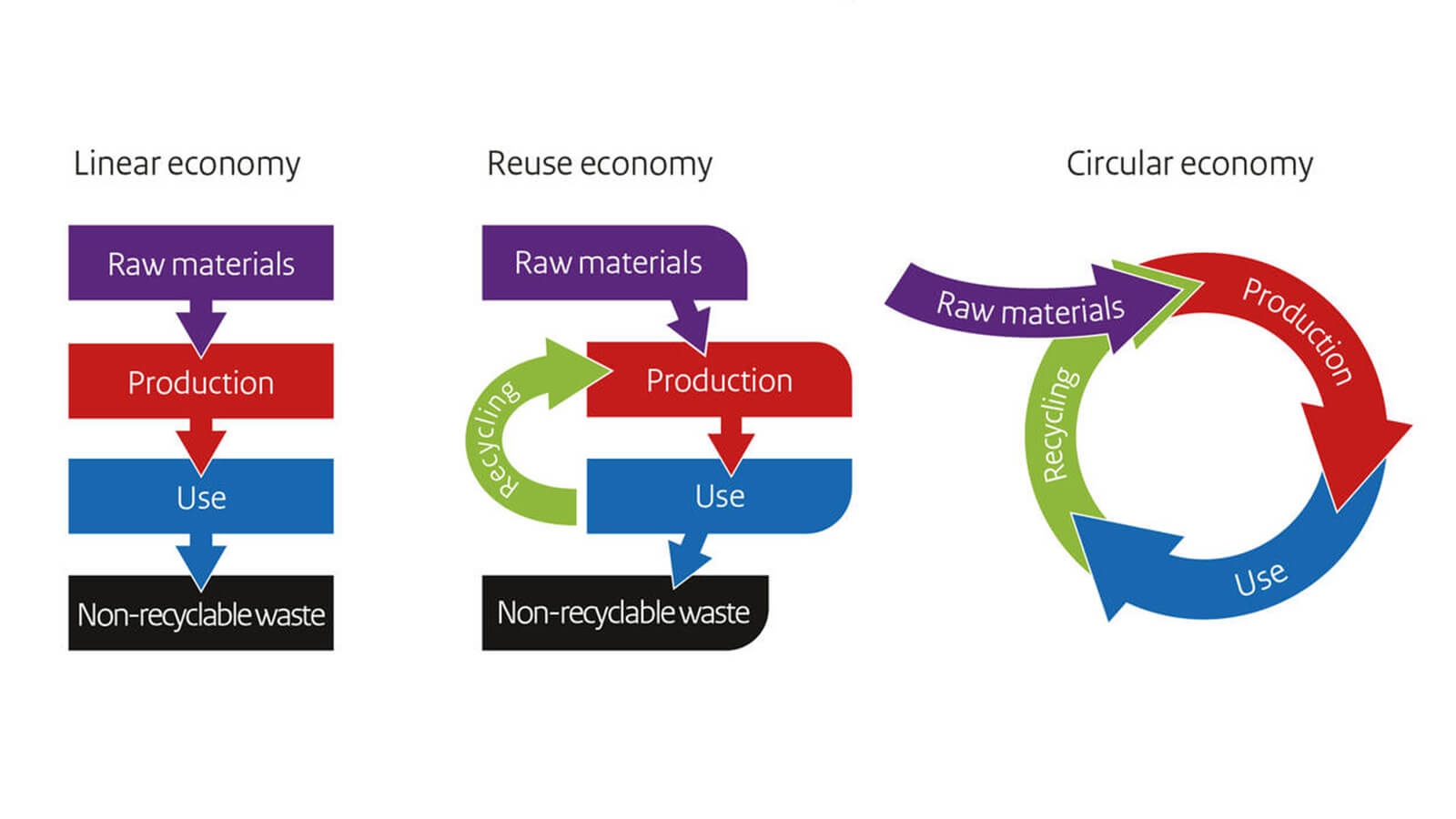 A diagram showing the difference between a linear, reuse and circular economy. Source: "From a linear to a circular economy", Government of the Netherlands.
Today, Jurong Island companies on their own are already seeking to optimise resources within their own plants since these ultimately affect their bottom-line. However, there will be limitations to individual companies' efforts. For example, a company may not be able to find opportunities to re-use and recycle its waste streams. This could be because individual companies on their own, may not find it economically viable to recover and re-use their low volumes of waste. Or, a company may simply be unaware of a demand from other companies.
By having an overview of companies' resource flows, opportunities for re-use and recycling can be identified, especially when products are aggregated across companies.
ExxonMobil Asia Pacific Pte Ltd Chairman and Managing Director, Mr Gan Seow Kee, said, "We support this study which takes a developmental approach to exploring the feasibility of common infrastructure and solutions together with industry and government aimed at improving Jurong Island's competitiveness and sustainability."
Chevron Oronite General Manager Mr Goh Koon Eng, added, "The circular economy study initiated by JTC is timely as there is a limit to how much resources companies can optimise at an individual level without compromising on economic feasibility. The study will enable us to look beyond individual companies' efforts, and from a system-level to discover opportunities for further resource optimisation as a business community."
Cindy Koh, Director of JTC's Energy and Chemicals Cluster, said, "The Jurong Island Circular Economy Study is important in showing us if we are on the right track in terms of resource use, and pointing us to areas where more work is needed. The joint study is also key in promoting a shared responsibility among the Jurong Island community and in building a collaborative ecosystem where key supporting companies, MNCs and research academia can come together to develop industry solutions that will help Jurong Island remain both competitive and sustainable in the years to come."
Preliminary recommendations from the study are targeted to be ready by the second half of 2020.