A Boost for Clean Energy in Singapore
27 May 2019 - Solar power is in a constant state of innovation, with new advancements in technologies being announced over the past few years. In Singapore, solar energy is increasingly becoming a more prevalent source of renewable energy, and the Government has been working closely with industry players to come up with innovative solar solutions. This includes offshore solar systems, and installing solar panels on unutilised rooftop spaces.
As Singapore's lead industrial developer with a sizeable portfolio of land and space under our management, JTC has been working with industry partners on ways to optimise land and space to facilitate the generation of sustainable energy to the market.
In June 2017, JTC launched SolarRoof, our pilot solar project that focuses on supporting the generation and adoption of solar energy. It is the first solar energy business model in Singapore that enables the direct export of solar electricity, generated from the rooftops of JTC's buildings, to the national power grid. This enables consumers across Singapore to access the solar energy generated from SolarRoof.
Another idea is to use land that is vacant in the interim. Instead of leaving these tracts of land empty, JTC spearheaded SolarLand – a renewable energy project where solar PV panels are installed on the land. This not only maximises the use of vacant land, but also contributes clean energy generated to the national grid and makes it available to all consumers.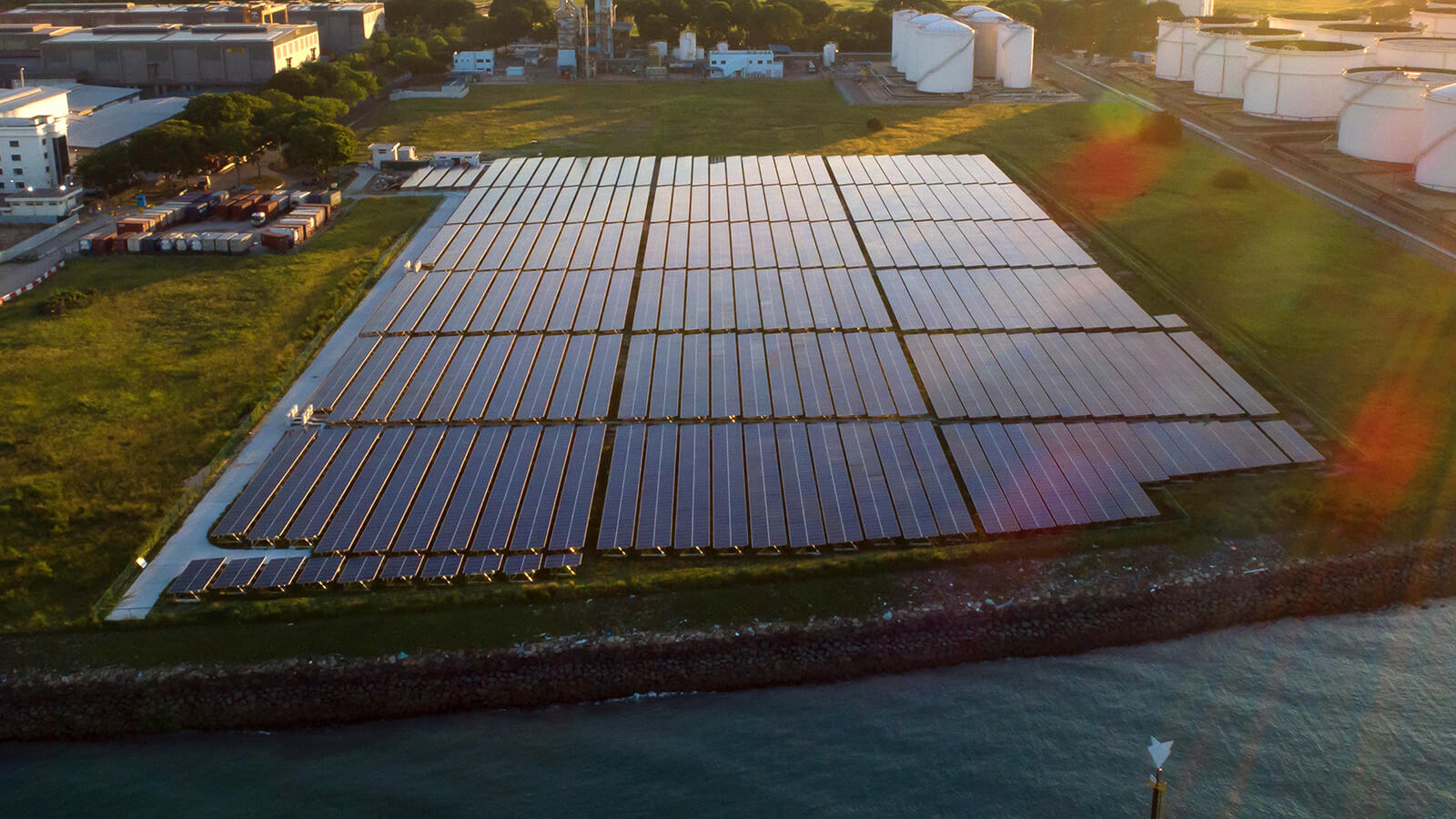 SolarLand project at Jurong Island.
Jurong Island was identified as the ideal location for the implementation of the first SolarLand project, due to the availability of vacant land that is large enough to accommodate the large-scale solar PV systems.
The system is managed and operated by a joint venture between Terrenus Energy and S.M.E. Electrical. Mr. Charles Wong, Founder and CEO of Terrenus Energy said, "Terrenus Energy is very honoured for the opportunity to work with JTC on SolarLand Phase 1. Together, we have built a solar farm with one of the largest solar energy output per square metre in the region. This is the first large-scale solar farm project in Singapore which feeds 100% renewable energy to the grid substation, producing approximately 6.6 gigawatt hours per year, which supports the energy consumption of 1,475 4-room flats annually. At Terrenus Energy, we believe clean energy is the only way forward."
In land-scarce Singapore, JTC has strived to come up with creative ways to overcome constraints and do more with less in order to do our part to reduce Singapore's grid dependency on the burning of fossil fuels. Phase 2 of the SolarLand project will not only focus on utilising vacant land, but also explore solar PV panel installation at linkways in Changi Business Park.
Besides the installation of solar panels, JTC and the appointed operator of SolarLand Phase 2 will also co-develop a mobile substation and mobile solar PV system, allowing JTC to easily re-deploy the system in the event that the land or space needs to be used. The appointed vendor is also welcome to propose new, clean energy innovations that could be test-bedded with JTC.
Calvin Chung, JTC's Group Director of Engineering, said, "We hope through initiatives such as the SolarRoof and SolarLand, we can also encourage solar companies to think out of the box and propose innovative ideas to overcome Singapore's constraints and generate more renewable energy. We hope to continue working closely with industry partners to pilot more of such initiatives and contribute to more renewable energy generation in the future."