Solar vision: The future looks bright for Singapore
Sunlight is a natural resource that Singapore has in abundance. With growing concerns about fossil fuels contributing to climate change, solar energy is one feasible renewable energy source that can be harnessed for a more sustainable future.
In a momentous drive to achieve its long-term net zero emissions goal, the government launched the Singapore Green Plan 2030, which lays out key targets across various domains, including using Green Energy solutions like solar.
So far, the adoption of solar energy has been positive — Singapore successfully achieved its 2020 solar deployment target of a 350 megawatt-peak (MWp) in Q1 2020. The next target? To have a 2 gigawatt-peak (GWp) by 2030 — enough to power about 350,000 households for a year.
JTC is committed to supporting Singapore's clean energy vision. In line with its mission to develop a masterplan for clean and green estates, the national industrial developer has implemented two clean energy programmes – SolarRoof and SolarLand.
"Through these efforts, we hope to reduce our carbon footprint and optimise the use of industrial land and roof spaces by installing solar panels to contribute clean energy to Singapore," says the government agency's Chief Environmental Officer and Group Director of Engineering, Mr. Calvin Chung.
SolarRoof: Making every rooftop count
With Singapore's sunny climate and sheer number of high-rise buildings, harnessing solar energy seems like a natural progression in the journey towards cleaner energy.
In reality, only 2% of our city-state is powered by sunshine. That's because generating solar energy is not as straightforward as it seems, due to challenges such as a lack of roof space, multiple tenants in the same building, and finding the right operating and business model.
The SolarRoof programme aims to make solar adoption easy and more accessible for the 14,000 businesses in JTC's estates, with zero upfront capital outlay.
The programme was launched in 2017 and is the first solar energy business model in Singapore that fully exports solar energy generated on the rooftops of buildings straight to the national power grid. This model allows consumers to purchase solar energy directly from the grid via a solar retailer, even if the buildings they occupy do not have solar panels.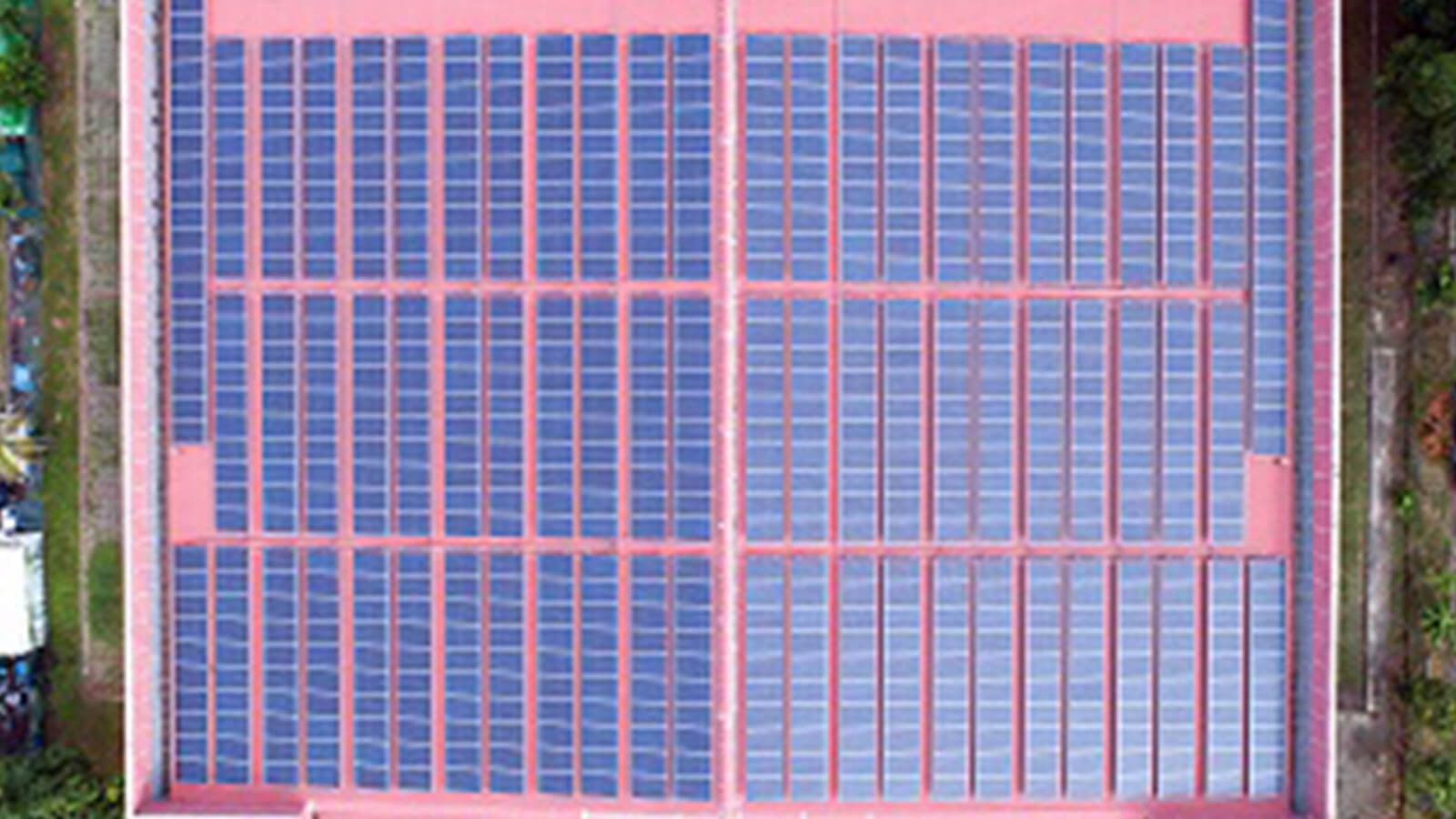 Aerial view of the solar panels on the rooftops of JTC standard factories​
The programme was first rolled out at 24 JTC buildings across the island. Plans are now underway for solar deployment to more than 40 JTC buildings and an estimated additional solar energy capacity of 17.4MWp is expected to be generated by 2022.
The success of SolarRoof led to the launch of a second phase in 2020, where a master contract was awarded to Sembcorp.
"By tapping on our master contract, businesses in our estates can solarise their roofs with zero upfront capital outlay by either leasing solar panels and getting a 15% discount for the electricity generated, or leasing part of their roof space for solar vendors to install solar panels and earn revenue in return," says Mr. Chung.
Building owners can optimise unused rooftop space, while solar developers have the flexibility to work with different building owners and sell to any consumer. It's a win-win for all stakeholders, and ultimately, the environment.
SolarLand: Transforming space for sustainable staying power
Apart from leveraging unused rooftops, unutilised land has plenty of potential too. Enter SolarLand – a solution to better utilise vacant land by installing solar panels to generate clean energy to the national grid.
Launched in 2018, SolarLand was first piloted at an unoccupied 3.9ha site at Jurong Island together with Terrenus Energy, which installed a first-of-its-kind containerised portable solar photovoltaic (PV) system that generated 6.6 GWh of renewable energy annually – equivalent to powering 1,475 4-room HDB flats.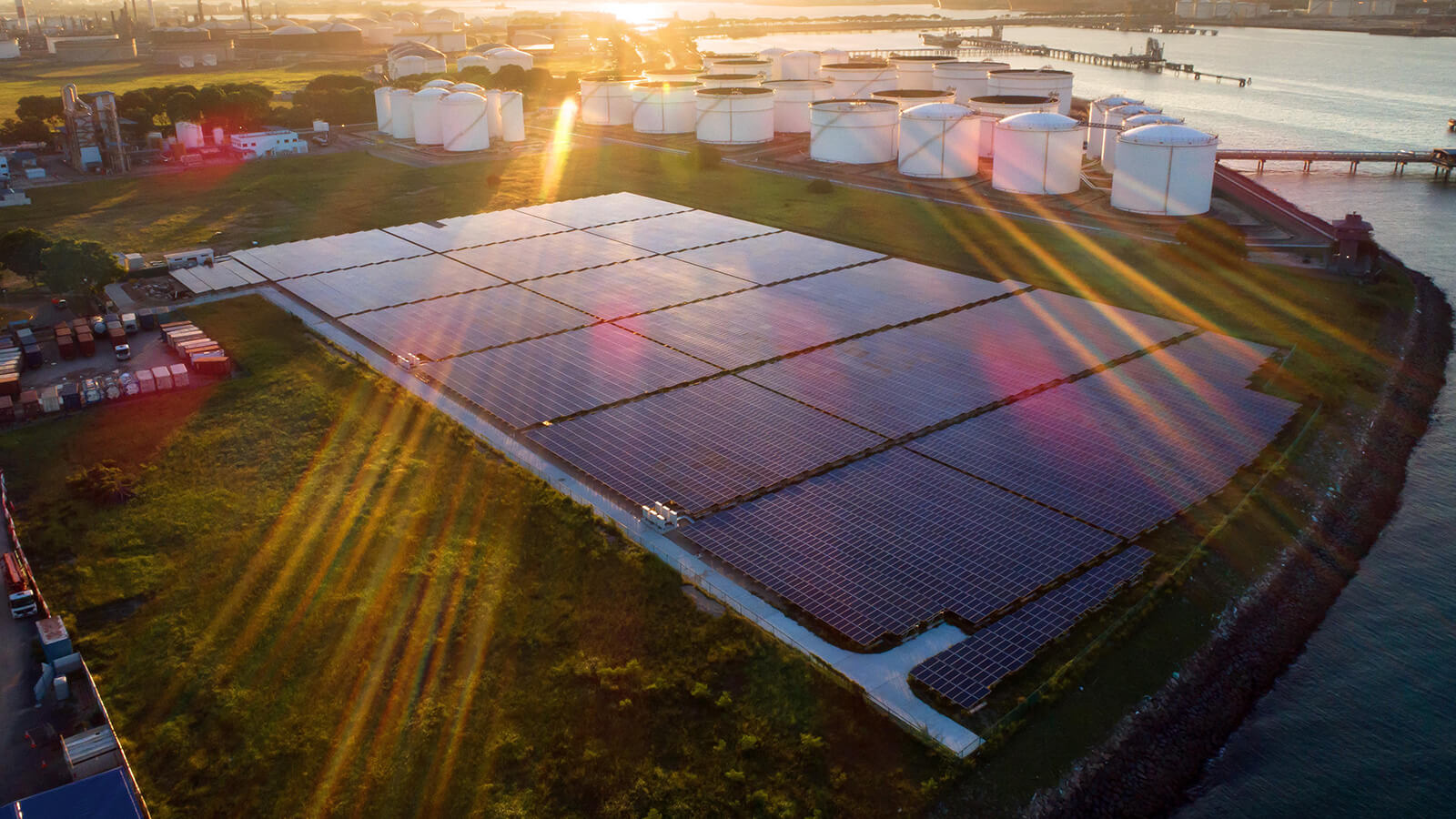 Solar panels installed on​​ Jurong Island
Brighter prospects ahead
Following the successful launches of SolarRoof and SolarLand, JTC is going ahead with the next phases of its solar initiatives to optimise the use of over 740,000 sqm of industrial land and roof space.
In partnership with Sunseap Group and Sembcorp Solar, the new phase of SolarLand will maximise the use of over 506,000 sqm of temporary vacant land all across Singapore to deploy more than 80 MWp of estimated solar energy capacity. This will be accomplished using mobile PV panels and hybrid SPPG substations, which can be redeployed when the land is needed for other uses.
As part of the contract, Sunseap will install moveable solar systems on an estimated 40 ha of temporary vacant land across Singapore.
Giving the solar energy movement here a boost of confidence are Facebook and Amazon. The two tech giants have committed to using 100% renewable energy to fully power their operations. Amazon inked a deal with Sunseap to tap solar power from the solar farms in JTC's estates. When completed in 2022, the solar project will supply 62MWp of energy to Amazon's offices, fulfilment centres and data centres.
Similarly, Facebook signed an agreement with Terrenus Energy in December 2020 for 19 MWp of renewable energy through the portable solar panels and mobile substation at Changi Business Park.
As the next stages of SolarLand and SolarRoof continue, JTC, together with all partners and businesses are all on track to reduce 55,000 tonnes of carbon emissions and contribute 100 MWp towards the Energy Market Authority's 2030 target.
"The deployment of solar panels in our estates is expected to pick up in the next two years, and we are confident of meeting or even exceeding our target of 100 MWp of solar deployment by 2030," says Mr Chung.
The dawn of Singapore's solar age has begun — and the future is bright.