Big plans and great strides towards a greener future on Jurong Island
Sustainability is more than just a buzzword on Jurong Island. With several large-scale green projects ongoing, the industrial park is taking action to make sustainable practices a reality and working towards becoming a sustainable energy and chemicals park.
The aim is to create a circular economy within the island, or a system where resources can be reduced, reused and recovered, thereby cutting down on waste. Achieving this goal is no mean feat, and JTC is partnering companies on Jurong Island and fellow agencies to launch a slew of initiatives that create greener industrial processes and harness sustainability as a competitive advantage.
Creating a circular economy on Jurong Island
51 companies including Chevron, ExxonMobil and Shell are jointly supporting a circular economy study to share data on energy, water and chemical waste, and identify potential synergies to reduce resource use at the system level. The Jurong Island Circular Economy (JICE) Study builds on the concept of resource optimisation, with a goal towards longer-term sustainability.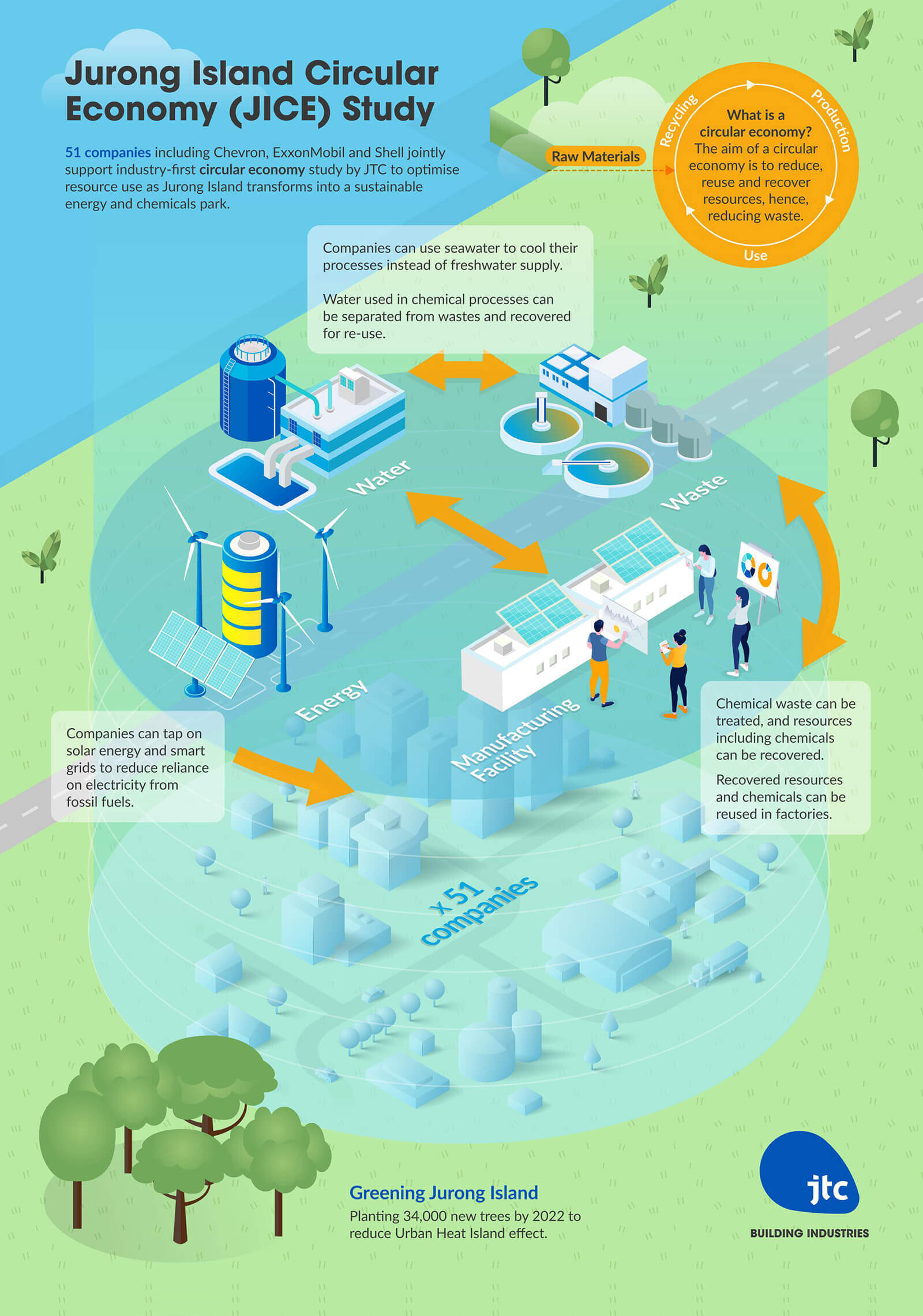 Jurong Island Circular Economy study
Launched in 2019 with support from the Agency for Science, Technology and Research (A*STAR), the Economic Development Board (EDB), the Energy Market Authority (EMA), the National Environment Agency (NEA) and the Public Utilities Board (PUB), the JICE is a landmark study that drew extensive data from the 51 companies on Jurong Island to map energy, water and waste flows, so as to uncover opportunities for sustainability improvements. The study seeks to go beyond the efforts of individual companies to identify how an islandwide business community can bring about new opportunities to aggregate and share resources, cut back on their usage, and recover higher volumes of resources from waste for reuse.
Having a circular economy will not only benefit the environment and mitigate global issues such as climate change, but these green efforts will also reduce waste, increase efficiency, and bring about new business opportunities to drive the future economy.
Upon comprehensive analysis of the data, the key findings have shown clear opportunities for greater collaborations in the areas of clean energy and low-carbon technologies; water recycling and recovery; and chemical waste treatment. For instance, solar energy generation on the island can be scaled-up and an islandwide smart grid or network of smart grids can coordinate conventional and renewable energy generation to better optimise energy supply. R&D projects on cleaner energy technologies can also reduce the overall carbon footprint of the island. These opportunities will allow companies on Jurong Island to increase their clean energy mix.
"ExxonMobil is committed to operating our business in a responsible and sustainable manner," said Ms Geraldine Chin, chairman and managing director, ExxonMobil Asia Pacific Pte Ltd. "This applies to our operations on Jurong Island, where we strive to be the best in class for energy efficiency, while reducing waste as we produce useful products required by society. The Jurong Island ecosystem allows companies to work synergistically to progress technologies to reduce emissions and waste, while ensuring competitiveness."
Call for circular economy solutions
While the study has identified opportunities in the areas of clean energy use, water recycling and recovery, and the sustainable recovery and treatment of chemical waste, it has also shed light on challenges faced in implementing the circularity solutions. To better address the challenges, two innovation calls were announcedto source sustainable solutions to be test-bedded on Jurong Island. This will bring together the industry, technology partners, academia and government agencies to develop and test-bed new sustainability solutions on Jurong Island for the first time.
The first is the Jurong Island Innovation Challenge (JIIC) launched on 19 August 2021. Led by JTC and Enterprise Singapore (ESG), and supported by PUB, NEA and EDB, the challenge will crowdsource ideas from start-ups and SMEs in response to 10 challenge statements put forward by industry players on Jurong Island such as BASF, Chevron Oronite, Croda, Petrochemical Corporation of Singapore (PCS), Shell, Singapore LNG Corporation (SLNG), TP Utilities, and U&P.
The challenge statements cover four key themes that will boost resource efficiency efforts: energy efficiency, emissions reduction, water management and chemical waste management. For example, Shell is further exploring innovative methods to extract valuable resources from waste and reduce the amount of waste sent for incineration, PCS is identifying cost-effective ways to treat and recycle its spent caustic, while Croda is developing solutions for water recovery from high strength wastewater.
The second innovation call, the Jurong Island Renewable Energy Request-for-Proposals (JI RFP), will be launched in October 2021 by JTC and EMA, with support from ESG. It will focus on test-bedding innovative energy solutions, including renewable energy and energy storage systems to reduce the island's carbon footprint. This follows an earlier Request-for-Information exercise which saw strong interest from the industry and research community, with 39 proposals received.
On top of accelerating sustainable innovation on Jurong Island, these innovation calls create opportunities for start-ups and SMEs to showcase their capabilities in addressing real-world circularity challenges, and work with prominent industry players to develop and test-bed solutions for wider deployment eventually.
Tapping solar energy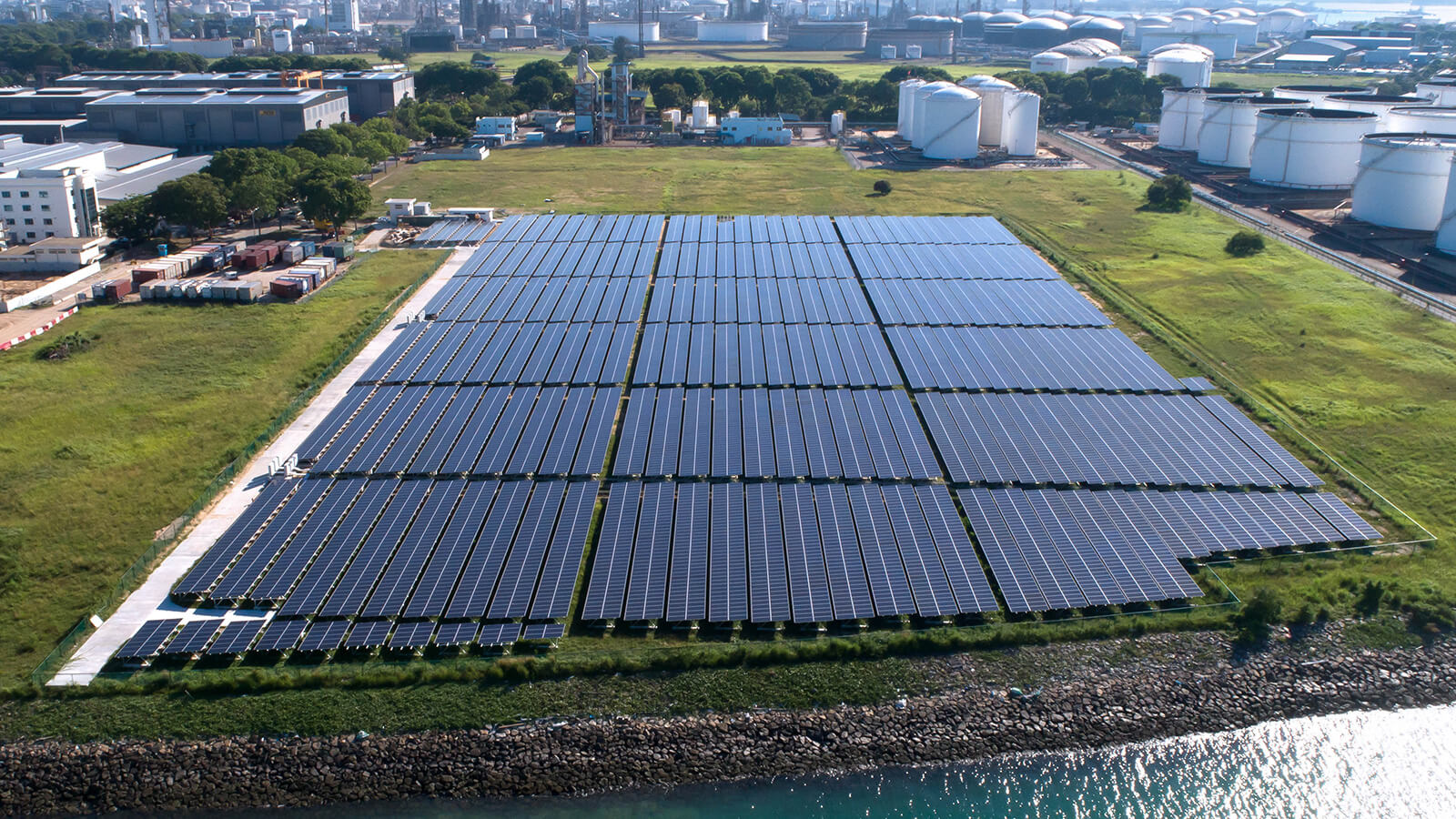 SolarLand installation on Jurong Island
Since 2019, Jurong Island has been running the SolarLand programme, which installs solar photovoltaic (PV) panels on vacant land to contribute clean energy to the national grid. Together with its solar initiatives on other properties, JTC is on track to meet its solar goals of reducing 55,000 tonnes in carbon emissions and contributing 100MWp towards the Energy Market Authority's 2030 target of 2GWp of solar energy, which is enough to power 350,000 households for a year.
To accommodate the large-scale deployment of solar PV panels, an unoccupied 3.9ha space on Jurong Island – equivalent to 5 soccer fields – was identified as a suitable pilot site. Phase 1 of SolarLand generated close to 6.6GWh in 2020. This is enough to power 1,475 4-room flats for a year, or equivalent to a reduction of 2,700 tonnes in carbon emissions.
Jurong Island companies have also made the move towards adopting clean energy. Companies with larger roof spaces have started deploying solar panels on their roofs, and the total installed solar capacity today stands at 8.1MWp, equivalent to powering 1,435 households a year. To date, around 20 companies have shown interest to solarise their spaces, adding a potential of 9.6 MWp of installed solar capacity, equivalent to powering an additional 1,700 households a year.
Looking towards the future, JTC has renewed the SolarLand programme to pilot solar, tidal, wave and wind technologies. When completed, this extension of the project is expected to create Singapore's first four-in-one renewable energy facility, delivering the highest amount of energy per sqm in the world.
Greening Jurong Island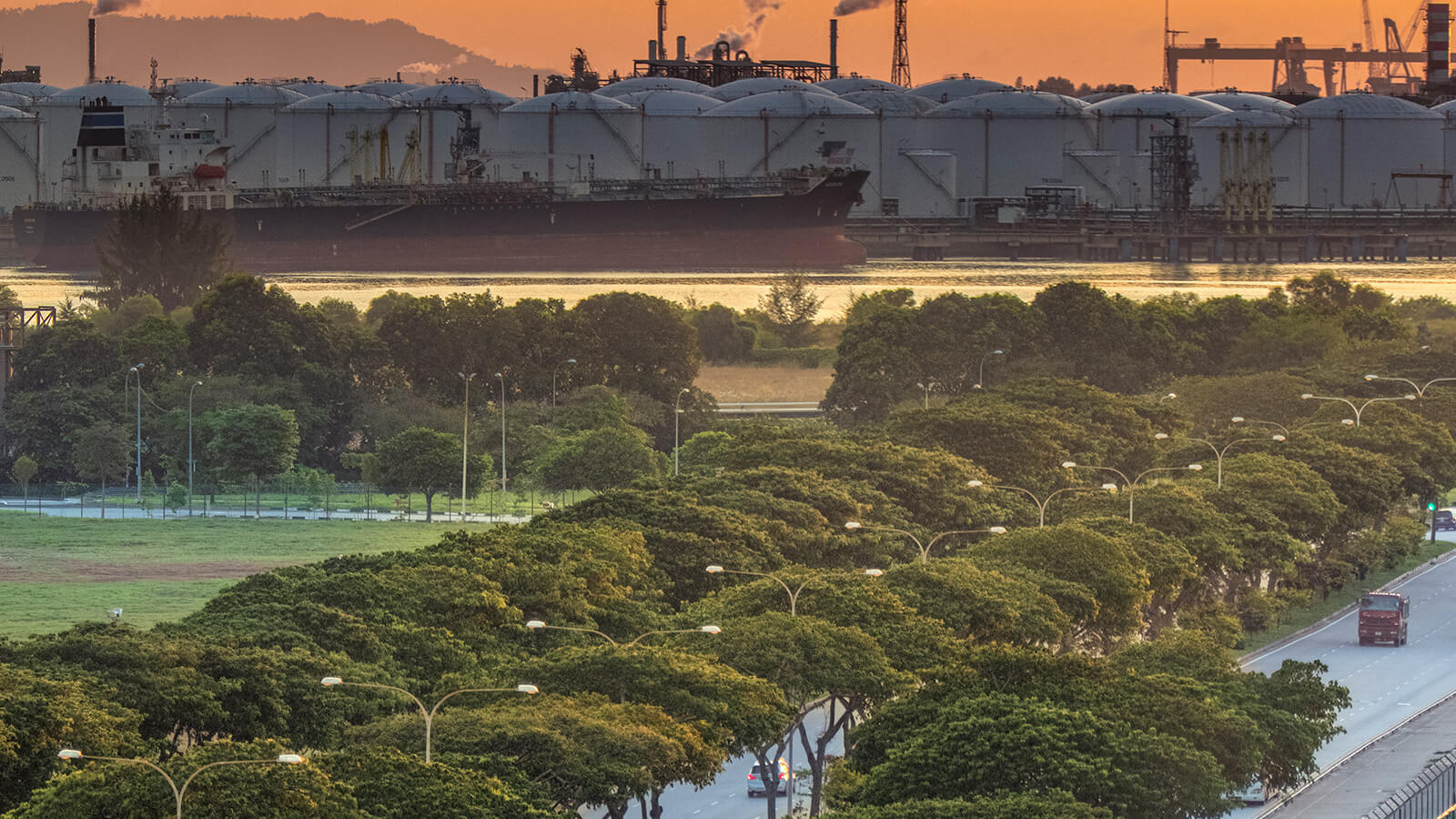 Greening Jurong Island with trees with more than 13,000 trees​
A joint effort by JTC, NParks, companies on Jurong Island and members of the Association of Process Industry (ASPRI), Greening Jurong Island is a tree-planting initiative that aims to create an industrial estate that is more conducive and attractive to businesses, while laying the groundwork for future sustainability efforts in Jurong Island.
More than 13,000 trees have been planted in the estate since March 2019, and the eventual goal is to have 34,000 new trees planted by 2022. To support the project, over $750,000 has been raised via NParks' Garden City Fund from more than 70 organisations in the Jurong Island community.
A greener Jurong Island will alleviate the urban heat island effect and lower ambient temperature. On a broader level, this project also contributes to Singapore's One Million Trees movement, whose goal is to plant a million trees across Singapore by 2030 and bring the therapeutic effects of greenery to even more corners of the country, creating a City in Nature.
As JTC works with companies to pilot innovations for a circular economy, Jurong Island will transform into a more sustainable energy and chemicals park, playing a leading role in shaping a greener future for the industry.
Want to join in on the action?
Sign up for our newsletter to receive the latest industry news, initiatives and events surrounding sustainable development.