Samwoh's Vision for Construction
26 April 2019 - For the staff of Samwoh Corporation, driving along the Marina Coastal Expressway is a matter of pride. The 5km stretch of road they paved is "so fine and smooth that you don't feel like you are travelling on a road," says CEO Mr Eric Soh.
Pinching his fingers, he adds that even the smallest reduction in roughness of a surface takes hard work. This attention to detail has set the company apart. Since establishing itself as one of Singapore's renowned construction companies, Samwoh has ratcheted up its innovation and sustainability efforts.
"I like new solutions," says the animated CEO. "When my guys tell me they can use recycled plastic on the roads, I'm very excited." This new research project builds on Samwoh's previous effort to recycle scrap tyres to form part of the asphalt mix for roads. Besides being environmentally friendly, the roads made from the new mix are more flexible and less likely to crack. Noise generated from the friction between cars and asphalt, moreover, is reduced.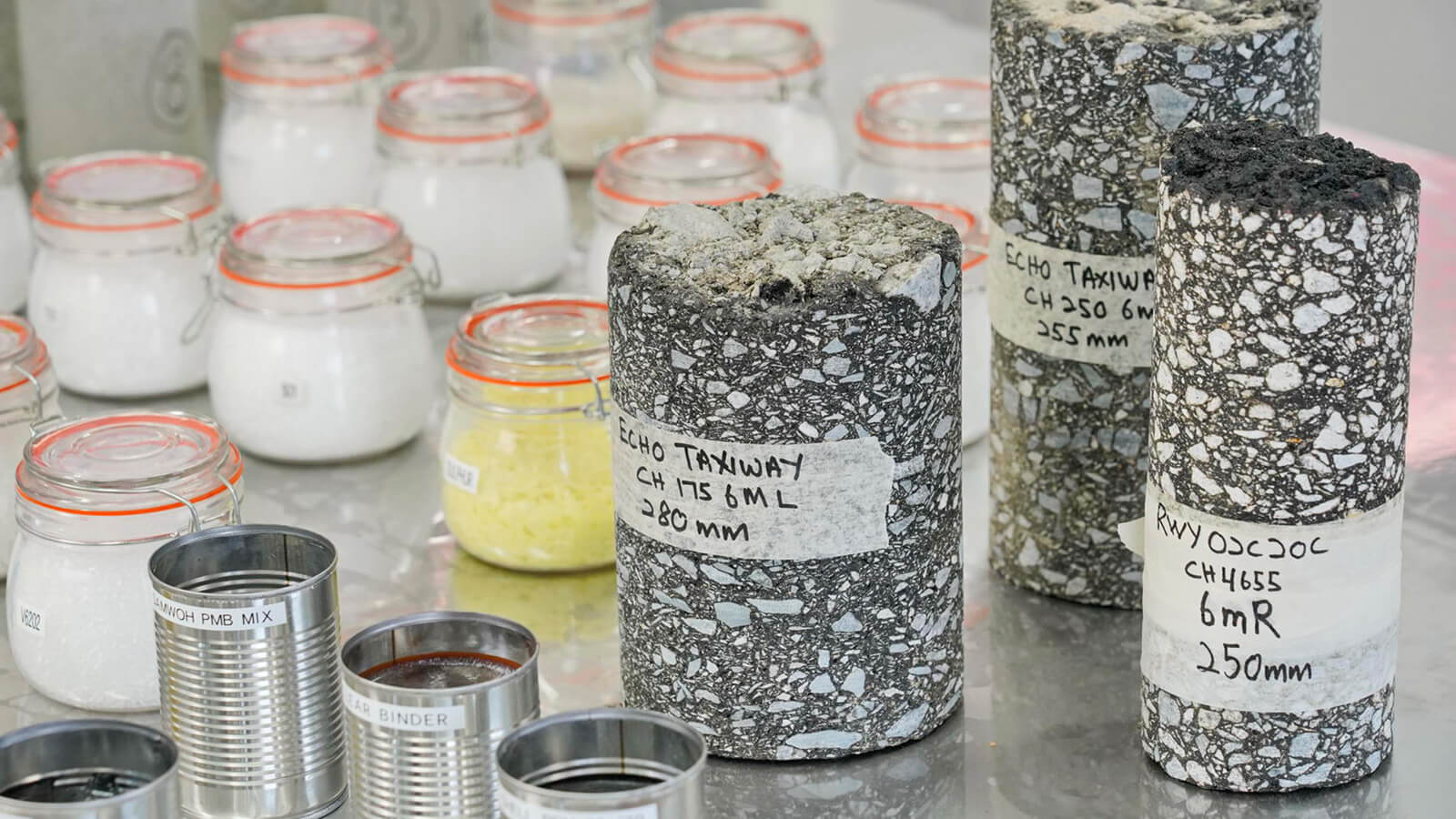 Material samples found at Samwoh Innovation Centre
This emphasis on research and development (R&D) and innovation is crucial for Samwoh to stay ahead and compete based on technical know-how, says Mr Soh. Research has become an integral part of the company since 2000. It opened the Samwoh Technical Centre in 2010 to test construction materials, and also began looking into new technologies, by sending its team abroad to see what they could adapt for local use. Signaling the company's stronger research and innovation emphasis, the centre was renamed the "Samwoh Innovation Centre" in 2015.
Mr Soh explains that this research and innovation focus drives and unifies the five core businesses of the company: asphalt, ready-mix concrete, civil engineering, recycling and building materials. With its innovation cachet, the company has begun to lend its expertise abroad. "We want to share our know-how, instead of just providing labour," says Mr Soh on the company's strategy in overseas markets. Today, the company enjoys an annual turnover in the range of $350 million to $420 million.
In Holland, the company deployed a machine, the Laser Crack Measurement System 2, to measure the quality and smoothness of all the highways stretching 15,000 kilometres around the country. It travels at 100 kilometers per hour, picking up cracks, potholes and other structural defects. Using data collected from the machine, Samwoh engineers then provided a report to the transport authority with analysis of findings and suggestions for repair and maintenance.
As an engineer himself, the animated CEO shares how engineers and researchers love the thrill of solving problems with ingenuity. "I still get a rush when I look at machines and solutions overseas. How is it used? What can I do with it when I bring it back? How can I stretch it further?"
Recognising this, he is resolute on providing a conducive place for them to tinker and come up with new solutions to problems.
"If we don't have that kind of environment for them to play, we don't have that kind of culture for them to learn and practise, we are heading nowhere." The caveat to this, though, is the need to focus on applied research. "Innovation or technology must be very practical and usable."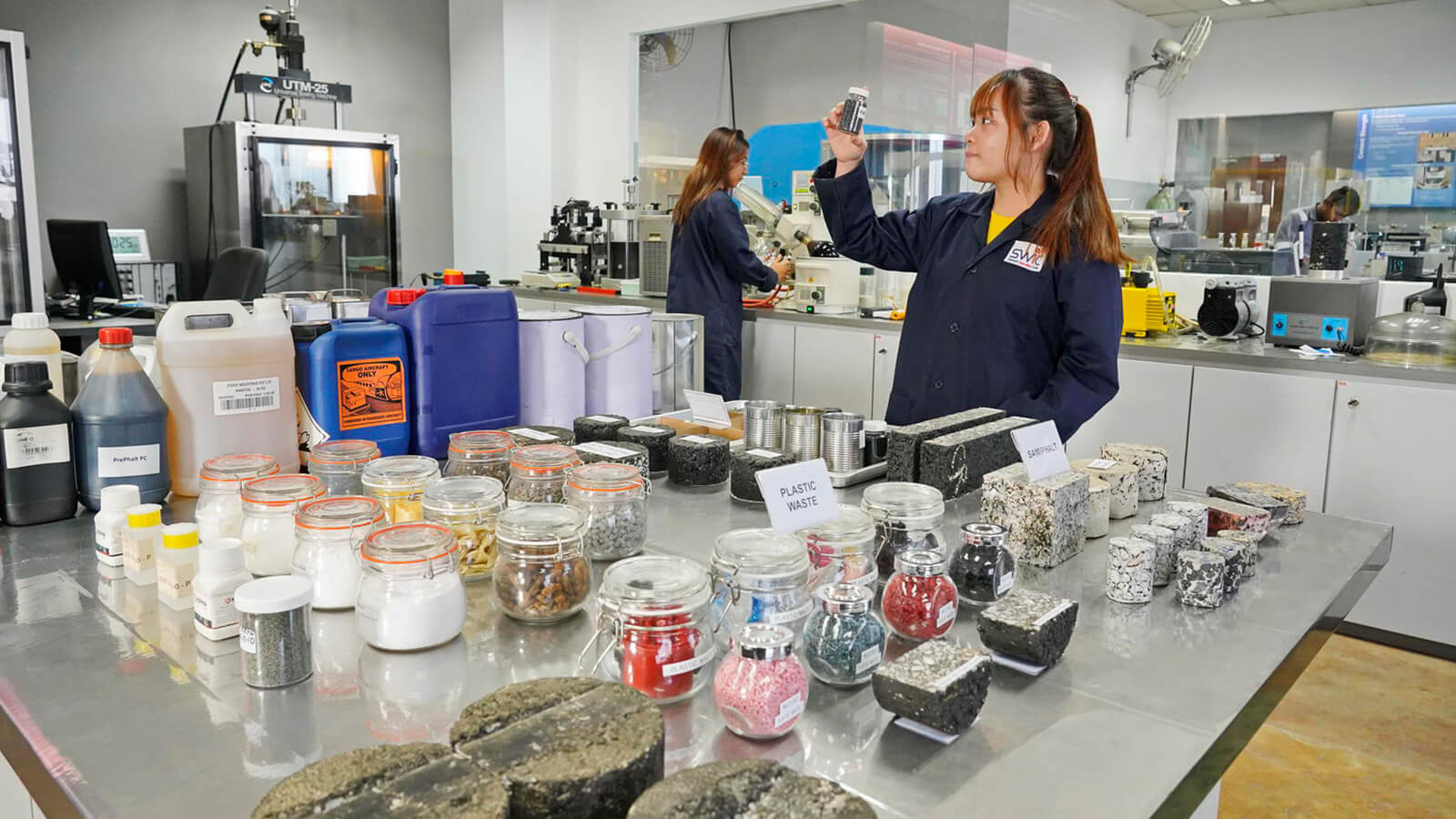 R&D activities at Samwoh Innovation Centre
Mr Soh does not deny that engineering involves hard work, but believes "engineering can be sexy". Case in point: the company's dynamism and innovative construction solutions. The company is committed to translating this message to the young, providing $500,000, from 2017 to 2022, for endowments for students in the civil engineering programme at the Singapore Institute of Technology.
Come 2020, staff at the company will be moving into its new headquarters, Samwoh Smart Hub, which is slated to be Singapore's first positive energy industrial building that will produce 20 to 30 per cent more energy than it uses.
Samwoh worked closely with JTC on the planning for the new site, which consolidates the construction group's operations across five premises to achieve 30% land savings and raise operational efficiency.
Extending the partnership, the two organisations embarked on a new Memorandum of Understanding (MOU) in March 2019 to collaborate and share resources to drive construction innovation in the Building and Infrastructure sector. JTC and Samwoh will explore and pursue joint research and development activities in common areas of interest, including digital technologies to enable common data integration and optimisation; automated solutions to improve productivity and maintenance; and sustainable solutions and construction materials to improve energy and resource resilience.
Internally, Samwoh already has a slew of digital apps and sensors tracking the organisation's range of processes from fuel management and fleet movement to asphalt services. But they are looking to link everything in a closed loop, cloud-based tracking system, shares Mr Soh. The aim is to further boost efficiency and transparency, giving Samwoh an additional edge beyond their construction innovations.
What drives Mr Soh and his Samwoh team in pushing boundaries is their dedication to building the future. He has this to say to the next generation of researchers and engineers, "You're not building for yourself. You are building for your children, for the next generation."