Made in Singapore - Crime Busting Robots
27 May 2019 - "Daring to dream" is the driving philosophy of OTSAW, a firm which turns radical ideas into a reality with robots that can chase down intruders.
During the dotcom boom, Mr Ling Ting Ming, a trained mechanical engineer, seized the chance to dive headfirst into the IT industry. In the same spirit of pushing the next frontier, he left Singapore eight years later for the "big magic" of Silicon Valley and ventured into deep technology.
The result? The CEO of Singapore-based startup OTSAW has pioneered a self-driving, four-wheeled robot that tracks and chases after intruders.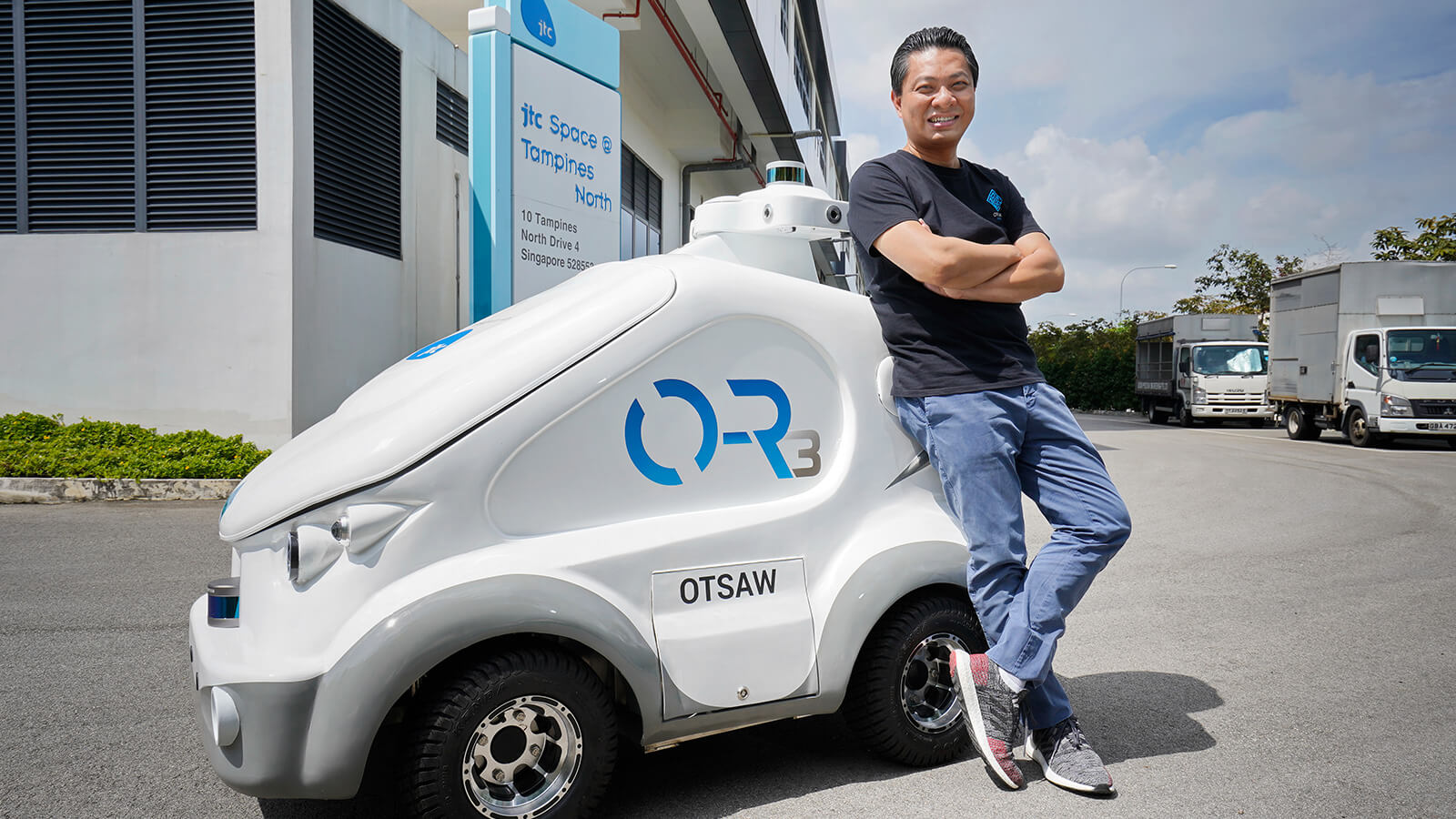 OTSAW CEO Ling Ting Ming and O-R3
With 360-degree cameras, facial recognition technology, thermal imaging, license plate readers and multiple sensors, O-R3 can patrol the streets with ease, pinpoint intruders and spot suspicious objects such as unattended bags. Its companion drone can pursue suspicious characters within a 100m radius or fly above inaccessible areas.
All recorded data is backed up in real-time to a command centre, where operators decide whether or not to activate security personnel.
Available for rent at US$10,000 (S$13,600) per month, the robot completes 10 to 20 patrol rounds per shift, versus a security guard's two to four rounds. This presents an advantage in today's "outcome-based, rather than headcount-based" security landscape.
Already, Dubai has snapped up 100 units for its police force, and the robot has attracted several car distributors and real estate developers in Malaysia and Thailand. OTSAW is also in discussions with security agencies and government corporations in Singapore and globally.
But beneath the robot's hardware lies OTSAW's "intellectual property, hidden in its algorithm", shared Mr Ling. The company is aptly named "box of treasures" in Hebrew.
Believing that "anything is possible"
Mr Ling made the decision to uproot to San Francisco in 2015, after eight years of helming technology solutions business ActiV Technology and feeling like he was just going through the motions.
Although other business owners reasoned that it might be cheaper to tap tech talent in the Southeast Asian region, Mr Ling was adamant to "learn from the best" in the tech industry on how a startup could become a titan.
The spirit of openness and innovation in Silicon Valley encouraged him. "You feel like anything and everything is possible," he said. Unlike in Asia, where "people wouldn't even meet you, let alone tell you their secrets", robotics experts he met in America shared tips and resources freely.
When he observed autonomous robotic technology heating up in the US and security threats dominating headlines, he thought: why not use robots to solve the security industry's manpower crunch in rapidly ageing Asian societies?
It was also his chance to build his firm's own intellectual property as an "intangible asset", which is highly valued in the West, compared with Asia's focus on tangible assets such as number of properties owned. With some S$4 million in seed funding, he set up OTSAW as a subsidiary under ActiV Technology. Over nine months, the team raced to launch its first prototype in 2017, overcoming challenges such as hardware and software compatibility.
Becoming the Grab of security robots
Today, the four-year-old company has offices in San Francisco, Tokyo, and Singapore.
At JTC Space @ Tampines North, O-R3 comes to life. Everything related to the robot's development happens there, from manufacturing and assembly, to test-bedding and continual fine-tuning.
Beyond OTSAW's own space, O-R3 roves freely around the development's ground floor loading bay, navigating among vehicles and people. The real-life situations and additional mileage help the robot learn what to do in various scenarios and advance machine learning, said Mr Ling.
The OTSAW team working on O-R3 at JTC Space @ Tampines North
Once, the team watched with trepidation when the 1.5m tall O-R3 came face-to-face with a container truck. They were unsure if the robot would slide in the space beneath the truck. But it could assess the situation and chose the safer option of reversing around the obstacle. The incident instilled confidence in Mr Ling's team that O-R3 could co-exist with other human-driven vehicles.
The live testbed at the compound also helps OTSAW win over initially "sceptical" clients by giving them a chance to see the robot in action, said Mr Ling.
Since moving in last November, OTSAW has sold six units, including one that will be shipped to Shanghai. Mr Ling hopes to hit 150 by the end of 2019, which could bring in US$30 million (S$40.8 million) in contract value.
While OTSAW has established a presence in Singapore, Malaysia and Thailand, Mr Ling sees an urgency to seize its first-mover advantage to "put the flag in every market" and capture the Southeast Asian market, just as Grab has done for ride-sharing.
He hopes to work with security agencies and facility management partners in South Korea, Japan and China next.
Beyond security, Mr Ling has even bigger dreams for OTSAW – to extend their technology to self-driving cars. He hopes to license OTSAW's autonomous software to automobile companies. The firm already has the advantage of testing and commercialising O-R3 and a rich repository of data, which can be harnessed for road use, he added.
He sees potential in the expanded use of autonomous vehicles across various industries, such as for facilities management and even road sweeping. A smaller robot for indoor inspections is targeted to be launched in June 2019.
To Mr Ling, each day is a learning opportunity and another chance to aim higher. "You may see a small factory today, but who knows? Everybody started from somewhere. A lot of people tend to see first before believing because they're pragmatic, but being an innovator, you need to dream," he said.
"If the people in the Valley can do it, we can do it too."