Clean, smart, and collaborative: Meet JTC's next-generation industrial developments
When it comes to "hardware", JTC's next-generation industrial developments are the ideal examples of how the manufacturing sector is placing greater focus on being clean, smart, and collaborative. In terms of "software", JTC is helping its tenants formulate digitalisation plans and search for suitable solutions by connecting with SMEs and technology partners.
Beng Hock Mechanical Engineering (BHME), a family business that provides one-stop services for the integration of heavy vehicles and waste management systems, will be moving into their new plant at the end of this year. Mr Leow Boon Tong and Mr Kenji Leow, the father-son duo managing BHME, see the upcoming move as an opportunity for the company to enhance its professional capabilities.

In an interview with Lianhe Zaobao, BHME Director Mr Leow Boon Tong said that based on discussions with a consultant, the company plans to introduce an automated inventory management system into their new workshop. "We estimate that we will need to invest approximately $1 million, and if we can recoup our investment in three years or so, this is definitely worth it."
Once everything is in place, BHME will be moving into TimMac @ Kranji, a multi-use industrial development by JTC. Situated at Kranji Loop, TimMac is slated for completion in the second half of this year and will bring together SMEs in the metal, machinery, and timber industries. The businesses setting up shop at TimMac will share common facilities and services, and therefore enjoy reduced capital and land savings.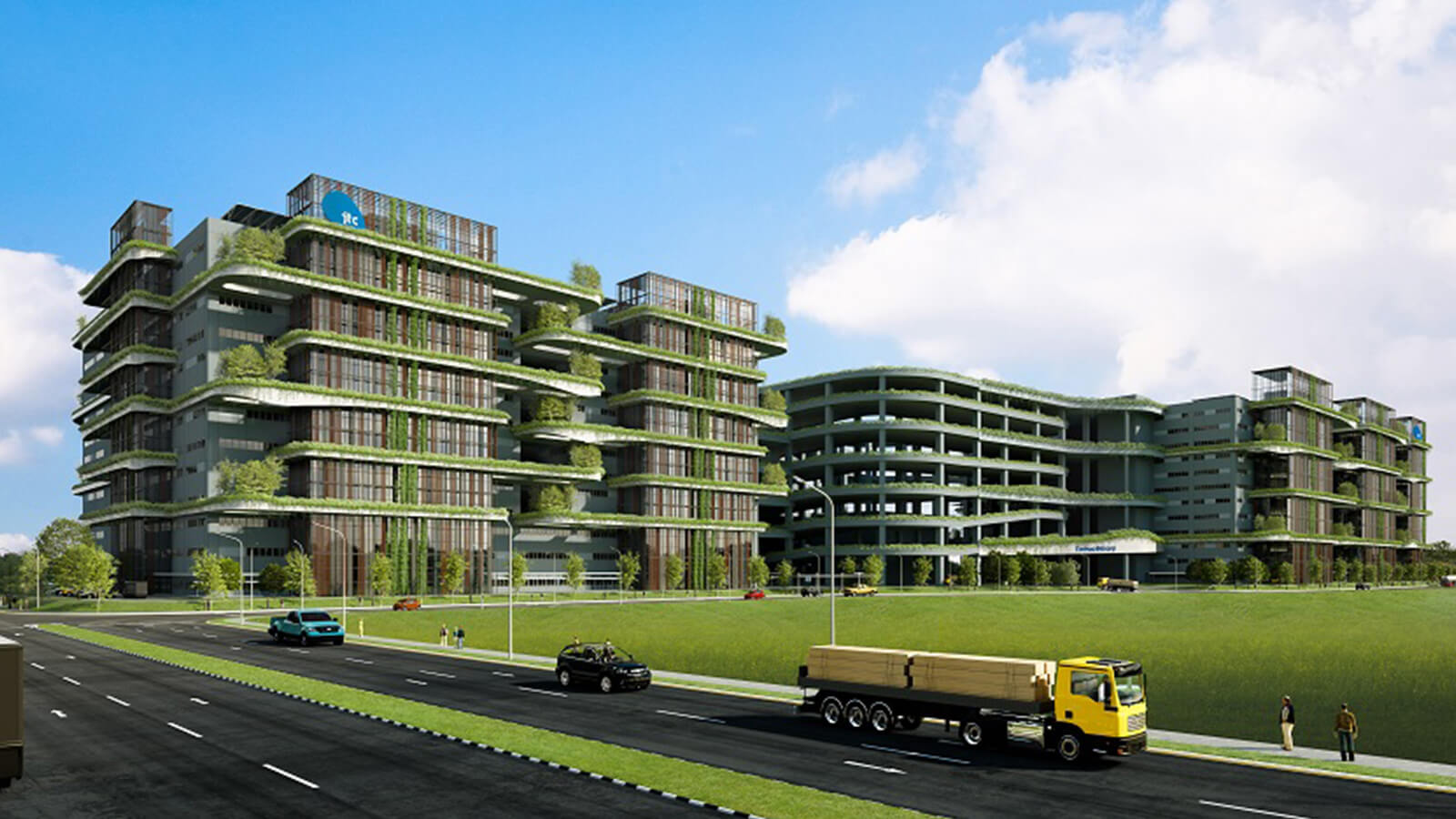 An artist's impression of TimMac @ Kranji located at Kranji Loop, slated to be completed in the second half of this year. It will bring together SMEs from the metals, machinery, and timber industries. SME tenants based in TimMac @ Kranji will be able to reduce capital and enjoy land savings by utilising the shared facilities and services within the premises.
1 North Coast located at Woodlands North Coast, is another JTC development that is due for completion in the second half of this year. The tenants at 1 North Coast are mainly involved in research and development (R&D), software development, and light manufacturing. These tenants can allocate up to 70% of their spaces for R&D purposes.
When interviewed, JTC's Assistant CEO (Industry Cluster Group), Mr Alvin Tan, said that the next generation of industrial buildings planned and developed by JTC embody the manufacturing sector's greater emphasis on having a clean, smart, and collaborative image.
Despite the COVID-19 pandemic affecting the global economy, advanced manufacturing remains one of Singapore's core focal points. Mr Alvin Tan said: "The pandemic has made more SMEs recognise that transformation and digitalisation are necessary if they wish to stay competitive. This has driven their desire to understand more about the practical applications of Industry 4.0."
In 2020, Singapore's economy shrank by 5.4%, making it the worst-ever recession in the country's history. Despite this, the manufacturing sector registered a 7.3% growth. Minister for Trade and Industry Mr Chan Chun Sing has set goals for the manufacturing sector to grow by 50% in the next 10 years. This target was based on the growth pace in the last decade.
JTC Plays Middleman to Connect SMEs and Technology Partners
However, the manufacturing industry today is vastly different. Mr Alvin Tan pointed out that with the emergence of new technologies, the global manufacturing scene is placing more focus on automation and digitalisation.
To stay ahead of the game, JTC has been trying out a new approach to connect SMEs and technology partners, helping tenants such as BHME formulate suitable digitalisation plans before moving into their new premises. "This approach is based on our observation that many enterprises view moving as a chance to start afresh so that they may improve efficiency and productivity," Mr Tan said.
BHME received assistance from iSMART, a consortium set up by the Singapore Precision Engineering & Technology Association (SPETA) in 2019 and supported by Enterprise Singapore. The consortium aims to help JTC's SME tenants embark on and expedite Industry 4.0 transformations.
JF Strategic Management, a member of the iSMART consortium, is the consulting firm for BHME. "More than 20 SMEs have benefitted from our services since our inception in 2019," explained Mr James Soh, JF Strategic Management's Managing Partner. "Our goal is to help 100 SMEs kickstart their transformation, adopt new technologies successfully, and move towards the next stage of development."
BHME started in the truck repair business and has expanded into the manufacturing of tippers and garbage truck compaction systems in the last 10 years. Homegrown environmental services provider 800 Super is one of their main clients.
Mr Kenji Leow, Managing Director of BHME, pointed out that his company's production involves a large volume of welding projects, and most of the parts used must be customised based on their clients' needs. "We installed sensors in the machines and found that due to poor inventory management, employees take a lot of time to search for and retrieve parts, leaving the machines idle during those periods," he said.
As part of their digitalisation plan, BHME will be introducing an automated inventory management system into their new workshop to solve this problem and improve productivity.
Another example of a company that is looking at automation solutions is Yew Huat Scaffolding Work. Unlike BHME, however, the 37-year-old company plans to undergo digitalisation at their existing premises.
Yew Huat's Operation Manager, Mr James Tan, expressed that scaffolding engineering is a very traditional business. He added: "We wanted to digitalise our business a few years ago but had trouble finding suitable technologies to support our plans."
Mr James Tan, who is also responsible for supervising the company's workplace health and safety issues, pointed out that the jobs handled by Yew Huat go beyond residential projects. They also take on infrastructure projects, such as MRT construction, and structures for event stages and exhibitions. The size of the materials needed for each project varies greatly, so this poses a significant challenge for storage. In addition, forklifts are required for the retrieval of materials from their inventory.
iSMART found a manufacturer that was willing to retrofit customised warehouse pallets and combine that with an Automated Storage and Retrieval System (ASRS), helping Yew Huat with their first step into Industry 4.0. Mr James Soh estimated that Yew Huat's warehouse can only accommodate roughly 400 pallets at the moment. However, with the ASRS in place, they would be able to increase this to 1,000 pallets.
Mr Soh said, "The target to help 100 companies may not seem like a big one, but we hope that the 100 SMEs we assist can become model case studies to encourage more SMEs to follow suit."
Decor Industries sees 50% growth in productivity with Industry 4.0 reform
Decor Industries set up a new production line for a client at the end of last year, using solely Industry 4.0 solutions from end-to-end. Even though expenses incurred were 50% higher than in previous years, the company's productivity also saw a 50% increment. Mr David Lim, Decor Industries' second-generation leader, thinks that this is a worthwhile investment.
Decor Industries specialises in providing plastic coating and electroplating services for manufacturing components. It started in the hard disk business and expanded into the medical, semiconductors, automobiles, and household electronics sectors in recent years.
"Two to three years ago, we started providing surface treatment services for driverless vehicle sensors. We discovered that there is an increasing demand for this component," Mr David Lim observed. He added that regular vehicles need around 10 sensors, while driverless vehicles require three to four times more sensors.
To secure more business, Decor Industries decided to undergo Industry 4.0 reforms. Mr David Lim revealed that their motivation came from a client in the consumer electronics business, who sought their help to set up a new production line. Since they had to help the client design a new production line, they decided to go all out and establish a fully digitalised one.
In November 2020, the company introduced a cloud system into a central control room that can be monitored and operated remotely. The new digitalised production line was put into operation in December 2020.
According to Mr David Lim, iSMART provided invaluable assistance. "They were able to tell us which ideas were viable, and which weren't. This this prevented us from going down the wrong path," he said. Since the company started using the new digitalised production line, the defect rate has gone down by 5%, while production has increased by 50%.
Mr David Lim plans to digitalise all production lines and administrative processes, including human resource and finance processes, within the next five years. Ideally, they would like to integrate resource management into the central cloud system as well. "This way, we would be able to monitor the production lines' energy consumption in real-time and adjust accordingly, instead of only seeing the issues when we get the electricity bills, since it would be too late then," he said.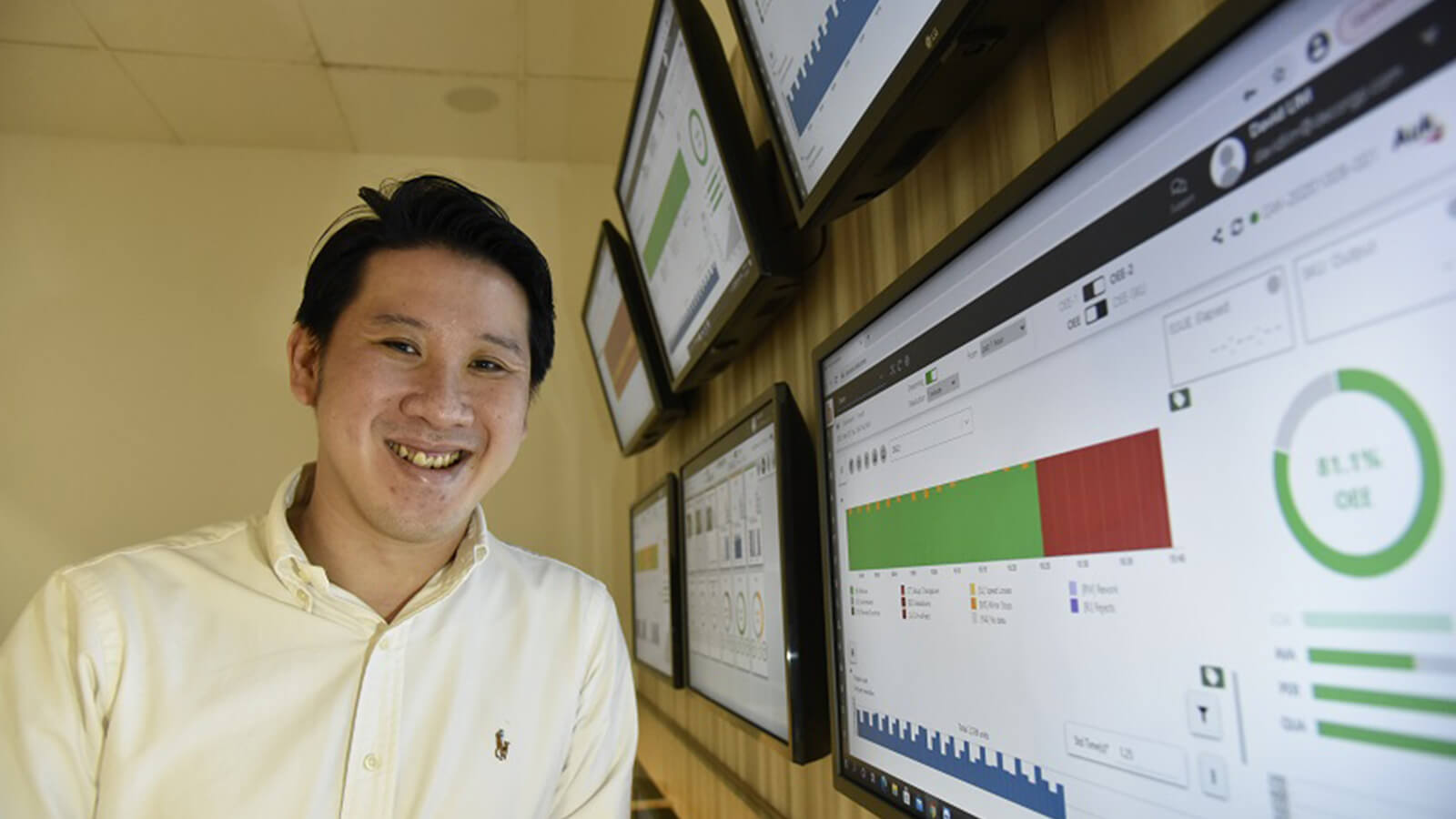 Mr David Lim, Chief Marketing Officer and second-generation leader of Decor Industries, plans to fully digitalise the company's production lines and administrative processes over the next five years. (Photo: zaobao.sg)
Translated from the original article, 《更重视干净智能和协作 裕廊集团建设新一代工业大楼》Lianhe Zaobao, 29 March 2021. Any errors are the translator's own. © Singapore Press Holdings Limited. Permission required for reproduction.