New wave of industrialisation ditches grimy image, upscale factories no longer a dream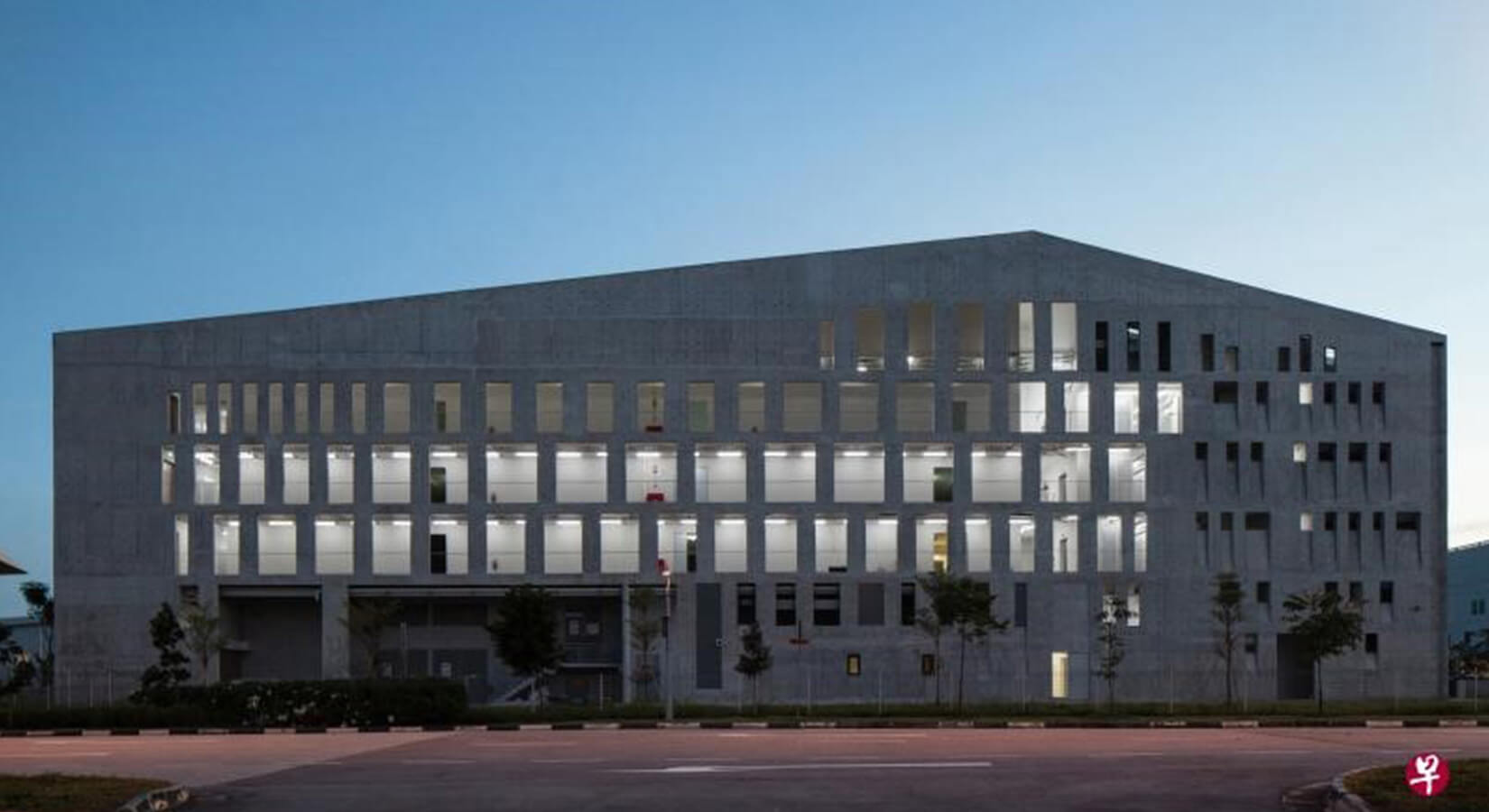 The sleek appearance of the Wah Son Engineering building stands out at dusk. This building design is the work of famous local architect Mr Yip Yuen Hong and was awarded "Design of the Year" in the 2016 President's Design Award. (Photo: Wah Son Engineering)
With Industry 4.0, Singapore's industrial plants will no longer be mere production bases but spaces with flexible and multifaceted usage potential. This article examines how the government is reconstructing the DNA of industrial land use by revising Gross Floor Area (GFA) apportionment rules.
Are all industrial plants drab and dirty? A homegrown precision manufacturing company broke this stereotype seven years ago.
Walking into Wah Son Engineering's 80,000 square foot plant at Seletar Aerospace Park, you will notice the careful thought that has gone into both the building façade and its interior design. From the office block to the production bay, the minimalistic concrete exterior and high ceilings create a bright, spacious environment. This design of the building is the brainchild of famous local architect Mr Yip Yuen Hong and it was awarded "Design of the Year" in the 2016 President's Design Award.
In an interview with Lianhe Zaobao, Executive Director of Wah Son Engineering Ms Lim Hee Joo said that the four-storey office block has various functional spaces. Some of these spaces are rented to like-minded partners to facilitate collaboration. She quipped that many young people approach the company for interview opportunities as they are attracted by the architecture's appearance.
There are other factories like Wah Son Engineering's in Singapore. With the rise of Industry 4.0 and emerging industries, robotics and automation in manufacturing are redefining the image of industrial spaces, bolstering the transformation of industrial buildings from mere production plants to functional spaces with greater adaptability.
For many international companies, Singapore is the preferred country to set up base for their operations. Therefore, in the long run, supporting Industry 4.0 and encouraging innovative modernised facilities have become crucial factors when it comes to attracting and retaining talent.
Acutely aware of this trend, the Singapore government revised the GFA apportionment rules for industrial areas and rolled out the Enterprise District concept, which will be put to trial in the upcoming Jurong Innovation District and Punggol Digital District.
Original plans: Three zones types carved out for different industrial needs
To meet the needs of different industrial activities, the government had originally planned for three main types of industrial use zones, namely Business 1 (B1), Business 2 (B2), and business park.
Based on the Urban Redevelopment Authority (URA) regulations, B1 zones are meant for businesses dealing with light manufacturing, food packing, printing and publishing, media production, telecommunications, or Internet-based services. B2 zones are used for general industry manufacturing activities such as production, assembly, maintenance, and knitting mills. These zones can also be used for the storage of chemicals and oils.
Meanwhile, business parks are targeted at businesses engaged in non-polluting industrial activities and high-tech, research and development (R&D), high value-added, and knowledge-intensive activities. JTC's Changi Business Park and CleanTech Park are some examples of business parks.
All businesses that set up factories or rent industrial spaces in the B1 or B2 zones must abide by the stipulated GFA apportionment rules. According to URA, at least 60% of the GFA had to be used for industrial purposes, while the other 40% could be used for ancillary functions such as offices and dining areas. For instance, Wah Son Engineering's plant falls under the B2 zone. Its production bay, therefore, takes up the most space on the premises.
New White Zones allow for broader usage and more flexible planning
However, the government subsequently introduced White zones to meet industrial transformation trends.
Zones B1-White and B2-White represent mixed property projects that combine industrial and white zone uses, which allows retail shops. When developing Business Park-White zones, the developer may allocate larger GFA for other purposes. These include residences, commercial offices, hotels, and sports and recreation facilities. As such, even though the Enterprise District is still required to abide by the GFA apportioning rules, the rules will apply to the overall district level rather than at site level.
Simply put, as long as there are official approvals from the master developer and relevant authorities, the different areas within the district can be adapted with greater flexibility to allow integration of industrial spaces with retail shops, offices, and even campuses.
According to Mr Desmond Sim, CBRE's Head of Research for Singapore and Southeast Asia, and Ms Elizabeth Low, Research Analyst for CBRE Southeast Asia, the new zoning guidelines not only allow the master developer to have greater flexibility in sourcing for tenants, but also allows businesses in the district share facilities. This creates a more vibrant environment, which generates greater potential for attracting the next generation of industrialists.
For example, the 50-hectare Punggol Digital District will be implemented gradually from 2023, to become Singapore's strategic centre for digital media industries and cybersecurity. On top of having green spaces, the Punggol Digital District will also be home to the Singapore Institute of Technology (SIT) campus and a Business Park, promoting enterprise-academia interactions through linked corridors and shared spaces.
Similarly, the 600-hectare Jurong Innovation District will also see learning, research, innovation, and production activities coming together in one place. Jurong Innovation District will be developed in stages over 20 years, with the first phase expected to be completed in 2022.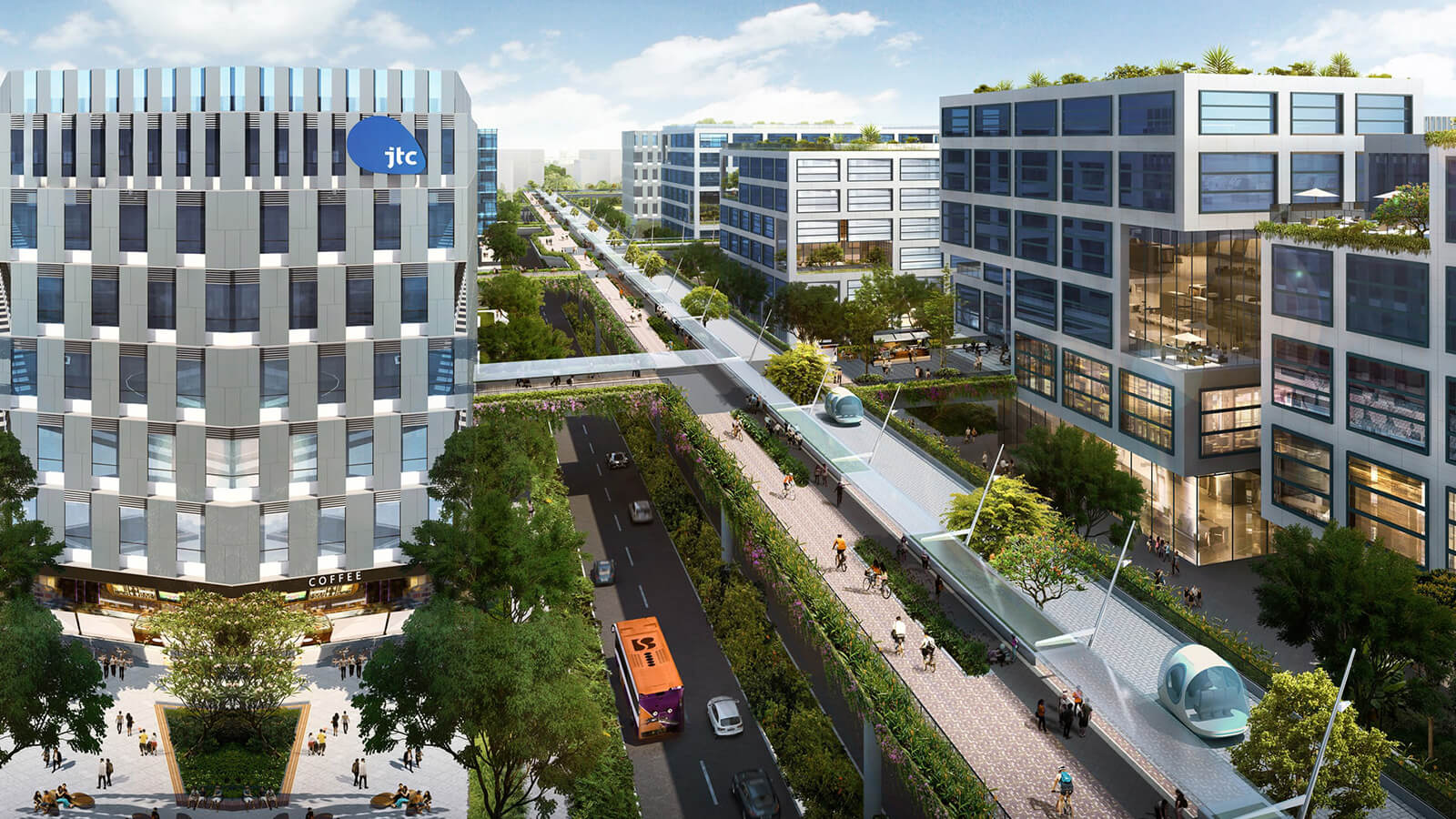 The future Jurong Innovation District will span across 600-hectares and see learning, research, innovation, and production activities coming together in one place. (Photo: JTC)
Additionally, as manufacturing is gradually being dominated by service-based activities, the government is also attempting to relax the GFA apportionment rules even further to meet this trend.
For instance, a soon-to-be-completed, nine-storey industrial building situated at 1 North Coast by JTC falls under the B1-White zone, but 70% of the space has been allocated for ancillary purposes, and only the remaining 30% is dedicated to industrial activities. This also implies that manufacturers can consolidate value-chain activities such as product development, experience centres, and after-sales service in the same space as their production facilities.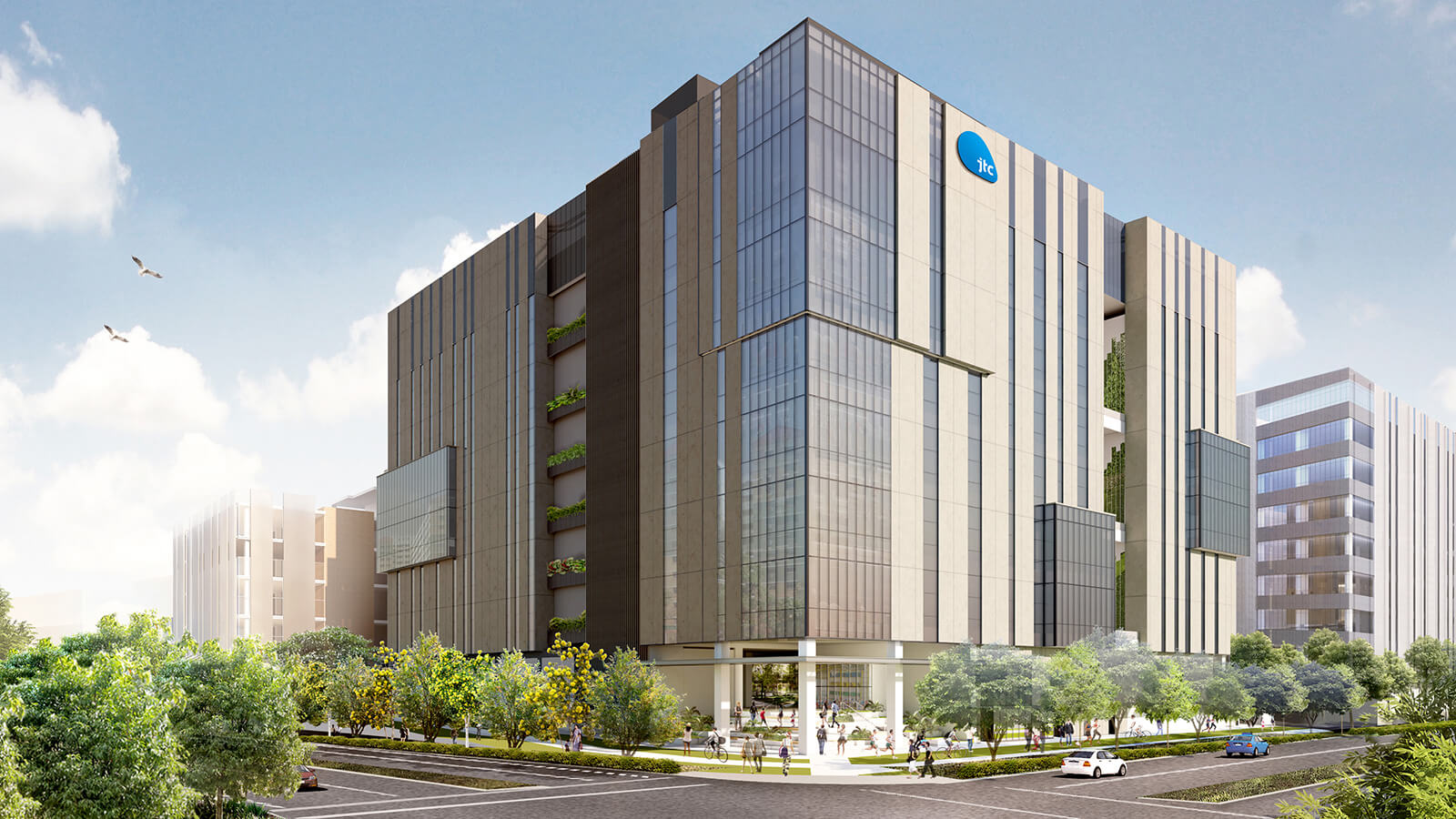 This nine-storey industrial building situated at Woodlands 1 North Coast will be completed this year, and will be home to tenants from different sectors, including R&D, software development, and light manufacturing. (Photo: JTC)
A spokesperson from JTC stated that this industrial building will have tenants from different sectors, including R&D, software development, and light manufacturing. Mr Sim and Ms Low suggested that such an arrangement is conducive for breakthroughs and innovation as companies have more opportunities to interact and collaborate
Implementation of flexible industrial land use relies on the support of private enterprises
While the commercial land development plans of such districts demonstrate the government's increasing flexibility in handling industrial land use, the success of any top-down policy still depends heavily on the private sector's support.
Mr Wong Xian Yang, Associate Director of Research for Singapore and Southeast Asia at Cushman & Wakefield, explained that urban planners develop land use and sector growth plans on a 10-year basis. However, with industry trends changing ever-so rapidly, authorities and private sector players must maintain open communications to ensure that such innovative districts can be realised swiftly. As industrial land use requires planning on a broader scale and demands high investment capital, it is still more apt for the government to lead such projects.
Professor Sing Tien Foo, Head of Department of Real Estate and Director of Institute of Real Estate and Urban Studies (IREUS) at the National University of Singapore, pointed out that the government's main consideration is the overall economy. Therefore, it will tap on favourable conditions to attract first-class foreign enterprises to set-up factories here to boost local employment and stimulate peripheral industries.
As the key driver behind Jurong Innovation District and Punggol Digital District, JTC has previously overseen the planning of many business parks, one-north among them.
Professor Sing added that local business parks focus on different economic levels, so if they play to their respective strengths, they will successfully attract relevant enterprises. For example, technology companies like Grab and Razer have started building new office buildings in one-north, and these will be completed this year.
Even though it is still in its early stages of construction, Jurong Innovation District has already won the hearts of many large enterprises. Japanese milling machine manufacturer Makino, innovative industry technologies manufacturer Konica Minolta, and South Korean automobile giant Hyundai Motor Group are among those that have announced their entry into the Jurong Innovation District ecosystem.
According to Cushman & Wakefield's Mr Wong, the high value-added manufacturing industry has shifted its focus from cost to intellectual property and talents, making automobile manufacturing feasible in Singapore.
Experts: Government agencies should lead by example and provide tenant subsidies to prevent innovative districts from becoming redundant
To prevent innovative districts from becoming white elephant projects, industry experts think that government agencies should lead the way and move into these districts, as well as provide tenants with subsidies to attract more entrants.
As an example, Mr Wong explained that statutory agencies like the Building and Construction Authority (BCA), Singapore Food Agency (SFA), and Agency for Science, Technology and Research (A*STAR) are leading the way and attracting other businesses to follow suit by being early movers into the Jurong Lake District.
Mr Tan Boon Leong, Executive Director of Industrial and Capital Markets at Knight Frank, pointed out that the biggest challenge is to convince businesses to move to these innovative districts before public transport infrastructure, recreation facilities and other amenities are in place. However, his suggestion is for the government to offer subsidies or rent-free periods to attract early movers.
This article first appeared in Lianhe Zaobao and zaobao.sg 新工业风挥别脏乱丑 华丽厂房不是梦 on 24 January 2021. Translated from the original article, 新工业风挥别脏乱丑 华丽厂房不是梦, Lianhe Zaobao and zaobao.sg, 24 January 2021 by JTC, any errors please check back with JTC.