Manufacturing the crown jewel of planes
Delving into Rolls-Royce's fan blade facility
People often get the impression that Mr Kenneth Lee's role at Rolls-Royce's campus at Seletar Aerospace Park involves cars.
"Generally, few are aware that Rolls-Royce makes engines for aircraft. When I tell people about my work, they still think of car factories with assembly lines," said Mr Lee, who is Head of Manufacturing Technology Programmes at Rolls-Royce's Fan Blade Singapore (FBSG) facility, which manufactures the hollow titanium wide chord fan blade - a Rolls-Royce crown jewel technology.
Behind the revolutionary design of Rolls-Royce's fan blades
The number of fan blades on an engine is dependent on the type of engine. The fan blades produce over 85% of the engine's thrust and can propel huge aircrafts like the Airbus A380, A350 and Boeing 787 Dreamliner.
"During take-off, the tips of the fan blades travel faster than the speed of sound," said Mr Lee. "The fan blades we make need to be able to withstand the forces generated and still be very light."
A fan blade is created by joining three sheets of titanium through diffusion bonding in an ultra-clean, high temperature pressure vessel. Using the process of super plastic forming, the blade is then twisted and inflated with an inert gas at very high temperature. The resulting blade has a hollow core and is very aerodynamically efficient.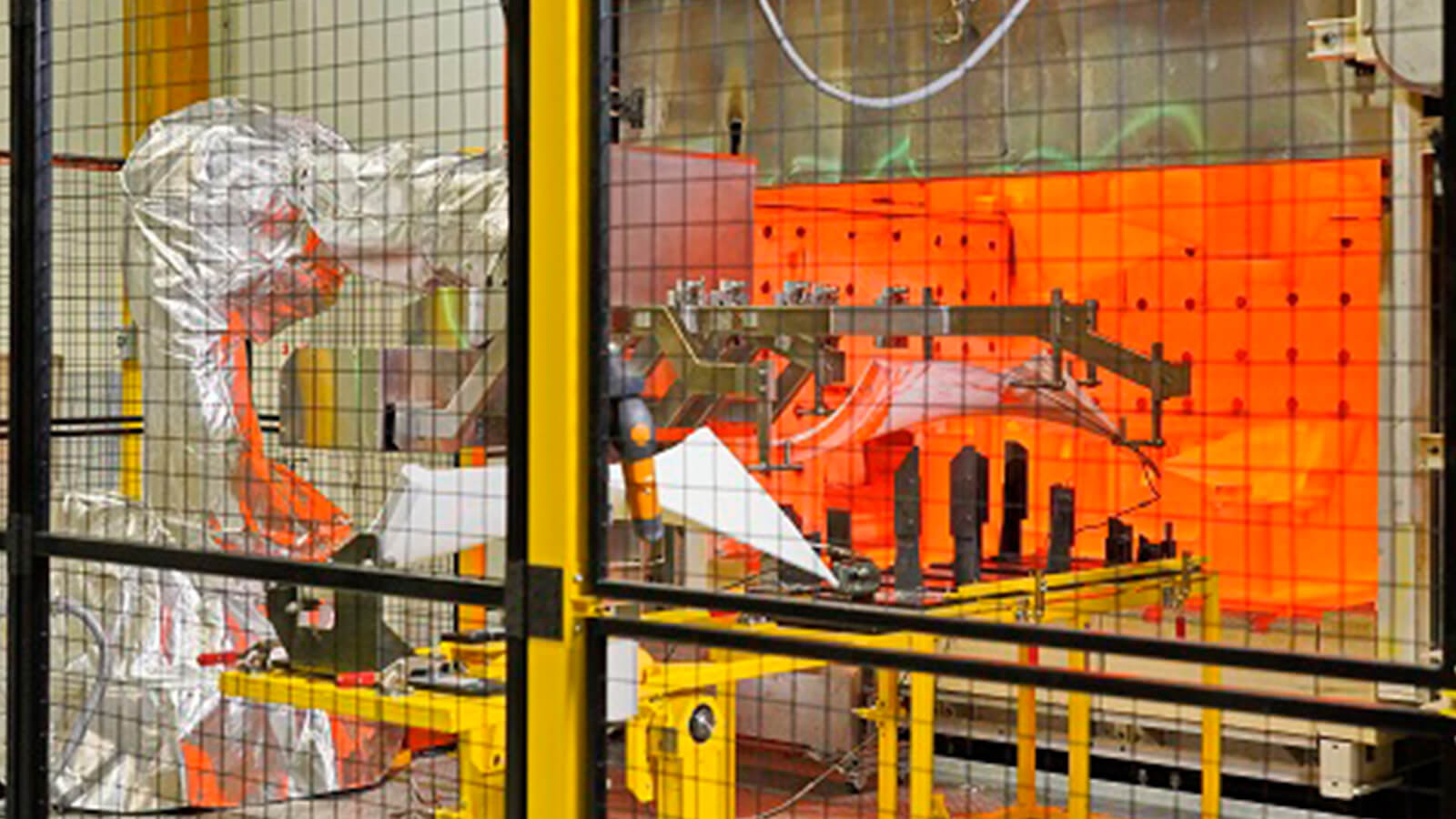 A foundry robot placing a fan blade inside the furnace
The whole process is delicate – the blade dimensions, including its shape, size, twist, and inflation, must conform to the accuracy of 40 microns, or about half the width of a human hair.
FBSG's innovative work is driven by an overarching Advanced Fan Blade Manufacturing (AFBM) strategy. Its three areas of focus – automation, digitalisation and people – ensure all aspects of its operations, from its facility and processes to staff, are prepared for smart manufacturing. The goal is to produce better fan blades in more efficient and cost competitive ways.
Introducing automation
Automating the manufacturing process is one key area that Mr Lee and his team looks at.
Previously, the super plastic forming process was done manually. Three men in full-body protection suits – looking like astronauts – would use a heavy manipulator to carefully place a fan blade into a furnace at extreme temperature.
As a solution to this delicate process, the team introduced automation in 2018. Today, 10 foundry robots, developed in collaboration with local SME KA Industrial Engineering, help to manoeuvre these fan blades in and out of the furnace with ease. "This takes the workers away from the hot furnace," said Mr Lee.
In another automation project, the team uses robots to spray boron nitride onto the fan blades, in order to prevent the blades from sticking to the mould. These robots, which can mimic human dexterity, were made in collaboration with the Advanced Remanufacturing and Technology Centre (ARTC), as part of a S$60 million Smart Manufacturing Joint Labs programme.
Harnessing artificial intelligence and machine learning
These changes are only the tip of the iceberg and the team is eyeing artificial intelligence and machine learning next, said Mr Lee.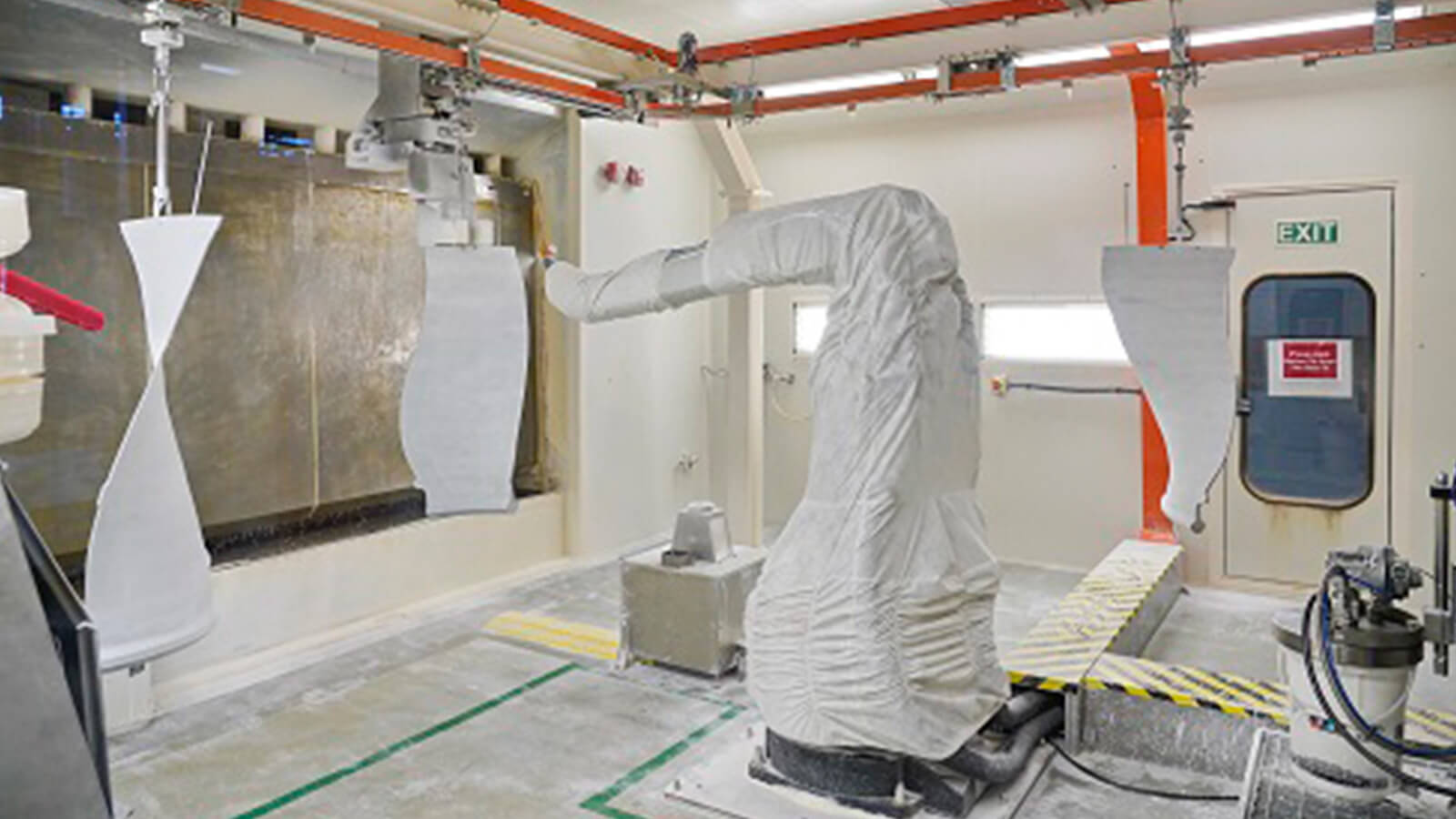 A robot spraying boron nitride onto the fan blades A robot spraying boron nitride onto the fan blades
It is looking to roll out these new technological solutions at its Chemical Machining cell, the plant's most hazardous area. Here, chemicals are used to remove large amounts of titanium to achieve a tapered blade profile.
With facial recognition technology, workers can be screened and alerted to the correct personal protection equipment to be worn during the chemical machining process.
"The personal protection equipment required varies across different areas within the facility. Hence, an automated system serves to alert workers of the correct protection equipment to be used upon entering a hazardous area," said Mr Lee, adding that a trial run proved successful.
The team's goal is to completely automate the Chemical Machining cell to remove workers from the most hazardous area of the plant.
People power
What drives such smart manufacturing initiatives forward is investment in people.
FBSG staff underwent a two-day, customised course at Singapore Polytechnic to learn about advanced manufacturing. Everyone in the plant, from management staff to technicians, attended the course.
On the rationale for this, Mr Lee said, "It is vital that we upskill the workforce in tandem with technology insertion, in order to be prepared for redesigned roles and responsibilities in the future."
The team will also be sending several staff to participate in an intermediate course on advanced manufacturing.
"It is exciting times as we are at the cusp of a new industrial revolution," said Mr Lee. "I feel privileged to be shaping the plant's future in this era of opportunity and potential."