Fresh sparks for the electronics industry
An artificial intelligence (AI) system has gone rogue. It is destroying the Internet. And time is running out.
This was the scenario greeting students who hopped onto the IMDA Lab on Wheels buses that were part of the inaugural Electronics Industry Day held at Tampines Wafer Fab Park. Organised by JTC, the event also saw over 1,000 students competing in drone challenges and learning about autonomous vehicles.
Students were treated to visits to factory premises, where companies shared about their operations and the career opportunities available. Twenty electronics companies also set up exhibition booths, where students could learn more about the various industries within the sector and their applications.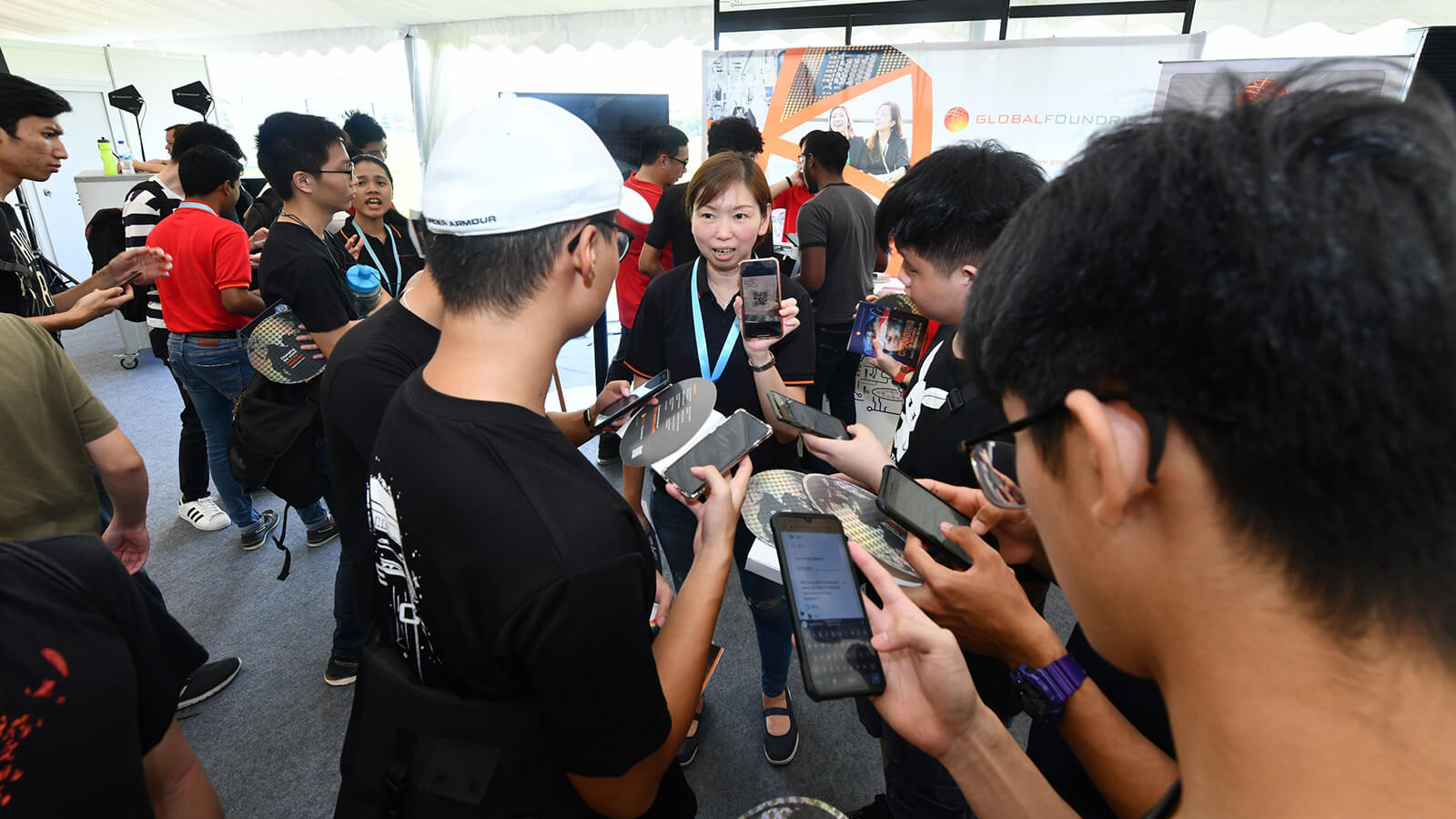 Showcases by companies from different segments of the electronics value chain
The event was part of a collaboration with Singapore Semiconductor Industry Association (SSIA), institutes of higher learning (IHLs) and industry partners. It is an effort to reach out to students to showcase the science and technology in semiconductor factories, and give them a picture of what is happening in the industry today.
Contributing to one-fifth of Singapore's manufacturing workforce, the electronics sector currently provides up to 90,000 jobs. The career opportunities in the sector continue to grow, driven by the demand for more semiconductors that stems from rapid digital transformation and growth in the electric and autonomous vehicle and consumer electronics markets.
"With growing opportunities in manufacturing, there is increasing demand for talents who are well-versed in new technologies such as 5G, AI, and robotics," says Mr Cheong Wee Lee, Director of JTC's Biomedical & Electronics Cluster.
To meet the demand for talent, "having a relevant workforce that is well-equipped with skills that can meet new industry demands is more important than ever," says Mr Ang Wee Seng, Executive Director of SSIA.
Mr Cheong explains that Electronics Industry Day was set up to meet this need. "[By bringing together] companies to shed light on their business and operations, [we can] get students excited about career opportunities in the field by giving them a real look at the exciting work that goes on behind closed doors," he says. "It is important that we expose our students early to the industry, so that they are plugged into manufacturing trends and can ready themselves for new demands," he adds.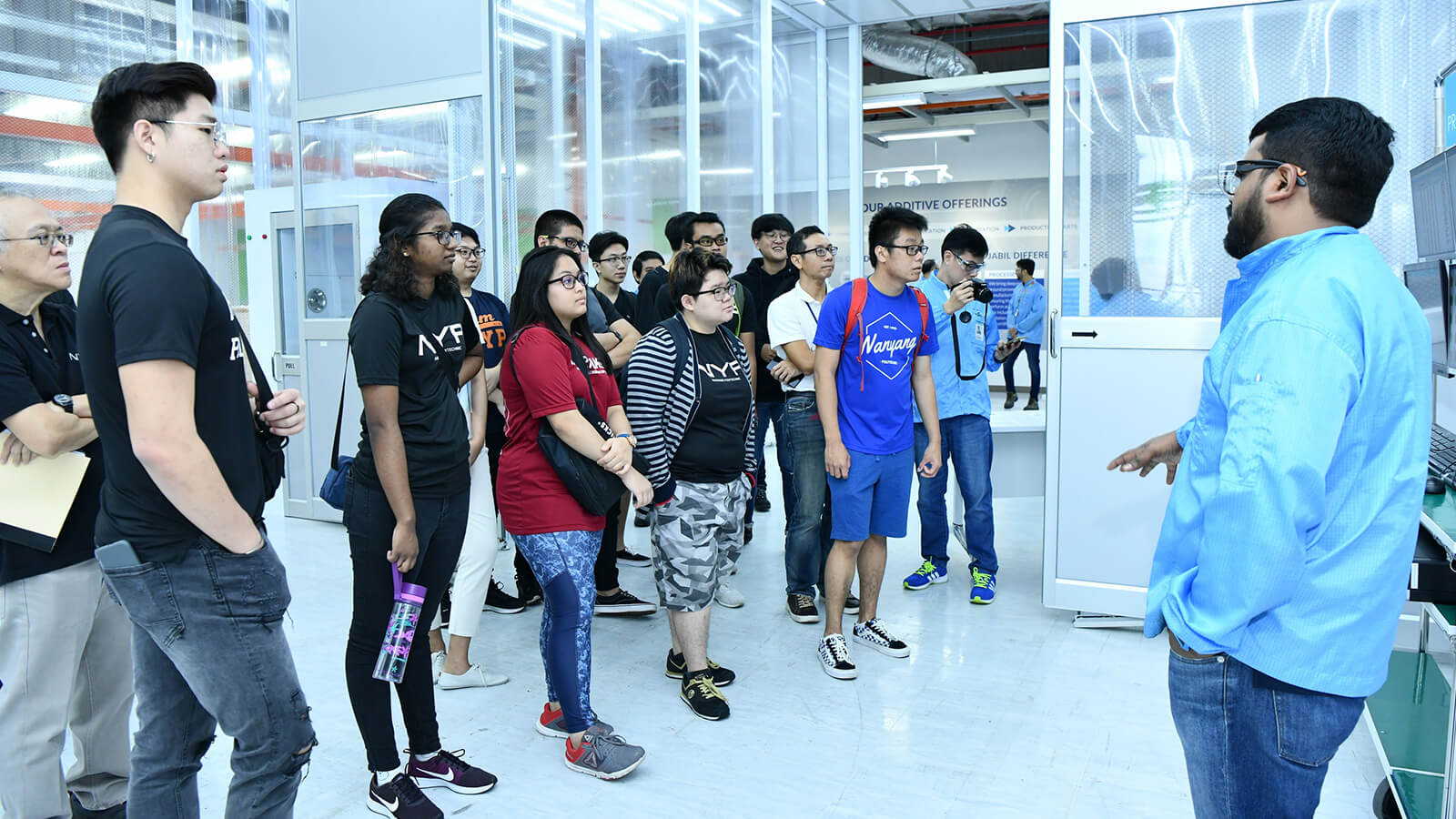 Electronics companies opened their facilities to students where they saw smart wearables and smart living technologies
Siltronic, SSMC, Soitec, UMC, Jabil and AMS were among the 20 electronics companies from Tampines and Pasir Ris Wafer Fab Parks that set up exhibition booths to showcase their work. Soitec and UMC, global leaders in the semiconductor industry, shared that they were encouraged by the turnout and interest from the students who visited their factories.
Ms Nicole Teoh from Human Resources at UMC said the event was "successful in helping [companies] promote their brand name as well as provide [students with] a deeper, clearer view into semiconductors." Ms German Chang from Facilities & Industrial Engineering at Soitec said there were "good responses from the students during the plant tour [to Soitec]" which showed "good signs of interest".
Mr Lee Youn Kay, Director of Nanyang Polytechnic (NYP)'s School of Engineering, praised the event as the "start of many fruitful collaborations" and described it as an "eye-opening experience" for the students.
"They gained valuable insights into the companies' business models, learnt about the state-of-the-art manufacturing facilities and discovered jobs and internship opportunities from interactions with staff members who warmly hosted them," he says.
Testament to the success of the event, Mr Lee's colleagues at the IHLs are keen to partner JTC for further outreach and some of his students have expressed interest in internships and careers in the sector.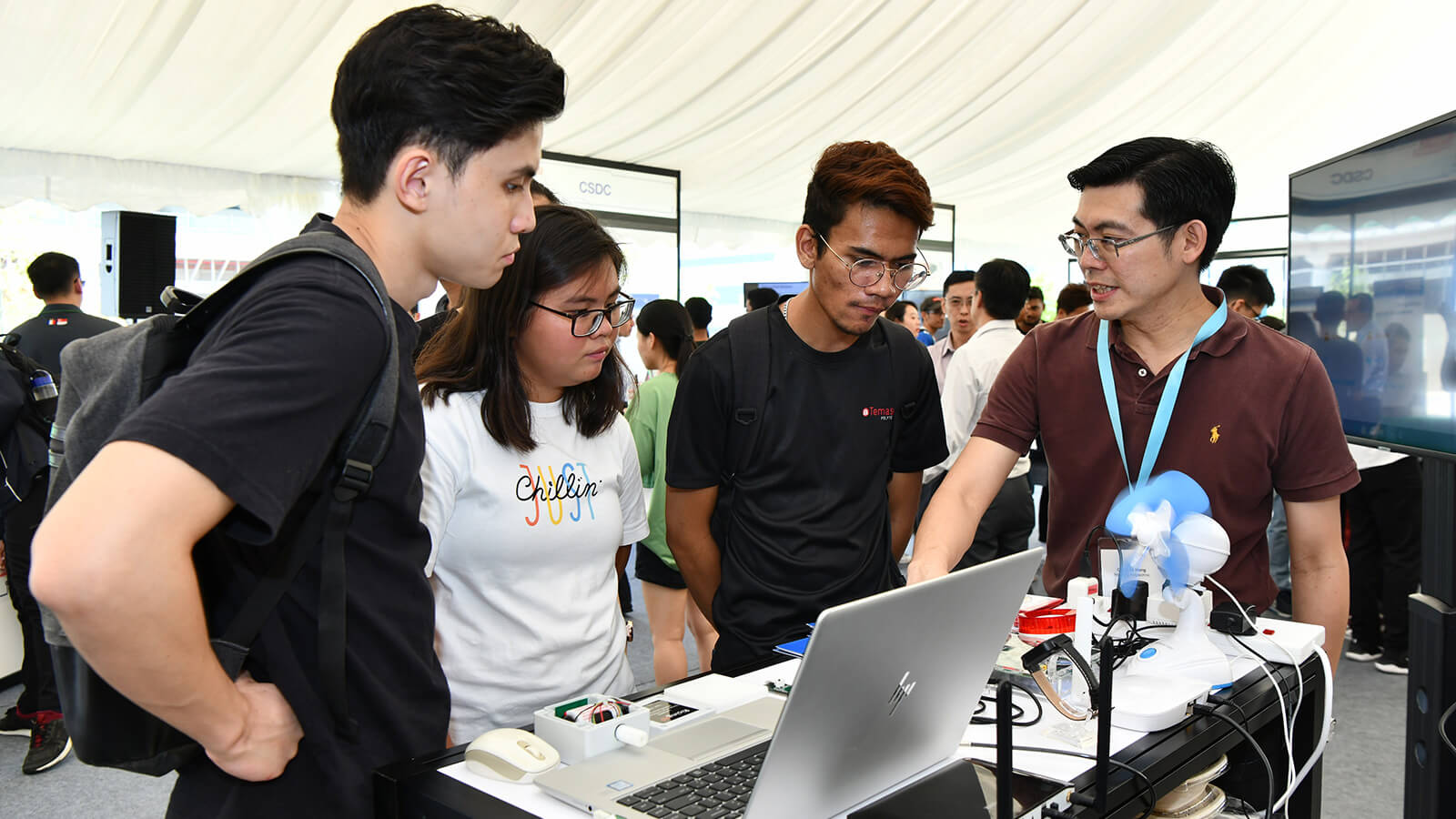 Students learning about the latest products and technologies at the event
One such student, Mr Christopher Sea, a third year Mechatronic Engineering student from NYP, was particularly impressed by manufacturing solutions provider Jabil's 3-D printing service. Observing how automation is creating new jobs and exciting possibilities for his generation, he says, "I'm excited to be trained with the right skills for this transformation."
In addition to exciting opportunities, a good working environment is also a strong pull factor for his generation, Mr Sea shares. Attentive to such considerations, JTC announced at the event plans to enhance Singapore's wafer fabrication parks to create more conducive environments.
By 2025, the Pasir Ris and Tampines wafer fab parks will be connected to the Park Connector Network and Round Island Route with 5.3 km of sheltered walkways and 6.7 km of cycling paths. This will improve accessibility to key amenity nodes and public bus stops. Works to enhance the greenery and streetscape to create a more attractive and environmentally sustainable workspace have also started at the two wafer fab parks.
Mr Cheong explains: "As the electronics sector moves into new applications and our manufacturing activities continue to evolve, our estates too, will need to evolve in order for Singapore to remain attractive as a manufacturing destination."
These changes are just the first of many in the pipeline. Paving the way for the future, JTC intends to "continue to partner companies and IHLs on future talent attraction efforts to ensure our estates remain attractive for both businesses and talents," Mr Cheong says.