Community greening takes off at Seletar Aerospace Park
You don't need a green thumb to kickstart a community greening programme. Just look at how companies at the Seletar Aerospace Park (SAP) and residents from the surrounding areas picked up shovels and water cans on a sunny afternoon in October 2019 to plant trees in the common areas of their industrial home.
Visit The Oval today and you will see their handiwork – fresh trees livening up the area of rustic and refurbished colonial bungalows. Called Greening Our WorkPlace @ Seletar Aerospace Park (GROW@SAP), this programme kickstarts a wider sustainability drive that aims to involve and collaborate with as many members of the Seletar aerospace community as possible.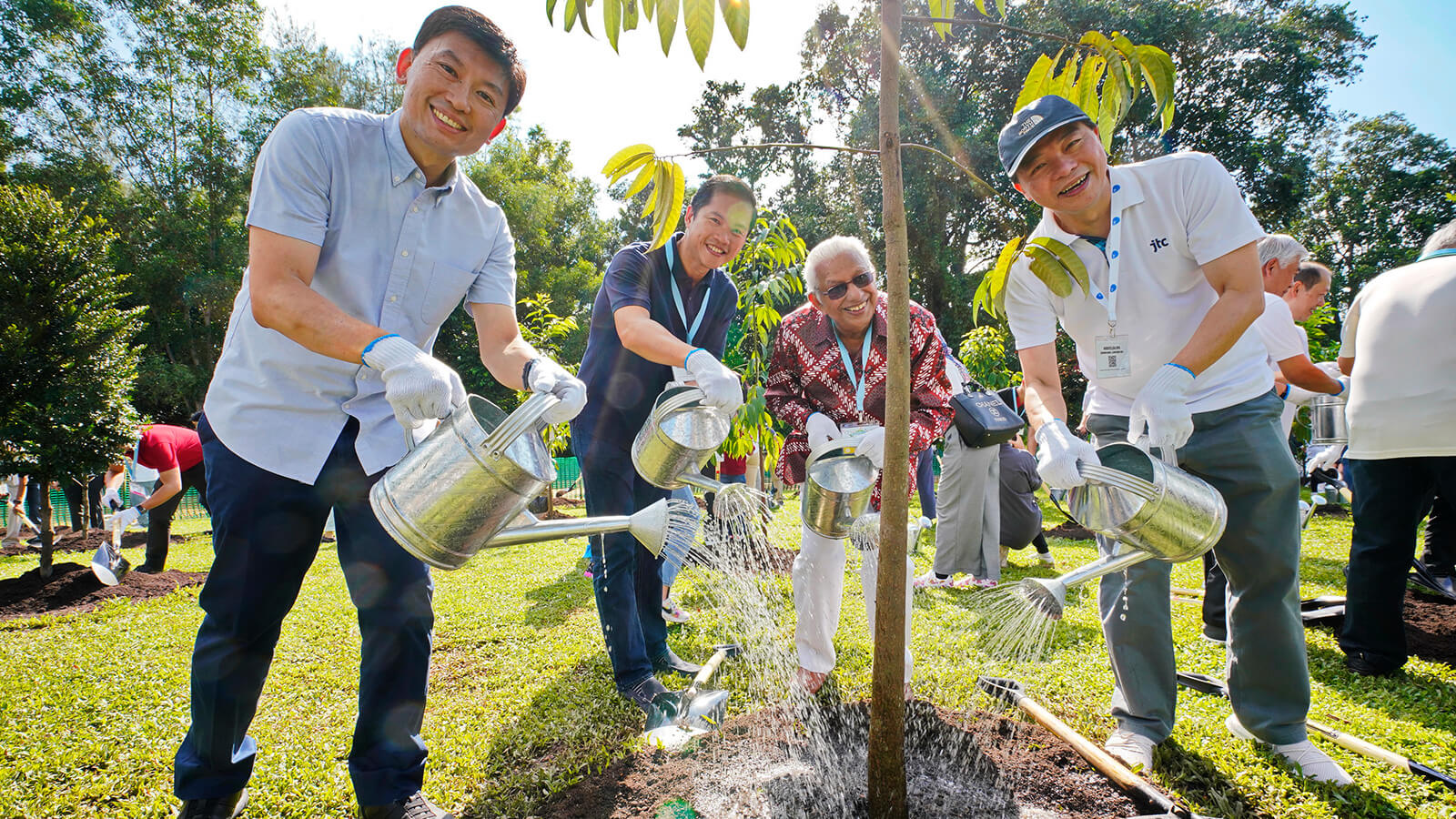 From left: Senior Minister of State, Ministry of Trade and Industry and Ministry of Education Mr Chee Hong Tat, NParks CEO Mr Kenneth Er, AAIS President Mr Philip Quek, Seletar Hills Residents' Association (SHERA) Chairman Mr Percival Jeyapal, JTC CEO Mr Ng Lang
Like the fertile soil plants require to grow strong, JTC and its partners, including ST Engineering, Rolls-Royce and Seletar Hills Estate Residents' Association, raised more than $100,000 for GROW@SAP to flourish. This is the first time that tenants of an industrial estate and surrounding residents have banded together to pool funds for a greening programme.
Mr Jeffrey Lam, Deputy President of ST Engineering's Aerospace sector, said they are happy to be a sponsor of GROW@SAP, and that "dealing with the impact of climate change and ensuring environmental sustainability calls for collective and integrated action by both the public and private sectors".
Having more trees within SAP will help improve air quality levels and reduce energy costs by naturally cooling the estate. Aerospace professionals working in the estate or visitors can also enjoy being in close contact with nature, which improves their health and mental well-being as they work, dine, play or relax.
Set to complement the restaurants and rustic environment of The Oval is an adjacent public park that is currently in development. When completed, the new Hampstead Wetlands Park will add to Seletar's greenery. The maintenance of the park will be covered by GROW@SAP, which remains open for contributions until June 2020.
Addressing members and partners of the industrial estate at the launch of GROW@SAP, Senior Minister of State for Trade and Industry and Education Chee Hong Tat said, "Your contributions signify the community's collective commitment towards sustainability and towards enriching our environment here at Seletar."
The launch event held at Wheeler's Estate within The Oval also featured a lifestyle and eco-carnival with more than 50 pop-up stores by green social enterprises and individuals passionate about saving the environment. Other activities included upcycling and art workshops for both the young and old. Guests were also invited to write a pledge on how they could adopt new habits to minimise waste in their daily lives.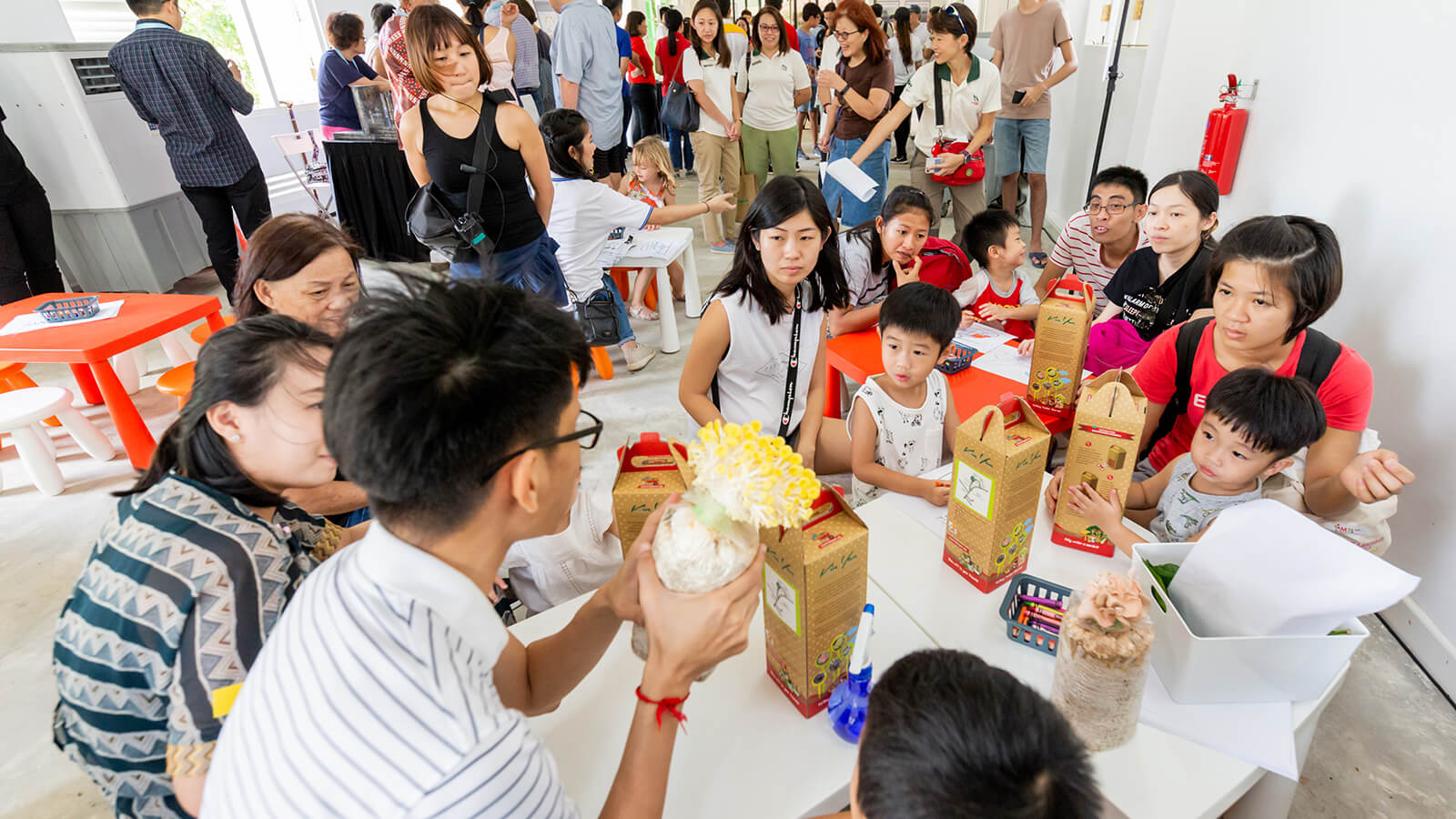 Members of the community participating in the various upcycling and art workshops held at the carnival
Mr Chee also announced that the Association of Aerospace Industries (Singapore) will be initiating a sustainability programme in the coming year. The programme will bring together companies to exchange ideas, share best practices and explore joint initiatives to achieve sustainability goals, such as improving energy efficiency.
This programme complements other sustainability efforts in the estate, such as the installation of solar panels on rooftops and hangars by Rolls-Royce, ST Engineering and Pratt & Whitney. As part of a trial, JTC has also installed solar panels on linkways in SAP to power them at night.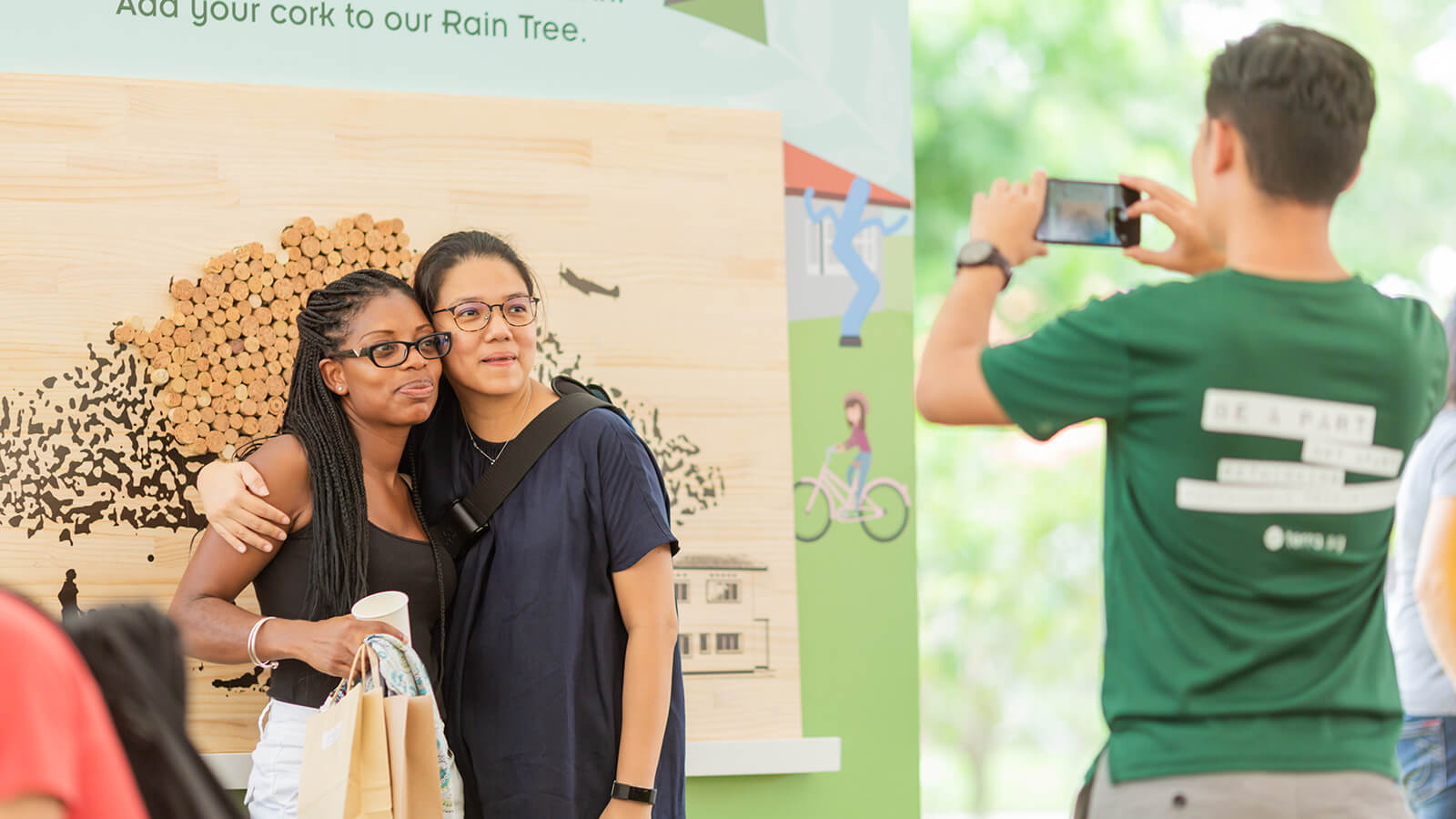 Guests were invited to write a pledge and add to the public art installation made out of upcycled materials collected from restaurants at The Oval
Commenting on the need for immediate action to address climate change, JTC's Chief Executive Officer, Mr Ng Lang, highlighted the importance of collaboration.
"We believe the best outcome can be achieved through collective partnership, and we are delighted that the aerospace industry and our larger community are collaborating with us to make a difference in our estates."