Matching industry and talent, one intern at a time
Learning how to troubleshoot problems is not something that can be taught in the classroom. So says Mr Chung Peng Mun, Technical Manager at Atom-Drive Pte Ltd. When he and his colleagues are not attending to logistical matters at headquarters, they are on site, fixing ventilation systems, air dryers and other industrial equipment for clients.
Across his 33 years in the industry, he has found that some knowledge can only be gained by learning on the job. Internships are therefore important, not just to match businesses with talents, but also as an avenue for companies to equip their potential hires with relevant skills that would otherwise not be taught in school.
Case in point: Atom-Drive intern Bo Hua recalls that months ago, just a few weeks into his internship, he met a client whose air compressor had broken down. Based on what he had read in textbooks, he believed the problem was caused by a leak that would require extensive repairs. The technician he was shadowing, however, diagnosed from experience that it was actually a drainage problem that could be more easily resolved.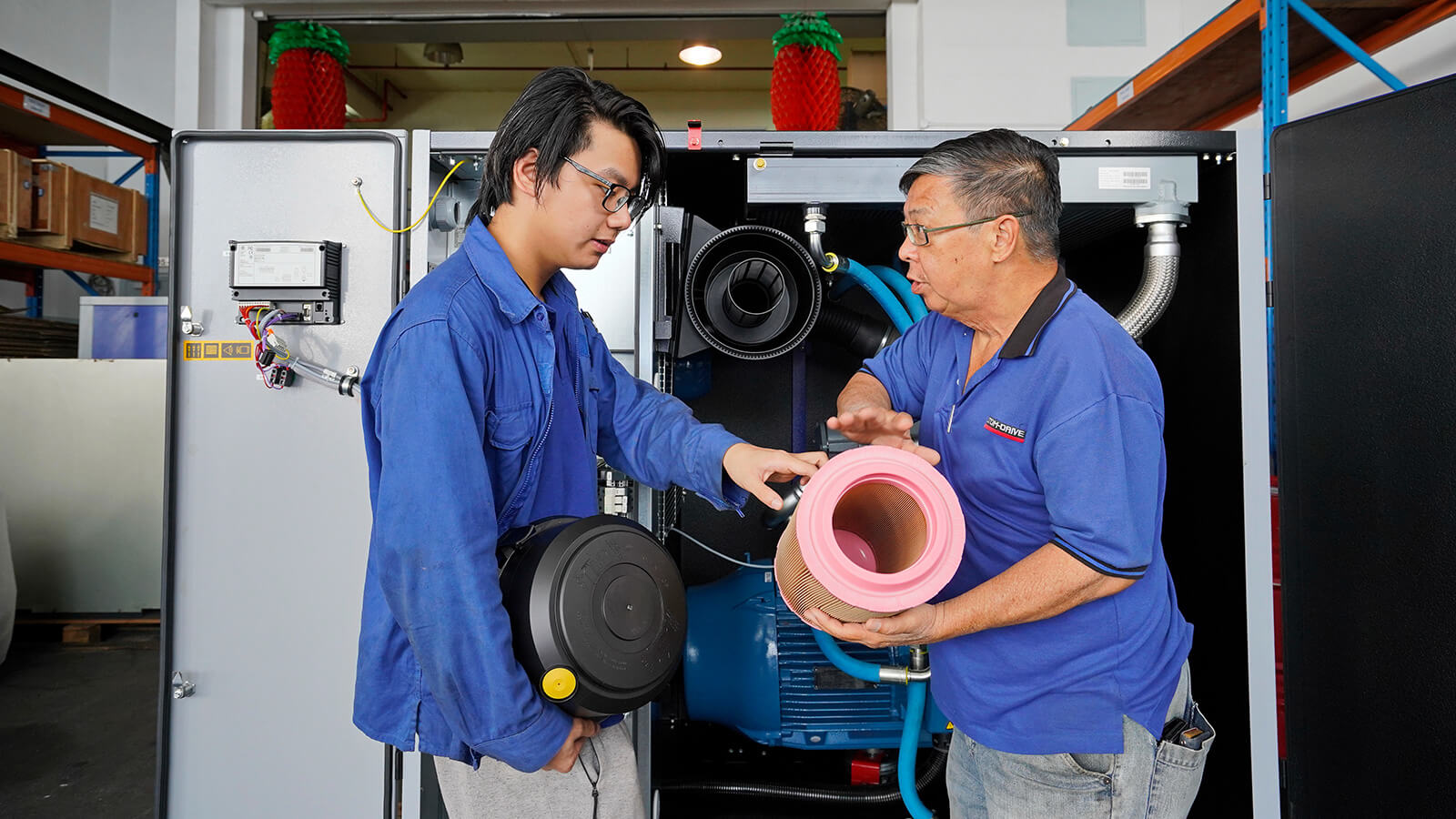 Mr Chung Peng Mun (right), Technical Director at Atom-Drive, with Bo Hua (left), intern from ITE College East
Learning experiences like this are what the third-year Mechanical Engineering student from ITE College East thrives on. After a few weeks of observing his superiors, he began requesting for more hands-on work. "Although I am just a student and not a qualified technician, I really wanted to learn something more," he explains.
ITE College East partnered JTC precisely to connect students like Bo Hua with companies in the Bedok Industrial Park E (BIPE). The internship programme started in 2018, when JTC noticed two unmet needs.
ITE College East needed companies willing to take in students with skills in areas like mechanical and electrical engineering, and motor vehicle repairs and servicing. As many of their students lived in the east, sending them across the island to the Tuas industrial area would be inconvenient for them and the lecturers tracking their progress.
BIPE was located near the school and had a good mix of companies. Internship opportunities would give the younger generation industry experience and hopefully spark interest in a career, which could help BIPE companies overcome their labour challenges.
"Hiring is a perpetual problem. Year in, year out, we hire people, and after working for a few months, they leave," says Mr Tung Weng Hoong, Project Manager at Globstat Technologies Pte Ltd, another BIPE tenant.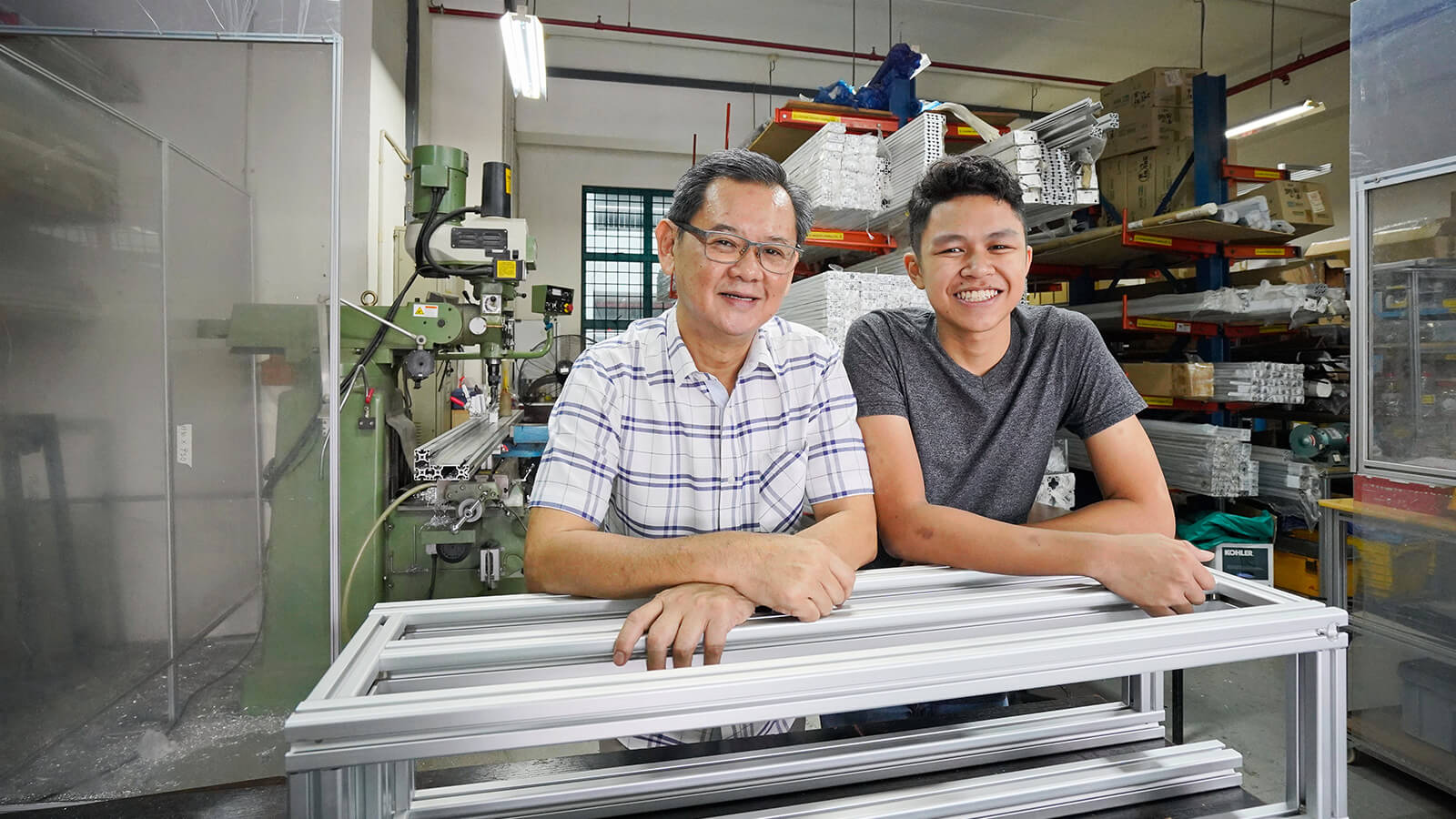 Mr Tung Weng Hoong (left), Project Manager at Globstat Technologies, with Hariz (right), intern from ITE College East
He notes that this problem has existed since Globstat was founded in 2000 to provide services for contamination control and electro-static discharge control. The company also designs and builds automation integrators and products for clean environments.
Both Mr Chung and Mr Tung believe that the tough working conditions in engineering and manufacturing drive people away. It is especially unfortunate, Mr Tung says, that although many do take courses related to these sectors, when they graduate "they are all going to jobs that are totally not related to what they are trained for".
As such, he applauds JTC's initiative as "the right move" to reignite interest from the younger generation. To show his support, he and four other companies each signed on to train interns for three years. Two new interns will be taken in by each company every six months.
Although Globstat's work serves a niche market in manufacturing, there are plenty of opportunities for interns to gain real-world experience and develop transferrable soft skills. Mr Tung says "I insist that my guys train them up on the quality that's expected and the standard time that's expected for them to do the job," he says, explaining that above all, he hopes to teach interns how to be "responsible for their work".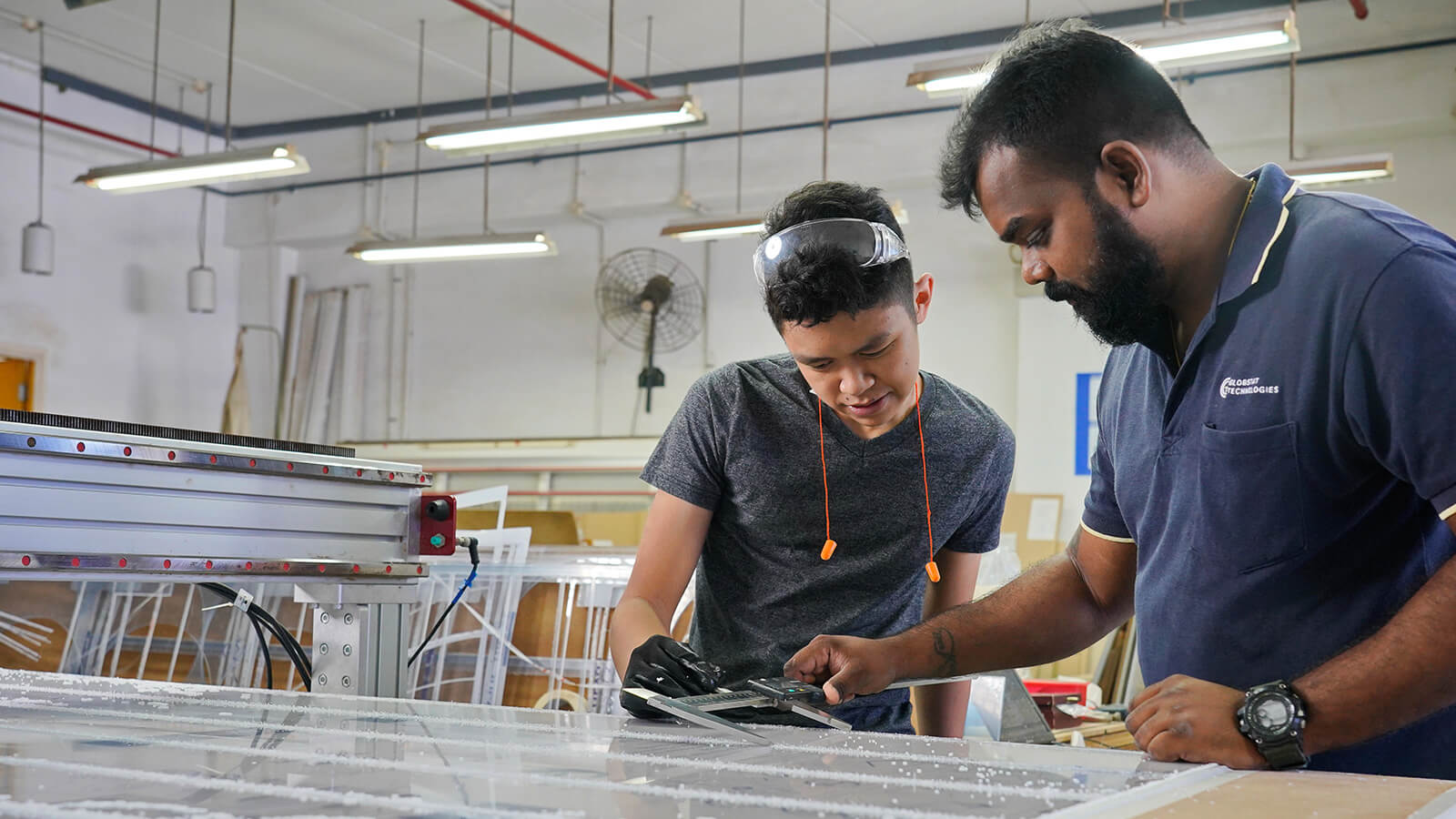 Globstat Technologies intern, Hariz, learning from a full-time employee
>Globstat intern Hariz shares that the responsibility of the job has taught him patience and commitment, adding that he particularly appreciates the chance to work with Computer Numerical Control (CNC) machines, where a pre-programmed software directs the movements of factory tools and processes. This is something he would not have been able to experience in school.
Bo Hua, too, recognises how on-the-job training has taught him to be more careful and precise. "In school you can just make mistakes and it's okay because you won't have any losses. But at work your mistake might cost thousands of dollars," he explains.
His next steps are to go on to national service and further his education, before finally looking for a full-time job. But when he does, he will always remember the biggest lesson he's learnt so far: "Don't be afraid to get your hands dirty, you'll learn a lot and you'll be thankful in the end."