Avimac, Asia Enterprises, Phoon Huat score digitalisation success
Digitalisation has become key for businesses seeking to transition into Industry 4.0 (I4.0) and the Singapore Business Federation's (SBF) eight-week-long IHCI Enabler Programme is one avenue which aims to help firms do just that.
The programme, part of the broader Industry 4.0 Human Capital Initiative (IHCI) launched in early 2020, puts companies through masterclasses, a shop-floor pilot programme and professional assessments. Partnering with business consultants McKinsey & Company and Ernst & Young, it identifies areas to digitalise, redesign jobs and leverage staff to improve business performance.
It recently started its third cohort with 20 companies. Last year, 47 businesses took part in the programme developed and funded by Workforce Singapore (WSG). Among them were precision engineering company Avimac, steel distributor Asia Enterprises and baking supply company Phoon Huat.
A self-proclaimed "machine shop", Avimac focused on providing machining services for the aerospace industry for most of its first two years in operation. Upgrades to increase equipment effectiveness were put on the back burner until Covid-19 hit, and orders came to a halt as planes were grounded.
This necessitated a switch for Avimac, who found renewed purpose providing parts to the semiconductor industry. The high demand and new expected turnaround time forced Avimac to address its inefficiencies fast.
Under IHCI Enabler's pilot, usage-tracking devices were installed on four of its 30 machines. Immediately, it confirmed the firm's suspicion that the machines were being under-utilised, often left idling, and operating at just 30 per cent of capacity, shared Avimac's general manager, Alan Tan.
A lot of downtime was because of skill sets, as machinists, familiar with only portions of the production process, would halt operations and wait for a senior to advise them, whenever a machine stopped, Mr Tan added.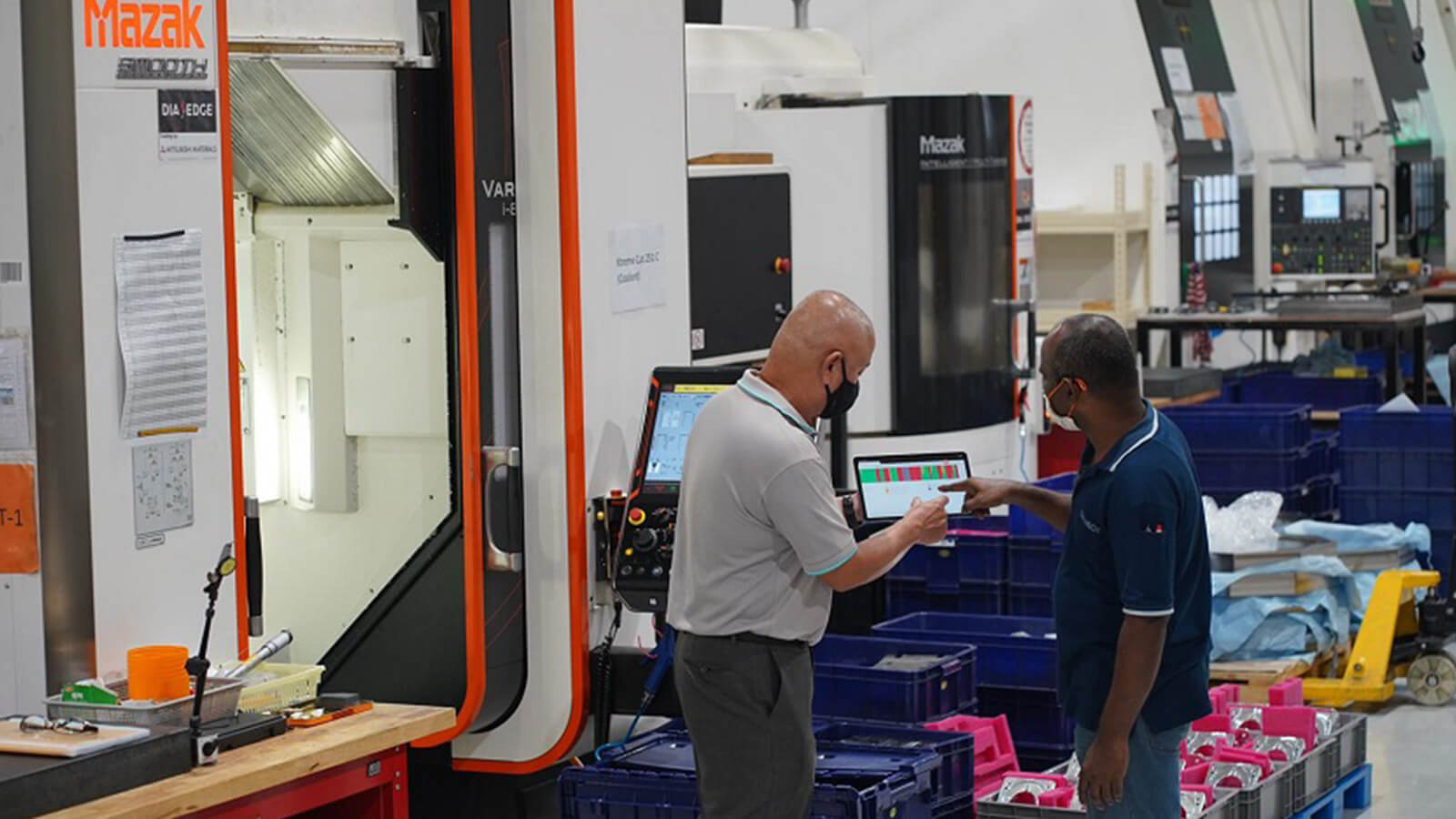 Through usage-tracking devices, Avimac general manager Alan Tan (left) discovered that machines were operating at just 30 per cent of capacity.
Internally, Avimac has begun conducting cross-training of its workforce and has begun to see improvements in its productivity.
Data is also proving its strength, especially among the younger employees. "When talking to youngsters, showing them data is enough," said Mr Tan. Day-to-day comparative data has also made workers more driven, he observed.
Productivity improved by 9 to 12 per cent in the two months since Avimac purchased and installed its own performance tracking devices. Eager to further boost this upward trajectory, the firm is in discussion with other solution providers to outfit their remaining 15 machines.
Attracted by the "unique collaboration" between SBF, McKinsey and EY, Asia Enterprises joined IHCI Enabler just hoping to tap on their expertise and get a better understanding of I4.0 and its applications in their operations.
"We were pleasantly surprised by the sophistication of analytics attainable with the data we have collected," said managing director Yvonne Lee.
The company, which processes and supplies steel to other industries, holds a large inventory of different grades and sizes of the metal. This requires large storage facilities and is therefore capital intensive, explained Ms Lee.
Ms Yvonne Lee, Managing Director of Asia Enterprises
Before the programme, inventory management heavily relied on management expertise, hinging on "laborious" manual review of historical data, customer engagement and suppliers. McKinsey installed an inventory management tool that set scientific targets for optimal inventory, aiding analyses and efficiency. "The programme expanded the scope of what our staff could achieve," Ms Lee added.
Building on the project team's suggestions, Asia Enterprises has upgraded its training plans, commenced courses in data analytics, modelling and analysis and is working to capitalise on a new inventory tool.
Another player that has sought to ride the I4.0 wave is Phoon Huat. Even before the baking craze during the circuit breaker last year emptied its shelves, the company, which brought in a total annual revenue of S$120 million last year, had been looking to boost its production efficiency.
Its manufacturing business, where it produces some of its in-house brand products, makes up about 25 per cent of its sales.
"It's a question of effort-reward," said executive director James Wong. Working with a lean manufacturing team, Phoon Huat lacked the manpower and expertise to invest in digital process monitoring. IHCI Enabler, providing a low-risk environment and expert advice, afforded the company the opportunity to study the company's issues.
An Internet of Things device was installed, with sensors to "monitor various faculties of the machines" such as running and stopping time and reasons for rejected products, to understand why production rate was not meeting expectations, Mr Wong said.
Some problems identified, like machine maintenance cutting into valuable production time, were easily solved.
But the results also led to a "shocking" discovery - machine availability, where machines are in operation, was only 48 per cent. Cutter problems, heater problems and switching between different product types posed minor issues. But machines would start running later and stop running earlier than was expected, which signalled that staff were beginning the production process late and ending production ahead of time.
Phoon Huat has worked to counsel its staff and encouraged them to take up SkillsFuture courses suggested by the project team, and that, together with other minor changes, has increased overall production by about 12 per cent.
"The programme was very comprehensive. It covers everything from machinery, human capital to process flow," Mr Wong said, talking about how data has confirmed his suspicions. "These days, I think big data is the way to go. It's more scientific, instead of gut feeling."
Mr Wong foresees that reviewing and reworking production workflow, though challenging, will reap even greater rewards, and that is part of their longer-term strategy.
Bo Huang, the IHCI Enabler project director for McKinsey, said: "According to a recent McKinsey study, about 74 per cent of transformations remain stuck in a 'pilot trap' and fail to realise the promised impact. Chief among the reasons for this is that companies tend to embark on digitalisation efforts with a strong focus on technology. In the absence of business value and a ready organisation, such efforts often fail."
He explained that many programmes so far target upskilling or digitalisation individually, but IHCI marries the two together.
"Through the pilot projects, companies get tailored hands-on guidance on how they can prioritise their transformation efforts, adopt practical Industry 4.0 solutions, build up human capital capabilities and develop a roadmap for the future," said Joanne Guo, assistant CEO of strategy & development at SBF.
WSG director Anderson Ee has said that the programme aims to reach 300 companies by 2022. Four cohorts are scheduled for this year, with a target of reaching 150 companies. Businesses can register their interest on the IHCI Enabler programme website.
Source: The Business Times © Singapore Press Holdings Limited. Reproduced with permission.