Singapore's factory future: Taking manufacturing to new highs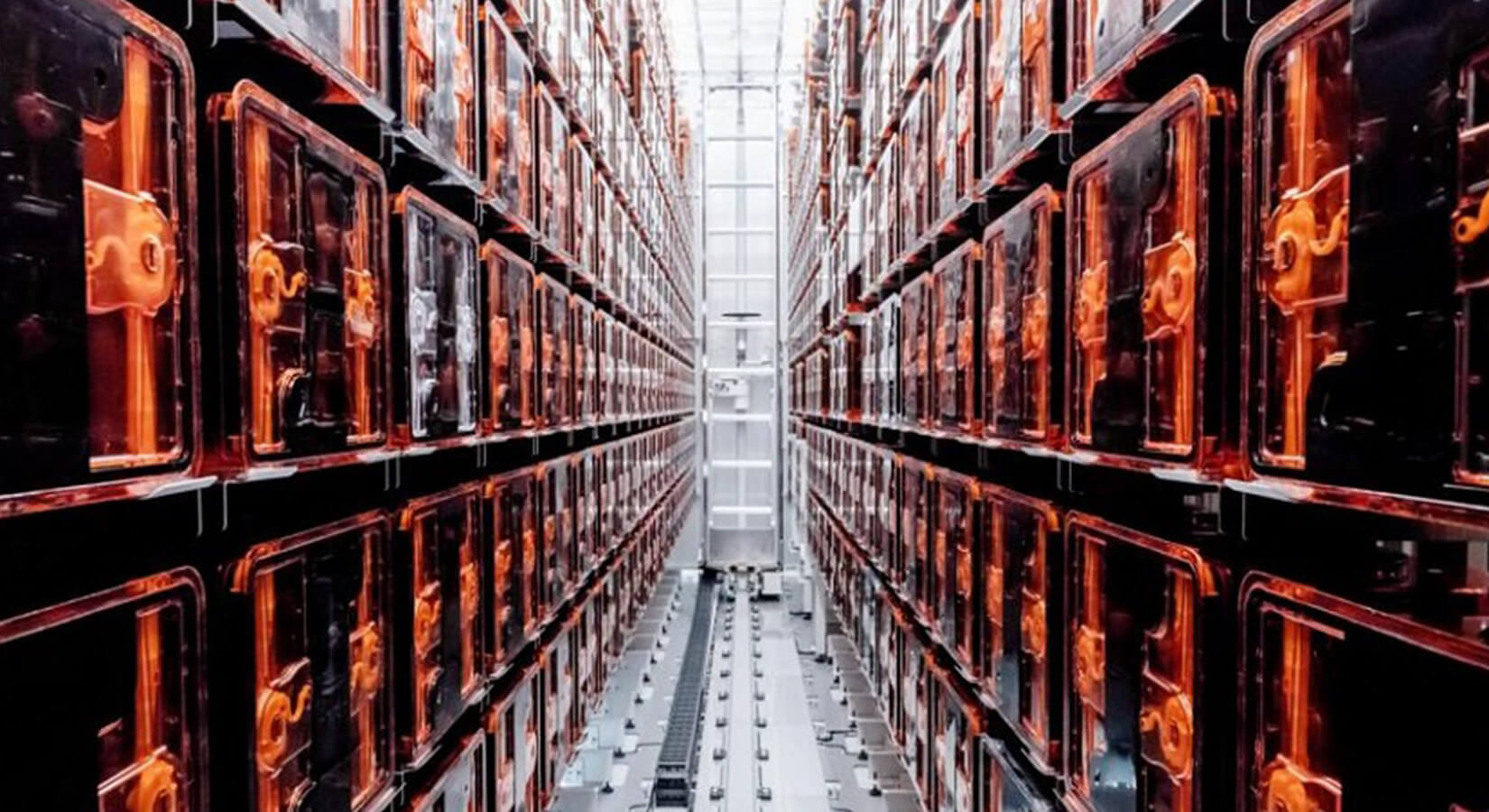 An automated stocker system in Soitec's Singapore facility, which stores wafers and is at full capacity. PHOTO: SOITEC/TOMOYA FUJIMOTO
SINGAPORE - Sit in any train or bus and you will soon notice Singaporeans' attraction to their mobile phones, but the connection goes far deeper than merely the use of an integral tool.
The phone itself is ringing testament to the power of the country's manufacturing sector, which punches far above its weight for a land-scarce nation.
One figure about these mobile phones tells the story: More than one in 10 of the world's semiconductor chips, which power every such phone on the planet, are churned out from factories here.
Such is the underlying potential of Singapore's manufacturing sector, which defied the Covid-19 pandemic to register 7.3 per cent growth last year.
The next lap, as outlined by Trade and Industry Minister Chan Chun Sing in January, is to grow the country's integral manufacturing by 50 per cent by 2030.
He acknowledged that the target was an ambitious one, given that it will be harder to get foreign labour to supplement the local workforce.
The changes in global consumption as a result of the pandemic - such as the surge in demand for electronics and telecommunications goods - have allowed some manufacturing firms to get off the starting blocks.
French-headquartered semiconductor company Soitec, which operates a plant in Pasir Ris producing wafers that support functions like mobile processing and the Internet of Things (IoT), is among those positioned for expansion.
The company, which employs around 190 people here, has been building on growth from past years - expanding its production facilities and recruiting programmes in Singapore and France.
It also partners with government agencies, other players in the sector and institutes of higher learning to develop industry knowledge.
Singapore is bolstering its manufacturing industry with strategies such as drawing global manufacturing leaders like Soitec and having firms here develop their capabilities to cater to the ever-changing demands of companies and consumers worldwide.
The sector accounts for more than 20 per cent of gross domestic product and employs about 450,000 workers, which account for around 12 per cent of the country's workforce.
If manufacturing is to achieve the 2030 goal, it will have to develop competitiveness through an ability to innovate quickly and produce higher-value products, not through lowering the cost of production or labour, Mr Chan said.
McKinsey senior partner Matteo Mancini, who heads the consulting firm's advanced industries operations in South-east Asia, told The Straits Times: "The target is a reasonable one, especially given that the sector has grown on a similar trajectory in the past decade."
Soitec Microelectronics Singapore managing director Goh Jong Aik said the firm established its Asian hub here in 2007 because of Singapore's position as a strong platform for entrepreneurial and industrial development in the semiconductor sector.
"A continuous attention to the strategic importance of this sector and forging strong public-private partnerships are therefore key to further solidify Singapore's position as a manufacturing and technology hub," he says.
Playing to strengths
Industrial production has been key to Singapore's economic development since independence. Drawing multinational corporations to kick-start industrial growth was a key strategy for the Republic to gain an advantage.
Land was developed, infrastructure put in place and resources channelled to developing the technical skills required.
In the 1960s, factories were producing cheap items such as fish hooks and mosquito coils, before higher value-added clusters like electronics and petrochemicals came in around a decade later.
By the 1980s, Singapore had become the world's leading producer of hard disk drives - an integral form of storage used then.
Over the years, research and expertise have been developed in Singapore's areas of focus in manufacturing, such as energy and chemicals, biomedicine, electronics and aerospace, note industry players and observers. These provide a foundation for the future, given that an ecosystem of firms and suppliers is already in place to support manufacturing in these areas.
Mr Simon Lim, executive director for manufacturing and engineering at Enterprise Singapore (ESG), says Singapore's small and medium-sized enterprises have played the key role of suppliers of parts and components as well as providing manufacturing services to multinational corporations since the 1970s.
Home-grown enterprises such as Venture Corporation and Sunningdale built their foundations from working alongside global giants and have grown over the decades to become major players in their own right, he notes.
Singapore Semiconductor Industry Association (SSIA) executive director Ang Wee Seng outlines the strong presence of chip manufacturing here, noting that the country produces 12 per cent of the world's supply.
"As the demand for chips increases over the next decade, the companies here will expand their operations accordingly to meet this demand," he says.
Singapore Economic Development Board (EDB) executive vice-president Lim Kok Kiang highlights how the local manufacturing industry has evolved to become one of the world's most advanced over the years, with firms competing on the global stage through skilled workforces, the use of advanced technologies such as robotics and automation, and a strong supplier ecosystem locally and in the region.
Singapore ranked second in Bloomberg's Innovation Index for 2021, reflecting its world-class manufacturing capabilities and significant research and development (R&D) spending.
While manufacturing and factory production still conjure up the image of dirty and dusty work environments for most, many producers now operate in cleanrooms and have highly automated facilities.
Singapore's proximity to the markets in Asia has also enabled firms and talent here to seize regional growth opportunities, EDB's Mr Lim says.
Mr Mancini points to Singapore's ability to translate R&D concepts to production, which is critical for high-value manufacturing such as semiconductors and biomedical products.
Mr Abhi Bhuchar, a partner at Oliver Wyman and its head of energy for South-east Asia, notes Singapore's success as a hub, leveraging strengths in areas such as its legal framework, logistics capabilities, reliable infrastructure and access to capital.
"An environment with friendly trade unions where there are almost unheard-of labour strikes to disrupt production is also very important to manufacturers," he adds.
SSIA's Mr Ang notes the upside for chipmakers: A recent study by Boston Consulting Group predicts that semiconductor manufacturing will grow around 56 per cent globally in the next decade, providing opportunities for Singapore firms.
But it also means it is critical for the industry to develop a strategic plan to ensure that the country can capture a large share of this surge in demand over both the short and long term, he says.
GlobalFoundries' highly automated cleanroom located in its Woodlands facilities with rows of advanced wafer processing tools and the overhead Automated Material Handling System. PHOTO: GLOBALFOUNDRIES SINGAPORE
Even as Singapore forges ahead in segments such as semiconductors and biomedical manufacturing, it cannot remain fixated simply on the sectors it has developed so far.
Singapore Manufacturing Federation president Douglas Foo acknowledges that technology and global trends evolve rapidly, and there's no telling what areas will show promise. "As such, we cannot narrowly define these areas. We must diligently review what the current trends are and must continually be willing to adapt and change," he says.
Singapore University of Social Sciences associate professor of economics Walter Theseira concurs and points to how Singapore has experienced disruption in industrial clusters in the past, such as clothing and hard-disk-drive manufacturing, which were eroded due to the combination of wage growth and the reduction of low-cost manpower in the country.
"This means that developing and sustaining industrial clusters is really a continuous process of reinvention, especially if the advantage of the cluster is based more on cost advantages, since these can shift more quickly," he notes.
Gaps and way forward
What distinguishes the most globally competitive and innovative manufacturing clusters is that they are based on an interlocking set of advantages that, when combined, make production in that cluster more efficient or of higher quality than most other places in the world, says Prof Theseira.
These factors include a large talent pool and employment opportunities for highly skilled, specialised workers, as well as supply chain integration, he notes.
Mr Foo points out that while Singapore ranked first in its ability to develop technologies and second in its capacity to understand and build new technologies in the World Digital Competitiveness Ranking 2020, it came in 12th in future-readiness as it is less adaptable to technological changes and business agility.
"The manufacturing industry needs a local workforce with the required skill set to operate the technologies that are presently in use and is also willing to advance or contribute towards the transformation of the manufacturing sector," he says.
In recent years, Singapore has been encouraging firms across the sector to embark on Industry 4.0 solutions such as remote monitoring and automation to increase productivity.
Mr Ang Kay Chai, senior vice-president and head of global operations at GlobalFoundries, emphasises the importance for manufacturers to constantly upgrade and transform themselves to create a high-value chain within their segment.
"The need to increase the sophistication of automation and invest in big data analytics in order to enable and accelerate smart manufacturing is paramount to the growth of the manufacturing sector in Singapore," he says.
GlobalFoundries' Mr Ang, who is co-chairman of the Future Economy Council's manufacturing subcommittee, adds: "We need to acknowledge that there is a lack in our local ecosystem, and perhaps to promote and assist more local SMEs to become a part of a robust local ecosystem to support the manufacturing sector."
Continuing to attract investments to the country and ensuring that the ecosystem has the right talent in place are key as well, notes Mr Mancini.
"If you want to stay relevant in the high-end path... the country needs to have very clear talent pipelines on the R&D and innovation side," he says, pointing out that this is where universities can come in.
Companies must also retrain and upskill their workers to use new technologies, Mr Foo says, adding: "Automation is just step one in the transformation journey.
"Manufacturers should also actively review their operating processes to incorporate Industry 4.0 tools such as artificial intelligence, IoT and additive manufacturing that will place Singapore in a better position to work together with other countries rather than against other countries."
ESG's Mr Lim underscores the importance of building a regional and global footprint, as well as good human resource practices to attract a skilled workforce for growth, besides accelerating innovation efforts.
Government support for transformation has been more pronounced through the Covid-19 crisis, with enhanced grants for those seeking productivity solutions and growth. However, Prof Theseira stresses the need for government subsidies and incentives to be carefully calibrated, as well as the need to be prepared for the fact that not all firms will survive the transition to higher productivity.
"The key is to use the government support to become globally competitive, not to be competitive only with support," he adds.
Source: The Straits Times © Singapore Press Holdings Limited. Permission required for reproduction.