Creating a sustainable Singapore, together
In Singapore, sustainability is the bedrock that drives the nation's environmental efforts. Often referred to as the "city in nature", Singapore is seen as a bustling cosmopolitan that blends urban environments with green landscapes, and is deeply committed to the United Nations Sustainable Development Group (UNSDG), as well as its positive contributions towards the 2030 Development Agenda.
And while these initiatives are positive for the environment, they also help to strengthen the country's economy and create new, green jobs for its people.
As the developer and master planner of industrial estates, JTC is taking steps to incorporate sustainability initiatives in our estates. But we do not do this alone. Through collaborations with businesses in our estates and industry partners, we have been able to kickstart and implement practices that are friendlier to the environment and promote economic development.
Generating Renewable Energy: Innovative solutions for generating solar power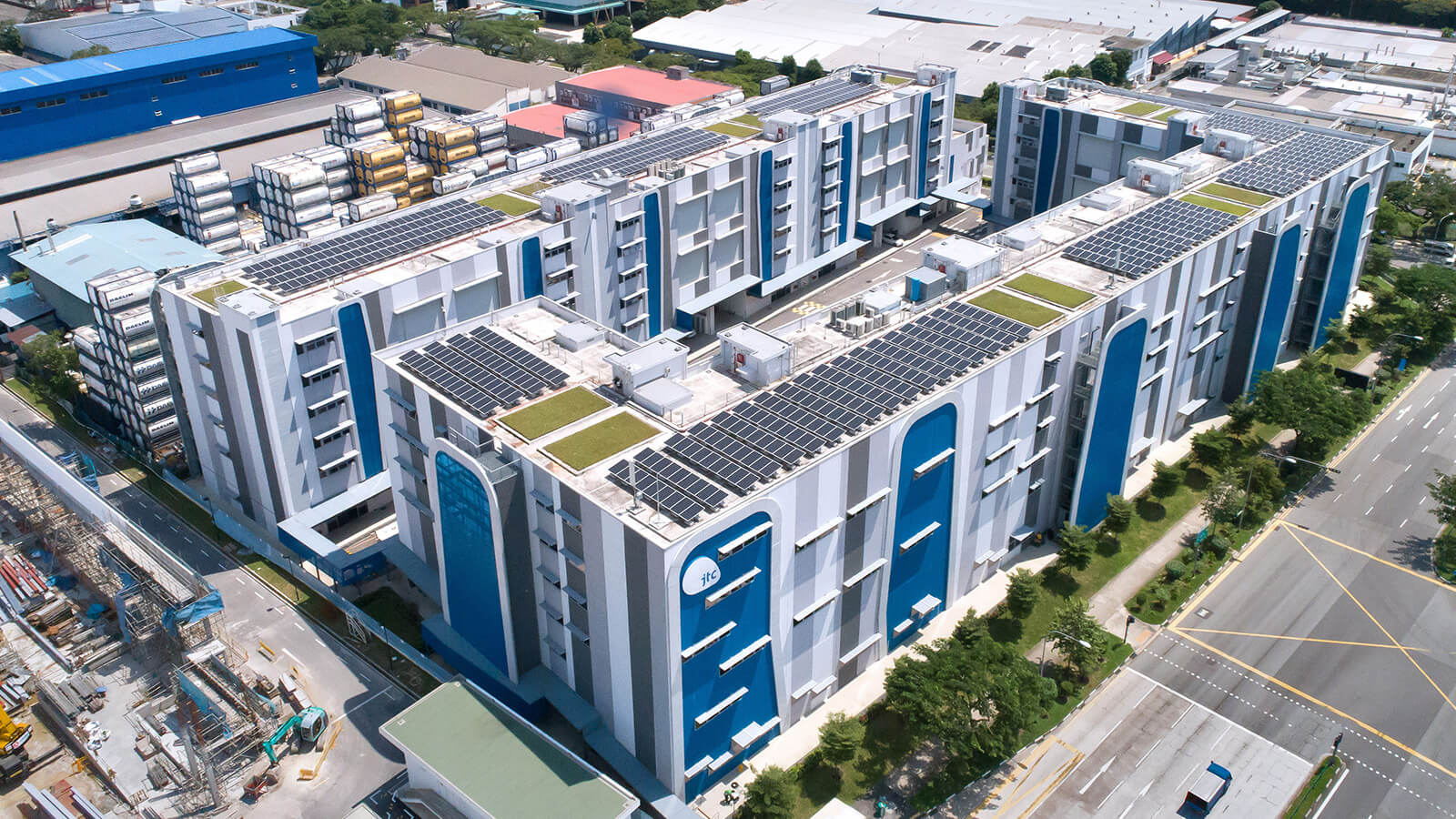 Solar panels installed on the rooftops of JTC developments
Singapore's sunny climate makes solar energy a viable source of renewal energy in Singapore. In fact, the nation reached its goal of generating 350MWp of electricity by 2020, with JTC contributing to this goal by collaborating with businesses on solar-focused initiatives.
Clean energy programmes like SolarRoof and SolarLand, for example, are making use of 740,000- square metres of vacant land and rooftop spaces for solar installations and power generation.
The next phase of JTC's solar efforts is just on the horizon: businesses will soon be able to solarise their roofs without any upfront capital outlay. Under this arrangement, companies can either lease solar photovoltaic (PV) panels and pay a discounted rate for the electricity generated, or lease their roof space to solar energy vendors to install solar PV panels, thus earning revenue in return. It is a win-win proposition for businesses.
Promoting Waste Avoidance and Circularity: Ensuring no waste goes to waste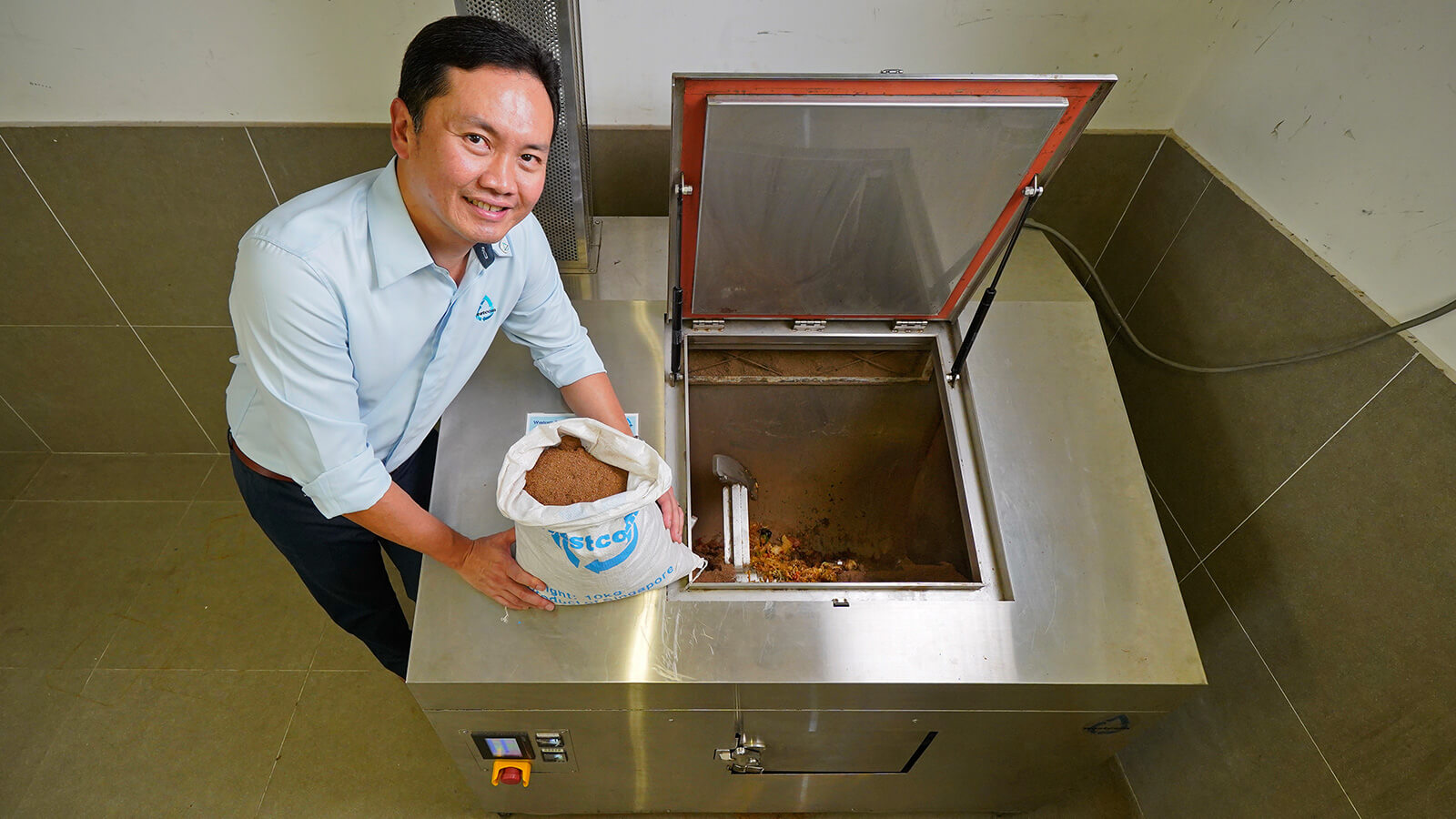 These food waste digesters help ensure that no waste truly goes to waste
The Jurong Island Circular Economy Study kicked off in January 2019. Its objective? To create a circular economy within Jurong Island where resources are reused and recycled for a long time, bringing economic and environmental benefits to companies.
50 companies on Jurong Island, such as Shell, Exxon, and other well-known organisations, came together to make this study possible. The project is an example of how government and private sectors can come together to create sustainable change.
Another initiative that promotes circularity is the use of food waste digesters within select JTC developments. These digesters enable food companies to convert their food waste into compost, which is then sold or used to fertilise green spaces at JTC's estates.
Mitigating Urban Heat Island Effects: Creating a greener work environment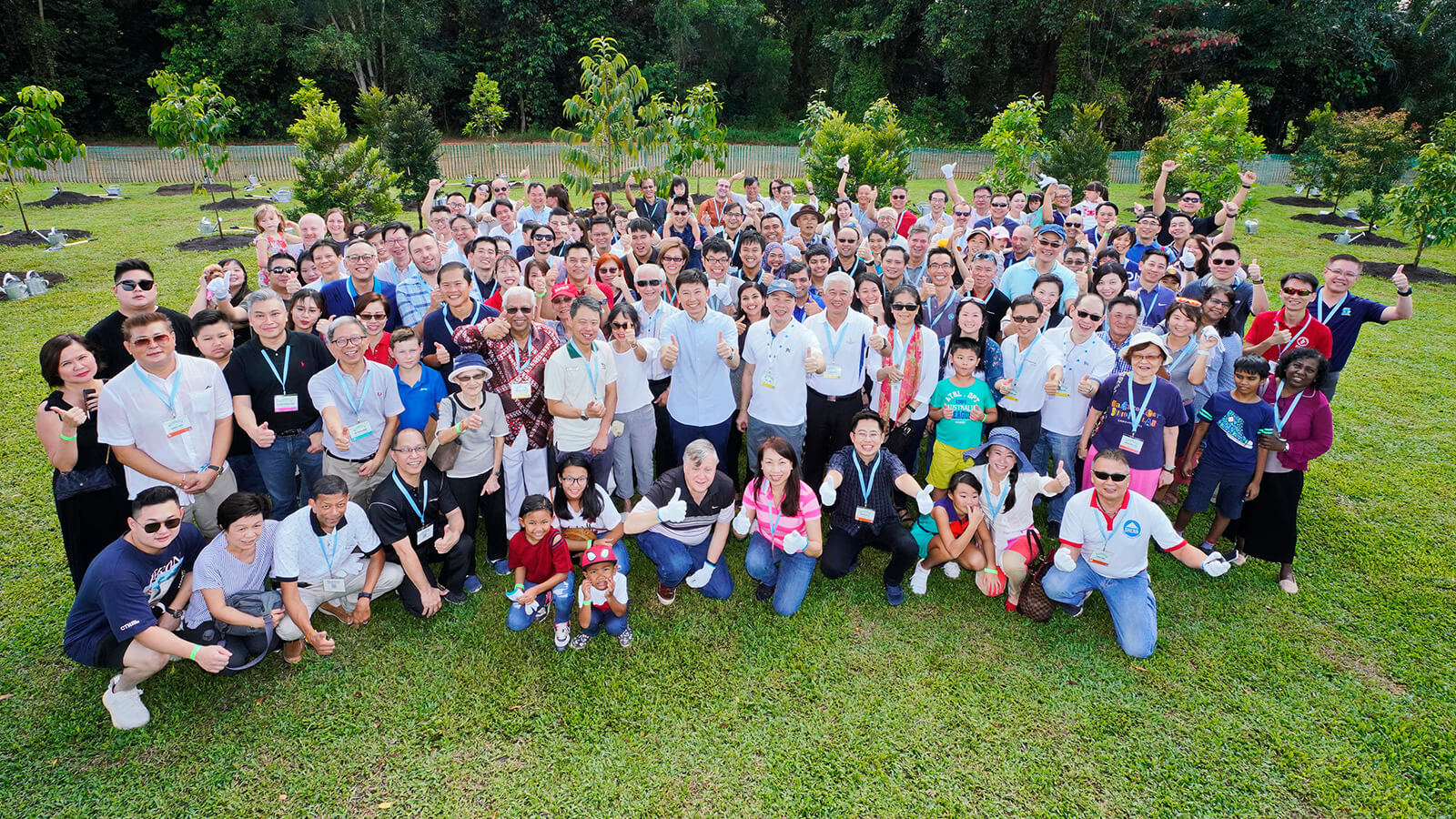 Members of the SAP community came together to plant trees as part of GROW@SAP
To mitigate the urban heat island effect, JTC is partnering with National Parks Board (NParks) to create 100 hectares of new green spaces – including parks and roadside greenery – by 2030. And in the next 10 years, JTC will also be collaborating with companies to support NParks' goal to plant 170,000 trees in industrial estates as part the One Million Trees Movement.
Bringing greening efforts to a community level, the Greening Our Workplace @ Seletar Aerospace Park (Grow@SAP) movement has seen many of JTC's partners – including ST Engineering, Rolls-Royce and the Seletar Hills Estate Residents' Association – raise over S$100,000 and contributed to the greening of Seletar Aerospace Park.
Over 70 organisations from the Jurong Island community have supported the greening initiative to-date Jurong Island is also getting a green makeover, thanks to the help of companies on Jurong Island, and the Association of Process Industry (ASPRI) and its members. Close to 13,000 trees have been planted in the estate since March 2019, and the eventual goal is to have 34,000 new trees planted by 2022.
Another initiative that's creating a greener work environment is one-north's designation as Singapore's first car-lite business park. Over 20 companies at the business park are adopting a car-lite lifestyle, as their staff are incentivised to choose public transportation, carpool, or other sustainable alternatives.
These initiatives are aimed at creating cooler spaces that are more conducive to work in, enhancing the attractiveness of industrial estates (making the area more enticing to talented prospects), and forming natural carbon sinks to combat climate change.
Creating a Sustainable City in Nature
As a city in nature, Singapore's urban environment is balanced by nature — our sustainability efforts are essential for maintaining this delicate balance. And even though the country is on track to meeting its targets for the Paris Agreement and UNSDG, more can be done. But we can't do it alone – at JTC, collaborations will continue to contribute to the success of these initiatives, and in building a greener, more sustainable Singapore.