Car-lite, community-heavy - The one-north way
Come February 2020, residents and workers commuting in one-north will find that cars have made way for an interactive community space at the heart of the business park.
For a one-month period, 60 metres along Fusionopolis Way will be converted into a pedestrian space for sports, art exhibitions and movie screenings, as part of a car-lite initiative.
This is part of JTC's efforts to encourage people to walk, cycle and take public transport instead of commuting in personal vehicles in one-north. In August 2019, together with the Urban Redevelopment Authority (URA), JTC organised Car-Free Weekend @one-north, which saw full and partial road closures around the estate to make way for cycling, robotics and coding workshops and other activities. The only vehicle here was a food truck serving environmentally-friendly fare, without any single-use plastic.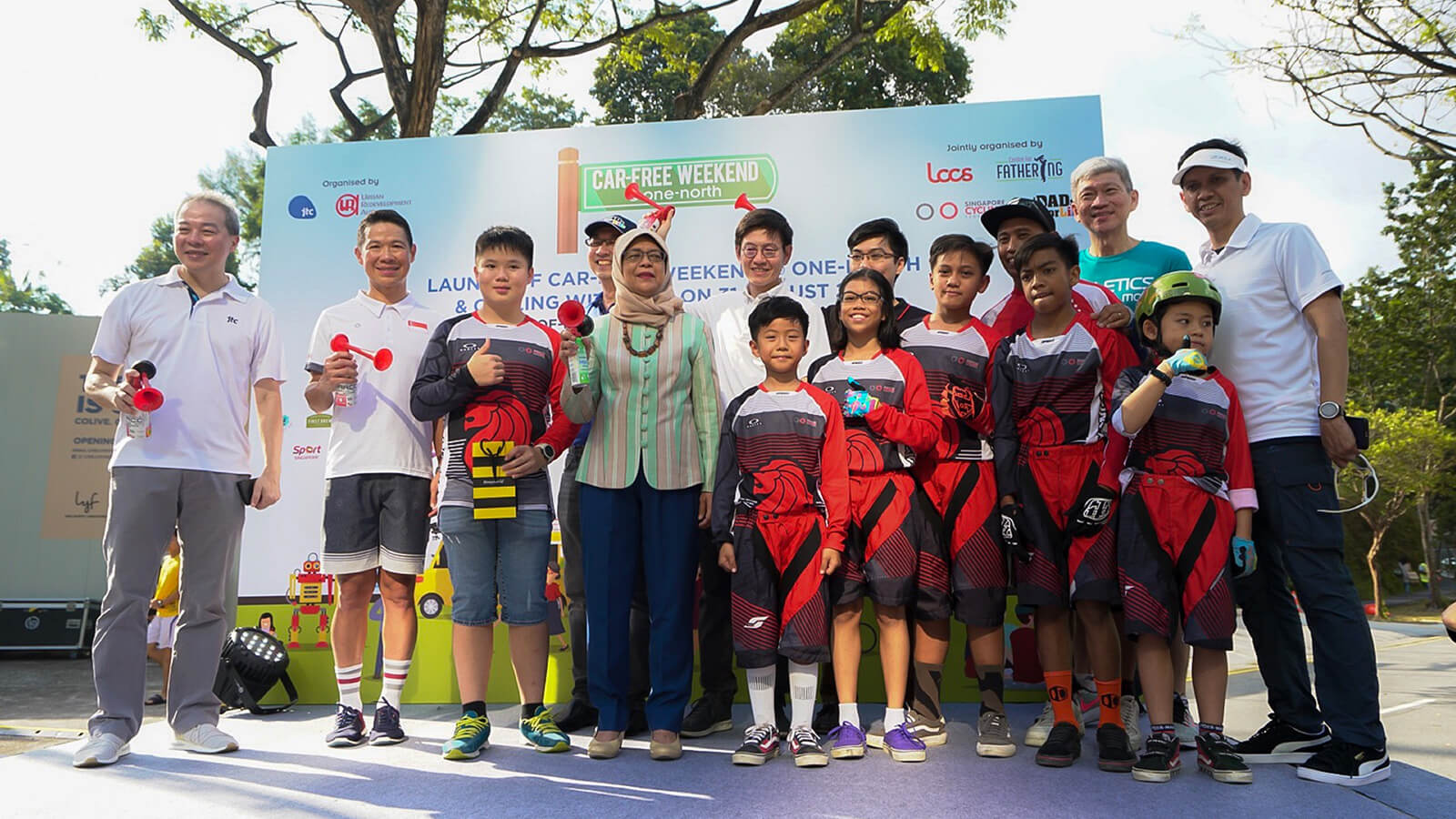 Guest-of-Honour President Halimah Yacob together with representatives from JTC, URA, Lutheran Community Services, Centre for Fathering, and Singapore Cycling Federation
Ms Fanny Ang, Account Director of Ape Works, the agency that helped to organise the Eco Food Truck Street, said, "Going car-free at one-north not only provides new venue spaces, but also serves as a new focal point for visitors and tenants alike to come together to experience communal events."

Sharing how the participants enjoyed eco-friendly activities such as riding on mobility devices and racing in handmade soapbox cars along the pedestrianised road, she added, "The dedication and openness to going car-lite allow an avenue to promote worthy causes."

Similarly emphasising the ecosystem driving the car-lite initiatives, JTC's Group Director of New Estates, Mr Kok Poh June, said, "We are heartened by the strong support from the one-north community and residents in the area, and will continue to make this an attractive workplace and vibrant playground for workers and residents."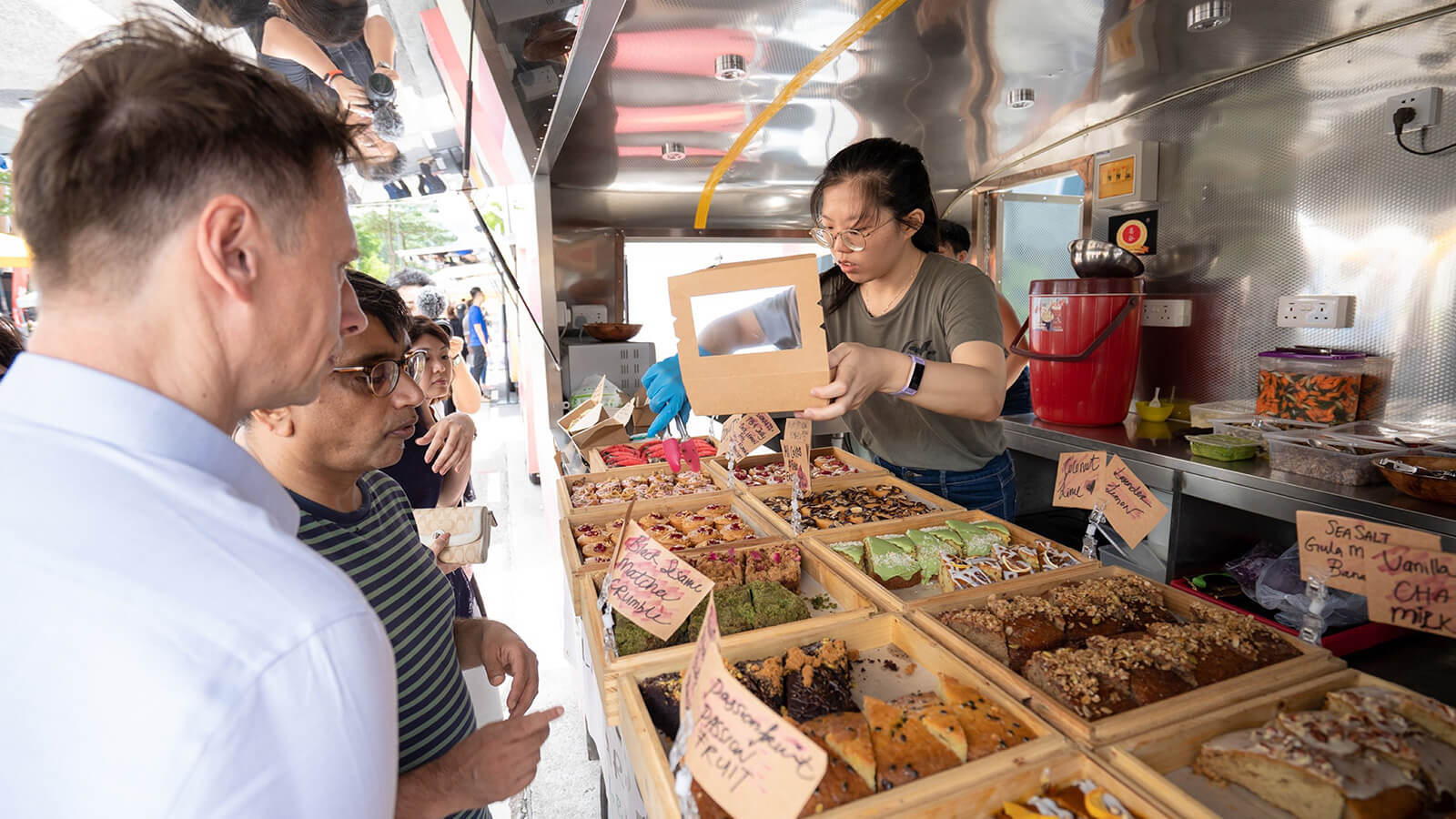 Car-Free Weekend on 30 and 31 Aug 2019 featured Singapore's first Eco Food Truck Street. Vendors not only offered visitors eco-friendly food but also recycled the food waste generated
As part of the car-lite undertaking, JTC convinced more than 20 one-north companies – including A*STAR, Mediacorp, Abbott, GSK, Tanglin Trust School and developer CapitaLand – to pledge to go car-free on 30 August 2019. The staff and tenants of these companies have since increased efforts to take public transport, carpool, or participate in other sustainable alternatives.
To complement these efforts, JTC has improved connectivity to public transport stations. For example, the one-north shuttle buses transport 50,000 people to and from key transport nodes monthly. In addition, buildings such as Fusionopolis One are integrated with the nearest MRT, while other buildings such as Star Vista and Galaxis have fully-sheltered walkways leading to the MRT.
JTC will also be widening around 6 kilometres of footpaths, and constructing 800 metres of covered linkways for walking and cycling. All these are targeted to be completed by first quarter 2020. Additionally, over 25 dedicated parking zones have been allocated for personal mobility devices (PMDs) and bicycles.
These efforts will create a more liveable estate, with less pollution and noise generated by cars.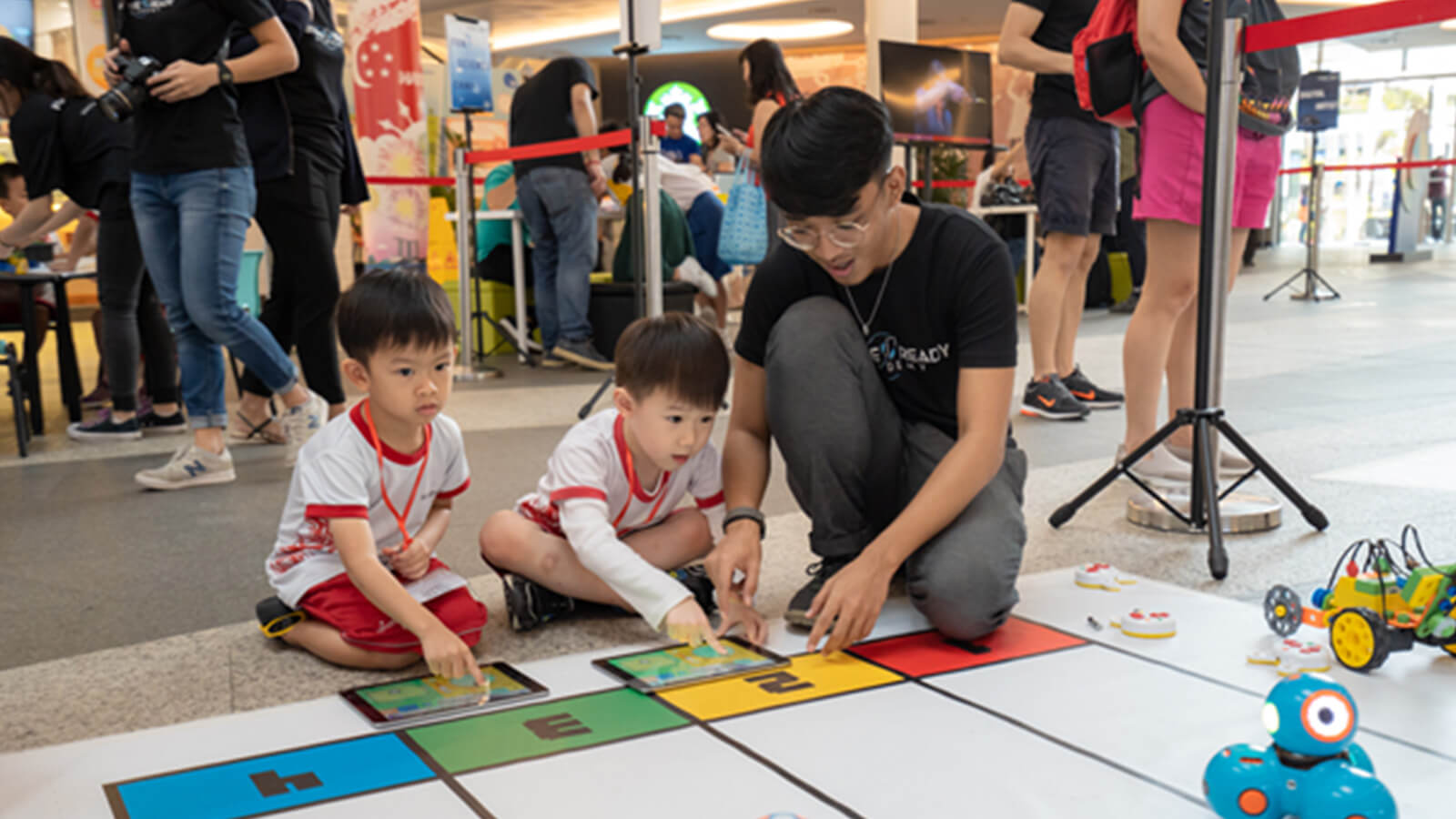 A digital playground for children at the Car-Free Weekend
A digital playground for children at the Car-Free Weekend
Mr Martin Foakes, Head of Outdoor Education at Tanglin Trust School, agrees with this sentiment. Having pledged to go car-free, he said, "I think it's important for our school to be a part of this community and keep it clean. It just feels so much more fun when there are no cars."
This initiative is emblematic of the kind of forward-thinking that one-north is known for, said Mr Kok. It is an opportunity to circumvent the large amount of traffic generated as more buildings spring up in the area, and to cut down on global warming emissions from cars, he added.
"If this initiative takes off, we can even cut down on the roads, and turn them into more public pedestrianised areas for everybody's enjoyment."