Where To Go In one-north: The A-Z Guide
Welcome to one-north, a business park in Singapore developed by JTC. This vibrant hub embodies Singapore's dedication to innovation and economic growth. With futuristic-looking architecture housing diverse industries, one-north attracts start-ups, multinational corporations,research institutions, and educational facilities. As a lifestyle destination, it offers a seamless blend of work and leisure, creating a conducive environment for forward-thinking enterprises and individuals. Join us on a journey through one-north — alphabet-style — to discover the key facets that make it a unique business and lifestyle hub in Singapore and the region.
A. Artificial Intelligence: From autonomous vehicles to a system which detects potholes in the road, trials are often carried out at one-north. Innovation challenges also foster an environment where companies are empowered to conceptualise game-changing solutions.
B. Biopolis: Built in 2001, Biopolis is the focal point for the development of biomedical sciences: the precinct contains 13 buildings named Genome, Centros, Matrix, Nanos, Proteos, Chromos, Helios, Neuros, Immunos, Synapse, Amnios, Singapore Innovation Centre, and Nucleos.
C. Car-lite: one-north is one of the few designated car-lite areas in Singapore. Download the SWATRide mobile app to book a ride on the on-demand shuttle bus service which connects you to 31 stops including MRT stations and Ghim Moh market. one-north also has several bicycle paths that connect to Ulu Pandan and Kent Ridge.
D. Design: From the award-winning Star Vista to the black and green Razer headquarters, there are many unique buildings in one-north. Most of these buildings also feature eco-friendly features such as solar panels and sensor enabled lighting systems.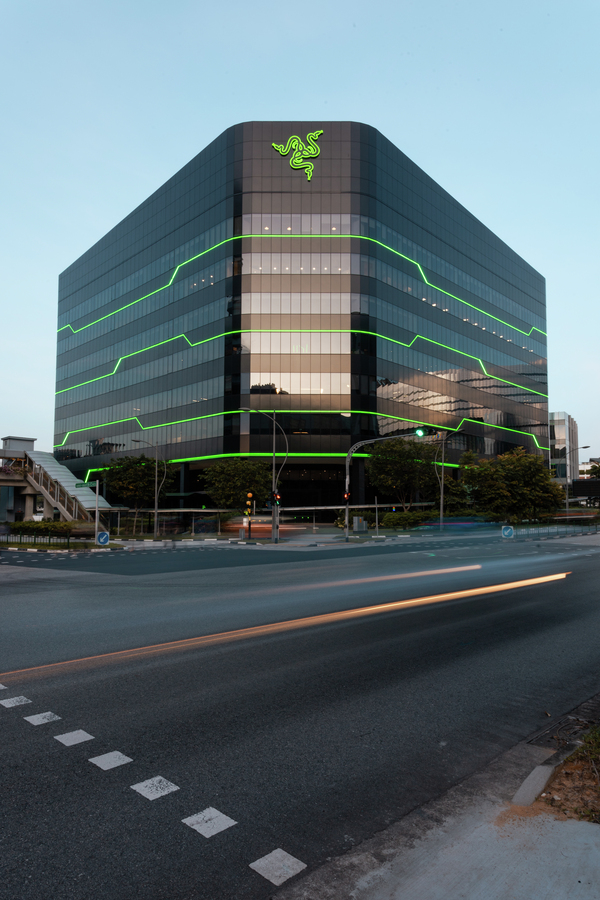 Razer's S$100 million Southeast Asia headquarters features an iconic black façade with neon green lines streaking across the building – a tribute to the brand's iconic aesthetic. Photo: Eldon Ng
E. Eclipse: It is a 22,000sqm development inspired by the Star Wars film franchise and has a forest garden within the compound. It is the regional headquarters of Lucasfilm, The Walt Disney Company (Southeast Asia) and ESPN Asia Pacific.
F. Fusionopolis: One of eight key precincts in one-north, Fusionopolis is where gleaming infrastructure sit amid greenery. There's the unmistakable towers of Fusionopolis One, which have become synonymous with one-north. Nature enthusiasts can head to the Fusionopolis North and South parks, which have been carefully designed to become nature sanctuaries.
G. Gastronomic delights: one-north boasts a variety of food options to whet the appetite. For example, helmed by Italian Chef Loris Massimini, GelatiAmo is the sister restaurant to Ristorante Pietrasanta – both are located in Fusionopolis. Try seasonal and unique flavours such as the Burrata Balsamico which is inspired by Pietrasanta's balsamic cheesecake.
H. Hotels: Looking for places to rest, relax, and rejuvenate? There are several at one-north. Aimed at young Singaporeans, business travellers and tourists, the Shipping Container Hotel has two 40ft containers located in one-north that you can stay at. One container hotel has an exterior made of mirrors that reflects its surroundings and uniquely makes the container seem invisible! If you prefer a more conventional stay, there's Park Avenue Rochester and Citadines Fusionopolis.
I. INSEAD: The INSEAD Asia Campus is a leading graduate business school which offers a global education experience. The $55 million Leadership Development Centre is a six-storey, 10,000sqm building that addresses the accelerating demand for management and leadership education in Asia.
J. Jimmy Monkey: Tucked away at one-north Residences, this Australian café has an all-day brunch menu and fluffy pancakes. For coffee lovers, the house blends changes monthly and the coffee beans are sourced from independent and Rainforest Alliance farms.
K. Kopifellas: Kopifellas' founder Terry Neo left his banking job to set up the first Kopifellas outlet at Timbre+ as he wanted to modernize the old-school coffeeshop. Other than kaya and peanut butter toast, there's even matcha milk and earl grey milk toast served alongside traditional kopi and teh.
L. lyf one-north: The first dedicated co-living property in Singapore, lyf one-north offers accommodation for short-term or long-term stays. It is hard to miss — a massive mural by Colombian artist Didier 'Jaba' Mathieu adorns one of its façade. Standing at over 25m across seven storeys, mural holds the distinction of tallest wall art on a private development in Singapore.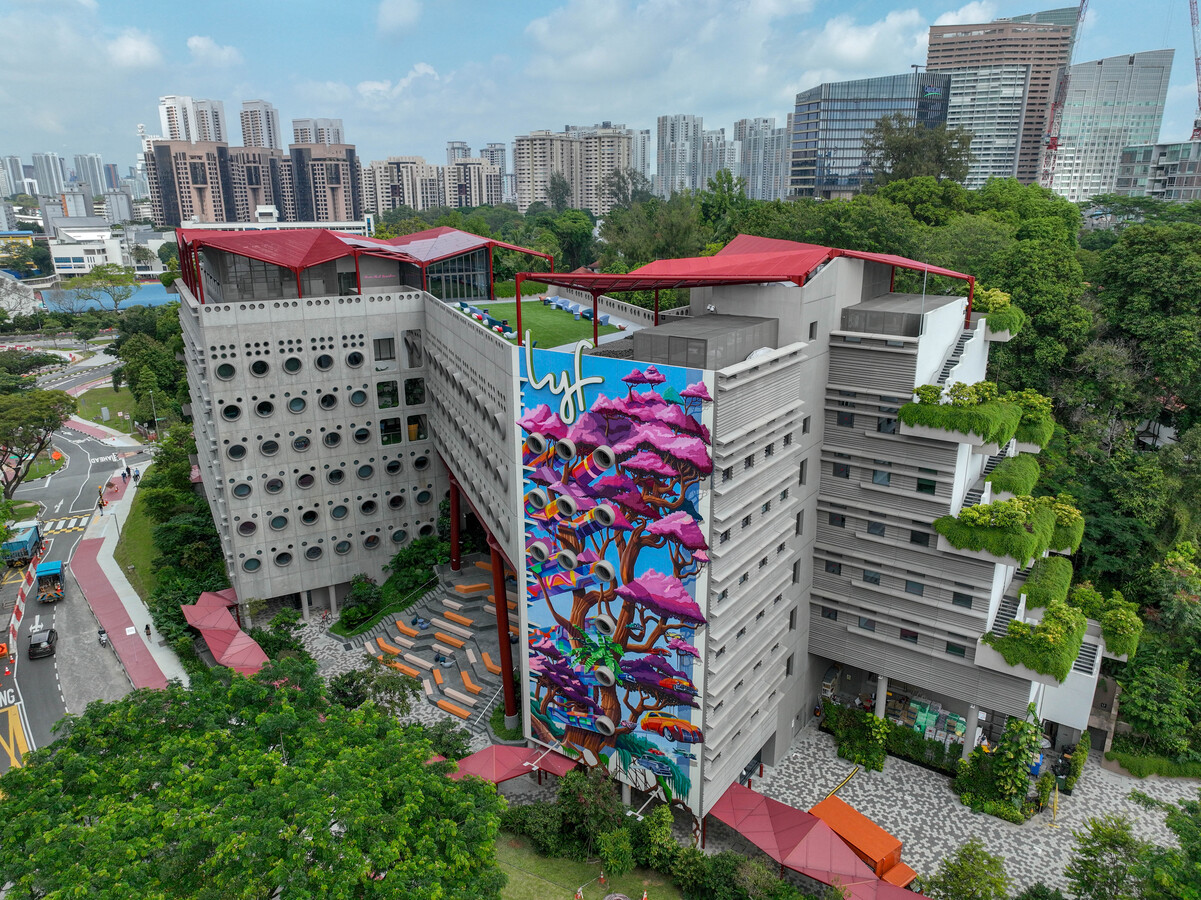 Standing at over 25 metres across 7 storeys, this piece at lyf is the tallest mural wall art on a private development in Singapore.
M. Mediapolis: Catering to the infocomm, media, physical sciences and engineering sectors, the hub houses the MediaCorp campus, Infinite Studios and ALICE. The rooftop park boasts a meadow-themed landscape, and two large lawns are often used for recreation and community events.
N. Nepal Hill: Another important precinct in one-north, Nepal Hill consists of conserved black-and-white colonial bungalows, serves as a global leadership and talent-development hub. It houses the training centre for Unilever Four Acres Singapore and ESSEC Business School.
O. One Man Coffee: Situated at Kinesis, take a break at this Instagram worthy café with its wide range of drinks and pastries. From a classic espresso to an iced matcha latte or cold brew, you'll be spoilt for choice.
P. Pink Blossoms Brewing: Kick back and relax with a fresh pint of beer from Pink Blossoms Brewing – a beer truck located outside Fusionopolis One. Brewed locally and full of bold flavour, pick from pale ale, stout, IPA and seasonal flavours. Check out the truck's schedule here.
Q. Quaint and quiet: The Wessex precinct consists of 58 colonial black-and-white semi-detached houses and 26 blocks of walk-up apartments. Colbar opened in 1953 and is always crowded during lunch time, while Under Der Linden is a pet-friendly café known for its floral archways. Experience nature enlivened through art as you go off the beaten track of the iconic Singapore Rail Corridor at Wessex Estate.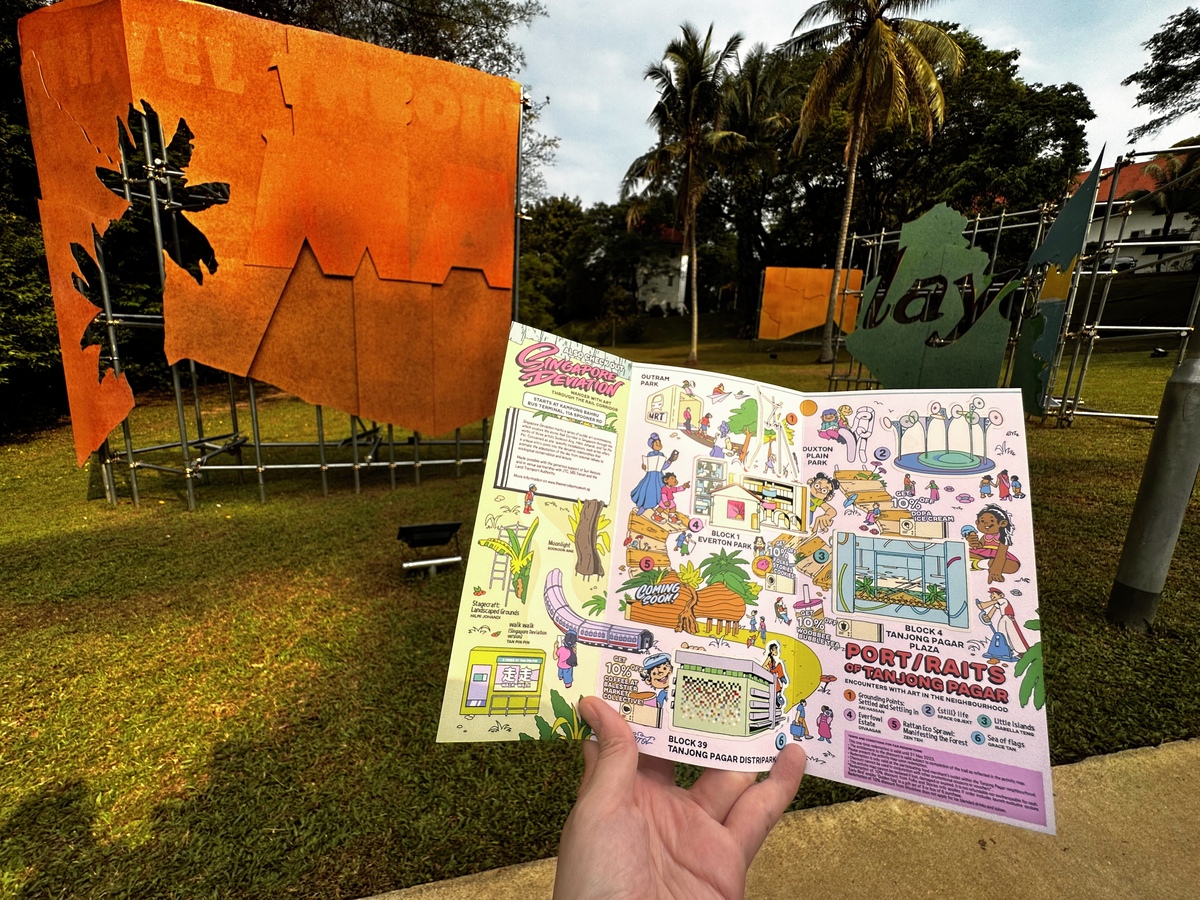 Singapore Deviation (from now till 9 March 2025) is a series of public art commissions exploring the iconic Rail Corridor in Singapore through the works of three artists: Sookoon Ang, Hilmi Johandi, and Tan Pin Pin. Image courtesy of Singapore Art Museum
R. Rochester Commons: The 2.4-ha Rochester Commons features a 17-storey mixed-use tower comprising a 135-room hotel, office space and F&B facilities, as well as Catapult – Southeast Asia's first integrated leadership learning hub.
S. Start-ups: LaunchPad is a vibrant area where start-ups can cultivate an entrepreneurial and collaborative culture. Singapore is ranked fourth in how fast its start-ups become unicorns, a rank it shares with the US and Australia. Launchpad provides co-working spaces, meeting facilities and a community space called Plug-in @ Blk 71.
T. Timbre+: This 650-seat industrial-chic food park operates out of repurposed shipping containers and caravans. A popular gathering point for both networking and unwinding after work, you can also enjoy live music performances by local musicians in the evening.
U. Unilever Four Acres Singapore: The 9,000sqm training centre is the company's only corporate university outside of London. It serves as a global hub for the company's leadership development.
V. Verimix: You know the food is good when there's a long queue during lunch hour. This vegetarian stall in Timbre+ offers build-your-own meals and salads with sides such as olive rice, sesame noodles, laksa pasta, and soy chicken.
W. Wilmar International: A Fortune Global 500 company that is Asia's leading agribusiness group, Wilmar International's global headquarters is nestled within lush greenery and has a jogging track on the rooftop. The tiered landscape terraces allow for a garden aspect for each level of the office and the building has been awarded a Green Mark GoldPlus by Singapore's Building & Construction Authority for its energy usage.
X. eXplore: The beauty is in the details. Buildings are situated closer together to provide shade and preserve wind corridors, while kerbs are lower and paths are cobblestoned – all to make the business park more pedestrian-centric and easy to walk around.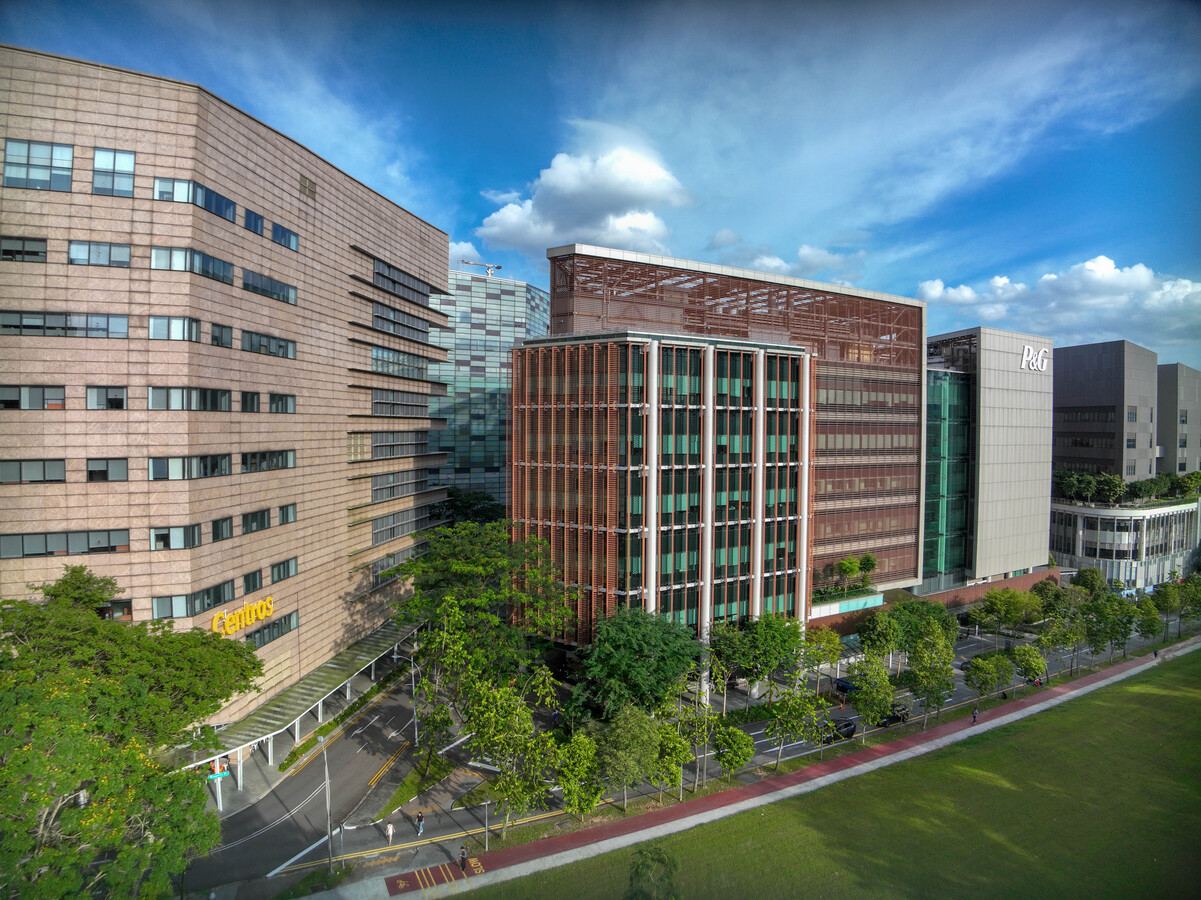 one-north Park is a 16-ha park consisting of 13 land parcels spanning across the entire length of one-north. When fully completed, it will serve as an integrated green link connecting key developments such as Biopolis, Fusionopolis, Mediapolis and one-north MRT station.
Y. Ye Olde Cow: Craving a good juicy burger? From Tuesday to Thursday, follow the smell of delicious beef patties and you'll find Ye Olde Cow which operates out of a food truck parked in front of lyf one-north.
Z. Zaha Hadid Architects: Zaha Hadid with Patrik Schumacher designed the masterplan of one-north with the unconventional idea to fold the building masses over existing hills as though they were a flexible layer draped over the terrain. Which is why you'll find pedestrian paths and roads weaving through buildings, connecting each part to the other in a crisscross fashion.
Share your snaps and unique finds with us by hashtagging #onenorthSG, and tagging @jtc_sg on Instagram or @jtccorp on Facebook!