Jurong Island: These are the new chemical plant openings that will enrich its ecosystem
Jurong Island is the centrepiece of Singapore's energy and chemicals industry. It plays a pivotal role in supporting one of the country's key economic sectors. Across the 3,000-hectare space, over 100 global companies carry out refining, olefins production and chemical manufacturing operations.
Over the past months, the island has added three new names to its roster: SPCI-HELM, Cariflex, and Baker Hughes. Here's a look at their upcoming plant openings.
SPCI-HELM's new plant joins the circular economy conversation
At around 28,000 square metres in size, the new sulphur processing plant by SPCI-HELM — a joint venture between South Pacific Chemical Industries Group (SPCI) and HELM AG (HELM) — converts waste sulphur into sulphur pellets for export.
Designed as the largest molten sulphur processing plant of its kind in the region, the plant converts molten sulphur into pellets for export, turning what was previously considered waste into a valuable resource. Sulphur compounds are commonly present in crude oils and considered impurities. Oil refineries remove these compounds through a process called hydrotreating to meet regulations on sulphur content limits in petroleum products. However, the sulphur still has many applications, including fertilisers, batteries for electric vehicles, water treatment, and as a key component of methionine, an essential amino acid used in animal-feed additives.
The new plant at Jurong Island embraces circular economy principles, where waste from one process is transformed into a valuable resource for another. Strategically located close to oil refineries, this allows for collaboration and sharing of resources to take place, while at the same time reducing transportation costs and promoting sustainable industrial production.
"This is line with our sustainability roadmap to create a circular economy while reducing carbon footprints and handling costs," says Mr Teah Choon Lee, CEO of SPCI-HELM. "SPCI-HELM is committed to sustainable practices and circular economy principles that promote a greener and more sustainable future."
SPCI-HELM's new sulphur processing plant at Jurong Island. Photo: SPCI-HELM
Cariflex begins construction of Singapore's first polyisoprene latex plant
For healthcare professionals, the name "Cariflex" may ring a bell. The company's proprietary polyisoprene latex (CariflexTM IR latex), which is an alternative to natural rubber, is used for everyday medical solutions such as surgical gloves, probe covers as well as adhesives.
Cariflex has brought its expertise to Singapore's shores. It will launch the world's largest and Singapore's first polyisoprene latex plant at a 6.1-hectare site with over US$350m investment on Jurong Island.
The facility, which is slated for completion in 2024, is expected to enhance efficiencies in energy consumption, yield and labour productivity. This comes after Cariflex's step change in technology improvement, first undertaken at its manufacturing facility in Brazil circa 2019.
It involves the direct coupling of the previously decoupled isoprene polymerisation — this critical improvement will positively impact the plant's energy intensity and carbon footprint. A Distributed Control System, which comprises sensors, controllers and computers, will also streamline operations, ensure consistent product quality, and optimise the consumption of raw materials.
"Sustainability is one of our core values," says Mr Prakash Kolluri, CEO of Cariflex. "And we seek to uphold this core value by driving innovation. By building on our proprietary direct coupling technology and employing cutting-edge solutions, the Singapore plant will become one of the most energy-efficient polyisoprene latex producers in the world."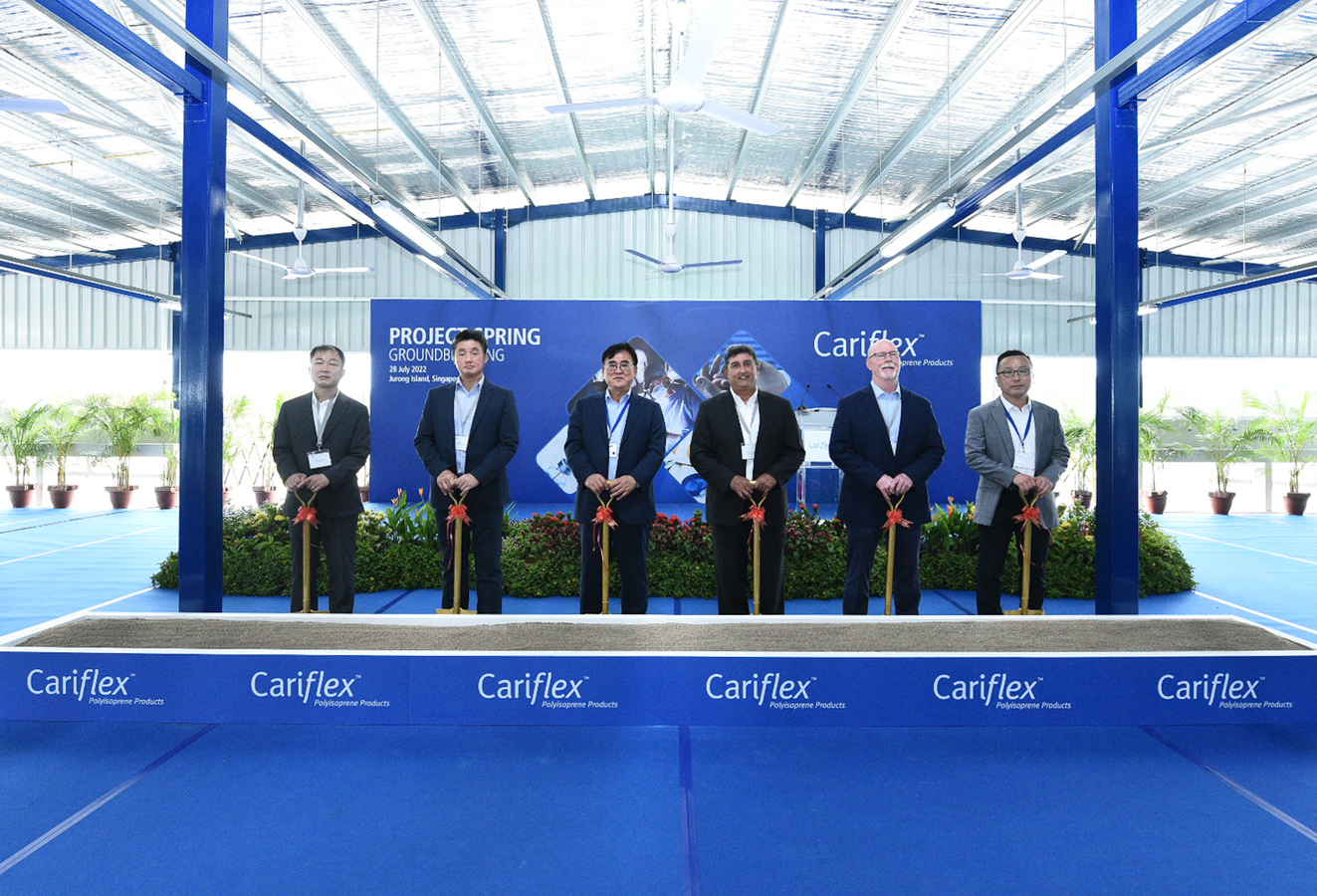 Cariflex's management team at the plant's ground-breaking ceremony held in July 2022. Photo: Cariflex
Baker Hughes bolsters Singapore's speciality chemicals sector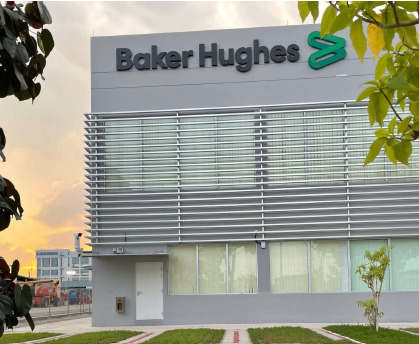 Baker Hughes' new oilfield services and equipment chemical manufacturing facility on Jurong Island. Photo: Baker Hughes
In August 2022, the global energy technology company unveiled its oilfield services chemicals and equipment manufacturing facility on the island.
Being situated at Jurong Island allows Baker Hughes to tap into a localised supply chain to optimise manufacturing. It can also procure raw materials directly from neighbouring companies within the island's ecosystem.
For example, many of its products require ethylene oxide (EO) or propylene oxide (PO) as an ingredient. Thanks to the island's pipelines, the facility can conveniently and safely receive the supply of EO or PO, all while reducing the need for road transport and handling of chemicals.
In support of the Singapore Green Plan, and aligned to the company's very own sustainability roadmap, the Singapore facility also aims to reduce its carbon emissions. "The design of the facility includes several energy efficiency considerations, which will reduce carbon emissions more effectively as compared with a legacy speciality chemical facility," says Mr Senthil Kumar, Eastern Hemisphere Supply Chain Leader.
Powered by technology and automation solutions, the facility requires a lower energy input per kilogram mass of manufactured products as compared with existing plants. The increased automation not only increases efficiency but also shortens the agitators and pumps' running time, resulting in less energy usage. Significant energy savings also come with reusing residual heat, made possible by the recovery, and funnelling of hot condensate — a source of thermal energy — back to the steam plant.
"We look forward to contributing to Jurong Island's initiatives and developing a low-carbon future together," Mr Kumar adds.