Making A Difference: How sustainability efforts on Jurong Island get major push
Sustainability efforts are gaining steam on Jurong Island. For example, the Agency for Science, Technology and Research (A*STAR) has set up the Institute of Sustainability for Chemicals, Energy and Environment (ISCE2), which aims to to help industries transition to renewable carbon and green chemistry, accelerated by digitalisation and automation in focus areas of decarbonisation, green materials and green processes. Singapore's fifth desalination plant opened its doors on the island in April 2022, strengthening the nation's ability to build water resilience amidst climate change.
With Jurong Island's integrated ecosystem, companies on the island can collaborate to innovate and testbed sustainability-driven solutions. Here is a look at the other sustainability-centric developments unfolding in the energy and chemicals (E&C) park.

Hydrogen, a new element in renewable energy research

In conversations surrounding the green energy transition, hydrogen is increasingly being regarded as a key enabler. Singapore too has recognised the potential of low-carbon hydrogen as one of the decarbonisation pathways to achieve net zero emissions. The Ministry of Trade and Industry forecasts that by 2050, low-carbon hydrogen could contribute up to 50% of Singapore's power needs. This of course hinges on future technological developments in hydrogen production.
To enable Singapore to assess the viability of such projects, and support the development of the safety standards, regulations and ecosystem needed, the Maritime Port of Authority Singapore (MPA) and Energy Market Authority (EMA) have jointly issued an Expression of Interest for companies to develop low or zero-carbon power generation and bunkering solutions on Jurong Island. It is hoped that the EOI will enable Singapore to explore ways to fit hydrogen as a piece in the alternative energy puzzle.
Meanwhile, Keppel is building the Keppel Sakra Cogen Plant, an advanced combined cycle gas turbine (CCGT) power plant, on Jurong Island. To be operational by 2026, it is designed to operate on fuels with 30% hydrogen content, with a longer-term prospect of shifting to run entirely on hydrogen.
As Singapore's first hydrogen-ready power plant, it will produce 600 megawatts (MW) of electricity, which can potentially power around 864,000 four-room Housing Development Board (HDB) flats for a year. There is also the added benefit of an annual reduction of 220,000 tonnes of carbon emissions, the equivalent of taking about 47,000 cars off the road.

Singapore's first four-in-one renewable energy site in the making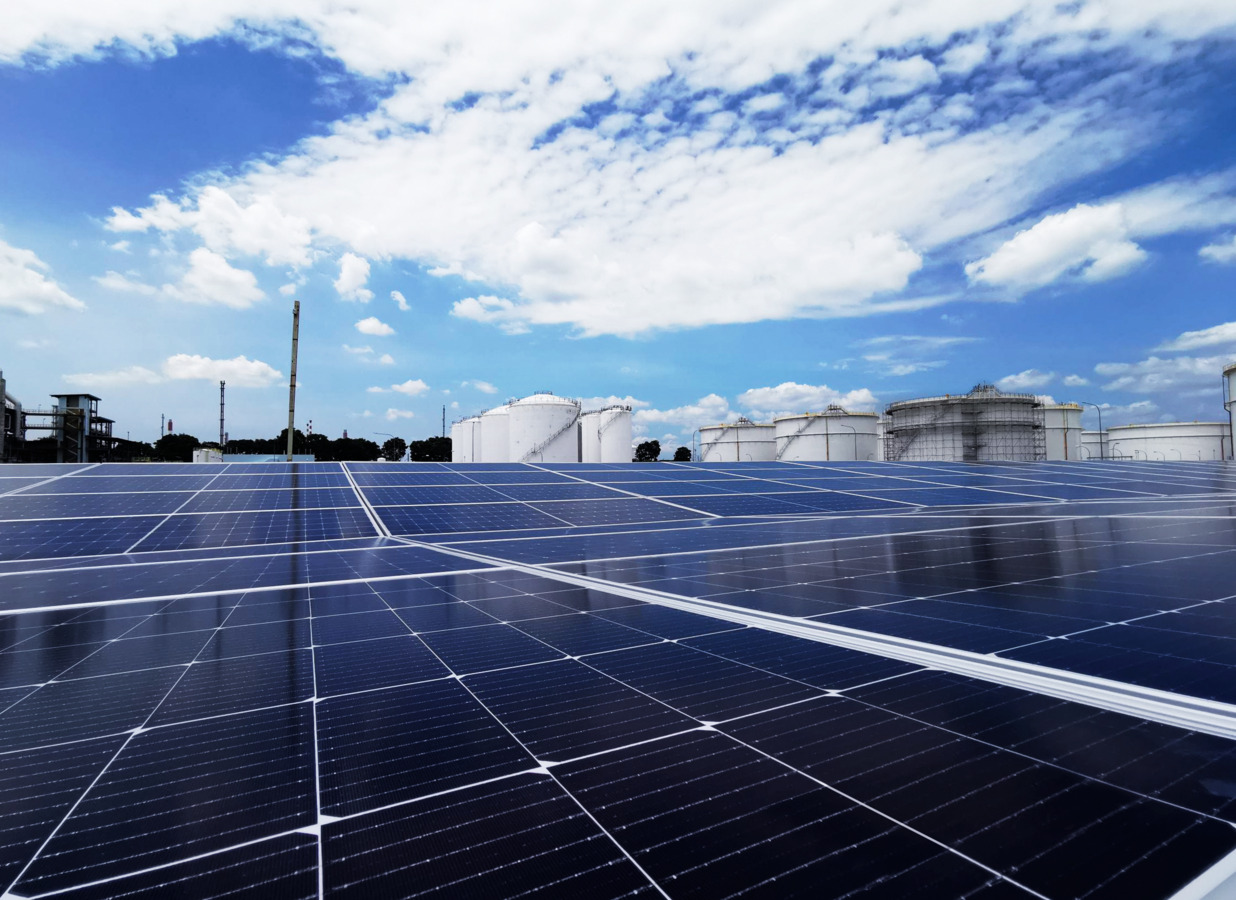 Jurong Island's SolarLand Phase 1 site on produces Singapore's highest solar energy output-per-square metre. Photo: Terrenus Energy

JTC has introduced SolarRoof and SolarLand, two programmes that turn unused roof spaces and interim vacant land into solar PV deployment sites. In 2018, together with Terrenus Energy, JTC piloted SolarLand Phase 1 at an unoccupied 3.9-hectare site on Jurong Island.
Since then, SolarLand Phase 1 has burgeoned in scope and complexity. Next in development is Singapore's first four-in-one renewable energy site, which includes floating solar panels, small wind turbines, tidal turbines, and wave devices. Should the site become a success, it will set a world record for the largest amount of energy deployed per square metre, according to Terrenus Energy.
To give solar power generation in industrial estates a further boost, JTC has launched a tender to solarise 60 hectares of interim vacant land and the rooftops of five JTC buildings on Jurong Island, including the Jurong Rock Caverns and Jurong Island Checkpoint. The tender will see an eightfold increase in the solar power capacity of Jurong Island.

Southeast Asia's largest energy storage system

Energy storage systems lend more power to Singapore's transition towards cleaner energy sources. As the name suggests, these batteries, housed in containers, are used to store surpluses of renewable energy for future use. These systems are, according to EMA, key to augmenting the resilience of Singapore's energy supply and power grid. They can mitigate intermittency issues as well as manage mismatches in electricity supply and demand.
Jurong Island is now home to Southeast Asia's largest energy storage system. Sembcorp has built a 285 megawatt-hour (MWh) energy storage system on Jurong Island. For context, a capacity of 285MW of power per hour can fulfil the daily electrical needs of 24,000 four-room HDB flats in a single discharge . The successful deployment of these batteries also meant that Singapore's target of deploying at least 200 MWh of energy storage beyond 2025 has been met three years early.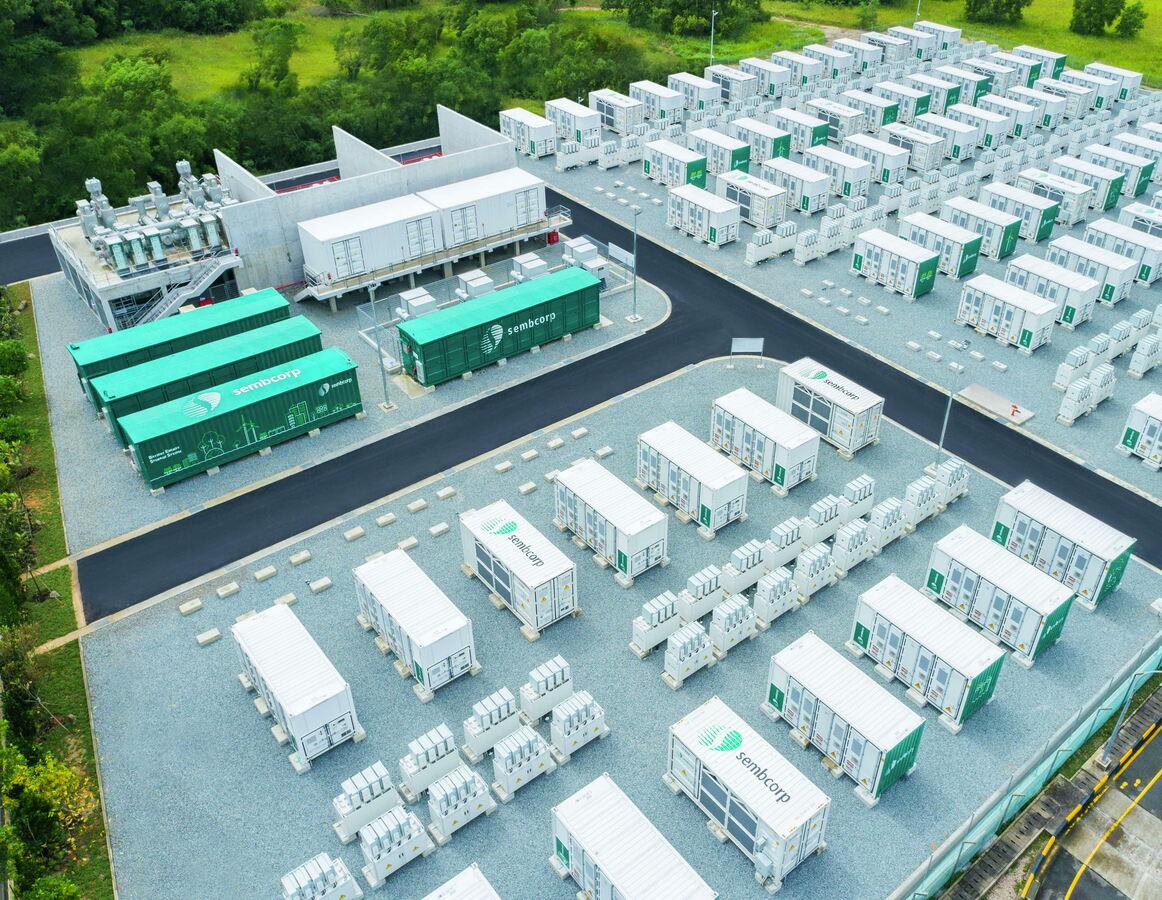 These giant batteries by Sembcorp are installed across two sites — Banyan and Sakra — and span two hectares of land in total. Photo: Sembcorp

On board the emissions reduction journey

The pursuit of any sustainability goal is inextricably linked with one thing: carbon footprint reduction. And it requires the support of stakeholders across the entire business ecosystem. Many Jurong Island companies are setting targets for themselves to lower their carbon emissions, one of them being PSA Singapore.
The port operator has made barging the primary mode of transfer between Jurong Island and its main terminals. As a result of this switch, PSA Jurong Island Terminal achieved the milestone of container throughput of more than 130,000 twenty-foot equivalent units (TEUs) in the year ending 31 December 2022. This is equivalent to cutting more than 130,000 truck trips between Jurong Island and PSA terminals on mainland Singapore.
Choosing container-on-barge over trucking has resulted in up to 37% reduction in carbon emissions for every TEU container. And with the two berths at PSA Jurong Island Terminal handling two barge sailings daily, each with a capacity of up to 300 TEUs, the numbers are encouraging. To date, more than 10 companies, including ExxonMobil Asia Pacific, Sumitomo Chemical Asia, and The Polyolefin Company, have utilised barging for their operations.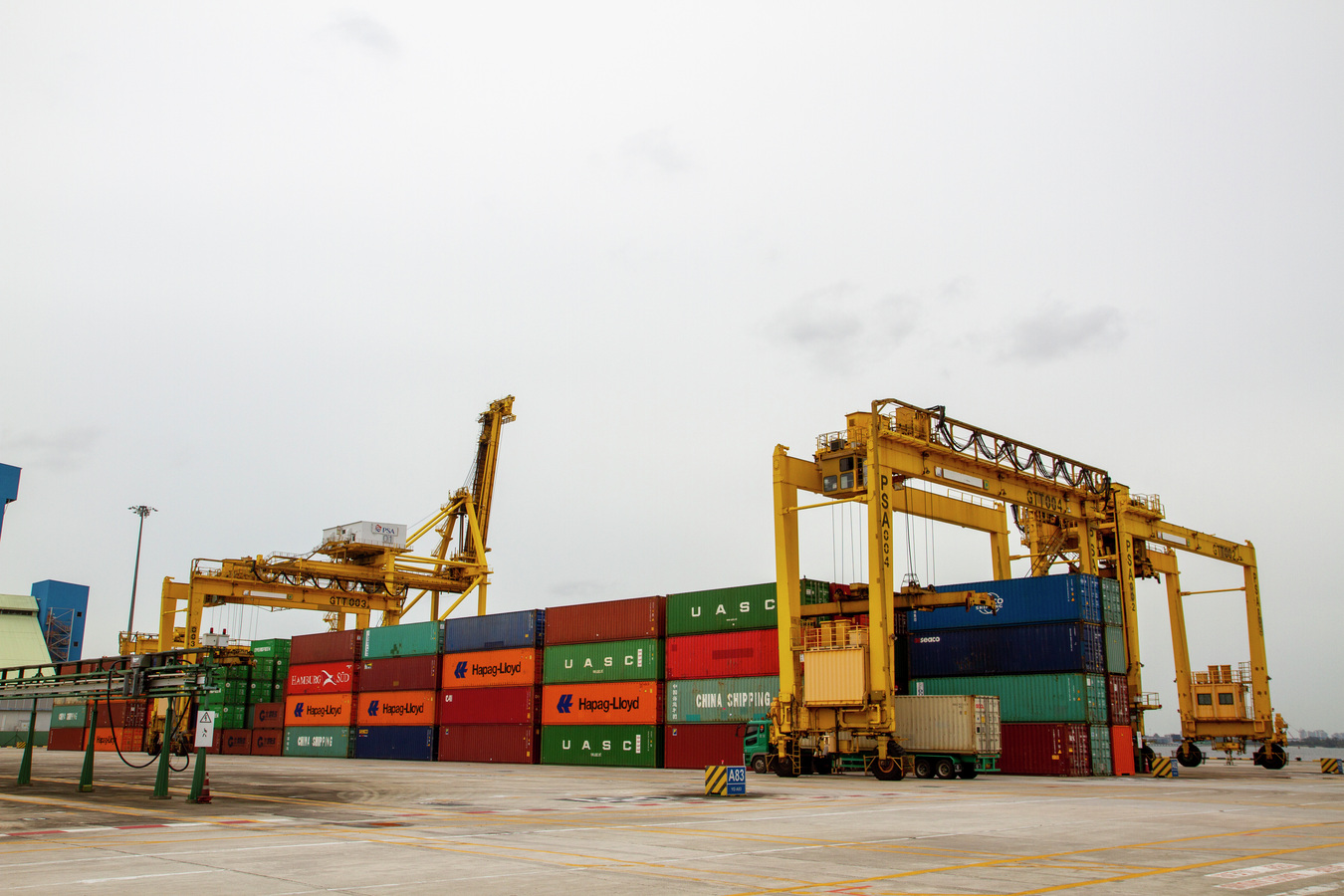 PSA has made barging the primary mode of transfer between Jurong Island and its main terminals. Photo: PSA Singapore

When JTC led the Jurong Island Circular Economy (JICE) study in 2021, 51 companies lent their support. This industry-first study sought to build on the concept of resource optimisation and harnessing by-products for reuse. The study resulted in two innovation calls: the Jurong Island Innovation Challenge (JIIC), and the Jurong Island Renewable Energy Request-for-Proposals (JI Renewable Energy RFP).
Under the JIIC, industry players submitted challenge statements on energy efficiency, emissions reduction, water management and chemical waste management. Based on these statements, start-ups and SMEs were invited to develop new solutions.
Launched jointly by the EMA and JTC in October 2021, the JI Renewable Energy RFP connects industry stakeholders, academic talents and government agencies for the purpose of brainstorming new clean energy solutions. A joint commitment of $6 million was pledged by EMA and JTC for project funding.
In 2022, EMA and JTC awarded three projects, whose objectives parallel the above-mentioned sustainability initiatives. The ideas include a floating solar deployment, the harnessing of existing infrastructure for energy storage, and the development of a virtual ledger to support green hydrogen production. These proposals prove that the local industry is aware of environmental macrotrends, and are just as motivated to drive sustainability, as the big players.
Jurong Island's transformation into a sustainable energy and chemicals park is only just beginning. As new breakthroughs in green technology surface, and as more like-minded companies join forces, more chapters will be written in its sustainability story.