Plugging into a Thriving Start-up Community
Imagine you're online, shopping for clothes. A soft prom dress with a frilly lace collar catches your eye. You like the dress but don't like the lace on the collar. If you're in a shop, you can ask a shop assistant for help but that's not an option when you're surfing the web. Here's where ViSenze steps in.
The Singaporean start-up company specialises in visual search, and customers on fashion websites like Zalora use their technology to search for images of products. If you're at a fashion e-commerce site, ViSenze technology can supply you with a helpful selection of similar products, so that you can narrow down your search and find the perfect little black dress for your big night out. However, ViSenze technology is not just restricted to fashion, but its cutting edge solutions center on image recognition and visual search, so there are many other potential applications for its technology, and other clients include Lazada, Sears (US), ASOS (UK), Rakuten (Japan) and Essilor.<
ViSenze is currently located at JTC LaunchPad @ one-north, a hub for start-ups. Oliver Tan, 47, CEO of ViSenze, says his company has benefitted from being part of the tech ecosystem at LaunchPad. For example, the company gets to meet foreign guests who visit JTC LaunchPad, including foreign media, venture capitalists and potential clients. Mr Tan was particularly excited about the opportunity he had to meet with Harley Davidson's US Director of Innovation. "He was amazed by the innovation and technology that we and other start-ups have at JTC LaunchPad," Mr Tan says. "Being at JTC LaunchPad is great as it helps us get visibility through the guests and events it hosts."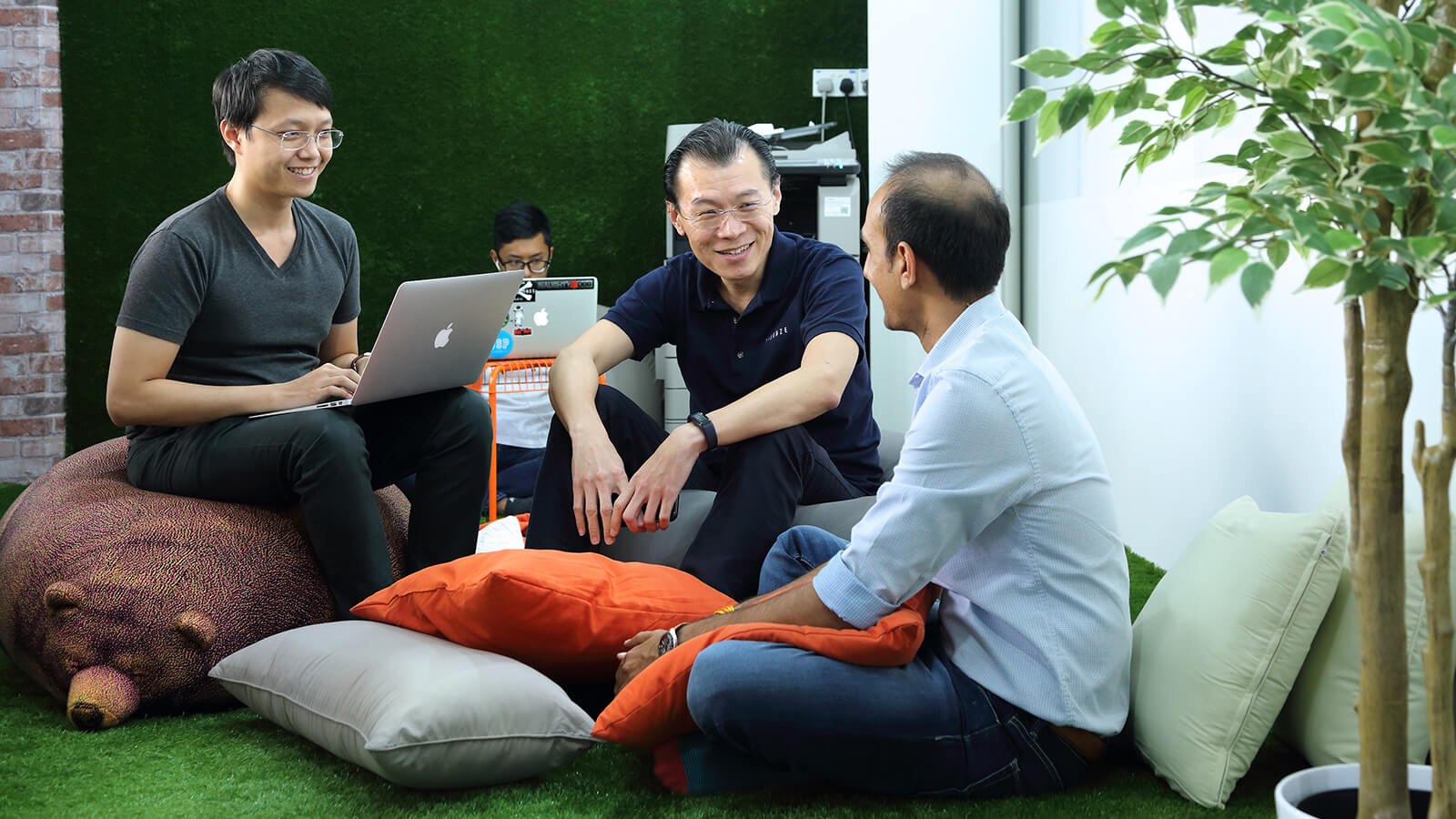 CEO of ViSenze, Mr Oliver Tan, in discussion with employees at their breakout area
ViSenze first moved to JTC LaunchPad @ one-north in 2014, partly because of its connections to National University of Singapore. ViSenze was started based on technology research first developed by NUS scientists and they wanted to be located at a venue near the university. NUS was one of the first anchor tenants at Blk 71 of JTC LaunchPad and being a sub-tenant of NUS there gave ViSenze access to shared facilities and talents.
ViSenze chose to be at JTC LaunchPad because of the thriving start-up community. "We like being together in a start-up community," Mr Tan says, "If you're in Changi or Woodlands, we would be out there on our own. There are reasons why start-ups like other start-ups. There's the network effect. Apart from tech start-ups, other critical people are drawn there, like venture capitalists, private equity, media, potential clients – you need all these ingredients for success."
The presence of so many start-ups and related companies at JTC LaunchPad has created an ecosystem that greatly benefits ViSenze. "When you're part of the JTC LaunchPad ecosystem, everybody knows everybody. The investors at LaunchPad have an eye out for promising start-ups, so when you're neighbours, they can keep track of your progress. You can go out for coffee with them and in twenty minutes do a demo, which is better than going to Raffles Place in a suit to present to them." Two of ViSenze's investors are at Blk 71 – Walden International and Raffles Venture Partners. "The venture capitalists are at LaunchPad and they are very helpful people – even if you're not suitable for them, they'll refer you to others – there's the networking effect."
The presence of so many start-ups and related companies at JTC LaunchPad has created an ecosystem that greatly benefits ViSenze.
Being in the same place also makes it easier for start-ups to flourish with each other. "Start-ups like to help each other," Mr Tan says. "I like to give back to the start-up community in the same way I've benefited from them. We help each other along because we know how difficult the journey is. I believe in paying it forward. For example, I'll introduce them to the right venture capitalists."
Being at JTC LaunchPad has also helped ViSenze attract talent. "LaunchPad attracts millennials, who feel it's a hip place to work. Like there's good food and live bands at Timbre+. I always say food and brain cells go together, you cannot think without food. We can go to Timbre + for meetings and brainstorm work ideas over beer. When I give my namecard to people, often, they'll say – 'Oh, you're at LaunchPad, that's a cool place to work.'"
Companies at LaunchPad also come together to do recruitment fairs. "There's the crowd effect at the LaunchPad career drive and I've managed to recruit about 10 people through the career fairs we have at LaunchPad."
The media has also been drawn to covering JTC LaunchPad. "This gives us visibility," Mr Tan says. "Start-ups have no advertising budget so the positive publicity and media recognition of JTC LaunchPad gives us free publicity."
The Economist magazine was so impressed with LaunchPad that in 2014, it called it "the world's most tightly packed entrepreneurial ecosystem".