Food digesters: Recycling food waste goes high-tech at JTC estates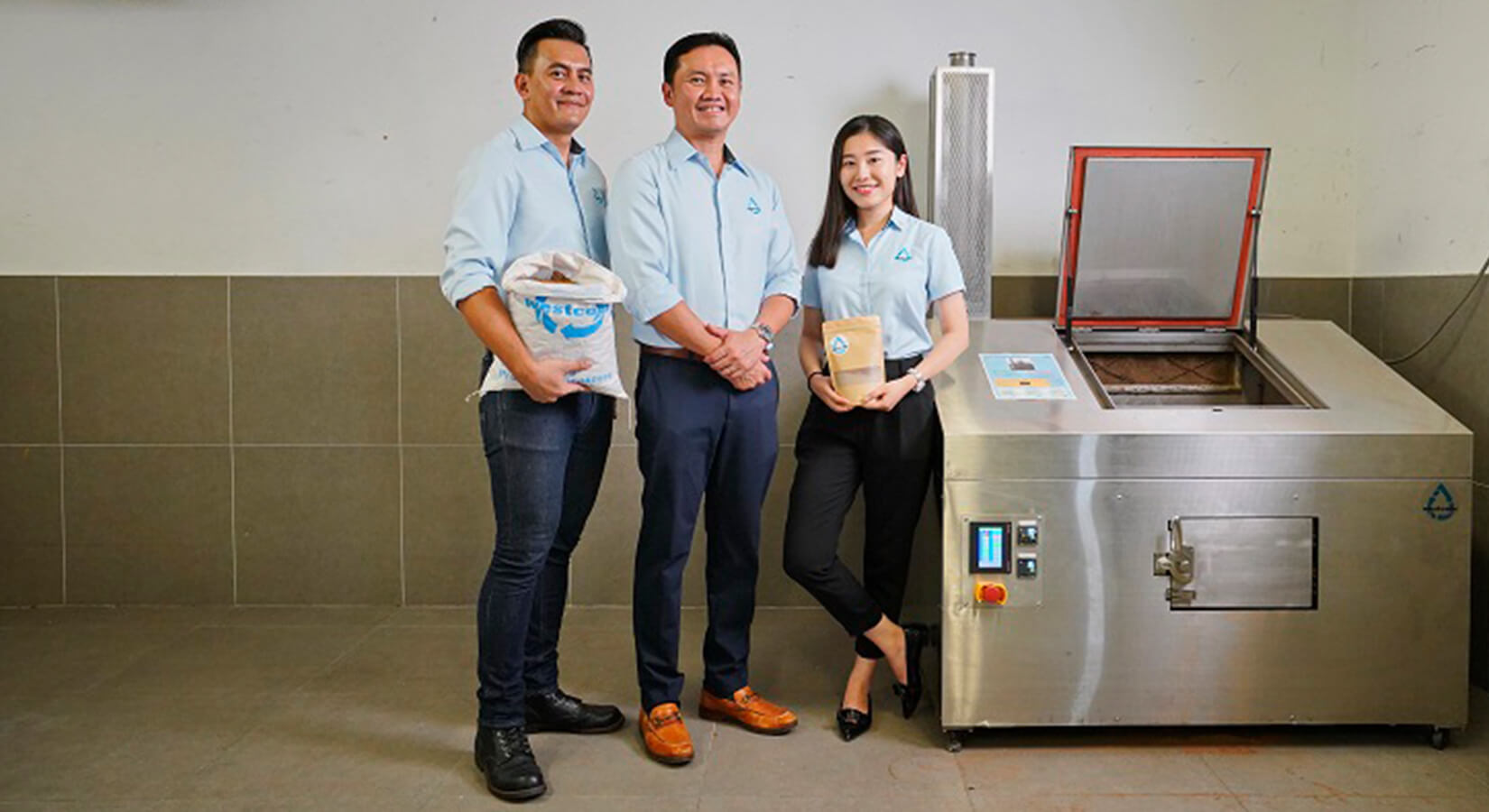 Meet the machines eating their way to a more sustainable tomorrow.
Food waste in, compost out — and all in just a day's work for seven food digesters that will be installed by JTC in select industrial estates across Singapore by the end of 2021.
These food digesters — also known as food waste recycling machines — shrink to a 24-hour composting window what would traditionally take a week or more to achieve. Part of the fertiliser produced will go towards nourishing the lush greenery found at JTC's properties, while the rest will be sold.
This move follows a pilot programme started in 2016 to test innovative ways to reduce food waste. One such food digester, currently located at JTC's Pandan Loop Industrial Estate, is the result of a co-development by JTC, Agency for Science Technology and Research (A*STAR), and local start-up, Westcom Solutions.
The potential of what these food digesters can achieve is immense. Westcom Solutions estimates that 6,550 kg of food waste can be recycled daily, with about 10% converted into fertiliser, based on projections of the output of the seven food digesters that will be located at JTC Aviation Two @ Seletar Aerospace Park, Senoko Food Hub, 15 Woodlands Loop, Gourmet East Kitchen, Shimei East Kitchen, Bedok Food City, and Fusionpolis One @ one-north.
This will go a long way in reducing the amount of food waste generated in Singapore, which has grown by about 20% in the last decade. In 2019 alone, Singapore disposed of about 744 million kg of food waste — an amount equivalent to 74 million 10 kg bags of rice, or the weight of 51,000 double-decker buses.
Breathing New Life to Waste
A specialist in food waste reduction, Westcom Solutions' waste-to-fertiliser technology relies on micro-bites to break down leftovers. How the conversion happens is simple: sorted food waste is deposited into these recycling machines, after which micro-bites ferment and decompose the food waste into organic fertiliser that can be used immediately.
Interestingly, A*STAR and Westcom Solutions worked to create a type of micro-bite that'll take to local flavours. "The team needed to analyse food waste in Singapore and create a new formula to break down the rich and oily food consumed here," says David Tan, CEO of Westcom Solutions.
Boasting processing capacities varying from 50kg to 2,000kg, these food digesters bring convenience to the table in other ways. For example, the fertilisers produced are odourless, thanks to micro-bites that can disintegrate substances that cause foul smells. These micro-bites also function optimally at temperatures around the 40°C mark, thus eliminating the need for heating power. Because no fluid is produced in the process, no discharge systems are needed, allowing the machines to adopt a simple "Plug & Play" mode.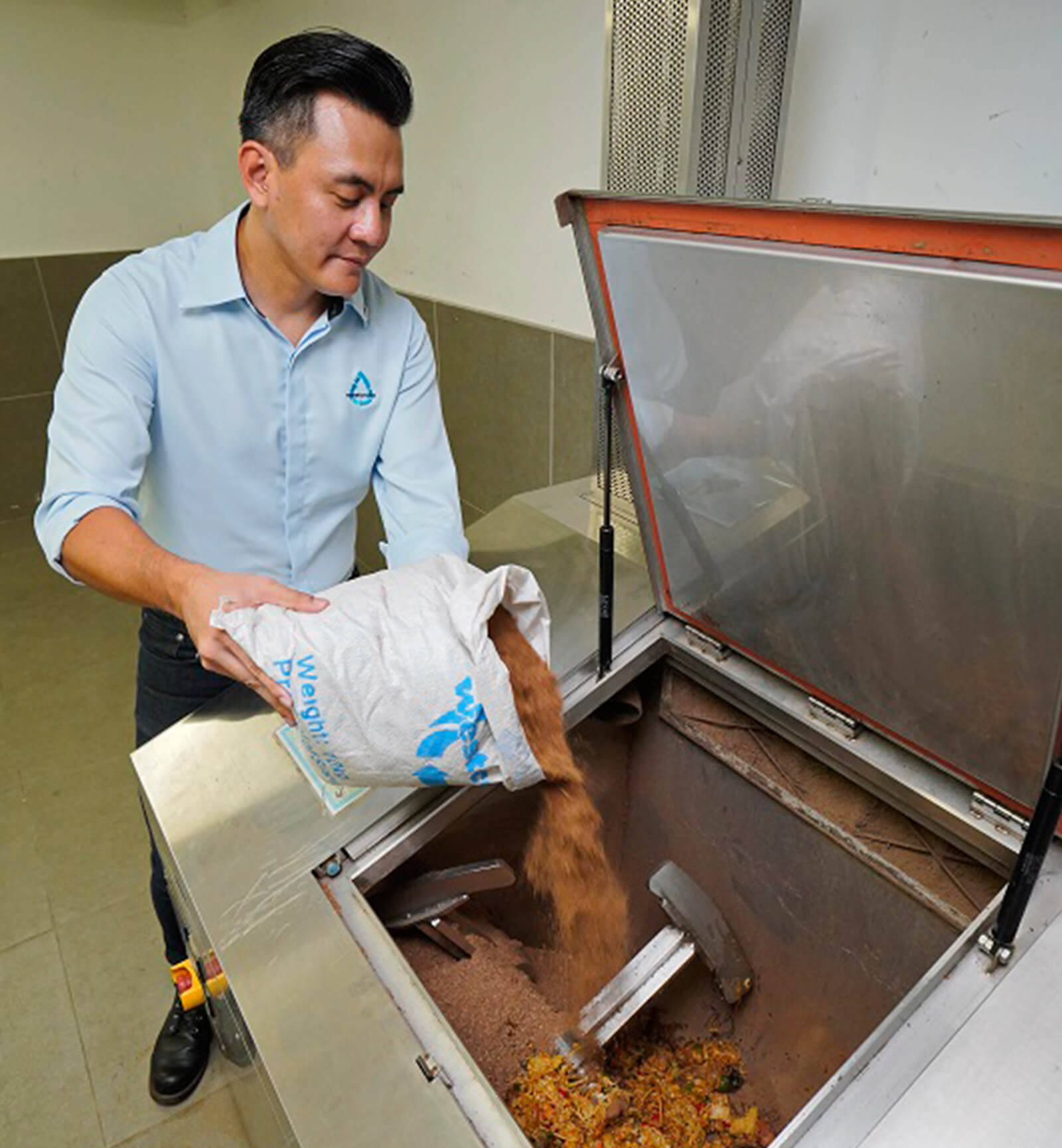 Westcom Solutions' waste-to-fertiliser technology relies on micro-bites to break down food leftovers.
"Waste Not" The Way Forward
To promote the use of the food digesters among its tenants, JTC and Westcom Solutions conducted training sessions with tenants from JTC Aviation Two in Seletar Aerospace Park and 15 Woodlands Loop, where the food digesters are already installed. These engagement sessions are important for JTC — after gathering feedback and studying the food digesters' use at the seven estates, it will determine if the machines can be installed in other areas so that the benefits can be enjoyed on a wider scale.
"These food digesters can serve as centralised locations where individual food manufacturers come together to recycle their food waste. This will allow us to achieve greater efficiency through the economies of scale," explains Jason Foo, the Director of Facilities Planning and Advisory at JTC.
Through the food digesters, food manufacturers and caterers will be encouraged to alter their production methods and pay more attention to separating food waste from their output. By adopting these measures early, they'll also be ahead of legislative measures that will make it mandatory for large companies to segregate and treat their food waste on-site from 2024 onwards.
More importantly, the food digester initiative is but one part of JTC's bigger vision to make food waste management an integral part of the workings of an industrial estate, with the waste generated from one company used as input for another in a sustainable, circular fashion.
The move dovetails with Singapore's push towards a circular economy model that lessens the impact of human activities on the environment, extends the longevity of current resources, and primes the country to tackle any scarcity-related matters that may arise in the days ahead. Now that's one diet we should all get behind.