Rediscovering one-north: Your guide to the best things to see, eat and do
With the COVID-19 pandemic putting a hold on all our travel plans, there's perhaps no better time than now to rediscover all the attractions that have made Singapore so unique. If you're thinking of spending the year-end holidays a little differently, then head on down to one-north, a sprawling business park designed and developed by JTC to meld both work and play in one lush setting.
With towering steel and glass buildings intertwined with verdant green spaces, there's more to one-north than meets the eye. Here, we've rounded up all the photogenic corners for your #OOTDs, delicious treats for your taste buds, plus exciting activities you can do for an unforgettable day out at the estate.
Search for cool Instagram spots
one-north bucks the trend of how business parks typically look like. It is a vibrant enclave filled with picture-perfect spots that are sure to liven up your Instagram feed. Check out thought-provoking sculptures such as the 12 Gentlemen by Taiwanese artist Ju Ming. Or take in the graffiti art at Timbre+. Want to add a retro vibe to your shots? Then take a stroll through the colonial-style residential estate at Wessex @ one-north or visit Café Colbar for a trip back in time.
Seek out hidden gems
In the words of Yoda: "Find me, you must." Whether you're a diehard Star Wars fan or a casual cinephile, embark on a Jedi-worthy quest to search for his statue, which is tucked away in a corner of one-north. Next, schedule a pit stop to Rochester Park, where conserved British colonial houses from the 1940s have been remodelled to offer F&B, retail, and lifestyle options — one even contains Singapore's prettiest Starbucks!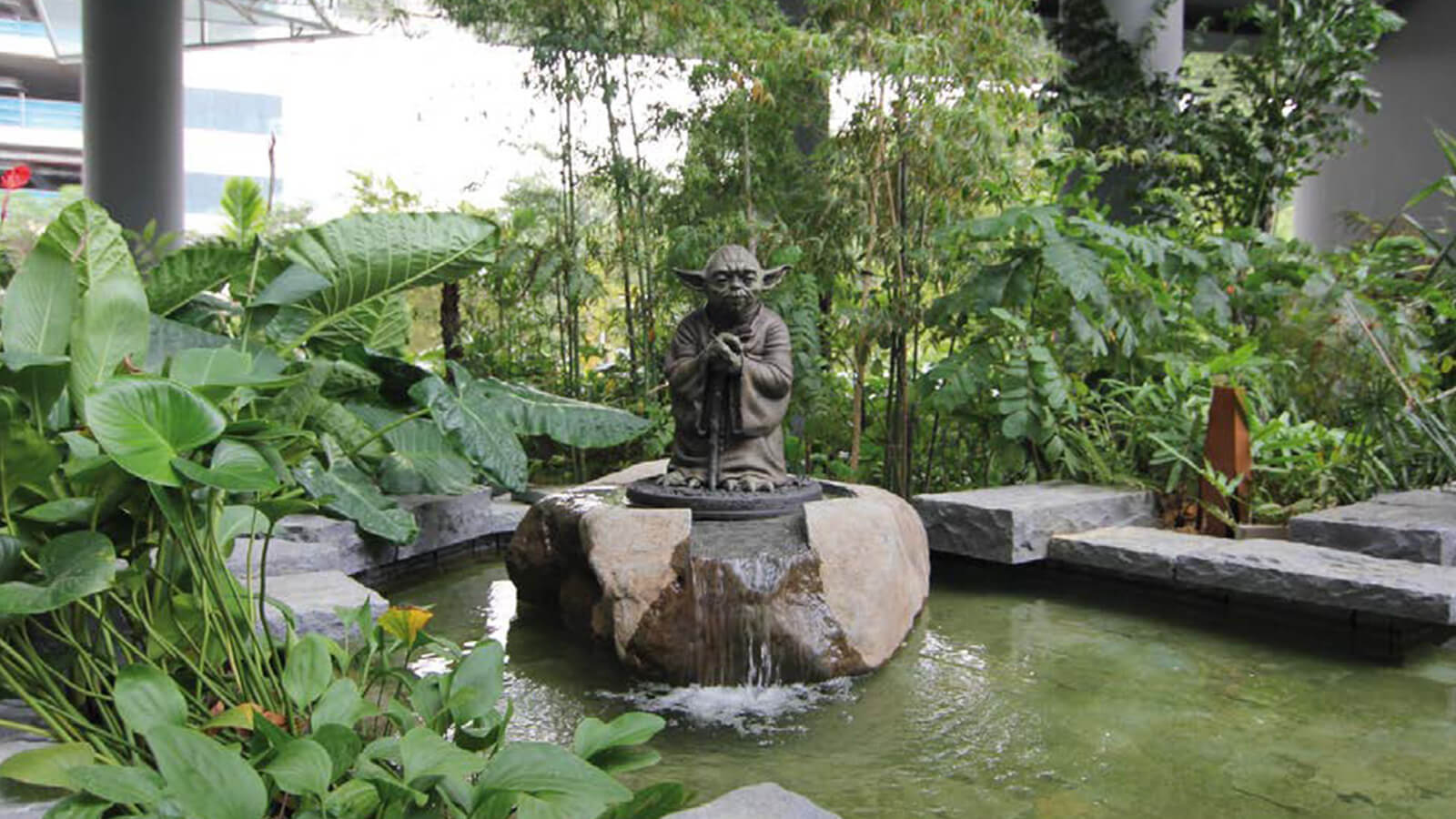 Yoda statue
Immerse yourself in greenery
Want somewhere to relax? Why not feel the calming effects of being among trees and greenery? At one-north park, there's an abundance of it — 16 hectares, in fact! Consisting 11 land parcels running across the district, the park is integral to one-north's work-live-play-learn environment. Unwind at one of the many green pockets that dot one-north, such as the picturesque Hilltop Plaza at one-north Park: Biopolis.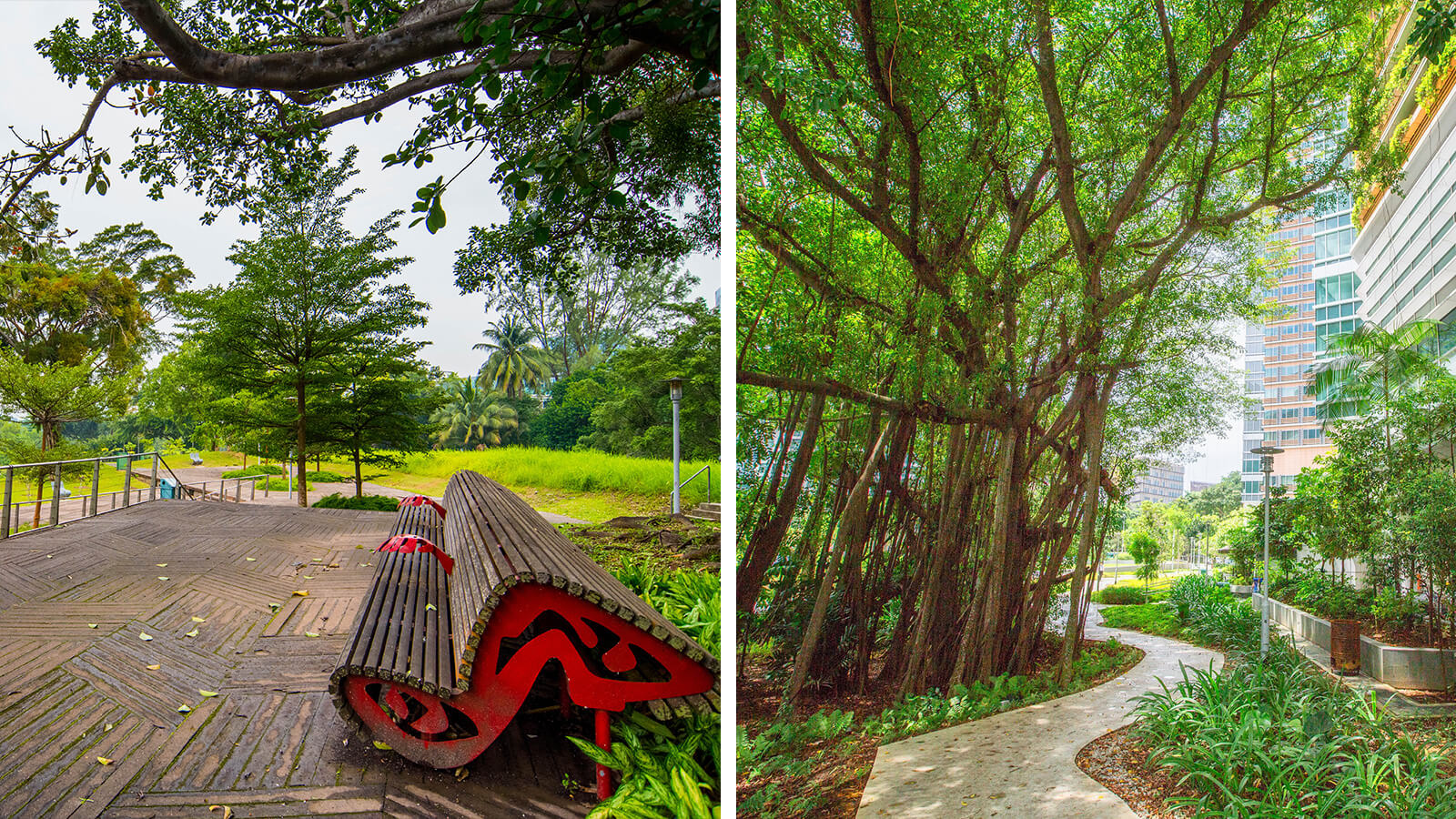 one-north Park
Pick up a new skill – or two
You're never too young or old to learn something new. Sign up for lessons at the Palate Sensations Culinary School and unleash your inner chef. From perfecting a plate of chicken rice to mastering the basics of baking bread, courses are conducted by professionals in a state-of-the-art, open-concept kitchen. For the kiddos, there's always the Future Ready Academy, where they'll get hands-on experience learning about the wonders of innovation through classes such as robotics and coding.
Indulge in festive treats… followed by an unforgettable stay
Feeling peckish? Pick from the many food choices at one-north. From café fares to restaurant bites, you'll be spoilt for choice for your weekend brunches or romantic date nights. Check out our food and retail listing. Once you've satiated your appetite, retire to the Shipping Container hotel and spend the night in a one-of-a-kind room — replete with all the amenities — converted from a shipping container.
Enjoyed your time at one-north? Share your favourite snaps and memories with us by hashtagging #onenorthSG, and tagging @jtc_sg on Instagram or @jtccorp on Facebook!