Finding strength in numbers at Mediapolis
Imagine going for lunch on a regular workday and seeing Hollywood stars Kristen Stewart and Nicholas Hoult casually playing pool at a café downstairs.
This was a memorable moment for the employees of Infinite Studios, a cluster of media and creative companies in a building at Mediapolis. The celebrity pair was here for the production of the 2015 science fiction movie Equals, which was partially filmed in Singapore.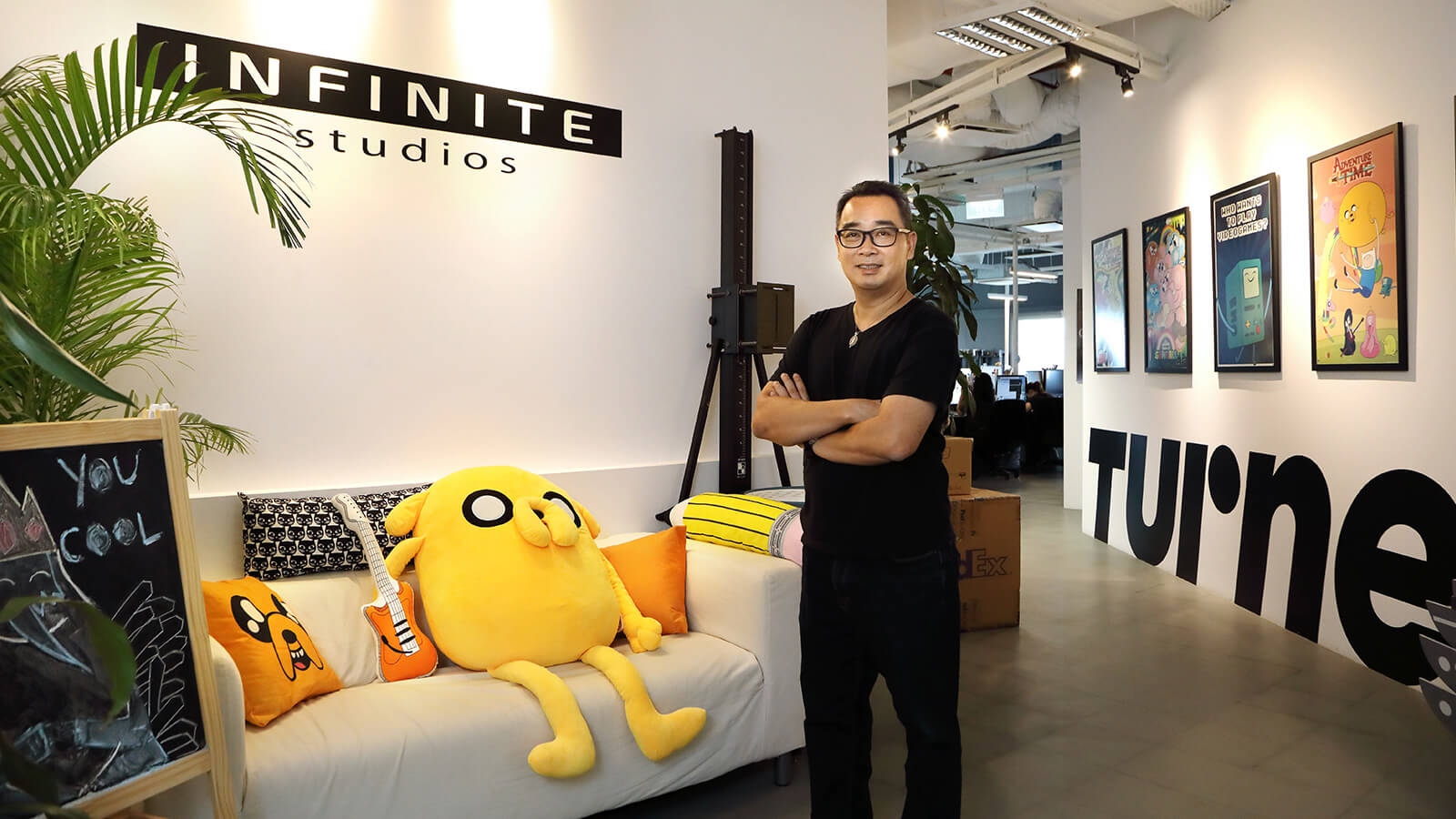 Infinite Studios Chief Operating Officer, Freddie Yeo
Infinite Studios has come a long way since its official launch as the first development in Mediapolis in 2013. It is now home to an eponymous production and creative services company that helps produce shows like Masterchef Asia and Hollywood movie Crazy Rich Asians, as well as providing creative services for international firms including TV business Discovery Networks and Turner Asia Pacific, among others.
"We created a media ecosystem of companies that can work with one another and co-exist without replicating resources," shares Freddie Yeo, Chief Operating Officer of Infinite Studios. "But it was very challenging to bring people on board. Before Mediapolis, there was no physical clustering of media-related companies here. They were either in the outskirts of Singapore like Changi, Loyang or Lorong Chuan, nowhere in a place that was identified as the media sector.
When the government announced Mediapolis, a 19-hectare hub for the infocomm technology and digital media industry at one-north, Infinite Studios was determined to be involved as the project was not only groundbreaking in bringing together media partners, but was also well supported by various agencies.
We created a media ecosystem of companies that can work with one another and co-exist without replicating resources.
"The vision for Mediapolis was driven by a multi-government agency effort," says Mr Yeo. Till today, the Economic Development Board continues to attract media-related business to Singapore, JTC oversees the infrastructure development as the master planner, while the Infocomm Media Development Authority develops the overall infocomm and media sectors. Thus the clustering of media companies did not happen by chance, it was engineered to a certain degree.
Infinite Studios teamed up with real estate developer Ascendas to create a 10-storey high-rise facility to house media companies under one roof. According to Mr Yeo, it was clear when they were conceptualising Infinite Studios that the Achilles' heel for Singapore's media industry was the lack of proper film studios, known technically as sound stages. He explains, "The filmmaking DNA in Singapore has always been about locations. The lack of sound stages made it difficult for production companies to commit to projects in Singapore."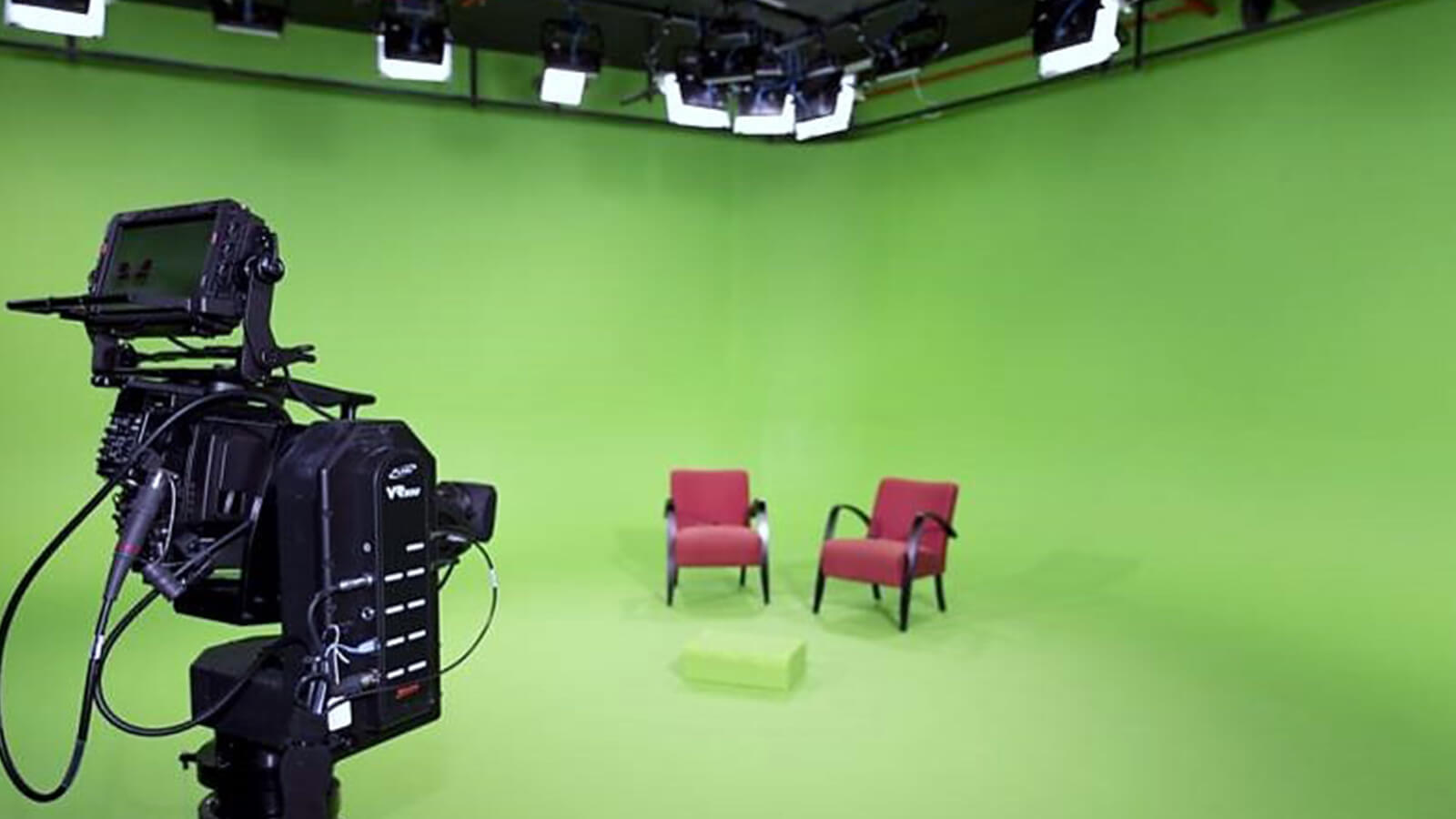 Singapore's first 4K Virtual Studio with green screen capabilities
That led Infinite Studios to build two large sound stages, 10,000 sq ft and 18,000 sq ft respectively, to meet international production standards. These have helped Mr Yeo and his Infinite Studios team to clinch Hollywood projects such as Fox International Picture's Agent 47, Scott Free Film's Equals, Warner Brothers' Crazy Rich Asians and Mediacorp's long-running serial Tanglin. When Mediacorp relocated their building from Caldecott to Mediapolis, the stages at the neighbouring Infinite Studios complemented their needs especially when they needed to produce more content, says Mr Yeo. "We become almost like an extension of them, to a certain degree, but without them having to carry the physical asset of the sound stage on their books," he adds, referring to how the two companies work together closely for projects such as Tanglin.
With a pay-as-you-use model in place, other media tenants within the precinct enjoy convenient access to the shared facilities, which include film studios, post-production and audio facilities as well as content distribution and digital transmission services, instead of having to travel to different locations. Working closely together, Ascendas and Infinite Studios embarked on marketing the media ecosystem concept to the industry and expounded the key advantage especially for new companies as they can start an office without having to build infrastructure for their operations.
Some well-established companies were also drawn by the ecosystem's shared services and partnership possibilities, and relocated to Mediapolis. Companies such as Discovery Networks and Globecast, were already operating in Singapore for many years but shifted to Infinite Studios after they "recognised the need to be closer to the media ecosystem at Mediapolis," says Mr Yeo.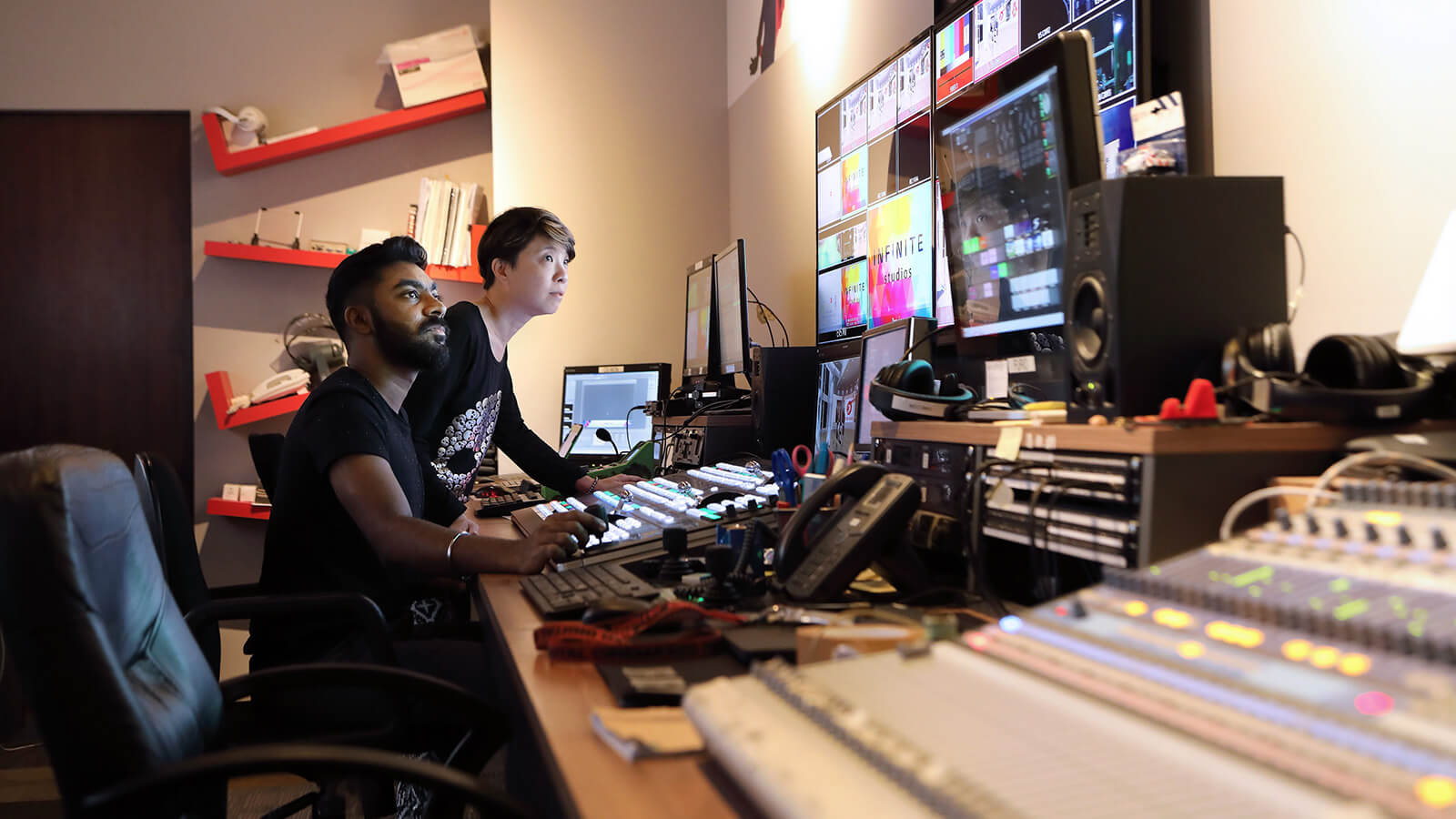 Studios' facilities that produces on-air creative and audio content
Soon after, companies such as Bandai Namco, one of Japan's biggest gaming companies, started coming on board as well. After joining the media ecosystem in 2013, the Singapore branch of Bandai Namco has expanded its business from art production to full-fledged game production, which includes game design and engineering. "Leveraging on the advantage of Singapore as a regional hub, we have built a game development pipeline and will be developing more games for the worldwide market," says Seiichi Sekino, Senior Vice President of Corporate & Business Development Division at Bandai Namco Singapore Studios. "The Singapore Studio has grown from a few artists to over 70 members today. We will continue to recruit more talents to take on new challenges and support the rapidly evolving gaming industry."
The clustering effect gave the companies in Infinite Studios a competitive edge. In 2017, media group Turner — home to CNN and Cartoon Network — announced the establishment of its new Southeast Asia unit based at one-north.
Clustering gave us a competitive advantage over companies eyeing the same business from an isolated perspective. It was a domino effect that benefited a host of companies that took the plunge with us when they relocated to Infinite Studios.
Mr Yeo describes the involvement of Globecast as "instrumental" in this decision, as they had the capabilities and technical infrastructure to meet Turner's requirement to broadcast all of its channels across Asia. "Infinite Studios' creative services team complements Globecast's services by producing the creative and audio services for Turner's on-air promotions," he adds.
"The fact that Infinite Studios is a one-stop shop transmitting and producing on-air creative content within the same building gave Turner a lot of reassurance. Clustering gave us a competitive advantage over companies eyeing the same business from an isolated perspective. It was a domino effect that benefited a host of companies that took the plunge with us when they relocated to Infinite Studios. The environment created a trickle-down effect for related companies such as Globecast, AMX Audiophiles and Suite Sound which provided audio services to Turner".
Being situated in a larger ecosystem of one-north, which comprises other precincts like Biopolis, Fusionopolis and LaunchPad, Infinite Studios has been actively involved in community initiatives. On top of conducting school and public tours to the sets of Medicorp's Tanglin and Globecast's satellite transmission facilities, the company also initiated ground-up events with their neighbours.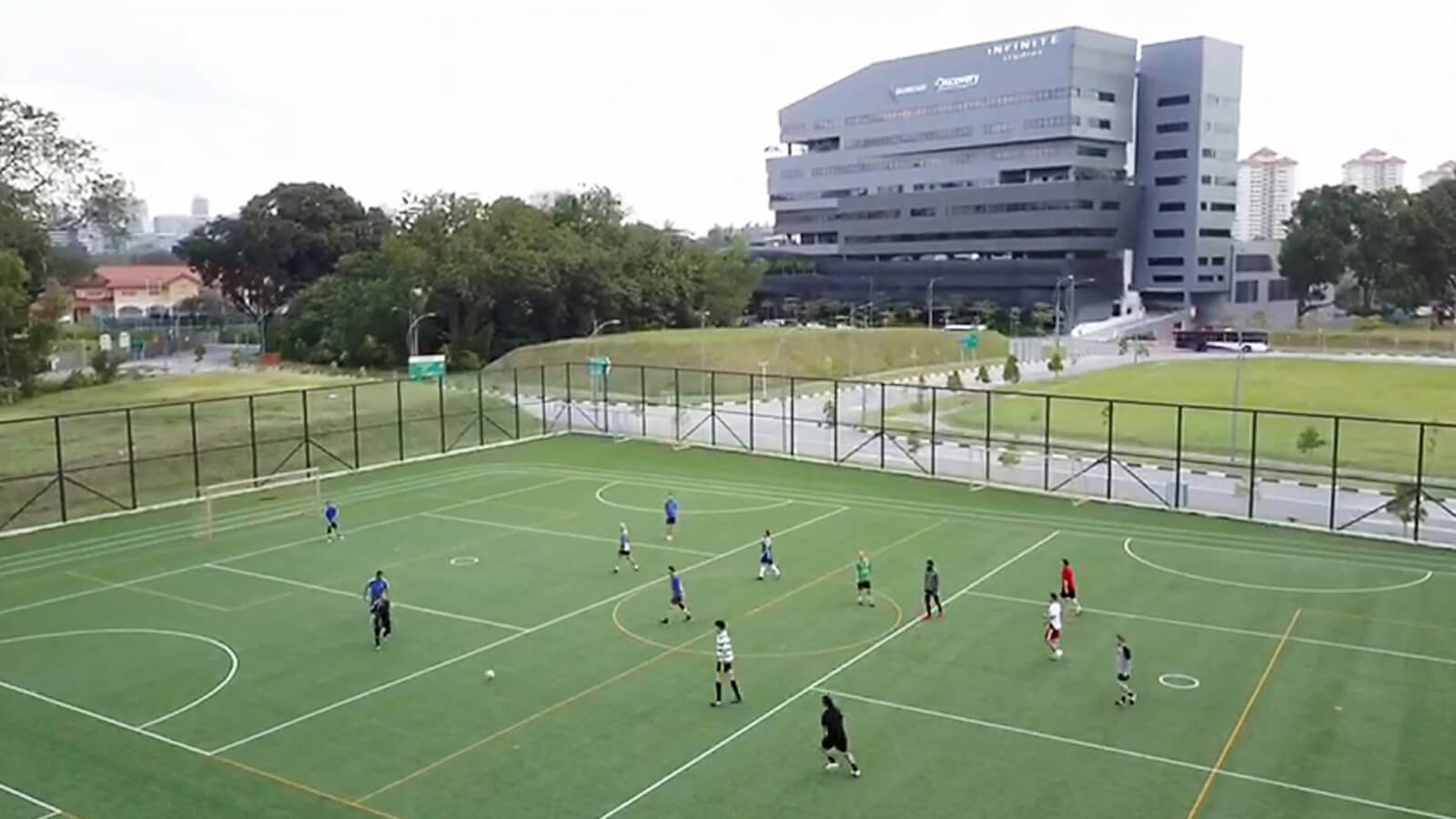 Mediapolis community playing a friendly match at Tanglin Trust School's soccer field. Having worked closely with the students and academia of the neighbouring Tanglin Trust School, Infinite Studios took the opportunity to co-organise informal football games on their fields twice a week. Staff from neighbouring companies such as Mediacorp and Turner also join in the games.
"When you bring people together into a space it's quite inevitable and natural for them to start interacting at all levels. The environment naturally facilitates convergence and certainly not just through formal business events. While we work hard, we also play hard" he says.
He adds with a laugh, "I always joke that the media folks from different companies never met each other before coming here. Today, not just those working in Mediapolis but from all over Singapore, you will see them gathering at Mediapolis for lunch and coffee!"