Opening up at Mediapolis: Mediacorp's renewed community focus
When Mediacorp was still located at its previous Caldecott site, it occupied a gated space flanked by security guards. Its campus at Mediapolis in one-north could not have been more different. Designed to encourage openness and public engagement, the 800,000 sq ft campus is filled with open public spaces such as airy atriums, green spaces and cafes which enhances the overall visitor experience. From theatre and radio to digital and news, the broadcaster's 48 different departments are now being housed within the same building, as compared to 12 different buildings back at Caldecott. Visitors can join guided tours to witness the daily workings of journalists in a sweeping aerial view of the newsroom, try their hand at being a news anchor or radio DJ, and be transported into scenes from Mediacorp shows through virtual reality goggles.
Engaging the Community
The focus on becoming more open and community-centric started as early as 10 years ago, during the new campus' design and planning stage, shares Mr Moses Lye, Head of Mediacorp Live Entertainment.
"Even BBC, one of the world's oldest media companies, is open," he notes, adding that the Mediacorp team visited the BBC Studios in the United Kingdom to get a better inkling of how to run the guided tours.
An average of 65 tours take place monthly. Visitors range from diplomats and ambassadors to foreign broadcasters and overseas and local students. The team designed the tours such that visitors could experience Mediacorp without compromising the broadcaster's security.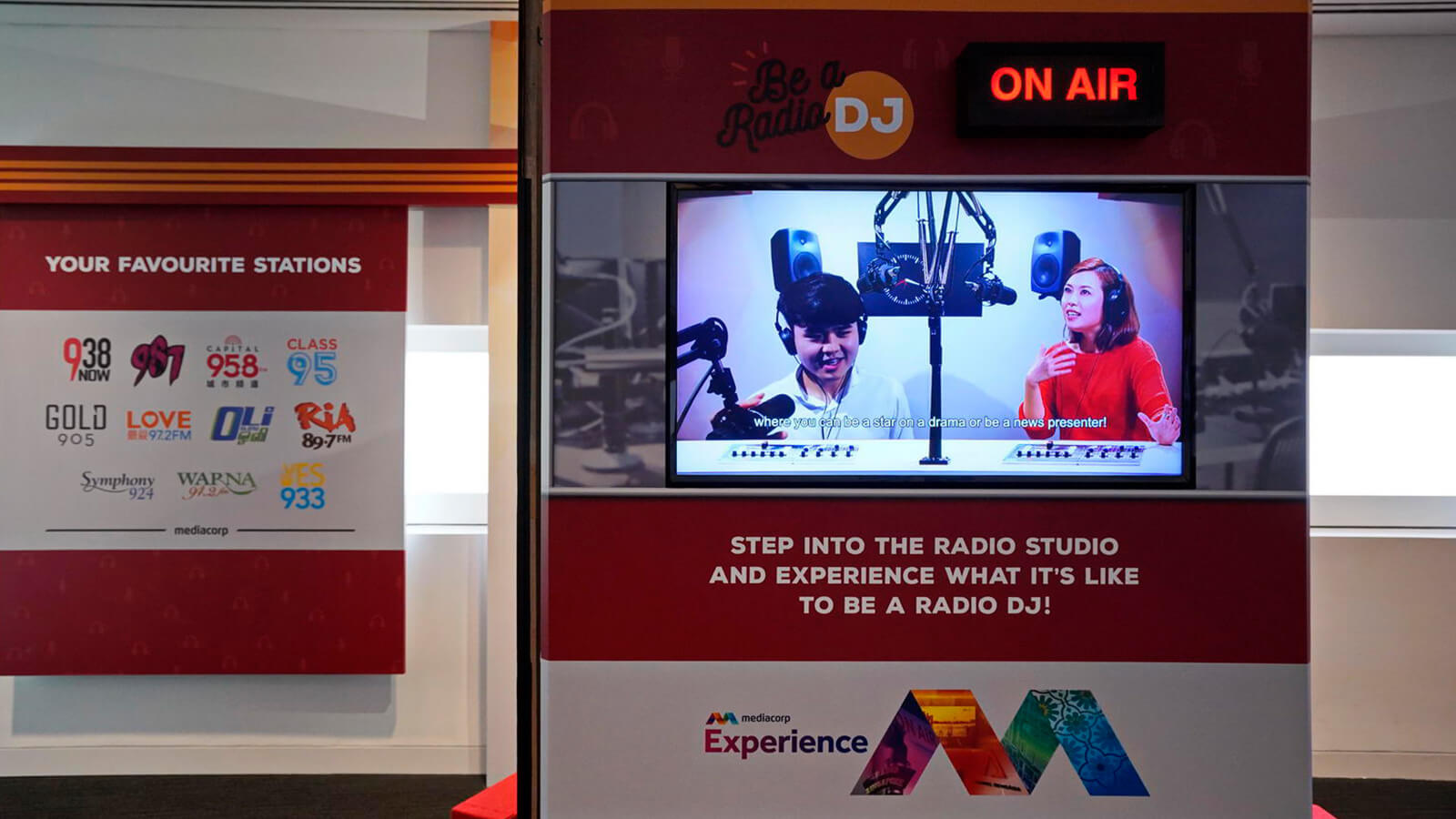 Experiencing what it's like to be a radio DJ at the radio studio booth
Besides tours, Mediacorp aims to bring the community and audience closer to Mediapolis by offering flexible spaces for creative uses, explains Mr Lye.
These spaces include a state-of-the-art 1,500-seat MES Theatre, which has hosted high-profile international acts such as the St Petersburg Ballet's Swan Lake, corporate events, lectures and even family-friendly shows such as musicals featuring children's book character Geronimo Stilton.
The Town Square, an open-air arena, hosted numerous events like the annual one-north run. Product launches such as BMW's luxury cars and events with a social focus such as the Community Chest's charity drive programmes have also taken place there, for instance.
On the weekends, families can enjoy a leisurely meal at Cafe Melba while their children are free to run, cycle or play in the vicinity that overlooks a patch of greenery.
These efforts complement one-north's thriving cluster of innovative startups and other media companies such as Lucasfilm, to inject vibrancy and a "young and cosmopolitan vibe" to the precinct, says Mr Lye.
A Spirit of Collaboration
Other than opening up its facilities to the public, Mediacorp also aimed to create pockets of collaborative spaces to kick-start conversations and connections across departments. An initiative that budded from the management's vision and staff feedback, says Mr Lye.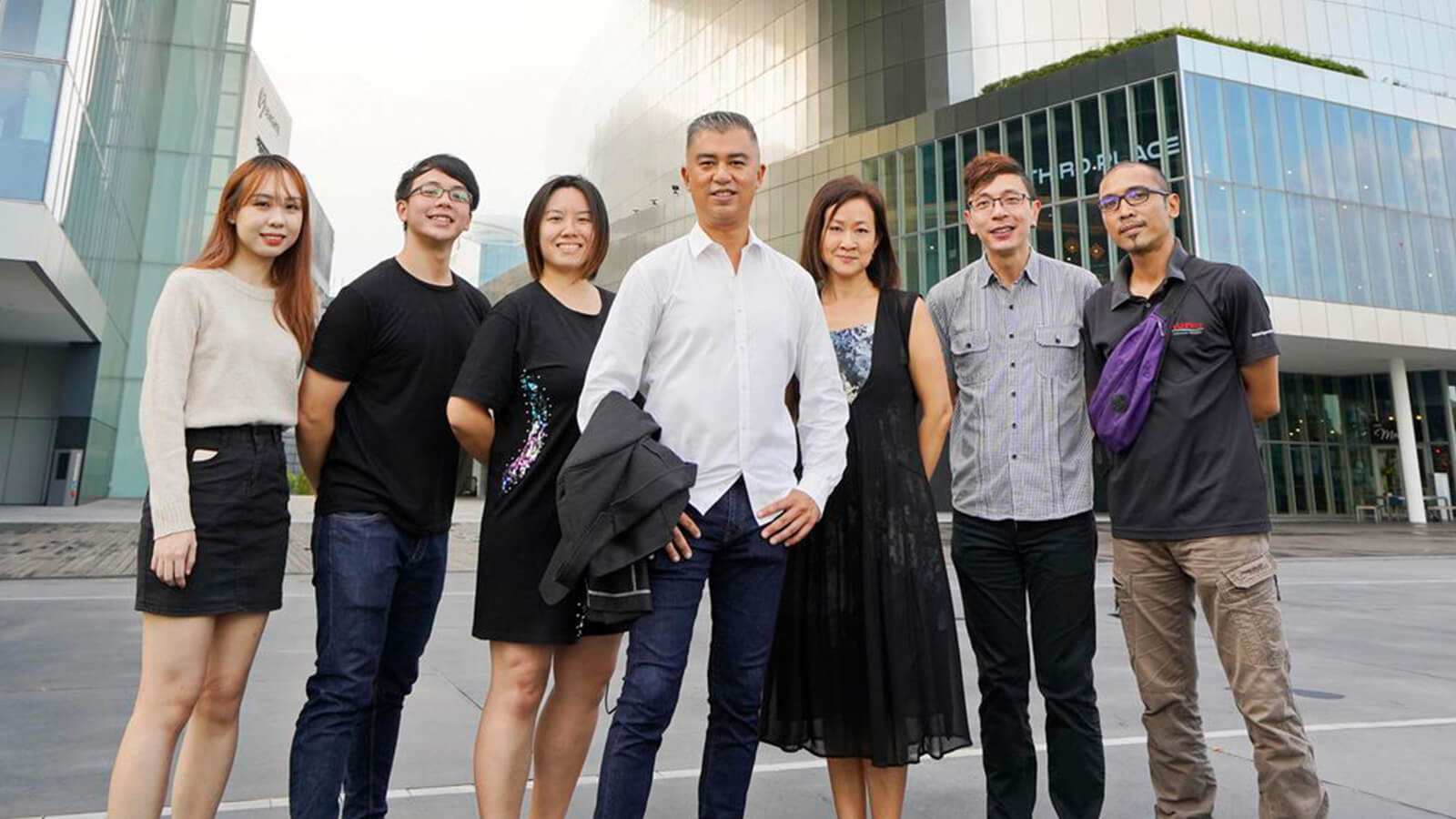 Team behind the Live Entertainment department at Mediacorp
"The collaboration buzzword was the one thing that kept recurring. Being in a creative space, it's very difficult to be in silos while trying to build something together," he explains.
Mediacorp has partnered other companies within Mediapolis. For example, it has worked with neighbouring Infinite Studios to film and produce the long-running serial Tanglin as well as a new series, Kin.
The organisations in the area have also come together to form a neighbourly community. The Tanglin Trust School, which enjoys discounts to Mediacorp's dining options and theatre shows, offers its carpark spaces for Mediacorp's visitors during events out of goodwill.
Although theatre-goers may complain about a lack of parking spaces in one-north, Mr Lye views this with a different perspective.
"While it is inconvenient right now, I see it as the direction where Mediacorp and Singapore are going futuristically," he says, referring to one-north's car-lite focus, with testbeds for driverless cars, shared bikes and scooters to improve the estate connectivity.
Mediacorp also has an eye on Singapore's media future by exposing children as young as seven to its behind-the-scenes guided tours. The hope is that the fun and immersive experience can inspire them to become the artistes, DJs, newscasters or journalists of tomorrow.
"Every so often, we have our newscasters or artistes to assist in the tours and it's a nice surprise for the visitors," says Mr Lye. "You can see their faces light up."