Sungei Kadut gears up for the future with green revamp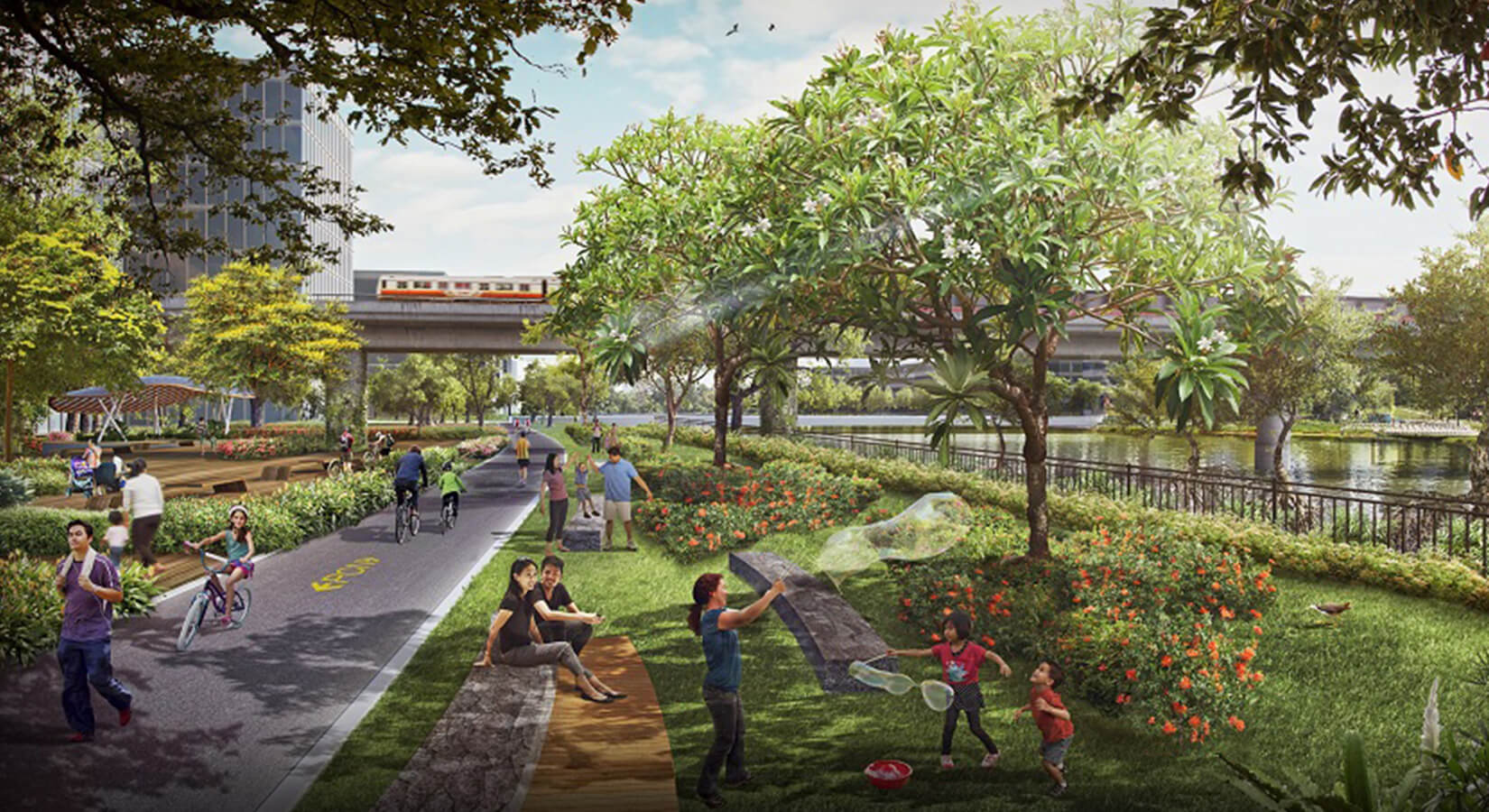 An enhanced greenery network is part of the green masterplan for the Sungei Kadut industrial area. Photo: JTC
In the green masterplan for the Sungei Kadut industrial area, workers can cycle to work from a new Mass Rapid Transit (MRT) train station and enjoy "pocket parks" on the scenic route to their offices.
Then at lunchtime, they will be able to unwind at one of the many green spaces, observing migratory birds such as the whimbrel foraging for food in mudflats and wetlands, just a hop and skip away from the district's high-rise factory buildings.
These are some of the early concept renderings by JTC Corporation, which is working on the revamp of the 500ha enclave, one of Singapore's oldest industrial estates.
The rejuvenation plans, which were unveiled in February by Trade and Industry Minister Chan Chun Sing, draws from Singapore's "City in Nature" vision.
The concept melds nature with the built environment to make Singapore stand out, among global cities, as being highly liveable while allaying the impacts of rapid urbanisation and climate change.
The revamp comprises five key design strategies. These aim to reduce the urban heat island effect; enhance ecological corridors; improve quality of stormwater runoff; foster industry-landscape synergies; and introduce exciting lifestyle activities in the area such as farm-to-fork dining serving produce from the agri-tech farms nearby.
Sungei Kadut Eco-District is situated near the coast surrounded by water bodies and natural habitats, including Mandai Mangrove and Mudflat, Kranji Reservoir and Sungei Pang Sua.
Mr Jason Wright, director for design at the National Parks Board (NParks), says: "The landscape and greening approach takes into consideration the existing biodiversity that transacts through Sungei Kadut towards Sungei Buloh, identifying existing habitats for conservation as well as proposals to enhance these habitats."
The 37-year-old was tasked to conceptualise the biophilic approach to the green masterplan's landscape and design.
JTC and NParks began discussions early last year on the masterplan.
A key feature will be "nature ways" - pathways with multi-tiered plantings that mimic the structure of a forest - that link previously fragmented landscapes and wildlife habitats such as Mandai Mangrove and Mudflat, Kranji Reservoir and parts of the former Rail Corridor (Kranji Cross).
Photo: JTC
The area's historical origins will also be emphasised, such as its marsh and wetland areas, to make it more accessible for visitors to appreciate the mangrove habitats thriving there.
These plans will be carried out carefully, with JTC conducting environmental impact studies next year.
While the revamp will take up to 30 years to complete, Sungei Kadut has since last year started to transform its traditional manufacturing bent and embarked on nurturing important new growth sectors such as agri-tech and environmental technology.
"This is part of a larger plan to create a Northern Agri-Tech and Food Corridor which encompasses Sungei Kadut Eco-District, Woodlands Regional Centre, Woodlands North Coast and Senoko Food Zone," says Mr Shawn Tan, acting director for physical planning (North) at the Urban Redevelopment Authority (URA).
He adds that Sungei Kadut Eco-District also presents a good opportunity to improve the overall transport connections and amenities in the area to better serve workers and residents in the larger north and west regions.
Currently, more than 50 companies have already confirmed interest in moving into the new industrial facilities, which span about 3.4 million sq ft and costs nearly $650 million, according to JTC.
One of the highlights of the development of this brownfield - or previously developed - site is the creation of clusters. This serves to boost synergies within the same industries, maximise land use, cut costs and capitalise on resources by sharing facilities and services.
There are four main niches in Sungei Kadut: The Agri-Food Innovation Park for research and development, prototyping and high-tech farming such as indoor farming and aquaculture hatcheries; Trendspace for furniture and related industries; TimMac for timber, metal and machinery companies; and Kranji Green for players in waste management and recycling.
Furniture and related industries have already relocated last year to Trendspace. From next year, waste management and recycling firms will move into Kranji Green, while timber, metal and machinery companies will move into TimMac.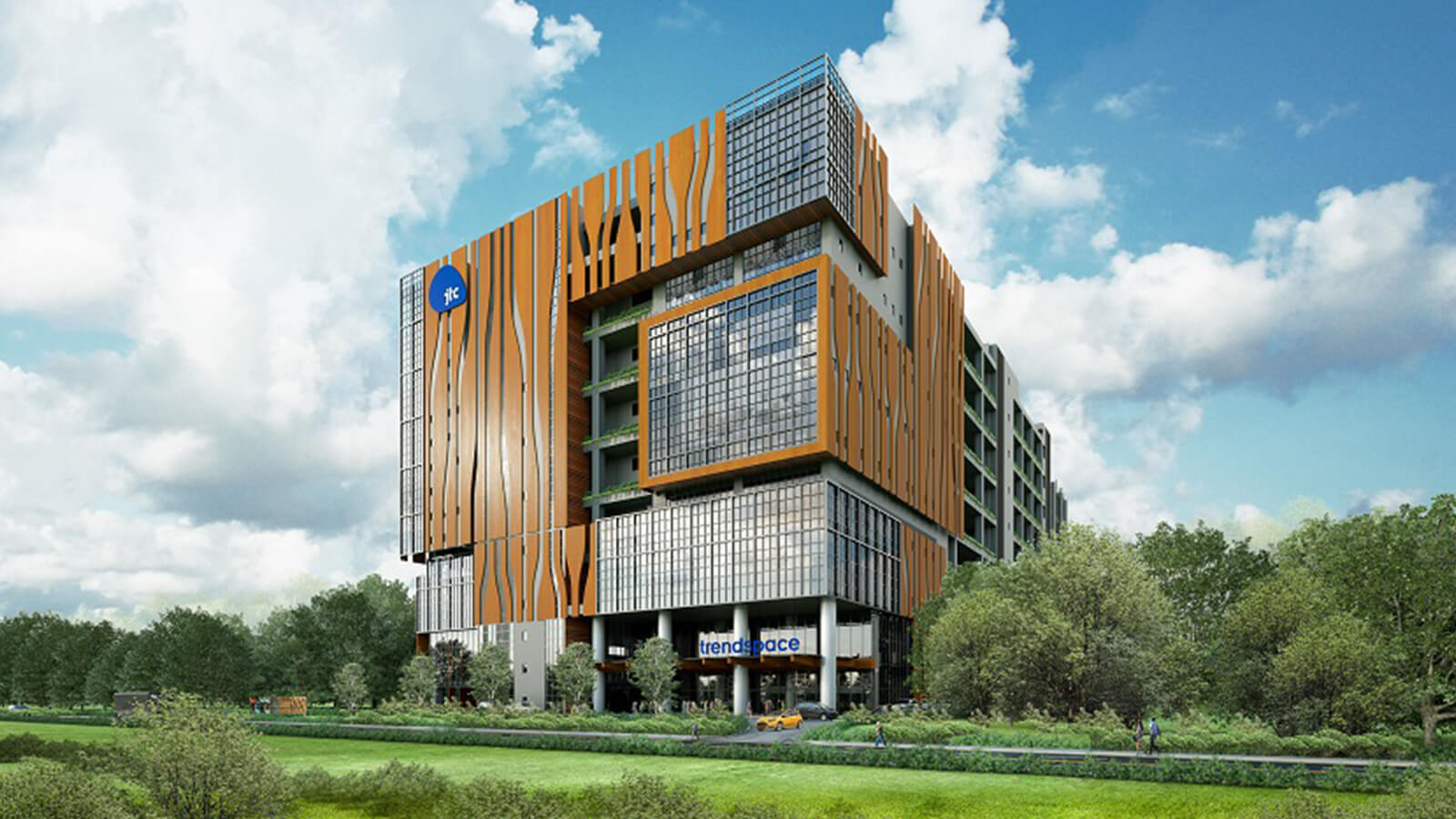 Photo: JTC
Agri-tech firms setting up shop in the upcoming 18ha Agri-Food Innovation Park will look to employ more Singaporean systems engineers, plant scientists and aquaculture nutritionists.
One of the firms in this emerging sector is Archisen, an agri-tech firm that makes and operates indoor farms, which is contemplating moving to Sungei Kadut.
Its co-founder and chief technology officer Sven Yeo says the innovation park's sharing of resources and collaborating on R&D could be a game changer. "For example, one farmer is growing microgreens and the other leafy greens, and they share a common customer and are not direct competitors," says Mr Yeo, 35. "Therefore, they could aggregate their produce and simplify logistics."
The agri-tech sector will also play a key role in supporting Singapore's 30-by-30 goal of producing 30 per cent of its food by 2030 while the environmental technology sector will contribute towards the nation's Zero Waste goals.
Ms Tang Hsiao Ling, JTC's director of urban design and architecture, says: "The co-location of these businesses across industry sectors will create opportunities for companies to come together to optimise resources and close the resource loop."
"For example, waste such as sawdust generated from timber factories could serve as a valuable resource for agri-tech companies in the form of compost," says the 41-year-old. "This moves away from the inefficient linear model of 'take, make and waste'."
Apart from the four main niches, 200ha or 40 per cent of the land has been set aside for new growth industries, which are expected to create better-paying jobs and attract more professionals to the eco-district.
"'Kadut' means 'sack cloth' in Malay," says Ms Tang, adding that the new eco-district presents "great opportunities" for restoring and enhancing the existing urban fabric.
"It will also weave in the new face of manufacturing, introducing new threads of green, blue, ecological and mobility corridors, and stitching together new communities within its rich tapestry."
Gearing up for shared waste recycling and 24/7 shopping
While Singapore has other industrial estates mooted for rejuvenation such as Yishun and Kallang-Kolam Ayer, Sungei Kadut stands out for its historical marshland setting and proximity to key nature reserves.
Owners of industrial properties in the area welcome the comprehensive masterplan and are already gearing up for the move.
SEN WAN TIMBER
Mr Ashton Chan, the second-generation owner of one of Singapore's largest supplierof timber and plywood, started digitalising its operations in Sungei Kadut four years ago and has plans to attract younger talent to join the company.
"For businesses like us, we can no longer hide behind being just B2B (business-to-business). We must also go B2C (business-to-consumer)," says Mr Chan, 49.
"For that, we need a site like Sungei Kadut that is multi-purpose where, even at night, you still have people here enjoying recreational activities," he says, referencing the new plans for a vibrant estate with lifestyle, dining and living options beyond industrial facilities.
"I hope our new factory can be open 24/7, for people to plan their kitchen any time - just like those 24-hour gyms," he says.
SAMWOH CORPORATION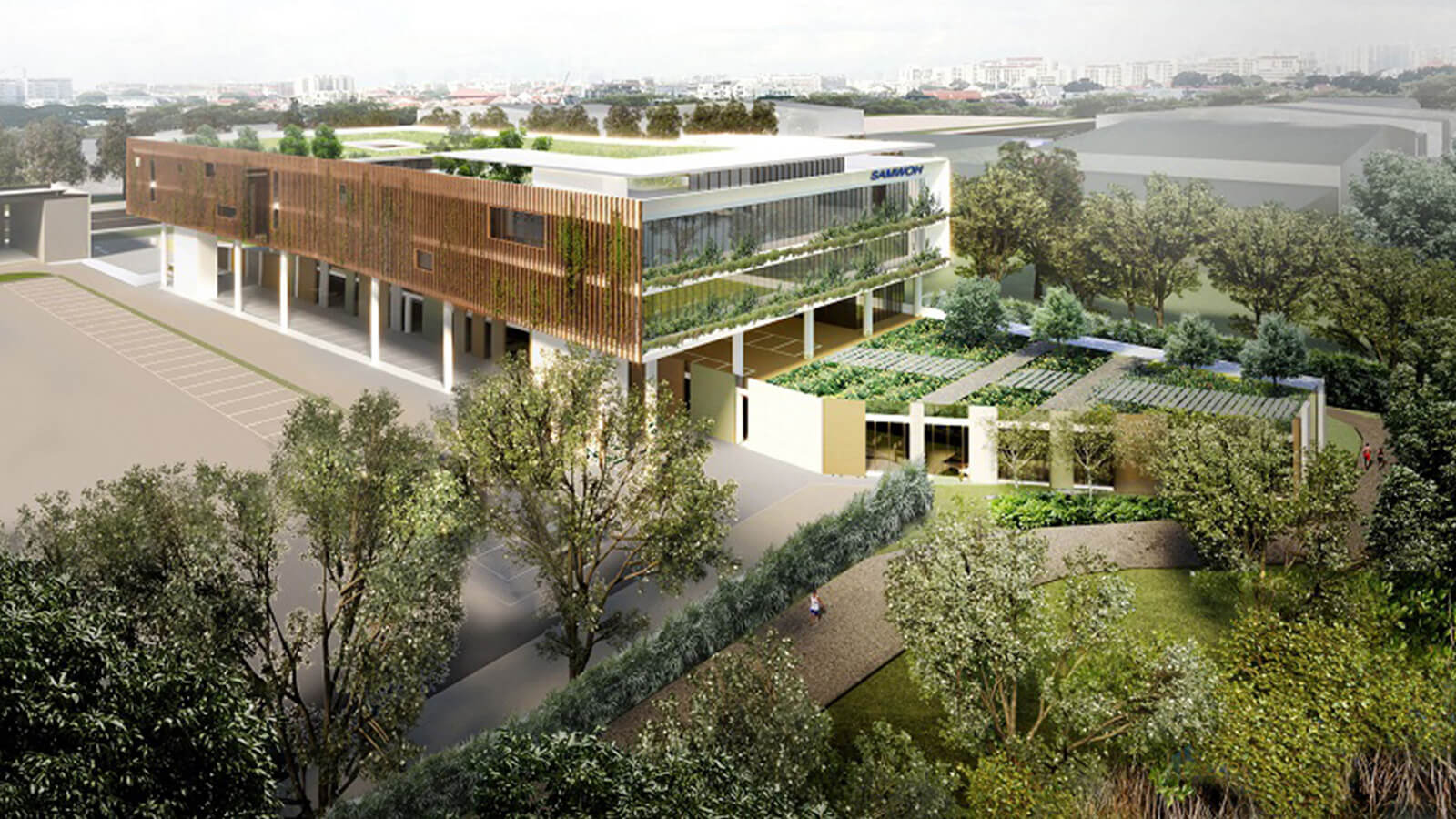 Photo: JTC
Mr Eric Soh, chief executive officer of one of Singapore's top construction brands and long-time tenant of Sungei Kadut, says that while Samwoh has its roots as a construction company, it also recognises that there are other ways for businesses to share resources, such as in the treatment of waste water for industrial purposes.
"The water can be collected from anywhere, be it from oil-and-gas, chemical or printing companies. We have the technology to treat the water and circulate it back into the system for other uses such as planting or agriculture," says Mr Soh, 52.
He says, currently, recycling is not consolidated, with individual companies doing their own thing. "We need to sit down together and share efforts in waste management or recycling."
WAH & HUA
Ms Melissa Tan, 41, general manager of multi-material recycling and waste management company Wah & Hua, hopes Sungei Kadut's rich history, which includes the waste management and timber industries, will live on.
"This is one of our oldest industrial estates.
I fully support the revamp, but I think it should not lose its beauty and character. It is home to our heavy industries, the unsung heroes of Singapore," says Ms Tan, whose company has been operating in Sungei Kadut for about 40 years, starting from a sole proprietor karung guni outfit.
Today, it boasts its own fleet of trucks and a high-tech recycling factory, where waste is automatically sorted and processed. The company will be moving into the upcoming Kranji Green.
"I think the redevelopment will attract the younger generation with a new image and impression," she says.
She also thinks grouping waste management companies into the high-rise Kranji Green will improve the image of the waste management sector and help the firm recruit more employees.
Source: The Straits Times © Singapore Press Holdings Limited. Reproduced with permission.