One big move, another step forward: One company is turning its dream factory into reality
The manufacturing sector in Singapore is steadily moving into a new era of digitalisation and automation. Today's technology enables manufacturers to change the way they make products and run their business by integrating smart, autonomous systems into their operations.
Likewise, our industrial estates are also getting a facelift. Sungei Kadut, where the nation's manufacturing sector first flourished, will be re-imagined to Sungei Kadut Eco-District (SKED) where complementary businesses are clustered together to create a sustainable circular ecosystem. Case in point is the Kranji Built Environment Hub (KBEH), comprising TimMac and Kranji Green for companies in metals, construction machinery, timber, waste management and recycling industries. Metals companies here will be able to sell their waste conveniently to waste management companies for recycling – creating a closed resource loop.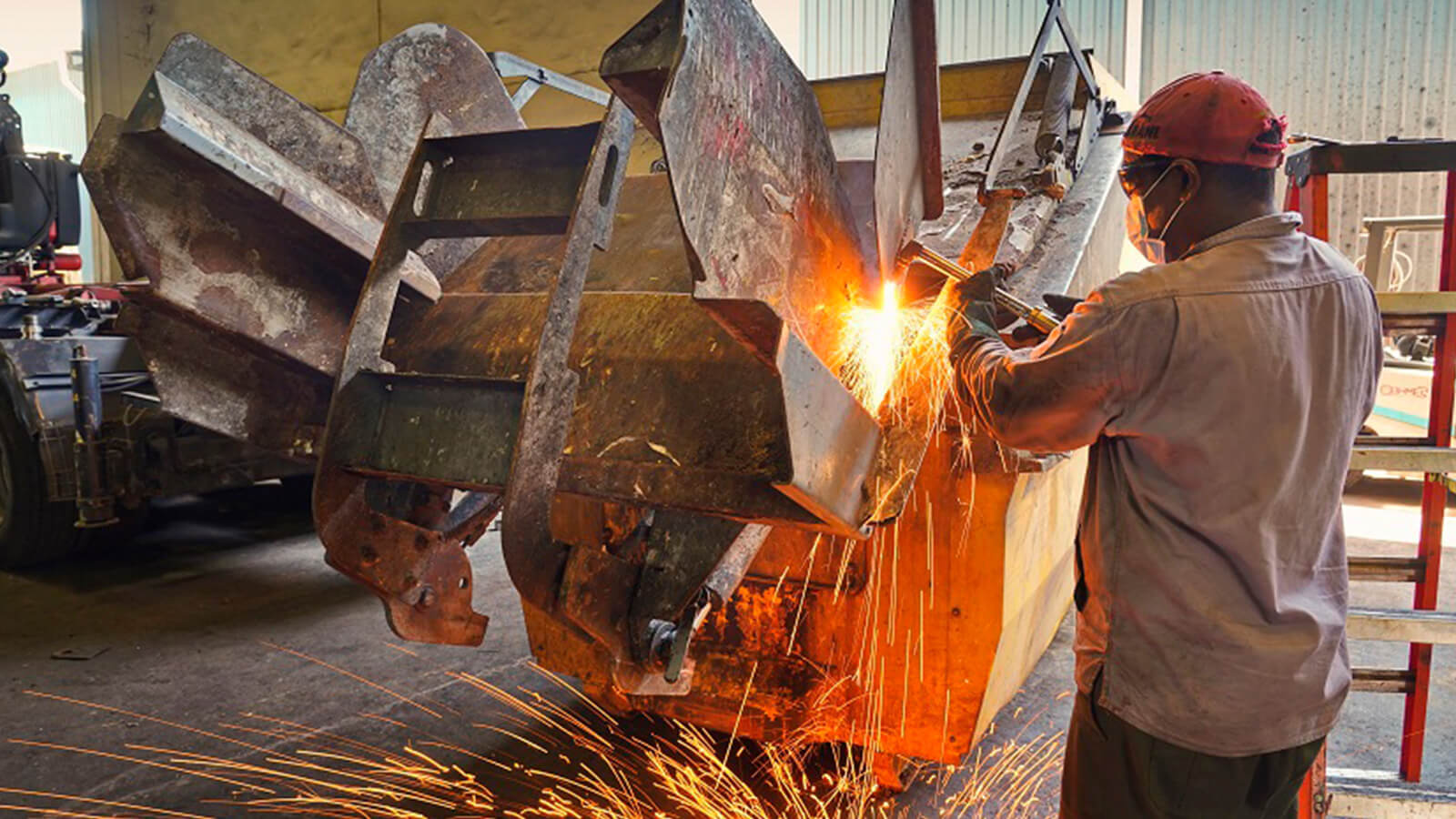 A Beng Hock employee repairing a waste compactor
Creating new opportunities and business synergies
For businesses such as Beng Hock Mechanical Engineering, a relocation from its current setup nearby at Sungei Kadut to TimMac @ Kranji represents a gateway to various possibilities.
Beng Hock specialises in the design and custom fabrication of equipment and system integration for their customers in waste management, engineering and logistics industries. Some of these include equipment such as knuckle boom cranes, hook-loaders, waste compactors, recovery trucks, food waste recycling equipment and self-cleaning toilet systems.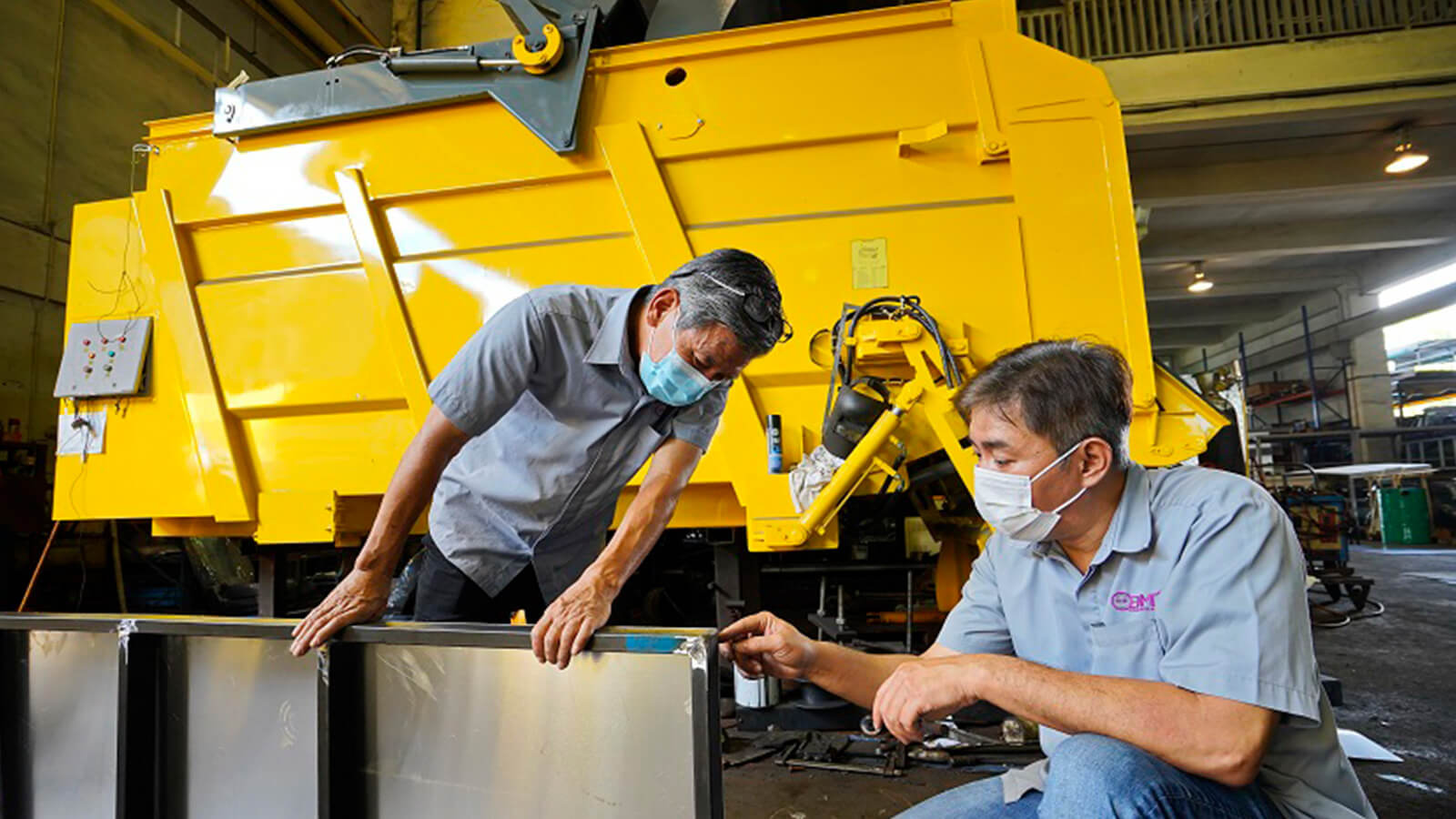 Beng Hock specialises in custom fabrication of various machinery and equipment for their customers
TimMac will place Beng Hock closer to industry players such as the Singapore Cranes Association and Waste Management & Recycling Association of Singapore (WMRAS). It will also bring the company closer to its partners and clients, especially to the waste management and recycling companies located at Kranji Green. Mr Leow Boon Tong, Director of Beng Hock, added that he is looking forward to the possibility of sharing resources, knowledge and ideas within the new district.
"TimMac is designed and conceptualised to be a community-centric development. By working in such a collaborative and sustainable environment, companies can foster economic benefits while enhancing efficiency," says Mr Leow.
He is optimistic that this facelift will inject much-anticipated vibrancy into the area. As a bespoke manufacturer, attracting and retaining talent is vital to Beng Hock's growth. 75% of its workforce is currently made up of the skilled engineers and technicians that front the company. SKED, designed to be community-centric and packed full of lifestyle and recreational offerings, would undoubtedly be more attractive to talents, especially to the younger generation.
Future-proofing businesses
As companies shift their land-based facilities to the high-rise developments at KBEH, they can tap on JTC's network of technology partners to help them redesign their processes to optimise their use of space and explore new technologies to improve their productivity.
To continue to evolve its business and increase productivity, Beng Hock recently participated in the McKinsey-WSG Industry 4.0 Human Capital Initiative (IHCI) programme through JTC's introduction. This initiative helped the company to better understand its operational efficiency and recognise ways to innovate and enhance its business.
Beng Hock's new 60,000 sqft factory space in TimMac affords a clean slate for the progressive company to get creative with ways to enhance productivity through technology adoption and digitalisation. For example, the company has always wanted an automated storage system to efficiently manage their large inventory of tools and spare parts. The company can now realise plans like this and take critical steps towards Industry 4.0.
Beng Hock has also launched a digital platform to enhance customer engagement and streamline processes for productivity. From purchase to delivery of orders, the platform allows customers to manage and monitor the entire process. In the near future, Beng Hock will also provide an option for customers to view updates in the entire production process through real-time images.
As Beng Hock readies to move into TimMac, these changes are only just the beginning. "Beng Hock has been continually reinventing itself in the last 10 years," Mr Leow said. "We are now at a stage where you could say our foundation is stable, and we have a clear direction in how we plan to grow our business."
"At our new space at TimMac, I hope to create a factory and a space that really belongs to Beng Hock – a dream factory that also puts people first," says Mr Leow.