Digitalisation & sustainability: What do these buzzwords mean for the built environment industry?
Are digitalisation and sustainability at different ends of a seesaw? Or can the two co-exist, and even share common goals?
In 2020, digitalisation efforts in the built environment sector accelerated – partly driven by challenges brought about by the global pandemic. And although the pandemic initially brought the industry to a standstill, digitalisation has helped many companies get back on track.
Meanwhile, the sector can do more with its green efforts. According to the Global Status Report (2019), the building and construction sector is responsible for 39% of man-made carbon emissions, with building operations (cooling and heating, lighting, and electrical appliances) accounting for 28% of this.
With digitalisation and sustainability set to transform the way we design, build and operate buildings, how can we use technological innovations to help monitor, rectify and refine operational issues to ensure optimal efficiency and efficacy?
Bridging digitalisation and sustainability
"As an estate owner with more than 3,000 buildings under our portfolio, we have a major responsibility and a unique opportunity to make an impact in sustainability," explains Ms Lydia Lim, JTC's Deputy Director for the Future of Building and Infrastructure, on the importance of digitalisation and sustainability to the government agency.
Collaborating with private sector partners from the built environment sector, including members of the Singapore Green Building Council (SGBC), JTC leverages technology to take the nation's green goals further.
At a webinar hosted by JTC and SGBC, digitalisation experts from H3 Dynamics, Elid Technology International, and Green Koncepts shared how innovative solutions are driving sustainability, productivity and safety in the built environment.
These are the highlights and key takeaways from the session:
1. Optimising energy management with IoT
The Internet of Things (IoT) may appear a little confusing when considered in isolation, but when viewed as an ecosystem of devices, they make complete sense. Mr Kenneth Lee, founder and Chief Executive Officer of Cloud IoT Platform and solutions provider Green Koncepts, introduced one such IoT ecosystem to webinar participants and showed everyone how an ecosystem involving sensors, data acquisition, cloud infrastructure, business applications, data analytics and artificial intelligence (AI) can enhance our sustainability efforts.
Using a real-life case study, he described how sensors and IoT devices throughout a building could gather data concerning the building's energy management, indoor air quality, lighting controls, occupancy, and more.
With this data, the company found a variety of issues that were leading to a wastage of resources. For example, temperature sensors detected that air conditioning units were scheduled to turn on during days when offices had 0% occupancy rates. Also, temperatures were set to lower temperatures than needed, leading to overcooling and the need for tenants to manually readjust temperatures.
Using AI, building managers can identify such issues and allow systems to schedule air conditioning and lighting systems to turn on only when offices are occupied. In turn, this can lead to optimal resource use while ensuring more comfortable workspaces.
2. Using the power of AI for building inspections
For building owners, façade inspections are a non-negotiable aspect of building maintenance. On average, an inspection can take four to eight weeks, cost up to $15,000 per building, and are potentially risky operations due to the need to work from high heights.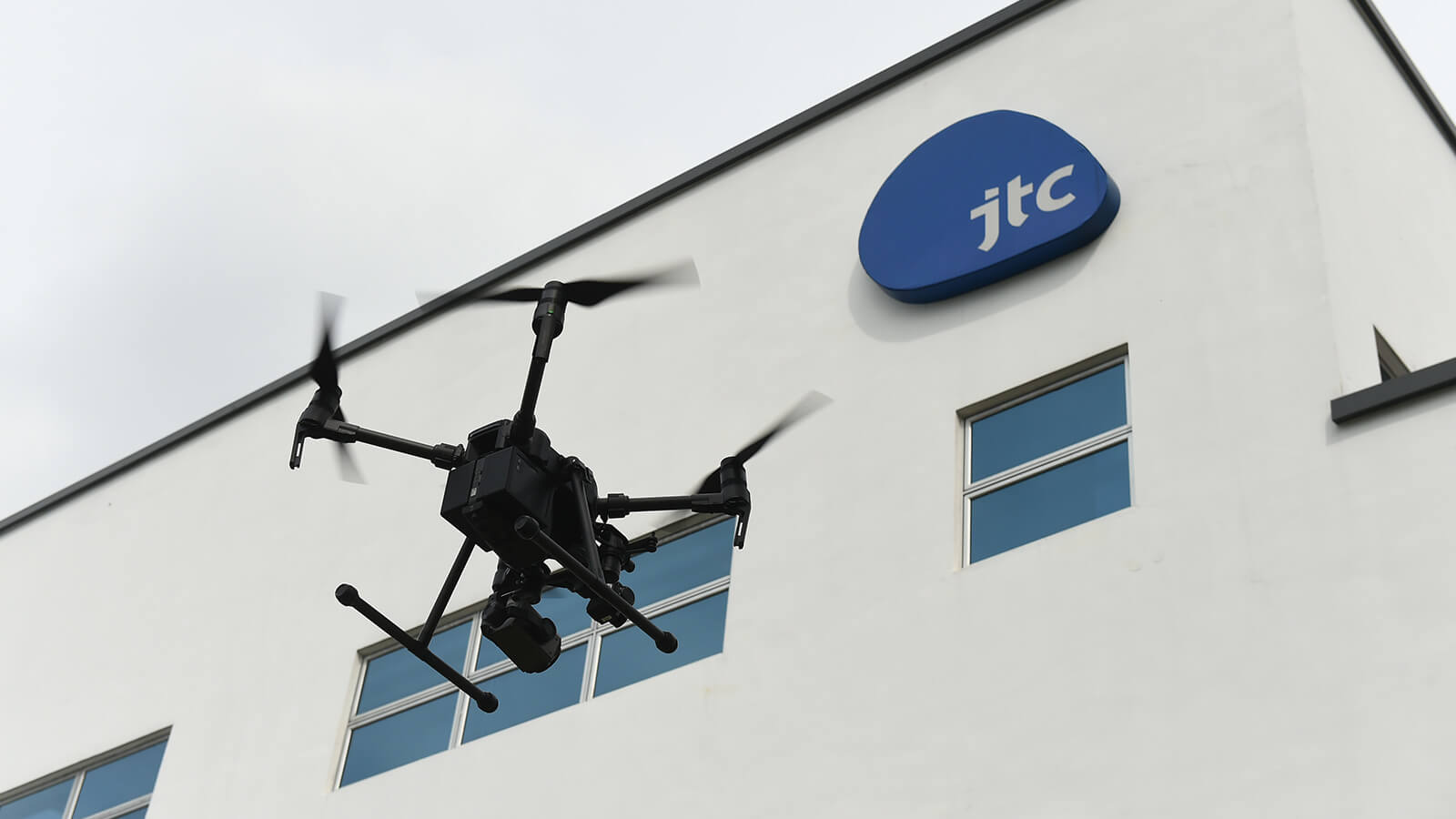 The H3 Zoom.AI Façade Inspector hard at work
JTC and global AI and Robotics company H3 Dynamics hope these challenges can be a thing of the past, thanks to their AI-powered drone inspector solution, H3 Zoom.AI. Launched in 2018, these drones are loaded with inspection flight plans which automatically navigate the drones on the pre-planned flight paths – snapping photos of the building's entire façade, even in previously hard-to-reach places.
Here's where the magic happens. The photos are uploaded to a smart platform, where artificial intelligence (AI) and machine learning (ML) analyse the images. A report that identifies all issues in a visual format that relevant stakeholders can easily understand and rectify is then produced.
"Using automation, we're able to have a more efficient and thorough scanning of the entire building, especially at difficult to reach places. Weaving in AI, based on the historical patterns, the machine then learns to detect and identify common facade defects," Ms Lim shares.
These inspections were first introduced to JTC industrial estates and business parks. The implementation was very successful, resulting in 80% productivity improvements and 50% cost savings for building visual inspections, while reducing safety risks to 0%. HDB is also now carrying out such inspections on its buildings.
3. Exploring the potential of robotics for façade cleaning
Like façade inspections, façade cleaning is another essential element of building management. This is because pollution, minerals, pests and water can create unsightly façades that lower the attractiveness (and rental yield) of a building and its offices. On the sustainability front, dirty windows let less natural light in, which leads to increases in electricity for lighting use.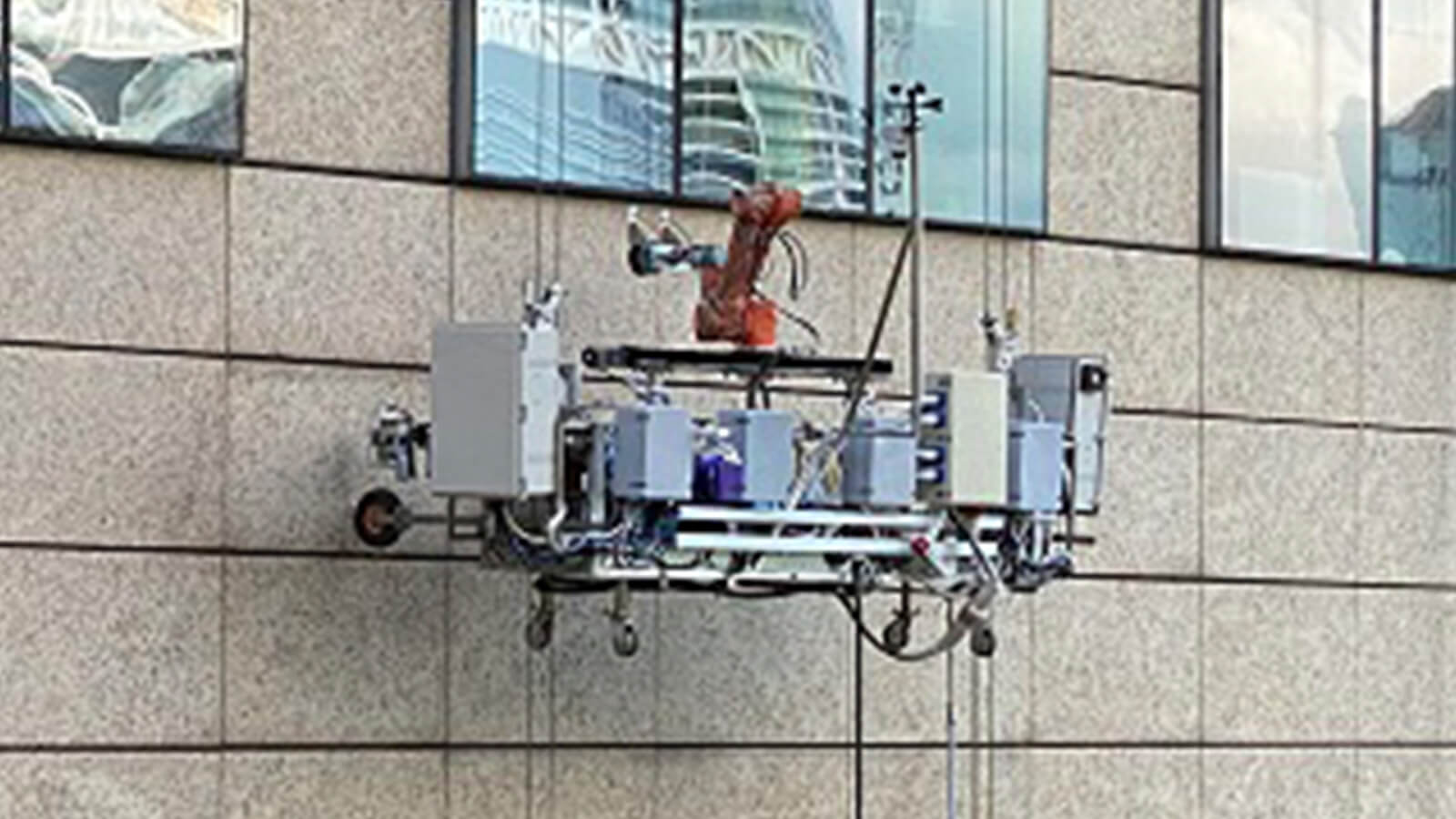 The AXIOBOTS in action at Centros @ Biopolis. Photo credit: Elid Technology International
Traditional methods pose safety concerns as cleaners have to work from unsteady gondolas. And in a pandemic, where labour is in short supply, building owners also face higher labour costs. AXIOBOTS, developed by Elid Technology International, is a robotic façade cleaning system that replaces humans on gondolas (while making the gondolas themselves, much more stable).
"We wanted to transform this process by introducing a robotic arm that can clean and also lead to water, cost and manpower savings while most importantly improving safety," Ms Lim explains.
First seen in action at JTC estates, these intelligent robots are able to clean efficiently and effectively while using lesser amounts of water because of their added precision and smarter use of water.
Digitalisation and sustainability: Trends that are here to stay
As digitalisation and sustainability gains traction, smart technologies will play increasingly bigger roles in making our built environment more sustainable. These technologies can help to improve occupants' health and well-being, while also contributing to energy savings and decarbonisation.
For JTC, this journey goes a step further. Beyond leveraging technology to optimise operations in our common spaces, we are also working with companies and partners in the built environment community to extend these technologies to our customers' spaces as well.
"Digitalisation can play a key role in enhancing sustainability. And sustainability is a key criterion for our buildings to have a 'happy and healthy' life," adds Ms Lim.