The road to a sustainable manufacturing sector isn't easy. Here's how partnerships can make it happen.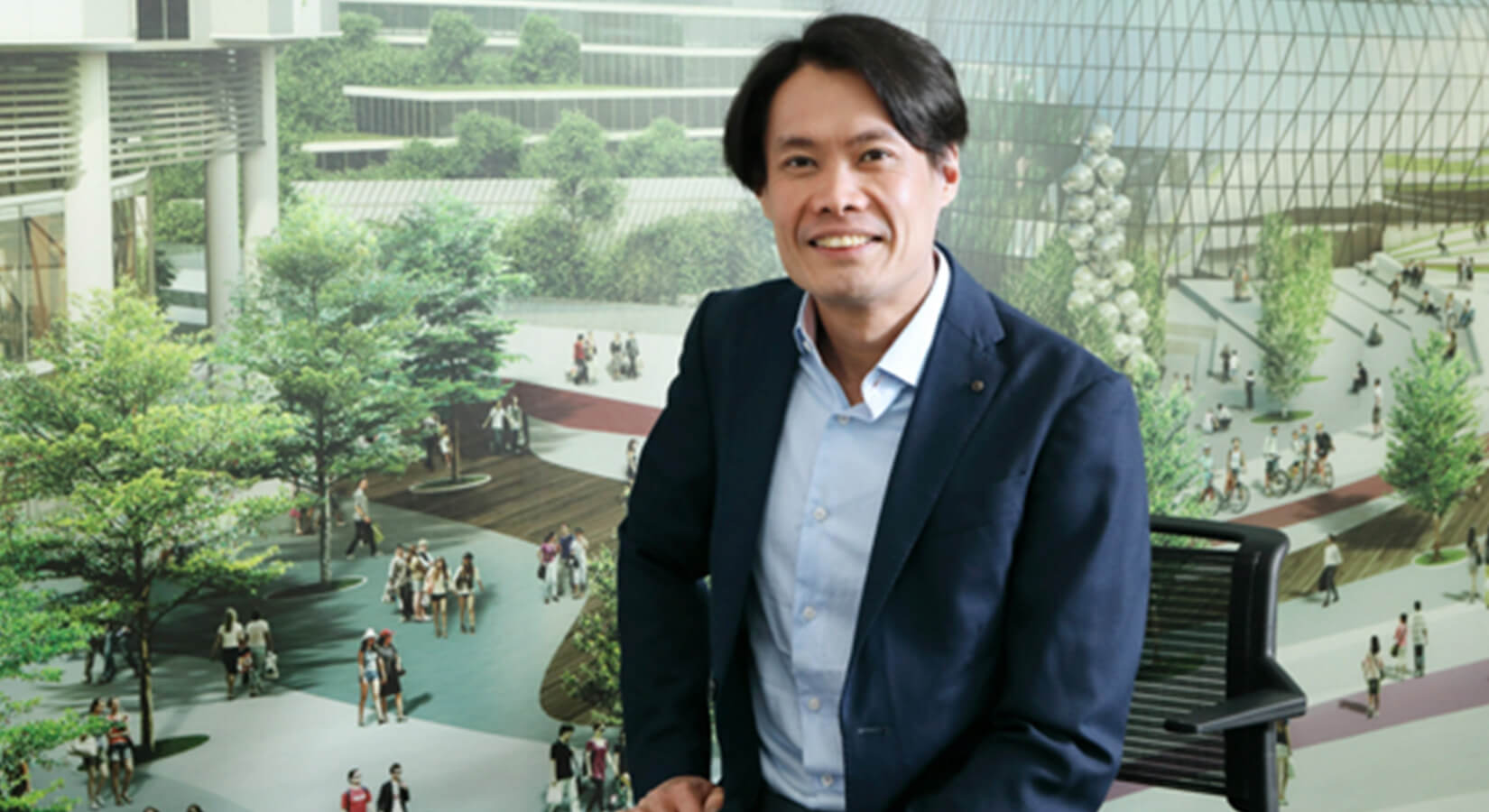 Mr Calvin Chung, Chief Environmental Officer at JTC, addressed five questions on sustainability​
According to statistics by the National Climate Change Secretariat (NCCS), the industrial sector continues to contribute the bulk (46%) of total national carbon emissions. As Singapore moves to reduce its emission intensity by 2030 with the roll-out of the SG Green Plan, it is more important than ever for the industrial built sector to ramp up its sustainability efforts.
At this year's Urban Sustainability R&D e-Symposia organised by the Ministry of National Development (MND), Mr Calvin Chung, Chief Environmental Officer at JTC, joined a panel of experts and spoke about the challenges of sustainability in the industrial sector.
Mr Chung also delved into how a tripartite partnership between Singapore's public, private, and academic sector can help catalyse the decarbonisation of industry. Highlighting JTC's current and future initiatives in helping lead the transformation, he also touched on issues that companies in the built sector may have about their sustainability journey.
What is sustainable development and why is it important?
Mr Chung: Sustainable development is about creating viable spaces and creative solutions that tackle resource constraints. Singapore is no stranger to this. We face limitations in terms of our land, water, and due to our relatively small population size, human resources. We think that carbon is the next big constraint.
As a pillar that contributes around one-fifth of Singapore's economic output, the manufacturing sector is slated to grow by 50% over the next decade.[1] With Singapore's pledge to the Paris Agreement and commitment to a 36% reduction in carbon emission intensity below 2005 levels in the next ten years, there is a stronger need for these resource-reliant industries to become more sustainable.
What are the unique challenges that the industrial sector faces?
Mr Chung: In our push for transformation, we noticed that the industrial sector faces a different set of challenges from the commercial sector. Firstly, the nature of the industry is that of high energy and resource consumption. Most established companies will already have optimised processes to improve efficiency to a relatively high level. To advance to the next level in efficiency, and forming a solution that is economically viable at that, might pose quite a challenge.
To further complicate matters, many of these companies' processes are proprietary, and data is not readily available. There is also a lack of expertise to handle existing data or to design processes and set KPIs for companies' sustainability. Furthermore, different industries have industry and company-specific processes and will require tailored solutions and data.
Lastly, there is no universal standard for sustainability when it comes to industry application, for example, in terms of audit methods and certifications. This can create ambiguity for companies that are just starting on their sustainability journey.
What are some of JTC's sustainability initiatives and how will they tackle these challenges?
Mr Chung: Working closely with our industry partners, we have jointly created and implemented a variety of initiatives to reduce carbon emissions. These include initiatives to generate renewable energy, reduce waste and promote circularity, and creating a greener work environment.
Through our clean energy initiatives such as our SolarRoof and SolarLand programmes, we have grown more keenly aware of the importance of strong industry partnerships. We have had the opportunity to collaborate with Terrenus Energy, Sembcorp Solar and Sunseap to enable companies to embark on their clean energy journey. As a result of this, tech giants like Facebook and Amazon have come on board to tap renewable energy from JTC's solar farms at Changi Business Park and Jurong Island. We have also recently signed a Memorandum of Understanding (MOU) with Shell, together with the support of the National Environment Agency (NEA) and Energy Market Authority (EMA), to explore having a solar farm on Semakau Landfill. This is another example of how partnerships can allow us to rise above our limits and create innovative solutions for sustainable development.
Aside from these, our other initiatives include Jurong Island (JI) Renewables Open Call, JI Circular Economy Study, and several greenery and biodiversity projects. We are also working on pushing out an industry sustainability framework.
What is this framework about?
Mr Chung: Sustainability is often a complex process for companies, who might not know where to start. This framework aims to give companies a clear set of goals and action items that they can work towards by empowering them with the tools to assess their operations. This will be a systematic way of helping companies account for their carbon emissions and understand how they actively have a hand in reducing them.
The sustainability framework will be tailored for different industries and rolled out in stages. It is still in early development, and more details on the type of support schemes and partnering organisations can be provided at a later juncture.
Decarbonising the industrial sector sounds challenging. Are there any opportunities for different sectors to collaborate and work towards this common goal?
Mr Chung: Sustainability is a complex journey filled with challenges, but a necessary one. Tackling these roadblocks calls for full collaboration between the public, private, and academic sectors. With the government providing the frameworks and support, Institutes of Higher Learning filling in the knowledge gaps, established MNCs acting as industry transformation leaders, and SMEs pivoting to adopt more sustainable practices, decarbonising the industrial sector is a path that we should collectively embark on.
Want to join in on the action?
Sign up for our newsletter to receive the latest industry news, initiatives and events surrounding sustainable development.
---
[1]
https://www.channelnewsasia.com/news/singapore/singapore-grow-manufacturing-sector-50-percent-2030-14037626