Turning crisis into opportunity - aquarium business surges in sales amidst pandemic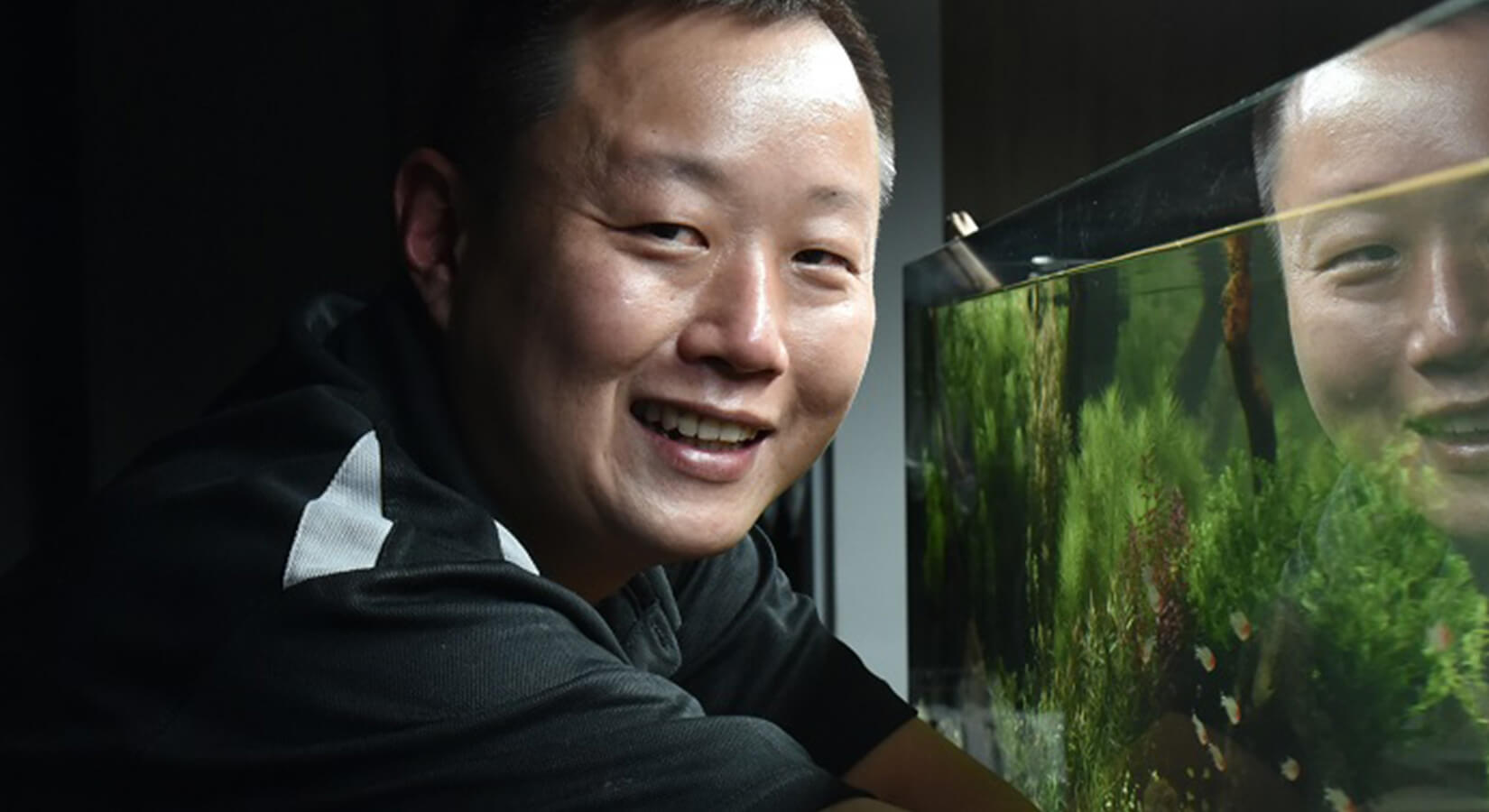 "People are spending more time at home during the pandemic, so they might feel bored and start keeping fish and pets," said Mr Neo Wee Yang, founder of N30 Tank Pte Ltd. (Photo: Lianhe Zaobao)
From a young age, 38-year-old Neo Wee Yang has been fond of fishes. Growing up,he has kept guppies, fighting fish, arowanas and terrapins. Identifying a business opportunity in his interest, he quit university after two semesters and decided to devote himself to running his fish tank business.
It was progressing steadily for the past few years until the COVID-19 pandemic struck. The crisis, however, turned out to be an opportunity for him. After experiencing brisk business during the pandemic, Mr Neo expanded his workshop space to thrice its original size — all within a year.
Mr Neo displayed business acumen from a young age. He was already reselling fish tanks while studying at Ngee Ann Polytechnic, trading and transacting on Yahoo! as a hobby back then. He even enlisted the help of his family members to deliver them as the fish tanks were too big and heavy for a person to carry.
That was 19 years ago. After doing well in the polytechnic despite juggling work and studies at the same time, he enrolled at Nanyang Technological University (NTU). However, he realised that schoolwork was heavy and eventually chose his business over studies.
The company was named "N30", born from a creative twist on the surname "Neo". Subsequently, the company was renamed to "N30 Tank Pte Ltd" in order to help people identify the business right away.
Mr Neo said he was mostly "operating from home" during the early days of his business and only exhibited some of the fish tanks in a shopping mall. In fact, his main focus was on trading.
A key player in the custom-made fish tank industry
The company subsequently moved to an industrial park in Ang Mo Kio. The central location made islandwide delivery more convenient. The business grew continuously over the years, and N30 now owns about 60% of the market share for custom-made fish tanks, with business owners and individuals among its clientele.
"We focus on making quality and beautiful fish tanks. Many restaurants, hotels and companies such as Haidilao, Shangri-La Hotel and Cycle & Carriage, are our customers" said Mr Neo.
N30 receives orders from aquarium hobbyists for big custom-made fish tanks for their homes. One such tank, which was produced around seven to eight years ago, left a deep impression on Mr Neo. "The customer lived on the 18th floor. When we arrived, we realised that the tank cabinet was too big to fit into the lift. Some of the measurements were inaccurate. We had to carry the cabinet up the stairs. It took us four to five hours in total. Everyone was exhausted," recalled Mr Neo.
Having started from selling fish tanks, N30 has diversified its offerings by providing aquarium maintenance services and selling aquarium feeds and accessories, such as filters as well as anti-chlorine products.
Seeing growth amid challenges brought by COVID-19
N30's fish tank production factory had to stop operating for a month during last year's Circuit Breaker period, resulting in a sudden halt of business and revenue from custom-made fish tanks. Fortunately, the company had already embarked on establishing a presence on four major e-commerce platforms (Lazada, Qoo10, Shopee and Amazon) a few months prior.
"During the Circuit Breaker, there was a sudden spike in online orders to as many as 300 to 400 every day. I did all the packing on my own to make it in time for delivery by Ninja Van the next day. I worked till late and only reached home at two or three in the morning every day, then had to return to work at nine," said Mr Neo. This arrangement arose because the rest of the company employees had to work from home during the Circuit Breaker period.
Online sales of their products grew steadily as many people went to e-commerce platforms to purchase food for fish and tortoises, readymade fish tanks, tank accessories, and fish medication such as treatment solutions for eye and gill conditions.
Despite the onset of COVID-19, N30 achieved a 30% to 40% increase in total sales revenue last year. A 60% growth in its online sales helped to cushion the impact on its fish tank factory. In addition, during Phase 2 of the Circuit Breaker, N30 obtained authorised dealership for American brand Seachem and its range of products, in turn expanding its business further.
To cope with the expansion, JTC helped Mr Neo find another unit with twice the area of its current workshop in the same industrial park. He also leased the unit adjacent to his existing workshop. Within a year, the leased area by N30 had increased by three times.
Additionally, through JTC's Industry Connect initiative, N30 started to hire interns from schools last September to help with its e-commerce efforts."
"E-commerce operations seem better suited for young people. Here, they are responsible for online customer service, group chats, product listing and packaging. Youths are more interested in these tasks," Mr Neo said.
N30's business can seemingly withstand the peaks and troughs of economic cycles. Mr Neo quipped: "When the economy is good, perhaps people have less free time to rear fishes. When the economy is bad, more people may turn to fengshui and hence will buy fish tanks. With the ongoing pandemic, people spend more time at home now, so they might feel bored and start to keep fish and pets,"
As e-commerce and delivery services continue to develop, Mr Neo has started to think of growing his business beyond Singapore. Among N30's current online sales, around 2% to 3% of the orders are from overseas. Despite limitations posed by the pandemic now, Mr Neo plans to develop regional and national markets within the next two to three years.
This article first appeared in and is translated from Lianhe Zaobao, Page 25, and zaobao.sg, 冠病危机转为商机 鱼缸鱼龟食料卖个满堂红 on 20 May 2021. Any errors, please check back with JTC.