One local honey company is growing its business through R&D and automation
13 Honey has successfully emerged during COVID-19 as a Singapore company specialising in the production and sale of honey. This year, its cumulative orders from the Japanese market have reached $12 million, as compared to last year's orders of below $2 million.

Since its establishment five years ago, the company has expanded from one factory to six. This year, with support from JTC and the Singapore Food Authority, it has consolidated its honey production, quality control and packaging processes at Kampong Ubi Industrial Estate. It expects its production capacity to increase by 300% after full automation in the first quarter of next year. Most uniquely, the company has its own bee farms to ensure that the bees meet the requirements and that the honey is produced in an environmentally friendly way.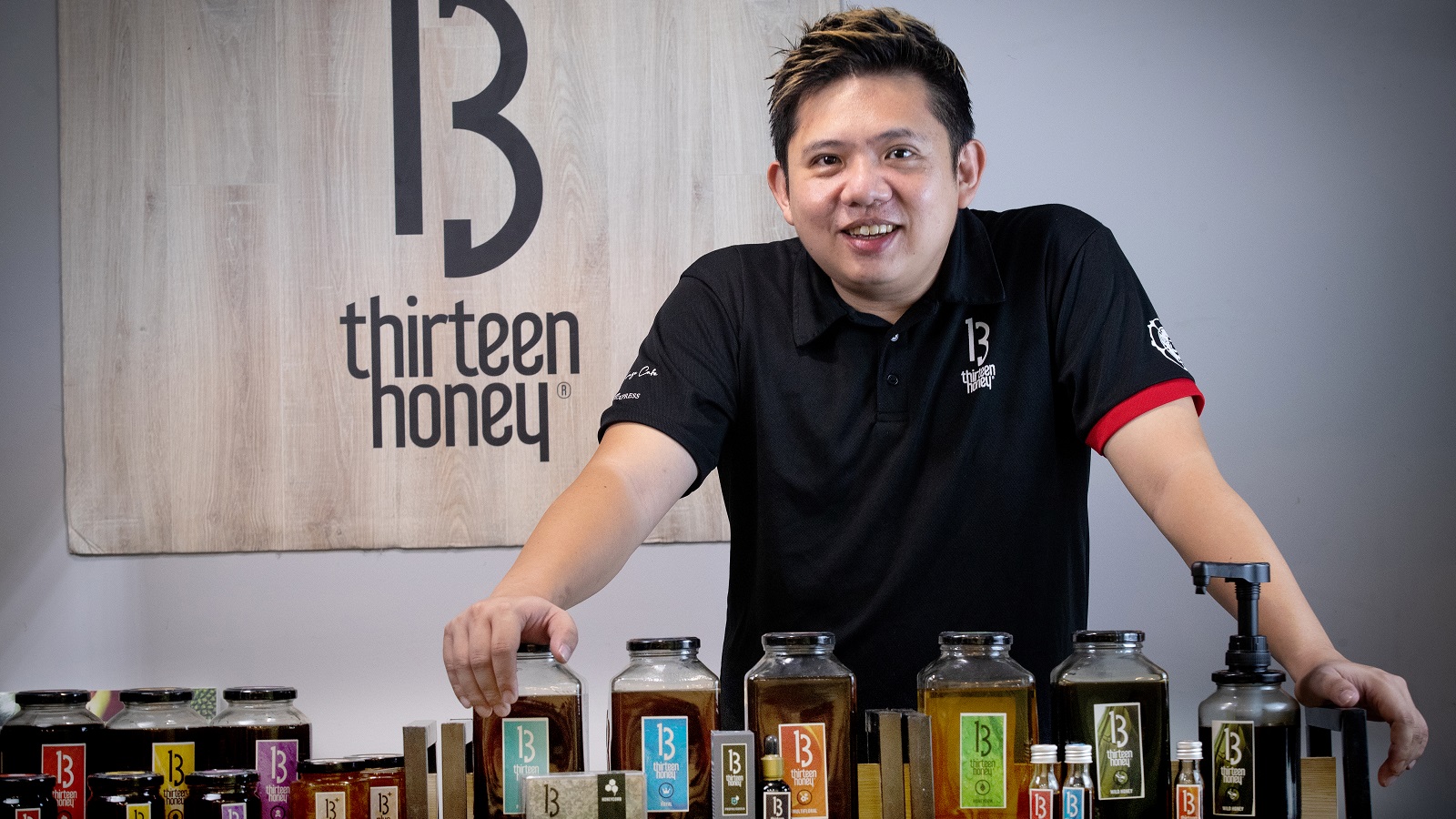 Mr Javier Lau said that his business began with his personal interest. He later discovered that there is a huge market for honey because it has had 6,000 years of history and can be exported to various countries. (Photograph by Chen Laifu)

Although 39-year-old Mr Javier Lau, CEO of 13 Honey, founded the company only five years ago, he has been involved in beekeeping for 12 years. In an interview with Lianhe Zaobao, he said that he had spent the previous seven years studying and learning about beekeeping.

Are the bees kept in Singapore? "No, there will be complaints if I kept bees here!" Mr Lau joked.

Gained valuable lessons from beekeeping

Beekeeping is not an easy task. Mr Lau was introduced by a friend to a beekeeping expert and learnt beekeeping in Malaysia. He recalled being stung 20 to 30 times a day as he did not have the necessary skills and knowledge of the nature of bees.

Nature also taught Mr Lau some important lessons. Bee mites, which are parasites like leeches that feed on the haemolymph or the body fluids of the bees, can be found in Southeast Asia. If bees mites are brought back to the hive by infected bees, they will enter the cells and parasitise on the bee larvae, causing death or defective development in adult bees. He noted: "It will only take two to three weeks for the entire hive to be destroyed."

However, he did not back down from the challenges.

"I like nature and love to eat honey since young. I have always been interested in bees, which pollinate flowers and aid in fruiting as they collect nectar and pollen. I am fascinated by the important roles bees play in the ecosystem," he said.

He added: "I later discovered that the market for honey is huge because honey can be exported to various countries. Besides, as the world's first natural sweetener, honey has had 6,000 years of history. Today, honey is widely used in food preparation and medical treatment all over the world in different cultures as well as for different age groups and lifestyles. Honey does not follow general product life cycles and will not become obsolete. Therefore, I am absolutely confident about the prospects of beekeeping and honey products."

Moreover, he emphasised that honey exceeds its commercial value and that bees, one of the most important pollinators in nature, are critical for food sustainability. He hopes to share this knowledge with as many people as possible.

Made every effort to embark on e-commerce last year

This is also a business objective of 13 Honey. The company has carried out research and development for many years to ensure that honey is produced in an environmentally friendly manner. It hopes to contribute back to society through its honey business.

To establish and secure the company's honey source, Mr Lau works with many landowners in Malaysia and is responsible for employing beekeepers. Currently, 13 Honey has 60 employees and all its honey products are processed and produced in Singapore.

"We have our unique blends of honey, and the taste of honey varies with origin, season, type of flower and availability of water. Upon its arrival, we process and blend the raw honey and carry out quality control," he said.

During last year's Circuit Breaker period, the company decided to go into e-commerce. It has achieved remarkable results this year — especially in the Japanese market where business has soared four times as compared to last year. He observed that natural therapies are popular among the Japanese and the COVID-19 pandemic has prompted people to pay more attention to healthy eating.

Insistence on using glass to bottle honey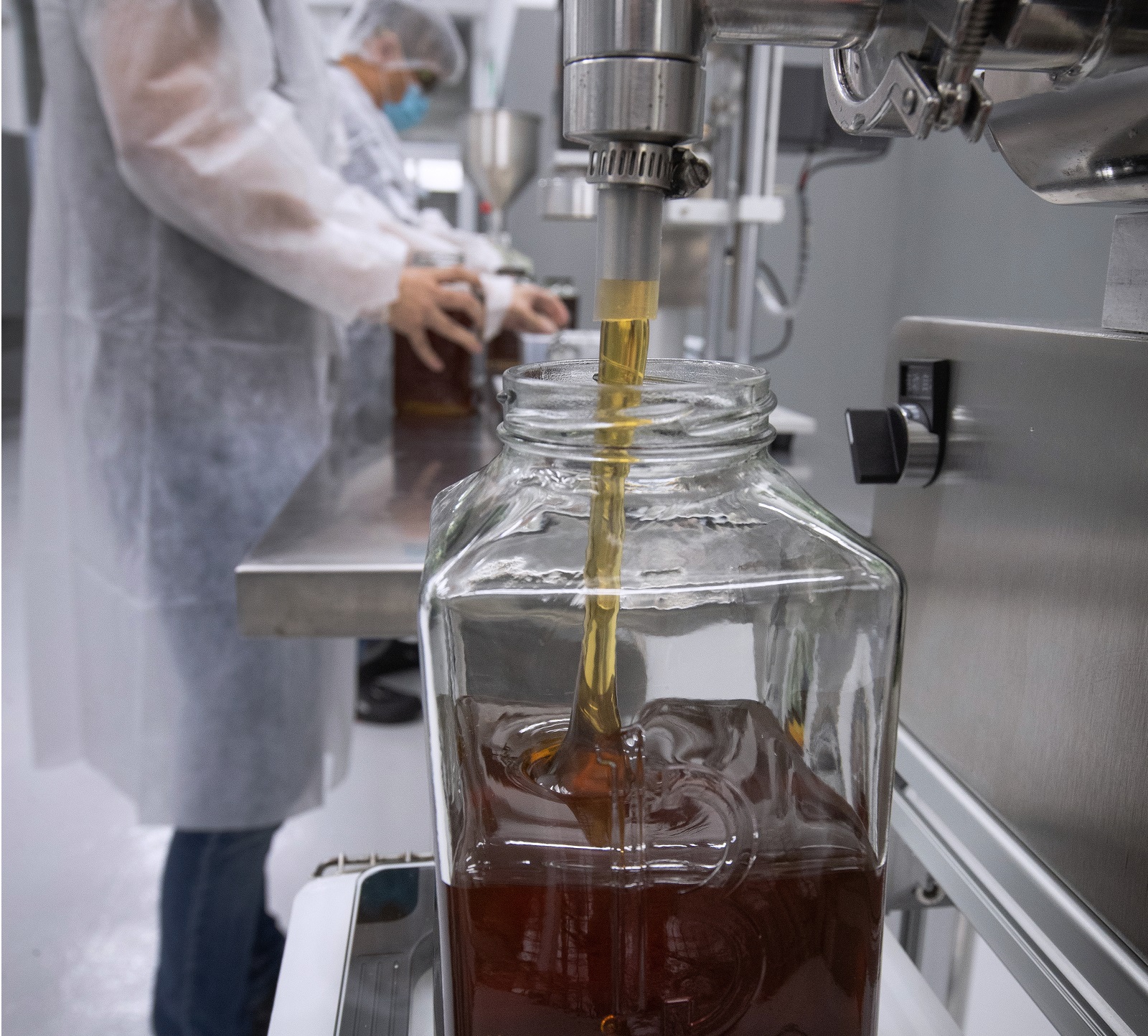 13 Honey's factory is located in Kampong Ubi Industrial Estate. When its production becomes fully automated in the first quarter of next year, its production capacity will increase by 300%. (Photograph by Chen Laifu)

13 Honey has always insisted on using glass instead of plastic to bottle honey, even though the former is five to 10 times more expensive. This is because glass bottles are better for storing honey, easier to recycle, and are friendlier to the environment. The company has just invested over $100,000 to set up a bottling production line.

"Our business promise is that we know the source of our honey and that the pure honey that we sell are without additives," Mr Lau said.

Growing up in a family where both parents were humble employees, Mr Lau has always been interested in entrepreneurship. He has been learning by being in different businesses since he was a teenager. "I think doing business is very challenging and I am building up life experiences through my involvement," he said.
Translated from the original article, 研发环保生产方法 本地蜂蜜商订单"疫"鸣惊人 , zaobao.sg, 16 September 2021, by JTC, any errors please check back with JTC.