Can data and deep tech breathe life into buildings and create a greener future? Experts share how.
How can real estate be part of overcoming the biggest challenge today — sustainability? We may find the answer in data. With data-driven solutions and AI, a greener future of self-adaptive and self-maintaining districts may not be far off.
"When we talk about districts coming alive … it's to find a way where buildings not only interact with their surroundings, but also with the people living and working in them," said Mr Tan Boon Khai, CEO of JTC. By empowering traditionally sterile brick and mortar with deep technology, insights on interactions between humans, buildings and their surroundings can be gained through valuable data. Actors from different verticals and industries can — and must — aggregate resources to create greener processes and liveable spaces. Cross-sector collaborations play a crucial role in achieving this.
The industry's forerunners are imagining software-defined buildings and this is already happening. JTC's Open Digital Platform (ODP) undergirding the upcoming Punggol Digital District (PDD) optimises building management and resources through a smart, integrated energy management system. By analysing collected data, the ODP will decisively optimise energy consumption and resource allocation across the entire estate.
As buildings become smarter and more software-defined, they empower us to harness data and unlock its value. With this, we can devise applications to deliver actionable insights and outcomes, such as improving health and wellness conditions for occupants. "Like a Tesla car or an iPhone, the moment your building has an OS (operating system) and can provide you data, then the ability to create new experiences and outcomes becomes unlimited," observes Mr Alvin Ng, vice president of digital solutions, Asia-Pacific, at Johnson Controls.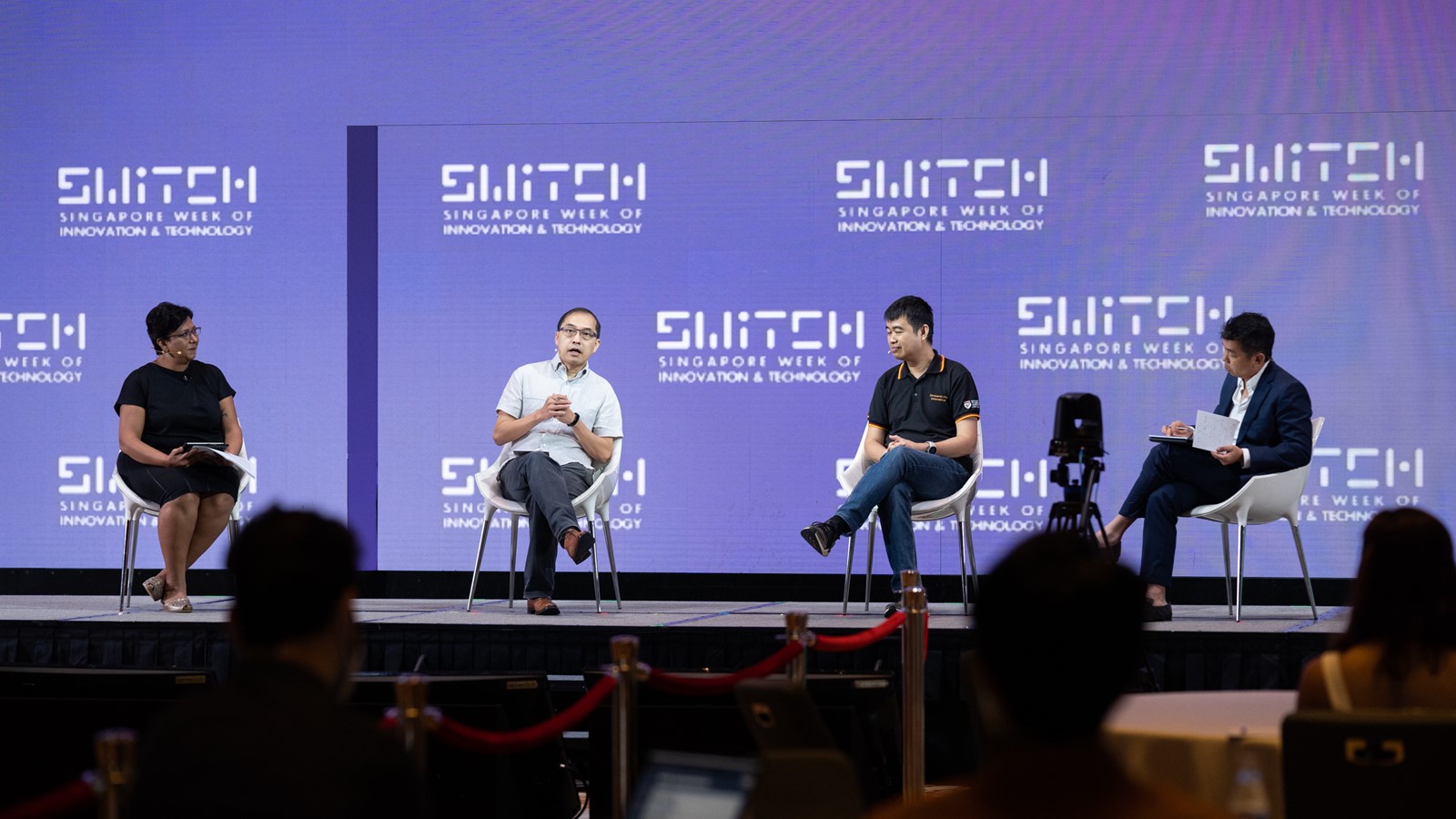 From left: Miss Sash Mukherjee moderating a panel discussion at the Singapore Week of Innovation and Technology, where Mr Tan Boon Khai, Dr David Woon, and Mr Alvin Ng shared their views on how smart districts will power innovation.

Empowering innovation of technology that is open, modular and extensible
Technology, process, and people are the key drivers of such innovation, according to Mr Ng.
A smart, living city needs an entire city's worth of data. Plugging into that wealth of information, however, requires tedious coordination across different actors and is no mean feat.
To create a cityscape of living districts, that technology must be "open, modular and extensible" so that data is accessible across the board.
For instance, the Johnson Controls OpenBlue suite of solutions is, as its name suggests, completely open, with access to different cloud companies and partnerships with other organisations, such as JTC.
As a result, OpenBlue is able to serve diverse industries, from workplaces to schools and hospitals, providing an impressive array of sustainable solutions through complete digital integration of building components.
With buildings generating nearly 40% of global carbon emissions annually, the demand for sustainable development is intensifying. As such, solutions must be scalable and extensible so that real estate can meet that demand. Modular technology does just that by allowing different technologies to interact, creating scalable ecosystems of platforms.
To drive the momentum of innovation, processes empowering researchers cannot be understated. The Continental-NTU Corporate Lab (a collaboration between Continental Automotive Singapore and Nanyang Technological University focusing on smart mobility technologies) gives its researchers the opportunity to innovate through a structured environment shaped by Continental's core values: "Freedom to Act", "Trust", "Passion to Win" and "For One Another".
As a result, Dr David Woon, academic liaison at Continental Automotive Singapore Pte Ltd and co-director at the Continental-NTU Corporate Lab, shared that their researchers are free to "think of crazy ideas" without being hindered by excessive administrative work. Processes that empower innovators to do what they do best — research and innovate — encourage the development of more complex and fitting solutions that can power a building's software and hardware, making them more sustainable.
Creating a culture of collaboration: developing vibrant ecosystems
According to research by Ecosystm, 74% of organisations surveyed find that the biggest challenge in data-led transformation is data integration. Private corporations might be unwilling to share information with one another, as data can offer businesses a competitive edge over others.
A two-fold approach can encourage private actors to share: firstly, considering the outcome that data sharing is meant to achieve, and, secondly, determining incentives (or disincentives) for sharing data.
"[In the past,] trust laid with the government. Today, trust equally lays with private businesses. They have a social responsibility that the data they have is … correct and, to some extent, shared with others," Mr Tan elaborates.
Moving forward, the role of public-private partnerships will be pivotal in driving innovation and infrastructure development. The goal of living districts is an ambitious one, and all hands on deck are needed for innovative technologies to be successfully implemented.
A testimony to such partnership, Continental Automotive Singapore is collaborating with JTC for upcoming test-bedding trials at Jurong Innovation District, Asia's leading advanced manufacturing hub. In the wake of e-commerce growth and Singapore's progress as a global innovation hub, they are working together to create infrastructures of connected mobility for last mile delivery of goods and foods, including developing Autonomous Mobile Robot operations.
When challenges like sustainability intersect with diverse demographics and industries, cross-sector collaboration is essential in every step of the innovation process, from research to execution.
Decision-making for humans
The necessity of collaboration goes beyond innovative technologies and massive datasets. When pursuing the sustainable agenda, a pivot to human-centricity must follow — in other words, data utilisation that focuses on people.
Human-centric approaches ensure that data is used according to the guiding principles of people's and society's interests. This approach actuates the true potential of data, revolutionising the empowerment of our society. A whole ecosystems approach should ensure that data is inclusive and representative, thus accommodating decision-making that is not only informed, but also balanced in achieving sustainable objectives. Furthermore, such approaches lower the barrier to entry for organisations with less resources but are nonetheless crucial to innovation, such as start-ups.
With human-centric data at its core, technology — like the ODP or OpenBlue — can play an important role in empowering both public and private industry players to make better choices that benefit both organisations and people alike.
New possibilities around the corner
Data and technology can and do drive the seamless integration of physical and virtual infrastructures. By integrating new technologies into infrastructure, our buildings can yield insights that enable us to make more sustainable and human-centric decisions, allowing real estate to participate in overcoming the most critical challenge of today: sustainability. In this way, resilient and smart infrastructure can revitalise the fight against the climate crisis.
With technology, process and people at the centre, industry players can develop new solutions and scale existing ones, bringing exciting changes to our living and working spaces.