JTC introduces first-of-its-kind smart retail services in industrial estates

Singapore, 24 October 2023 – JTC industrial estates will be the first in Singapore to enable smart retail services, including autonomous food delivery robot and facial recognition payment. Following successful solution development in JTC Summit (see Annex) and an upcoming robot delivery trial at Woodlands North Coast, JTC is working towards rolling out these smart retail services with the development of Punggol Digital District as part of plans to enhance industrial estates.
Integrating diverse operating systems to enable autonomous food delivery robot
JTC's autonomous food delivery robot service is the outcome of the integration of multiple building management systems such as the gantry turnstiles and lift management, with a food delivery application. Trialed in JTC Summit, JTC's autonomous food delivery robot 'Kopi' is initiated directly by customers, without any back-end intervention. The robot's integration with the building management systems allows for access to different floors using the lifts, as well as building security access clearance. Its location is also tracked and monitored real-time on JTC's own in-house developed digital twin.
This solution leverages the JTC Summit's Open Digital Platform (ODP), an open standard multi-protocol middleware developed to overcome the challenge of integrating proprietary systems and applications in a single platform. It serves as a plug-and-play digital infrastructure for new services, opening up opportunities for collaboration with smart business operators.
Following the successful trial in JTC Summit, JTC has launched a tender to bring on board robotics providers to scale up and test the commercial viability of the solution in JTC's Woodlands North Coast, an industrial development comprising two towers. Through the development's ODP, this trial will provide food delivery service from Woodlands North Coast's Food & Beverage (F&B) tenants to 20 companies there. The tender will close on 31 October 2023 and the trial is expected to commence in March 2024.
Facial recognition as a single identifier
To augment the digital experience and testbed new solutions, JTC Summit has enabled facial recognition payment at its canteen, allowing customers to make payments with a quick facial scan. This is the first time that facial biometric scanning is used to authorise payments. This service is enabled by bringing together the facial recognition system provider, the payment gateway, as well as the F&B vendor's point-of-sales web application. Beyond payments, facial recognition is envisioned as a common identifier for security access, retail, F&B, and other amenities including smart lockers in JTC's smart industrial estates of the future.
Developed in collaboration with the Singapore Government Technology Agency (GovTech), the autonomous food delivery robot and facial recognition payment services are part of JTC's efforts to leverage technology to support a digitally-enabled generation of businesses and industrialists. They are also part of JTC's wider strategy to bring together digital architects, tech partners, and businesses to experiment with and co-develop innovative technologies to push the boundaries of smart technologies in industrial estates.
James Tan, JTC's Director of Smart District Division and GovTech's Director of Smart City Technology Division said, "At JTC, we are constantly exploring new technologies and leveraging our estates as living labs for testbedding and experimentation to bring new smart services to life. As we shape the future of smart and sustainable industrial estates, we invite tech innovators and businesses to collaborate, test out, and co-create new solutions with us."
"Such innovative solutions, coupled with convenience to customers, will herald a new generation of how commercial and retail solutions infuse technology and innovation at future JTC estates, as JTC works with partners to forward Singapore's smart nation ambitions," said Yap Eai-Sy, JTC's Director for New Estates Business and Marketing Division.
Annex: JTC Summit as a testbed for the development of smart retail services
Autonomous food delivery robot

The delivery robot is integrated with the building management systems, allowing it to pass through the gantry turnstiles.

Delivery robot communicates with the lift system to assign a car to pick it up.

After arriving at the designated floor, the robot will deliver the food to the user's doorstep. (Photo credit and screenshots from JTC's Digital Twin: JTC)
JTC has successfully programmed an in-house robot named 'Kopi' to carry out food deliveries autonomously at its corporate headquarters JTC Summit since July 2023. Upon order confirmation via the food delivery application, the 1.2m tall robot will collect the order from the canteen with its in-built basket that can hold up to 10kg. Expected and recognised by the wider building system, it zips through security clearance and communicates with the lift system to assign a car to pick it up. After arriving at the designated floor, the robot will roll to its destination where the user will receive the delivery at their doorstep. Not only does the robot allow workers to skip canteen queues, it also helps the F&B vendor streamline order fulfilment especially during peak hours.
Facial recognition payment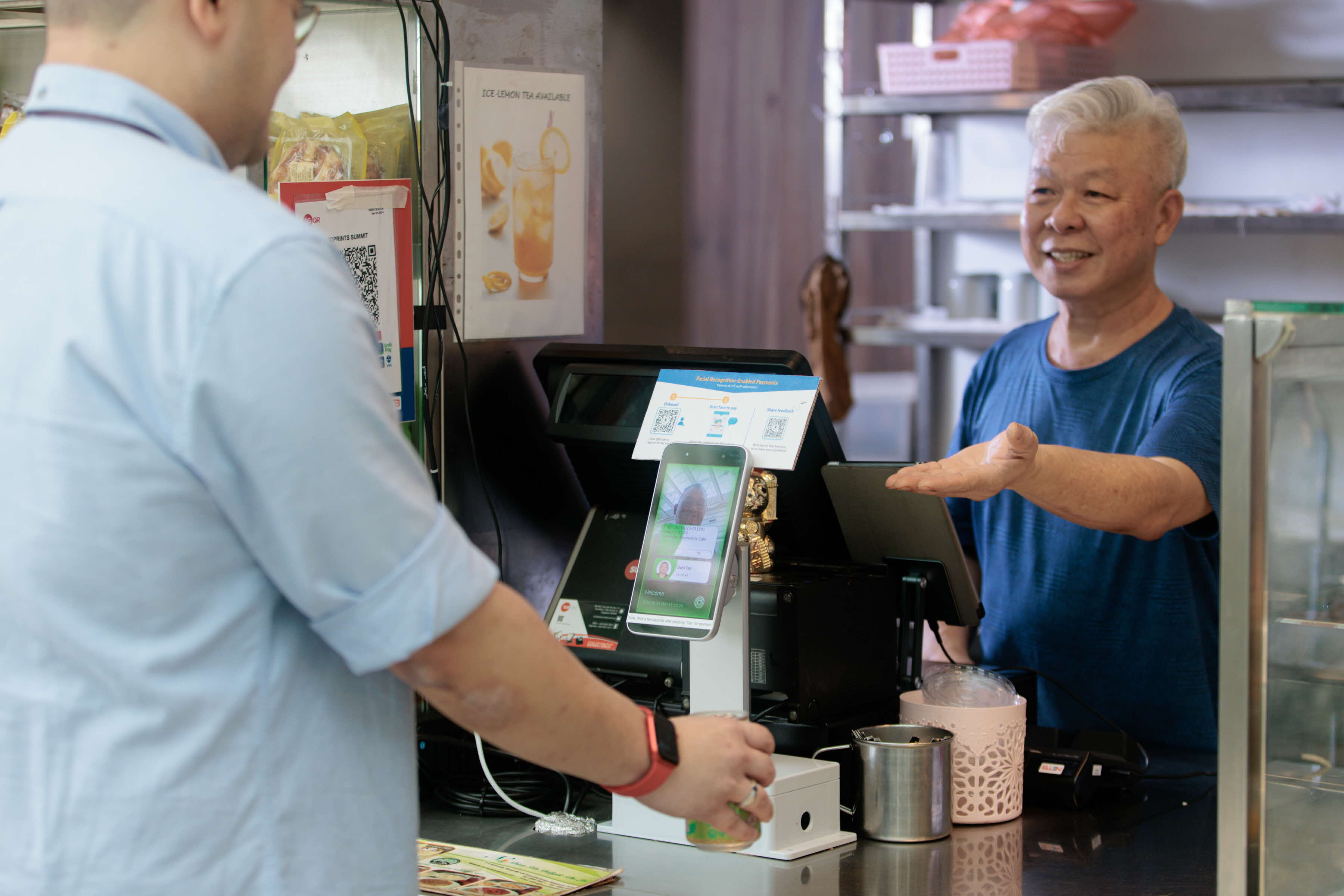 Facial recognition payment enables a seamless and convenient payment process. (Photo credit: JTC)
JTC has successfully developed a facial recognition payment system at JTC Summit to streamline the ordering and payment processes at its canteen since August 2023. After a one time registration to provide a photo and credit card details, users can make payments at the canteen with a quick facial scan without having to fish out their cards or phones. After the F&B vendor enters the amount to charge the customer, the facial recognition payment system connects to the payment gateway provider to authorise the payment, enabling a seamless and convenient payment process. Besides bringing convenience to users, the F&B operator is able to serve up orders quicker and more efficiently.