A New Home for Local Design
1 March 2019 – When Design Orchard opened its doors for the media preview on January 24, a wave of pride swept over the team that had been rushing round the clock over the past months for its opening. Having witnessed the development from concept to completion, everyone from the architect, project management and construction team, to the incubation and retail space operators of Design Orchard were amazed by its transformation.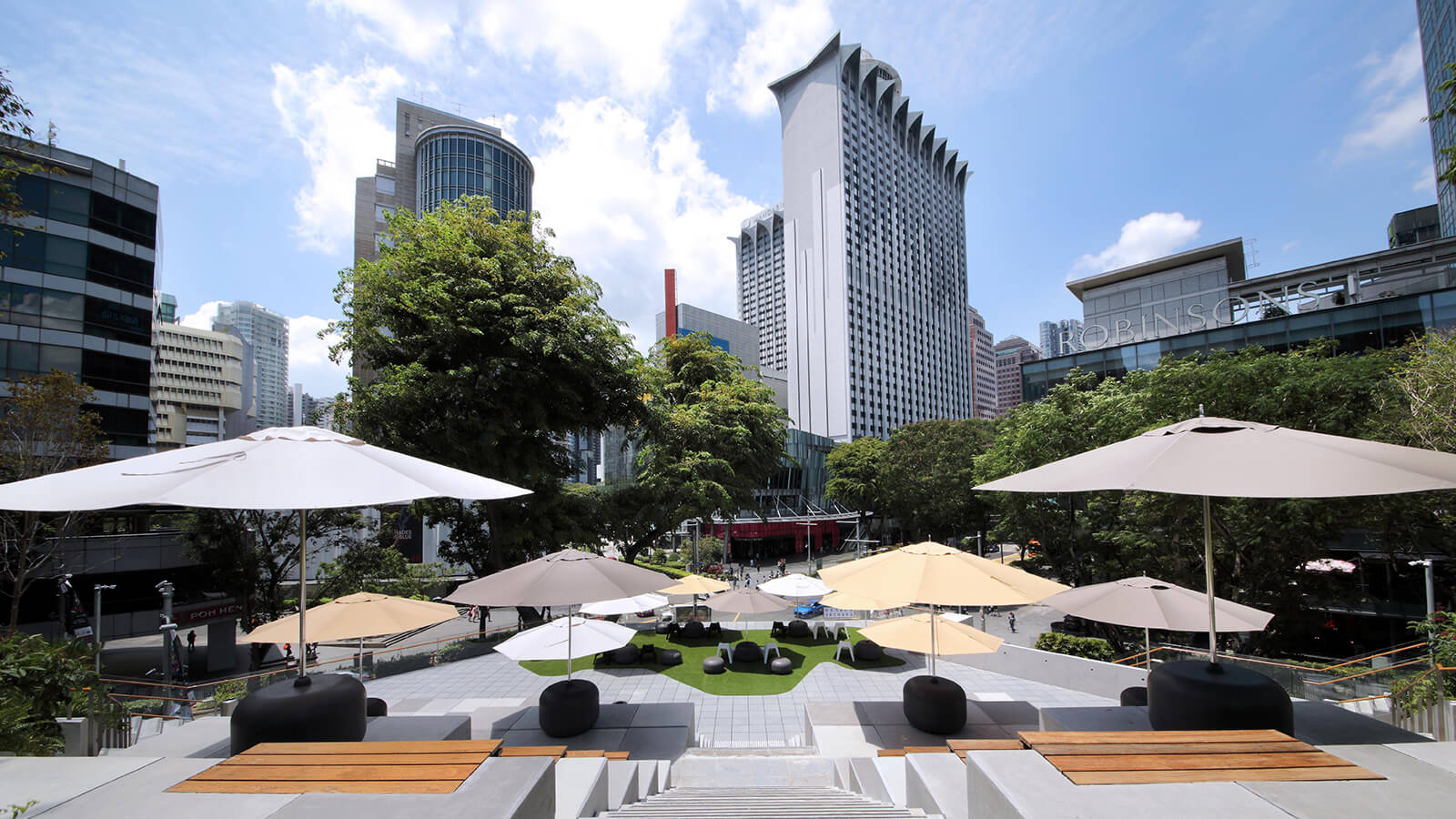 The sloping rooftop terrace offers a visual connection from the street level.
"The team was up till 4am and got back by 8am to ensure everything goes smoothly for the preview," shared Dennis Tay, founder of homegrown retailer Naiise.
"The rooftop terrace looks even better than what we had envisioned and the landscaping took shape over the past weeks," commented Jonathan Choe, Associate at WOHA Architects. The sloping rooftop with lush greenery and timber seats offer a "visual connection from the street-level", which entices pedestrians to go up and check out the rooftop space.
Located at the junction of Orchard Road and Cairnhill Road, the 2.5-storey development comprises a retail showcase on the first level, incubation spaces on the second level and an events space on the rooftop. Designed and constructed by local firms WOHA Architects and Sunray Woodcraft Construction respectively, the building adds diversity to the Orchard streetscape with its clean and modern design of concrete, glass, timber and landscape elements. The circular openings on the concrete walls are not only visually interesting but also serve to provide glimpses into the retail space.
Distinctive circular openings on the concrete walls of Design Orchard
Spearheaded by Enterprise Singapore, JTC and Singapore Tourism Board, Design Orchard is part of the Government's ongoing efforts to rejuvenate Orchard Road with different offerings in each of the four sub-precincts, offering a compelling retail experience amidst lush greenery.
Design Orchard aims to groom new and emerging talents in the lifestyle and fashion sector and prepare them to take their products overseas. Naiise operates the retail showcase on the ground level, which features more than 60 emerging and established brands, and offers them a mentorship programme. These include Artisan of Sense, JEWELS, QLOTHÈ, SoftRock Living and The Animal Project. The brands cut across categories such as fashion apparel, beauty and wellness, food souvenirs and small home furnishings.
Ms Dawn Bey, Founder and Designer of Pew Pew Patches said, "Design Orchard will be a place for growth because it is a one-stop place for tourists to explore what Singapore and local design is. It will bring us a lot more exposure and visibility."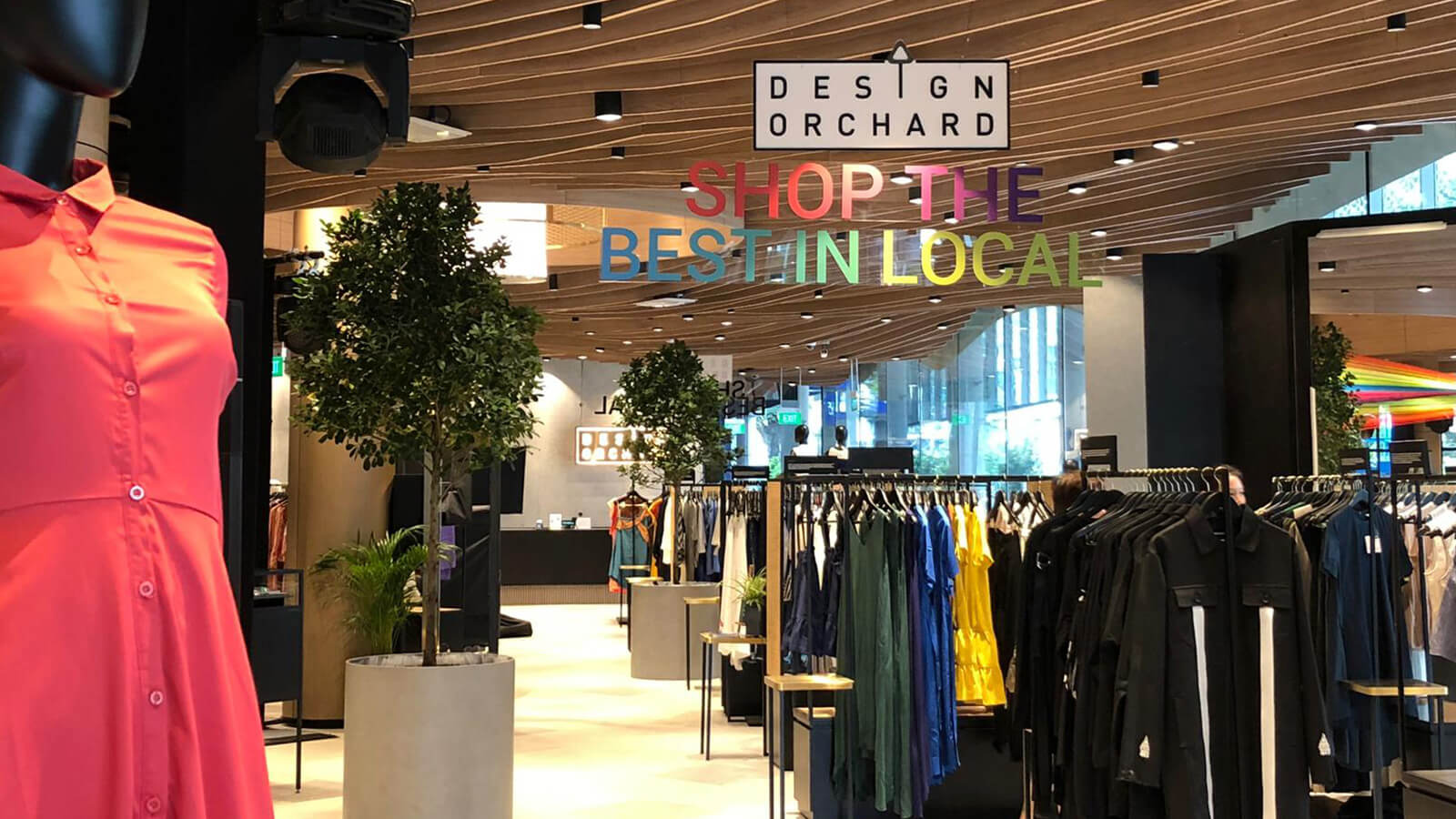 Retail showcase on the ground level of Design Orchard featuring more than 60 local brands
The Textile and Fashion Federation Singapore (Taff) operates The Cocoon Space on the upper floors, an incubation space targeted at local lifestyle and fashion designers. Taff will nurture independent designers and fashion businesses by offering co-working spaces with resources such as a Makers Studio with professional sewing equipment and a Fabric Library, and collaboration and networking opportunities with industry players. Designers will be encouraged to innovate and design products with sustainability principles in mind.
"International fashion trends have seen a growing interest in sustainability and innovation. In grooming local and Asian talents, The Bridge Fashion Incubator supports our drive for Singapore fashion to be a technology leader in keeping with sustainability issues," shared Mr Mark Lee, President of Taff.
Taff will also run an incubation programme, The Bridge Fashion Incubator, for aspiring fashion startups from both Singapore and around the region. Focused on sustainability, innovation and technology, the programme will meet the business and technical needs of designers by covering talent development, training and overseas trips for sourcing and production.
"We love the idea of Design Orchard because there is no one space in Singapore that celebrates local design," said Ms Devonne Niam, Digital Marketing Manager of MATTER Prints. "Whether its showcasing of apparels, hosting events or having talks, a common melting pot will always help everyone to collaborate more and work together more."