3D printers and laser cutters—your new essential tools for the timber industry
When Ms Emily Sim returned to Singapore from an internship at Sumitomo Forestry Corporation in Japan, she was struck by how divorced design was from manufacturing.
While working in her family's timber company NS Trading, she noticed that many designers in the industry did not know how to work with raw materials and sometimes proposed unrealistic designs.
But she believes that the integration of both design and manufacturing is important for the future of the industry. This led her to co-found Superstructure, a design and build lab, with architect Pan Yi Cheng in 2017. Located in Sungei Kadut, it aims to bring design know-how and traditional craftsmanship together.
Superstructure is a model for the kind of transformation that will be encouraged in the rejuvenated Sungei Kadut, which is set to evolve from one of Singapore's oldest industrial estates to a forward-looking and collaborative space that supports the modernisation of traditional industries including furniture and timber.
At Superstructure, the design studio and digital prototyping workshop are located together, so designers can experiment with materials and work better with traditional carpenters.
"Some old carpenters tell us that our prototypes cannot be done so we use our prototyping lab to show them that the design is viable," Ms Sim explains.
With Superstructure showing how its models are assembled, carpenters can then plan the resources and manpower needed for respective projects. Through such collaboration, the company constantly engages with craftsmen in the industry to test out new ideas and exchange knowledge.
Both Ms Sim and Mr Pan envision Sungei Kadut as a place not just for industry, but also for education – to show youths that manufacturing is an exciting industry to begin a career in, with new technologies being incorporated at different stages of production.
Superstructure uses 3D printers and laser cutters to manufacture their computer-generated designs to a T. "Woodworking is often seen as blue-collar work. But with digital fabrication, we replace manual labour such as sanding or sawing with machines," says Mr Pan.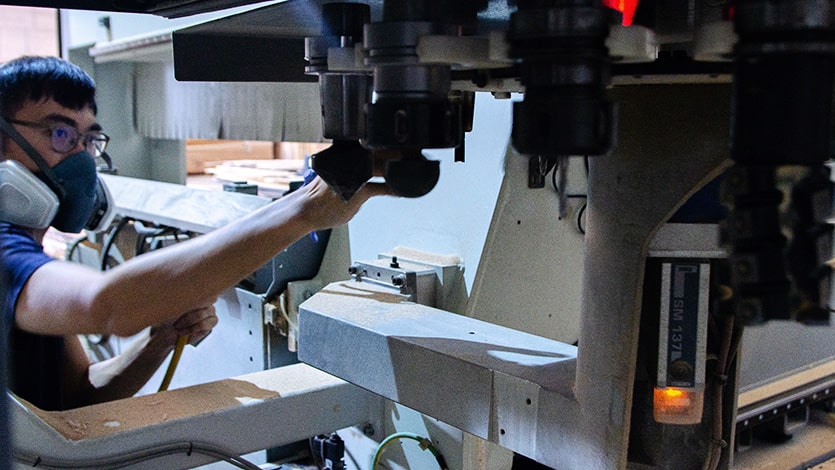 An employee at Superstructure operating the CNC machine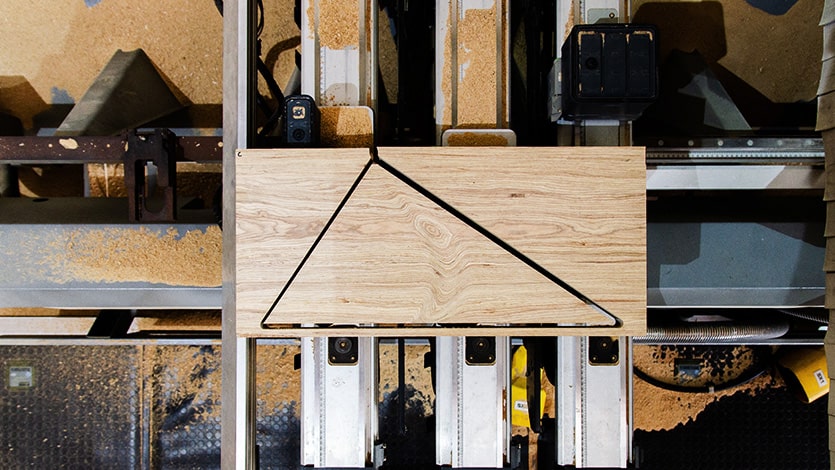 A freshly piece of cut solid wood can be used immediately without sanding
This digital fabrication approach, Ms Sim says, could lower the barriers of entry to the timber industry.
Most people in their 20s or 30s rarely get the opportunity to learn woodworking. We hope that by deploying rapid prototyping machines such as 3D printers and robotic machining, we can help to lower the barriers of entry to the construction or manufacturing industry for our generation.
In a bid to educate young people about digital fabrication, Superstructure reaches out to schools and provides internships to students to give them a taste of working in the industry.
"Most of our interns find it satisfying to learn to make something, as compared to learning theory in school. Most of them want to come back," Ms Sim says.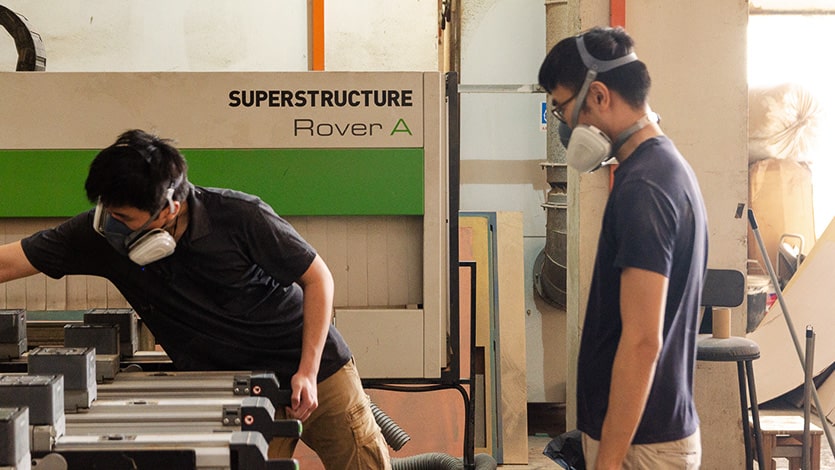 Teaching a new apprentice how to operate the CNC machine
Both Ms Sim and Mr Pan recognise that schools currently lack enough courses that bridge design and digital fabrication.
"Digital fabrication should be a course that is integrated with design. After all, you approach making from a design perspective. The person that is making the product needs to understand what the designer is trying to do," she says.
It is their hope that Sungei Kadut could become "a place to conduct private lessons or tie up with universities" to offer such integrated courses for the community.
Sungei Kadut also needs to cater to the needs of the younger generation, to attract them to the estate, emphasises Mr Pan.
"We have to see the new space as not just a space where the older generation sells plywood. The younger people might even eat, sleep in the design studio, so the area must have the amenities to support it. Amenities that they can use outside of work, like green spaces, and after-work activities are important."
With plans for Sungei Kadut to be home to dining and shopping options, as well as ample green spaces, the reimagined district would be in good stead to attract the younger generation of creatives to set up shop there.
With more vibrancy in the Sungei Kadut area, Ms Sim and Mr Pan hope to see greater collaboration among the next generation of designers and carpenters.
Only then can the furniture and timber industry continue to thrive, says Ms Sim. She offers a word of advice on making collaborations work, "A partnership is like a marriage, there are certain risks when working together. But we need to be daring and have faith in others."