Smartphones, laptops, fitness trackers and cars may not have "Made in Singapore" engraved on them, but many of the semiconductor chips which are key to their functions may have come from the Republic.

While global chip demand has eased since the overwhelming shortages seen during the height of the pandemic, the semiconductor sector remains on an upward trend, with its growth underpinned by how integral chips have become to technology products and networks.

Singapore was a minor player, if that, in the semiconductor sphere when the first factories were set up here in 1969 by the likes of Fairchild, National Semicon, STMicroelectronics and TI. But five decades on, it has become an important part of the global industry. The country accounts for about 11% of the global semiconductor market and 5% of wafer capacity; 20% of semiconductor equipment is manufactured here.

Further growth in the sector here is expected, with 2,000 or so additional jobs likely to be created in the next three to five years.

The semiconductor industry accounted for about 7% of Singapore's annual gross domestic product in 2021, and 80% of the country's total electronics manufacturing output.

The sector was developed by building strong ecosystems and fostering linkages among companies,said Mr Chang Chin Nam, senior vice-president and head of semiconductors at the Economic Development Board (EDB).

The diverse base of activities across the semiconductor value chain is anchored by some of the leading global players.

For example, leading semiconductor and display equipment company Applied Materials has located its regional headquarters in Singapore, the site of its largest manufacturing facility outside the United States. Its systems made here are used in chip factories all over the world to manufacture all kinds of semiconductors, including processors, memory chips, sensors and other components used in the likes of computers, consumer electronics and cars.

It established its presence in Singapore in 1991, growing from a sales and service office to an important strategic hub for the region.

Applied Materials employs more than 2,500 workers in Singapore, and has extensive research and development (R&D) partnerships, focused primarily on new materials and advanced packaging.

"Over the past 30 years of our presence here, we have worked with local partners to create tremendous value for the Singapore manufacturing and R&D ecosystems, and helped deliver innovations for the global semiconductor industry," said Mr Brian Tan, vice-president of Applied Global Services and regional president of Applied Materials Southeast Asia.

US chipmaker Micron Technology, which employs around 9,000 people in Singapore, started out with manufacturing.

Over the past couple of decades, it has developed its technology in NAND flash memory operations and further grown its manufacturing footprint.
The memory and storage solutions developed and produced in Singapore enable various technologies today, including 5G, artificial intelligence, the Internet of Things and autonomous vehicles, said Micron corporate vice-president and Singapore country manager Chen Kok Sing.

Singapore houses Micron's NAND centre of excellence with co-location of functions such as front-end and assembly, test manufacturing and R&D as well as product engineering.

Taiwanese semiconductor foundry United Microelectronics Corporation (UMC), which earlier in 2022 announced that it will build a new US$5 billion (S$7.2 billion) advanced manufacturing facility here, is another major semiconductor player in Singapore, with about 1,700 employees.

Its Singapore site also leads the company's R&D for various advanced speciality process technologies, a spokesman said.

The facility manufactures integrated circuits that can be found in a diverse range of end-products, including smartphones, banking and smart cards, cars, laptops and network hardware.

Meanwhile, chipmaker GlobalFoundries, which is working on a $5 billion expansion of its Singapore plant, produces about a third of its global capacity here.

It employs about 5,000 people and plans to hire a further 1,000 progressively, with the first phase of its expansion expected to be completed in the first half of 2023.

GlobalFoundries Singapore works with 200 or so customers with varying volumes and technology nodes and processes, said Mr Tan Yew Kong, senior vice-president and general manager of its Singapore site.
While global chip demand has eased since the overwhelming shortages seen during the height of the pandemic, the semiconductor sector remains on an upward trend, with its growth underpinned by how integral chips have become to technology products and networks.
Strong infrastructure
Infrastructure catering to the needs of semiconductor players of varying sizes is one reason for companies anchoring their operations here, experts said.

Industrial landlord JTC's four wafer fab parks, totalling 391ha – the equivalent of 547 soccer fields – have anchored 14 global semiconductor companies producing some of the most advanced chips for electronics applications and devices. About 46ha of land has been allocated to companies since 2020.

Around 18,600 workers are employed across the four parks.

At the same time, "plug-and-play" developments have been set up to cater to smaller players. JTC semiconSpace, which is slated for completion by the end of 2022, comprises two single-storey units which can be combined, while JTC nanoSpace is a multi-tenant cleanroom development.

Both facilities are in the Tampines Wafer Fab Park.

"We continue to see semiconductor companies across the entire value chain expanding, and are keeping a close watch on global trends," said Mr Cheong Wee Lee, director for the biomedical and electronics cluster at JTC.
Aside from the global players, Singapore's semiconductor ecosystem is underpinned by small and medium-sized enterprises (SMEs) across various segments.

The Singapore Semiconductor Industry Association (SSIA) has about 200 members, most of them SMEs.

The mix of players in supporting industries, such as equipment and materials suppliers, design houses and test and packaging operations, has helped to make Singapore an important hub in the global value chain, said SSIA executive director Ang Wee Seng.

He added that government support has been crucial in developing the industry, especially in attracting multinationals to set up facilities here.

The presence of the global players has in turn attracted other suppliers and service providers, which has benefited local companies by providing them with opportunities to collaborate with and learn from multinationals, Mr Ang added.

One local company supporting the industry is Singapore Exchange-listed UMS Holdings, an integrated original equipment manufacturer for front-end semiconductor gear, providing both component manufacturing and sub-assembly services.

About 30% of its production is in Singapore, with around 300 employees here, said chairma and CEO Andy Luong.

The SMEs supporting the sector include Innowave Tech, which offers artificial intelligence-powered solutions for the semiconductor sector and other manufacturers.

Its autonomous solutions help to address one of the major pain points for the industry – the challenge of securing a skilled workforce.

For example, it has developed an integrated defects detection system to help customers achieve zero defects in production.

Innowave Tech founder and managing director Xu Jinsong said one of the challenges the company faces is to maintain a culture of learning while being able to deliver results, noting that it actively participates in industry internship programmes to ensure its talent pipeline.

WinTech Nano-Technology Services, which provides failure analysis, R&D support and quality assurance to semiconductor and electronics industries players, added that the high cost of new advanced equipment and services is also a challenge.
General manager Li Xiaomin noted that higher prices of equipment consumables drive up costs, but it can be difficult for the company to raise its prices.

But amid the supply challenges seen in recent times, the company has benefited from higher demand for R&D-related work, he added.

Further growth ahead
Singapore has placed an emphasis on developing capabilities in R&D, sustainability and nurturing skilled talent in the light of its Manufacturing 2030 plan and ambitions for further growth in the semiconductor sector.

EDB's Mr Chang said Singapore anticipates growth in the semiconductor industry for the next decade while playing a critical role in developing and manufacturing critical technologies to enable digital infrastructure that supports all industries and sectors.

As such, the country continues to participate in high-growth market segments, he noted.

This includes developing next-generation silicon carbide devices that consume less power and improve the energy efficiency of electric vehicles, new radio frequency chips and filters for 5G and beyond, as well as new sensor technologies that aid artificial reality and virtual reality adoption.

On the talent front, Singapore has sought to expand its outreach to tertiary graduates beyond the electronics and mechanical engineering sectors, to students with skill sets in relevant areas like physics, chemical engineering and materials engineering, said Mr Chang.

At the same time, it also recognises the need for top global talent with critical and niche skills to help break new ground in development and manufacturing, he added.

Aside from government and industry association efforts to attract talent to the industry, companies global and local alike have also contributed to the development push. For example, Applied Materials and Micron work with tertiary institutions to boost industry skill development.

SSIA's Mr Ang noted how costlier power has affected businesses here, adding that the association has been working on promoting sustainability and energy efficiency in the industry.

"We are working to bring better awareness of sustainability to the companies, help them benchmark among themselves, and most importantly, to transform," he said.

"We are also working with solution providers to help our companies in this journey."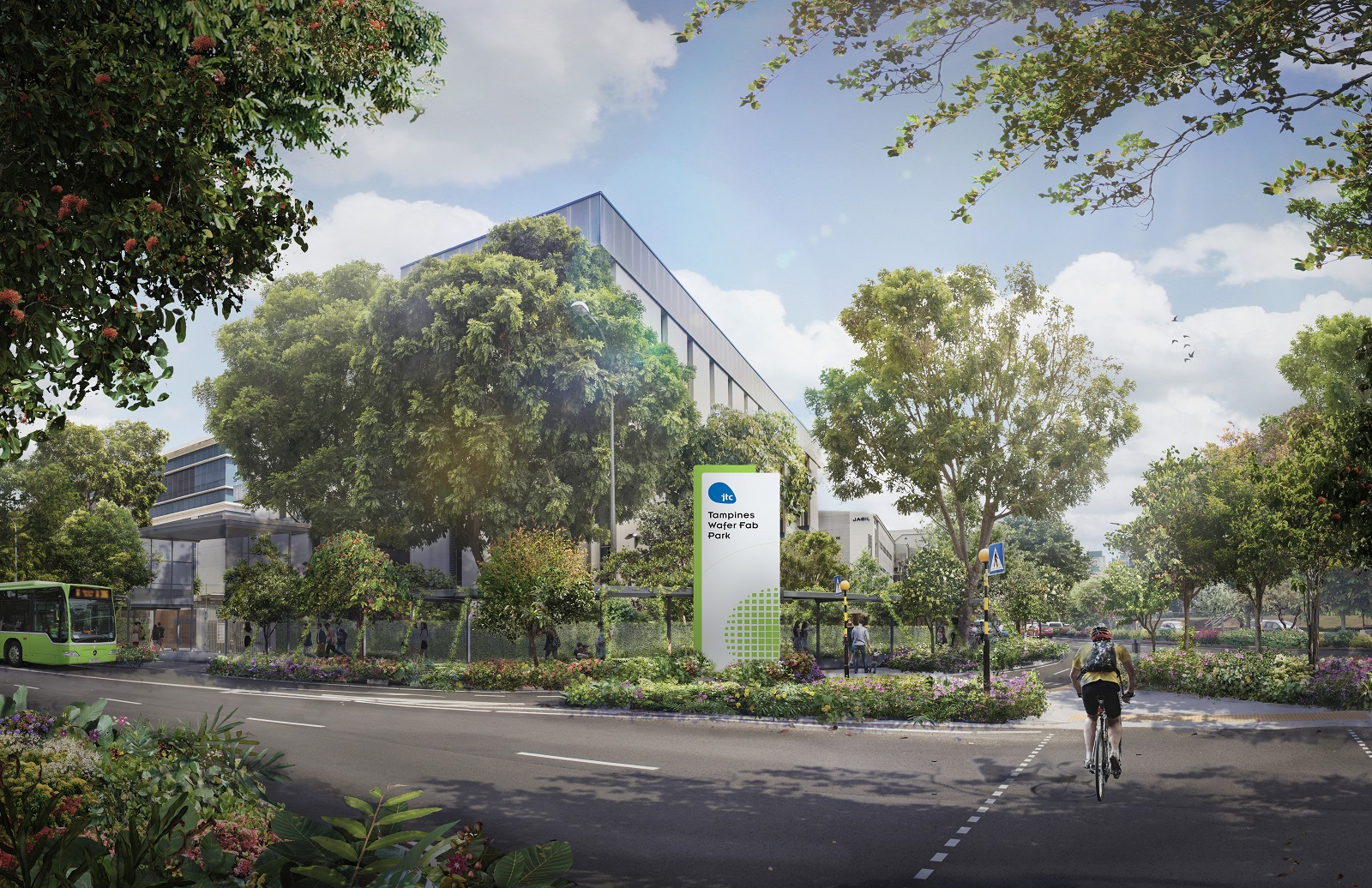 An artist's impression of JTC's rejuvenated wafer fab parks
Opportunities for Singapore to attract more investments
There is a sense of urgency among semiconductor companies to diversify manufacturing and supply sources amid heightened geopolitical tensions and supply chain disruptions.

This has opened up opportunities for existing semiconductor ecosystems such as Singapore's to attract further investment from companies in the industry.

Providing the right incentives such as technology, research and development (R&D) and infrastructure capabilities as well as skilled talent and attractive environmental conditions will always be critical in attracting large players to set up shop, analysts said.

Mr Rakesh Agarwal, advisory partner at KPMG in Singapore, said the massive investments required in the semiconductor industry means governments will have to be involved in setting up related strategic capabilities for the ecosystem.

This includes offering financial incentives and devoting funds to R&D. He noted that many existing fabs benefited from some form of public support, such as direct grants, equity investments, reduced utility rates, tax holidays
and hiring credits.

Mr Ravi Vijayaraghavan, partner and head of Asia-Pacific technology and cloud services practice at Bain & Company, said developing broad participation across various segments within the semiconductor ecosystem has become one of Singapore's key strengths.

This ranges from wafer fabricators to assemblers and testers, as well as design and engineering capabilities.

"The chip ecosystem is fragmented and globally dispersed, and this breadth and depth of skills in a single location is a particular strength of Singapore," said Mr Vijayaraghavan.

Mr Jan Nicholas, executive director for the technology, media and telecommunications industry at Deloitte Consulting, South-east Asia, highlighted how Singapore's economic and political stability, workforce capabilities and intellectual property protections have kept it in the semiconductor industry for decades, and will continue to be a growth driver.

"Current geopolitical tensions have created a flight to quality among global semiconductor companies, and Singapore's stability and relative distance to areas with regional tensions make it even more attractive," he said.

While chipmakers have warned of slowing demand in recent months, experts noted that the long-term prospects for the industry remain positive.

The sector has a historically cyclical nature, they said.

"Any business with large returns to scale and high capital cost will go through boom and bust cycles, where they build new capacity to compete, then overshoot, then wait for demand to catch up with the new supply," Mr Nicholas pointed out.

"This is happening right now, with extremely high demand during Covid-19 leading companies to invest heavily in capacity, which will, in the short term, outpace demand."

Similarly, Mr Vijayaraghavan stressed that while there may be some bumps ahead for the semiconductor sector, the longer-term trend gives room for optimism and confidence in making upfront investments needed to capture opportunities.

KPMG's Mr Agarwal noted that as various countries are all positioning themselves to take on manufacturing capabilities to secure their supply chains, Singapore will need to look towards developing factors to differentiate
itself as a front-runner in the semiconductor sector.

A greater focus on sustainability in the sector could be one possible angle, he said.
Source: The Straits Times © SPH Media Limited. Permission required for reproduction.