More than meets the eye: How did the Transformers inspire a vision for renewable energy?
Singapore's most promising renewable energy source is solar energy. In recent years, various government bodies and companies have teamed up to explore ways to harness the power of the sun efficiently.

JTC is no different. The master planner and developer has thrown its weight behind the solar movement via its SolarRoof and SolarLand programmes. Like their names suggest, both initiatives encourage solar adoption by deploying solar photovoltaic (PV) panels and rooftops and vacant land, thereby maximising space use in land-scare Singapore.

Terrenus Energy is one of the partners JTC is working with to enhance its solar efforts. The firm is headed by founder and CEO Mr Charles Wong, who is passionate about the field of renewable energy.

He recalls an occasion where he stood at the observation deck of Marina Bay Sands a couple of years ago. While everyone else was admiring the sunset, he looked down and thought it was such a waste that there was so much unused rooftop space for installing solar panels.

"Even now, I look at my office building every day and imagine what it would be like if all the glass became solar glass − that itself is a big source of renewable energy," says Mr Wong. "The way I see it, Singapore should be utilising every available space to harness energy sustainably."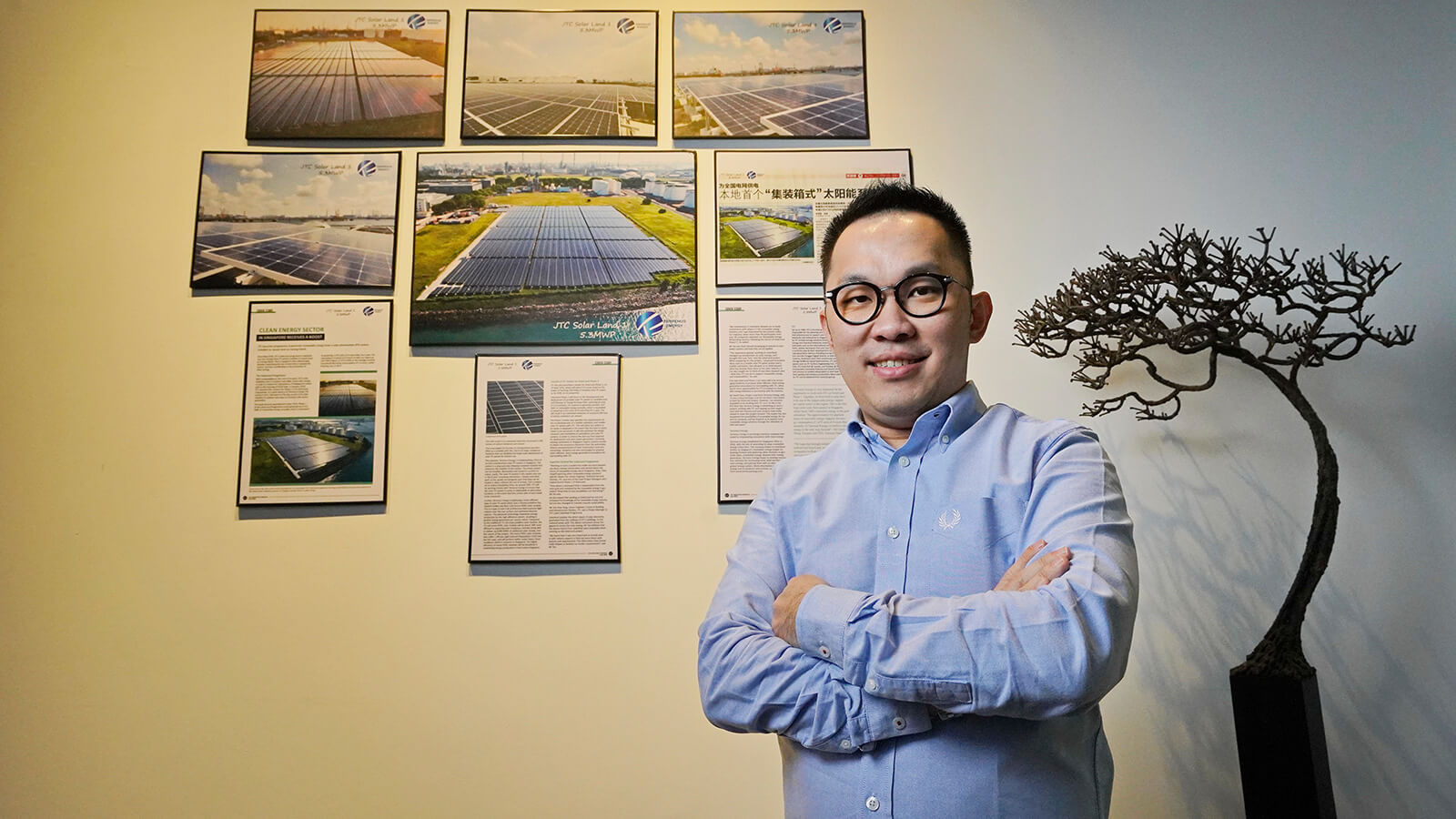 Mr Charles Wong, CEO of Terrenus Energy, has a bold vision for renewable energy in Singapore.
His passion for the field was ignited at a young age. A fan of the cartoon franchise the Transformers, the clean, renewable and unlimited energy source used to power the characters − otherwise known as Energon – particularly fascinated him and fuelled his interest in clean energy.
Hoping to change the game, Mr Wong founded Terrenus Energy in 2016. The energy solutions company helps clients harness the sun's energy directly, empowering them to produce their own electricity. Mr Wong's vision for renewable energy had led him to Singapore due to its geographic location, its policies that support the industry, and its Smart Nation vision. Mr Wong's vision is of a world with an energy ecosystem that is price competitive for consumers, with innovations that can be deployed for public use rather than commercial gains.
Terrenus Energy currently has offices in both Singapore and Australia, and their company name is inspired by the Latin word for 'earth'. Terrenus Energy's first project in Singapore is JTC's SolarLand Phase 1, which saw the installation of solar PV panels on vacant land in Jurong Island. The solar farm became operational in May 2019. It currently produces approximately 6.6 GWh of renewable energy annually, supporting the energy consumption of 1,475 four-room flats.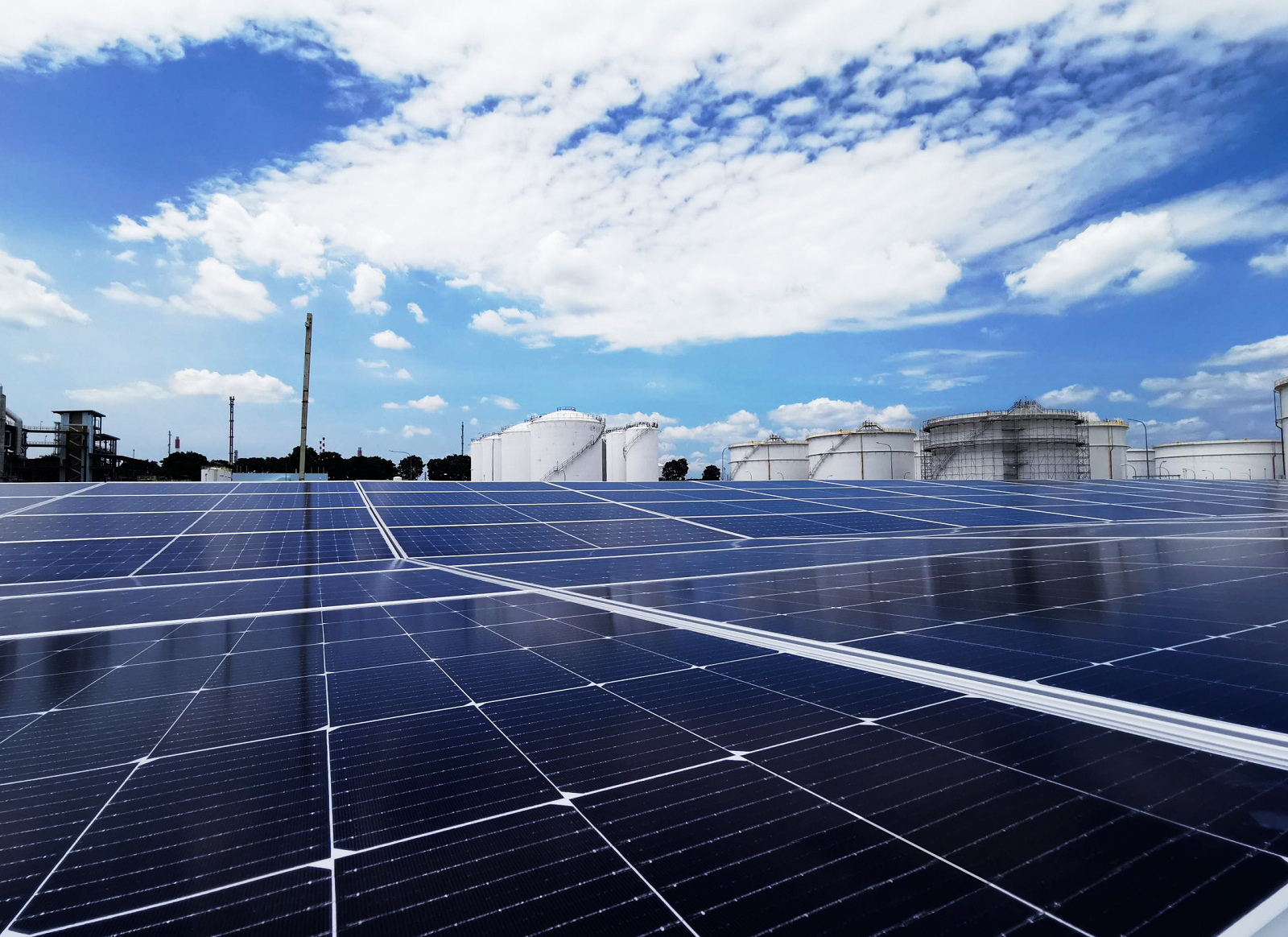 The SolarLand Phase 1 site on Jurong Island houses Singapore's highest solar energy output-per-square metre site. Photo: Terrenus Energy
The project, which took one and a half years to come to fruition, definitely took hard work, reflects Mr Wong. There were numerous regulatory requirements that came with installing the solar panels on Jurong Island. This included having to break down the mechanics of solar technology for the authorities as solar is still not a familiar technology in Singapore.
Following the success of SolarLand Phase 1, Terrenus Energy has since embarked on SolarLand Phase 2, which includes the deployment of portable solar PV panels on available land and linkways in Changi Business Park. Phase 2 is expected to deliver an estimated 23.9 GWh of solar electricity to the national grid annually, the equivalent of powering up to 5,300 four-room HDB homes a year.

Using a compact mounting design, the Terrenus Energy team was able to fit more panels on the interim vacant land, increasing the solar farm's output by more than 60 per cent. Currently the largest ground-mounted solar PV facility in Singapore, Phase 2 also features innovations such as a first-of-its-kind containerised mobile substation, optimised for low-cost, rapid redeployment, as well as hydropanels that facilitate the conversion of water vapour from air into liquid, drinkable water.

Energy generated from both SolarLand Phase 1 and 2 will be directed to the national grid, allowing any consumer in Singapore to access it from their respective electricity provider.

Terrenus Energy has inked an agreement with JTC to extend the SolarLand Phase 1 project to include floating solar panels, small wind turbines, tidal turbines and wave devices. This will allow the site to harness four types of renewable energy – solar, tidal, wave and wind – as Singapore's first four-in-one renewable energy site. If successful, the extension project is expected to break a world record in terms of energy deployed per square metre.

"My inspiration for SolarLand Phase 1 extension actually came about when I was monitoring the progress on SolarLand Phase 1," says Mr Wong. "I was walking along a road that led to the sea. Staring at the open sea, I thought that there was great potential for using energy from the man-made waves created by boats that sail along the coast daily."

The potential of standalone wind, wave, and tidal projects in Singapore is low, making them commercially unviable. However, Terrenus Energy integrates these sources with floating solar through an augmented float design. By affixing wind, wave, and tidal generation devices to the same infrastructure as solar panels, project costs are better controlled. This innovative endeavour is key for the concept to work.

Work on SolarLand Phase 1 extension began in June 2020, and construction will be broken into two phases. The first phase is estimated to reach completion early 2023.

Looking to the future, Mr Wong also shared his vision for his company: "We are also exploring other sustainable projects, such as urban farming on solar sites." With many exciting projects on the horizon, it is Mr Wong's dream that Terrenus Energy eventually creates a lasting legacy.

"At Terrenus Energy, our focus is on how we can optimise resources to maximise the scale of green energy in Singapore," he says. "I believe there is still a lot more innovation and creativity that can be unleashed in this space."