FlexMech gives clients six-figure cost savings annually through digital systems
How did a machine tools distributor use technology to diversify its offerings and improve its services for customers?
In this video, let's explore the digitalisation journey of Flexmech Engineering, a 37-year-old family business that supplies precision equipment and services to clients across different sectors around the world.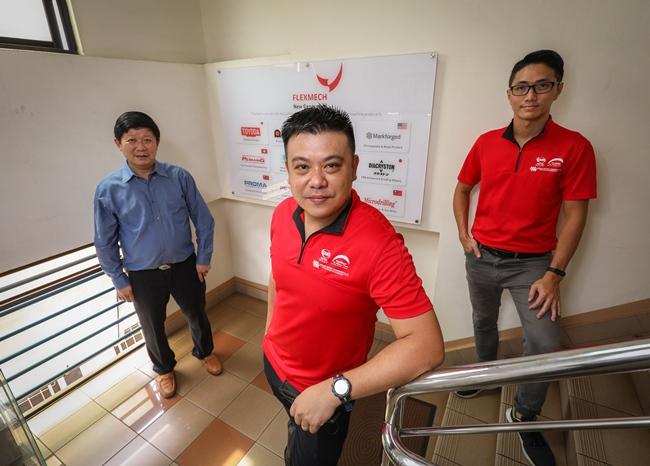 Flexmech's second-generation leader Mr Tan Ru-Jin (centre) leads his team and company towards digitalisation. With him is experienced General Manager of Sales Mr Raymond Ang (left) and 3D Printing Sales and Application engineer Mr Billy Teoh. (Photo: zaobao.sg)
Flexmech Engineering was founded in 1983 by Mr Ron Tan. The family-owned enterprise is now under the second-generation leadership of 39-year-old Managing Director Mr Tan Ru-Jin. When the company first started, it dealt solely in machine tool sales. It has since expanded significantly into a precision equipment distributor and service provider that offers full-suite precision manufacturing solutions. Flexmech has subsidiaries in China, Japan, and Malaysia, partners in Indonesia, and clients from all over the world, covering sectors such as aerospace, maritime, oil, semiconductors, and electronic mouldings.
Setting a five-year plan for steady digitalisation
"Markets are more volatile these days. If we don't improve our efficiency, we will face the danger of getting phased out by the market," says Mr Tan Ru-Jin. To avoid going down this path, the company laid out a five-year digitalisation plan in 2018, starting with efforts to do away with paper records by building an online portal that logs reports and other key information.
Mr Tan Ru-Jin explains that in the past, when dealing with client queries, staff must search through paper reports for relevant information. The manual data retrieval process could take between three and five hours, meaning that customers would only get a response after 24 hours. After the online portal was established, all past reports have been digitalised. Staff can now use a mobile app to retrieve required information in less than five minutes and respond promptly to customers. At the same time, the online portal is helping Flexmech save about $30,000 in operating costs every year.
In its pursuit of digitalisation, the company has worked with SIMTech to devise its very own Industry 4.0 system. The system includes functions such as Smart Manufacturing Operations Management and Overall Equipment Effectiveness Monitoring. Mr Tan recalls an incident from earlier this year when a notification was automatically sent to inform personnel of a faulty spindle that was detected in a laser cutter. Because of the alert, the company was able to give advance notice to its aftersales engineer to prepare the spare parts required for replacement, which significantly reduced production downtime.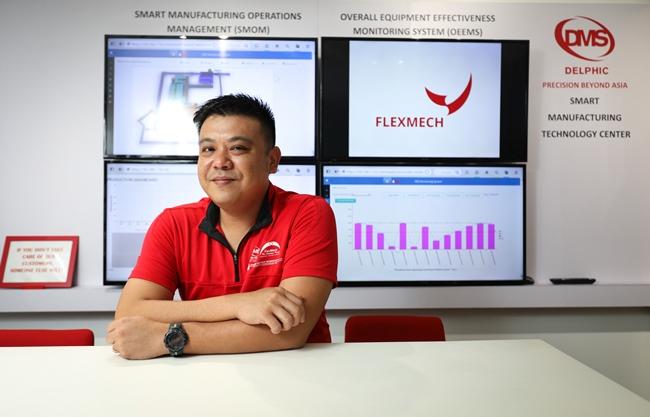 Mr Tan Ru-Jin, General Manager of Flexmech Engineering, shares that the company laid out a five-year digitalisation plan back in 2018. Their first move was to do away with paper records and build an online portal, which helped to save the company $30,000 in operating costs every year. (Photo: zaobao.sg)
"Industry 4.0 Lite" benefits more SMEs
Through Flexmech's own experience, Mr Tan realised that cost is the biggest concern for an SME wishing to digitalise. He says, "Even though we had some assistance from the government when we worked with SIMTech to develop the Industry 4.0 system, we still had to fork out about $40,000 to $50,000. This is a hefty sum of money for an SME, especially when a lot of features in the system are irrelevant to us. Therefore, we wanted to design a simpler solution that retains the essential functions and do away with unnecessary features while keeping costs under $10,000. This would let SMEs recoup their invested capital within a year."
We want to provide a 'lite' version of Industry 4.0. - Mr Tan Ru-Jin, Managing Director, Flexmech Engineering
In 2019, through introductions by the Singapore Precision Engineering & Technology Association (SPETA), Flexmech came to know about German engineering firm Bosch Rexroth and its Proof-of-Concept (POC) projects. The two companies hit it off and have been working together since.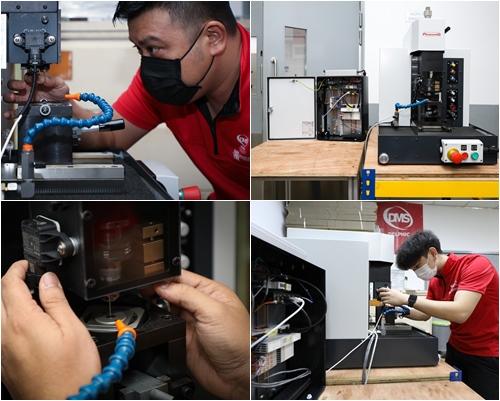 General Manager Mr Tan Ru-Jin (top left) reveals that Flexmech collaborated with Bosch Rexroth in developing a vibration analysis system that helps to predict the remaining lifespan of machine cutters. This system has helped their clients save up to six figures in costs every year. (Photo: zaobao.sg)
According to Mr Tan, many of Flexmech's clients are still using manually-operated equipment. Efforts to convert the traditional equipment to fully-automated smart machines that meet Industry 4.0 standards would involve enormous costs. Mr Tan came up with the idea of using Bosch Rexroth's system to estimate the remaining lifespan of the cutters in the machines by analysing machine vibrations. Such digitalisation of previously manually operated machines helps to improve the machines' production efficiency.
"One of our clients has 700 machines that are manually operated. Our proposed solution would extend the longevity of the machine cutters by 12%, saving them $250,000 per year," says Mr Tan.
In September this year, Mr Tan took part in the Industry 4.0 Tech Talk webinar organised by JTC. He says, "JTC has always supported SMEs in pursuing Industry 4.0. They found out about our proposal through Bosch Rexroth and invited us to share our services and solutions with the market during the webinar."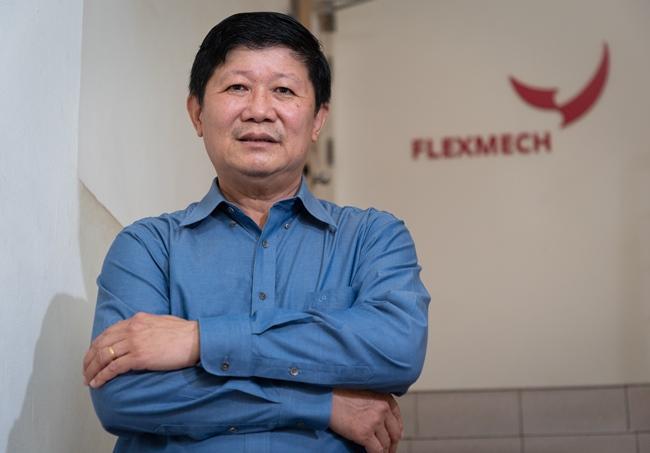 55-year-old Mr Raymond Ang has been with Flexmech Engineering for over 20 years and has witnessed the company's digital transformation. (Photo: zaobao.sg)
Securing new markets through digital platforms
55-year-old Mr Raymond Ang, General Manager of Sales, joined Flexmech in 1994. He worked his way up the ranks and witnessed the company's transformation over the years. "20 years ago, competition was less intense. Now, as many manufacturers move their businesses abroad, we need to stay competitive by making use of digital platforms to expand our overseas business operations," he says.
Flexmech has its own online sales platform, allowing clients from around the world to buy their products. In addition, Mr Ang frequently attends overseas exhibitions to find out more about the latest in industry happenings and to scout out new products to bring in. Last year, he sold a machine to an end user in Mexico and the equipment acceptance was done smoothly through video conferencing. He also used video calls to provide product training to his customers.
I see more prospects than hurdles. We are well-prepared for Industry 4.0. - Mr Raymond Ang, General Manager of Sales, Flexmech Engineering
To Mr Ang, Industry 4.0 is also evolving with the times. "Industry 4.0 is not the same as it was five years ago. We must keep pace with progress and continue learning," he says.
Mr Ang reveals that even with the impact of the pandemic on businesses, Flexmech's 2020 sales figures are expected to be around 20% higher than last year, and this is all thanks to digitalisation. He says, "After digitalising, we diversified the range of products that we carry and we are seeing clients from more regions. We are unable to meet most of our clients in-person during the pandemic, but the digital platform has actually helped us secure more business deals."
Mr Ang is now trying to promote Flexmech's aircraft landing gear repair solutions to the overseas markets. "My greatest wish is to introduce our unique products to the world with the help of digitalisation and create more opportunities to interact with overseas clients."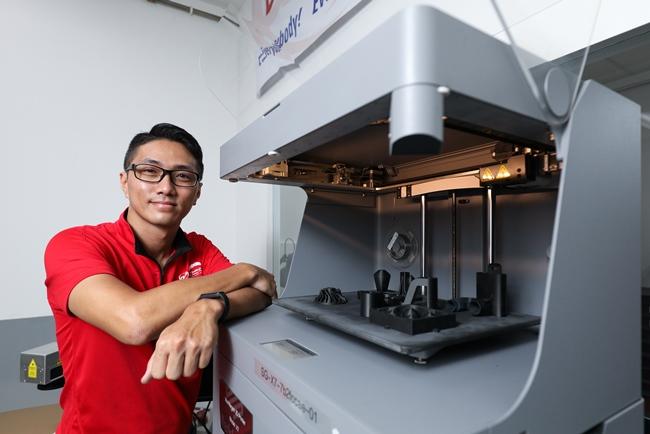 35-year-old Mr Billy Teoh has been with Flexmech Engineering for nine years and has been selected for grooming by the company. He has attended numerous courses over the years, including the Japanese Language Proficiency Test (JLPT). With his JLPT Level N4 certificate, he is able to help with translations when Japanese clients send in enquiries. (Photo: zaobao.sg) 
Growing with the company
35-year-old Mr Billy Teoh works in the 3D Printing Sales and Application department at Flexmech and has been selected for grooming by the company. In his nine years with the company, Mr Teoh has attended numerous training programmes and completed his Precision Engineering Master Craftsman (PEMC) diploma and Advanced 3D Printing certification issued by Nanyang Polytechnic. He has also passed the Japanese Language Proficiency Test (JLPT) Level N4 exams and is recently taking leadership management courses. His training is fully funded by the company, and he is given official time off from work to attend classes relevant to his work.
Flexmech treats me like family and provides me with learning opportunities so that I can grow as the business progresses. - Mr Billy Teoh, Printing Sales and Application, Flexmech Engineering
Whenever there is new software, the software providers would offer relevant training to the Flexmech team. However, Mr Teoh takes his learning a step further. He says, "I realise that we would usually use only parts of the software. To maximise the capability of the software, I went online and researched about features that would help me in my work."
He adds, "In the past, digitalisation was really difficult, and it was tough to change people's habits. However, since the pandemic started, everyone is eager to learn and master digital skills."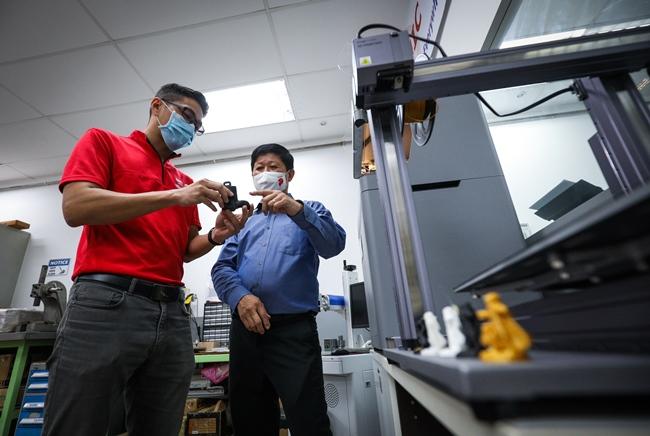 Mr Raymond Ang (right) and Mr Billy Teoh share a deep understanding and appreciation of digitalisation, recognising the impacts on the company's prospects as well as their own professional growth. (Photo: zaobao.sg)
Finding new opportunities in tough times
In March this year, Flexmech responded to the Covid-19 pandemic by tapping on its 3D printing technology and Industry 4.0 system to help NUS researchers develop the foldable Droplet and Aerosol Reducing Tent (DART) alongside other SMEs. DART helps to reduce healthcare workers' risk of exposure when treating patients with the Covid-19 virus and has been distributed to hospitals in Singapore as medical aid equipment. It is also being promoted to overseas markets.
Mr Tan hopes to continue working with Bosch Rexroth on the Proof-of-Concept project next year to help more local SMEs progress into Industry 4.0. He says, "Our goal is to enhance the efficiency and capabilities of local SMEs while lowering their production capital so that homegrown manufacturers can remain competitive on the global arena."
This article first appeared in zaobao.sg【智造新商机系列】数码系统助力 每年为客户省六位数成本 on 4 November 2020. Translated from the original article, 【智造新商机系列】数码系统助力 每年为客户省六位数成本,zaobao.sg, 4 November 2020 by JTC, any errors please check back with JTC.