Automotive parts manufacturer Sanwa-Intec takes the digital road to drive higher product quality
Singapore may not have its own homegrown automobile manufacturer at the moment, but many vehicles on our roads still come with automotive parts that are proudly made in Singapore.

In this video, let's take a closer look at how a local automotive components manufacturer is catching up with Industry 4.0 to improve its product quality.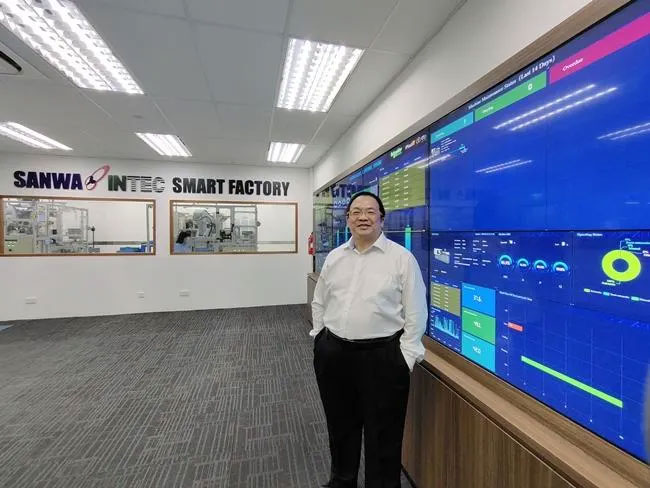 Sanwa-Intec's Operations Manager Mr Anthony Yeow (50) reveals that the company renovated and transformed its warehouse into a control room with digital monitors that display the real-time operation data of each machine. (Photo: zaobao.sg)
To most people, "precision plastic injection moulding" is an unfamiliar technical term. However, this is a process widely used in the automotive manufacturing industry and one that Sanwa-Intec adopts in its production. Using precision plastic injection moulding, the company manufactures components such as engine electronics, airbag sensors, and door closure systems, all critical parts in automobiles.
In 1996, a joint venture between Singapore's Sanwa Group and The Intec Group from the United States saw the inception of Sanwa-Intec, whose headquarters is located at JTC Woodlands Industrial Park. Sanwa-Intec set up subsidiaries in China's Tianjin and Changzhou in 2001 and 2007 respectively. Sanwa-Intec's products can be found in vehicles made by many world-renowned brands, such as General Motors, Volkswagen, Audi, Mercedes-Benz, Toyota, Honda, and Hyundai.
Mr Anthony Yeow has been a champion for digitalisation since he joined Sanwa-Intec seven years ago. By bringing fully-automatic robotic arms into the production process, the company's productivity has improved tremendously. (Photo: zaobao.sg)
If we don't transform, we will gradually get phased out. - Mr Anthony Yeow, Operations Manager, Sanwa-Intec
50-year-old Mr Anthony Yeow recalls that many production processes were exceedingly manual when he joined the company seven years ago. The amount of manual work required made things tedious and caused productivity to be fairly low. Since he started working at Sanwa-Intec, Mr Yeow has championed and pushed for robotics automation. He has worked with professors from Nanyang Polytechnic's Automation & Robotics Innovation Centre to develop customised robotic arms that can fulfil Sanwa-Intec's production needs. After two years, the first fully-automated robotic arm was deployed in the company's production line. More robotic arms were later developed to meet the company's manufacturing needs.
Digitalisation: The gateway to doubling production capacity
Even though the company started to adopt automated production, data retrieval from each machine still had to be done manually. To address this issue, Sanwa-Intec embarked on their digitalisation journey in 2017.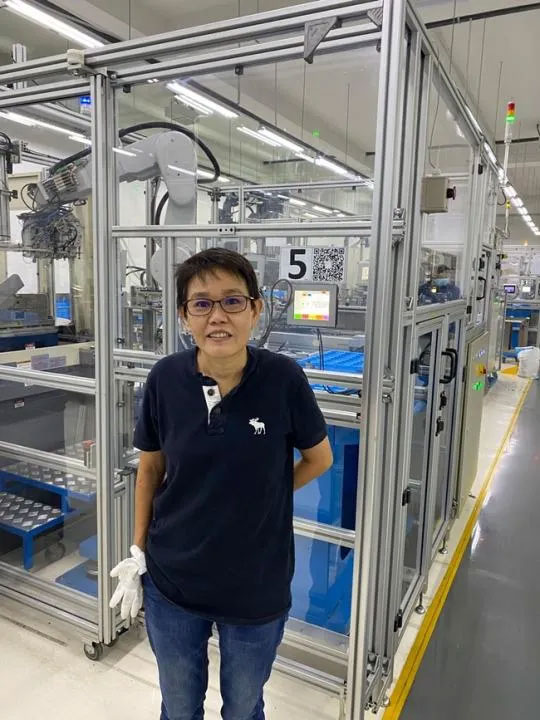 55-year old Automation Engineer Ms Wendy Law is involved in Sanwa-Intec's machine modification projects. Digitalized machines can manufacture 1.5 times more products than traditional manually-operated machines and have increased the company's productivity by 30%. (Photo: Sanwa-Intec)
In September 2019, Sanwa-Intec started working with iPlast 4.0 to revamp its warehouse. After nearly six months of planning, the warehouse was renovated and transformed into a control room. This room has a control tower with digital monitors that display the real-time operation data of each machine. Every morning, the first thing that Mr Yeow does when he gets to work is to check the data at the control tower.
Sanwa-Intec has also collaborated with Schneider Electric and Nanyang Polytechnic to bring in digital solutions to assess equipment performance. Real-time monitoring of machine data such as energy consumption, temperature, and moisture level helps to ensure that the company's processes and products meet regulatory standards. Such efforts prevent any production downtime in the event of faulty equipment and have also helped the company save nearly 20% on energy consumed.
Digitalisation is a process that requires hefty investment. As such, apart from acquiring new machinery, the company is modifying some of its older equipment to meet the company's new digitalised production requirements.
Automation Engineer Ms Wendy Liaw Bee Bee, 55, is directly involved in the machine modification projects, which posed quite a challenge for her. "Modifying a machine takes half a year. I need to fully understand the design and concept behind the equipment before rebuilding it. Upon completion, I also need to test and verify that the manufactured products are up to industrial standards," she says.
At the moment, the company's digitalised machines can manufacture 1.5 times more products than traditional manually-operated machines, and productivity has increased by about 30%.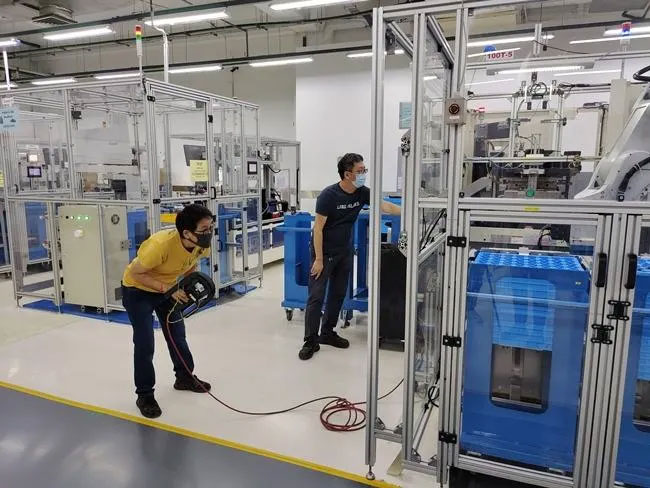 Ms Wendy Liaw (left) and a colleague running an equipment test. (Photo: zaobao.sg)
Automated robotic arms lend a hand: Simultaneously running five machines is now a one-man operation
Mr Yeow reveals that some older employees were initially averse to digital transformation. "I would always remind them that even restaurants are going digital and are using self-ordering systems these days, so if we don't hasten to catch up, we will definitely fall behind. If you can order and customise your meals using a digital kiosk at McDonald's, it should not be difficult to operate an automated machine," he says.
Since starting on the digitalisation journey, Sanwa-Intec has been sending employees to take part in Industry 4.0-related seminars and attend smart technology courses. Through these training opportunities, Mr Yeow hopes to strengthen his employees' understanding of smart manufacturing and allow them to upskill so that they can better adapt to modern manufacturing practices.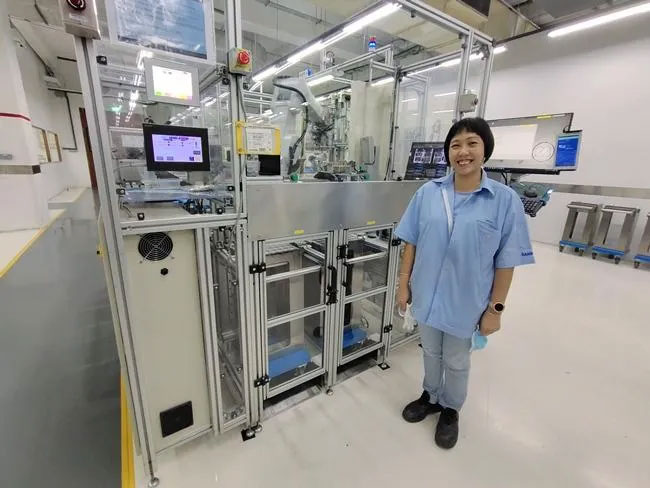 40-year-old Ms Ivy Soh works at Sanwa-Intec as an Operator and has witnessed the company's digital transformation over the years. (Photo: zaobao.sg)
Ms Ivy Soh, 40, has been working as an Operator at Sanwa-Intec for five years and has witnessed the company's vast improvement in production capabilities. "I used to operate smaller machines, but could only work on one machine at any given time. Now, with automation, I can single-handedly manage five large automated equipment at the same time," says Ms Soh.
Sanwa-Intec's updated production capabilities have boosted customers' confidence in the company's potential for future growth. As such, customers are entrusting Sanwa-Intec with the manufacturing of their latest products. This year, major automotive manufacturers in Europe and the United States had to stop production for some time due to the global impact of the pandemic. This, in turn, forced Mr Yeow to halt operations as well. When the overseas markets gradually restarted, the demand for Sanwa-Intec's services immediately kicked in, and the company's production lines resumed operations very quickly. At the moment, the factory's machines are already running round the clock.
To handle the large order volume, the company recently stepped up its recruitment efforts. Three of their new employees previously worked in the hospitality sector and had no relevant manufacturing experience. However, Mr Yeow maintains that there is nothing complicated about production so long as they are willing to learn.
The potential of youth is limitless, and the next generation will always be able to surpass its predecessors. Therefore, we need younger talent to sustain our future demands for digitalisation. - Mr Anthony Yeow, Operations Manager, Sanwa-Intec
Nanyang Polytechnic also sends students to Sanwa-Intec for internships every year. During this year's internship intake in September, the company recruited ten more interns compared to previous years.
Mr Jin Jia Cheng, 20, a final year student at Nanyang Polytechnic's Robotics & Mechatronics Department, is one of the interns this year. Upon starting his internship, he was instantly drawn to the robotic arms in the production line. "What's most impressive to me is that even the most unremarkable-looking equipment plays an important role in the production process," he says.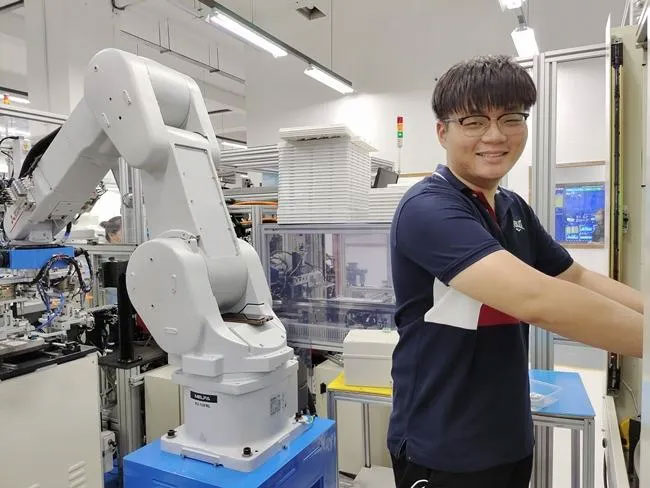 20-year-old Jin Jia Cheng studies robotics and mechatronics at Nanyang Polytechnic and was naturally drawn to the robotic arms in the production lines when he started his internship at Sanwa-Intec. (Photo: zaobao.sg)
The students are required to submit internship reports to their schools, and Mr Yeow also requests for regular updates on their learning progress. He also encourages them to share their ideas and experiences. He believes that young people will drive the manufacturing industry forward, and he hopes that some of the interns will return to Sanwa-Intec as full-time employees after they complete their studies.
In October, Mr Yeow will welcome another batch of interns from the Institute of Technical Education.
He believes that the youth has deeper cognizance and understanding of digitalisation, which would help the company's growth in the long run. To truly move into Industry 4.0, he maintains that the future must be placed in the hands of the young.
"Industry 4.0 is essentially a representation of 'lights-out' manufacturing (a state of full automation where factories can operate with the lights off, since no human presence is required to run the machinery). We still have much room to grow before achieving 'lights-out' manufacturing. We hope that in the future, our employees, especially the younger generation, can develop new thoughts and learnings on digitalisation," he says.
This article first appeared in zaobao.sg 【智造新商机系列】仓库变控制台 汽车零件制造商数码大翻新 on 28 October 2020. Translated from the original article, 【智造新商机系列】仓库变控制台 汽车零件制造商数码大翻新, zaobao.sg, 28 October 2020 by JTC, any errors please check back with JTC.