In the driver's seat: Here's what to know about Singapore's electric vehicle movement
Electric vehicles (EVs) will soon be a common sight on the roads in Singapore. In line with its push towards sustainability and the lowering of carbon emissions outlined in the Singapore Green Plan 2030, the country has launched concerted efforts to transition its vehicle population to cleaner energy. It aims for Internal Combustion Engine (ICE) vehicles to be gradually phased out, and have all vehicles powered by clean energy by 2040. New registrations of diesel cars and taxis will cease from 2025, and new vehicles registered from 2030 will only be of cleaner-energy models.

The impetus for this initiative is clear. EVs are quieter, greener, and cleaner than ICE vehicles. They also produce no exhaust emissions. A full charge on most EVs covers a driving distance of 120km — making them suitable for transport in Singapore, where the average daily driving distance is only 55km.

Across the globe, many countries are also working towards having more EVs on the roads. China, for example, is looking towards an electric vehicle future by making all new vehicles sold 'eco-friendly' by 2035. Similarly, the UK plans to ban sales of diesel and petrol cars from 2030. Automakers are also kicking the movement into high gear. For example, the BMW Group has "pledged to have one million of its EVs on the roads by 2022", with the number increasing to seven million by 2030. This combination of public will and private cooperation is essential to ensuring the success of an electric dream.

However, while governments and automakers have made conscientious efforts towards this goal, the adoption of EVs is still not as substantial. In Singapore, it may be largely due to two challenges: the higher upfront purchase price of EVs (in comparison to ICE vehicles) and the lack of charging infrastructure.
EV adoption doesn't have to be a bumpy ride
In Singapore, the cost of an EV is approximately 30% higher than their ICE equivalents. To lower the upfront purchase prices of EVs, the Singapore government has implemented grants and schemes to encourage more drivers to make the switch to EVs. The enhanced Vehicular Emissions Schemes (VES) and Electric Vehicle Early Adoption Incentive (EEAI) will allow buyers of a fully electric car here to enjoy cost savings of up to $45,000. This initiative aims to narrow the upfront cost gap between an EV and its ICE equivalent.

In addition, many experts predict that the costs of EVs are likely to decrease over time, due to both larger economies of scale with greater consumer adoption and improvements in technology that decrease the cost of batteries.

At present, the lack of charging infrastructure is another bottleneck to the growth in EV adoption. There are currently approximately 1,800 charging points in Singapore, but that number looks set to change. The Singapore government aims to increase this to a total of 60,000 charging points by 2030 to support and encourage EV adoption. In addition, it will designate seven EV-Ready Towns with EV chargers at all carparks by 2025.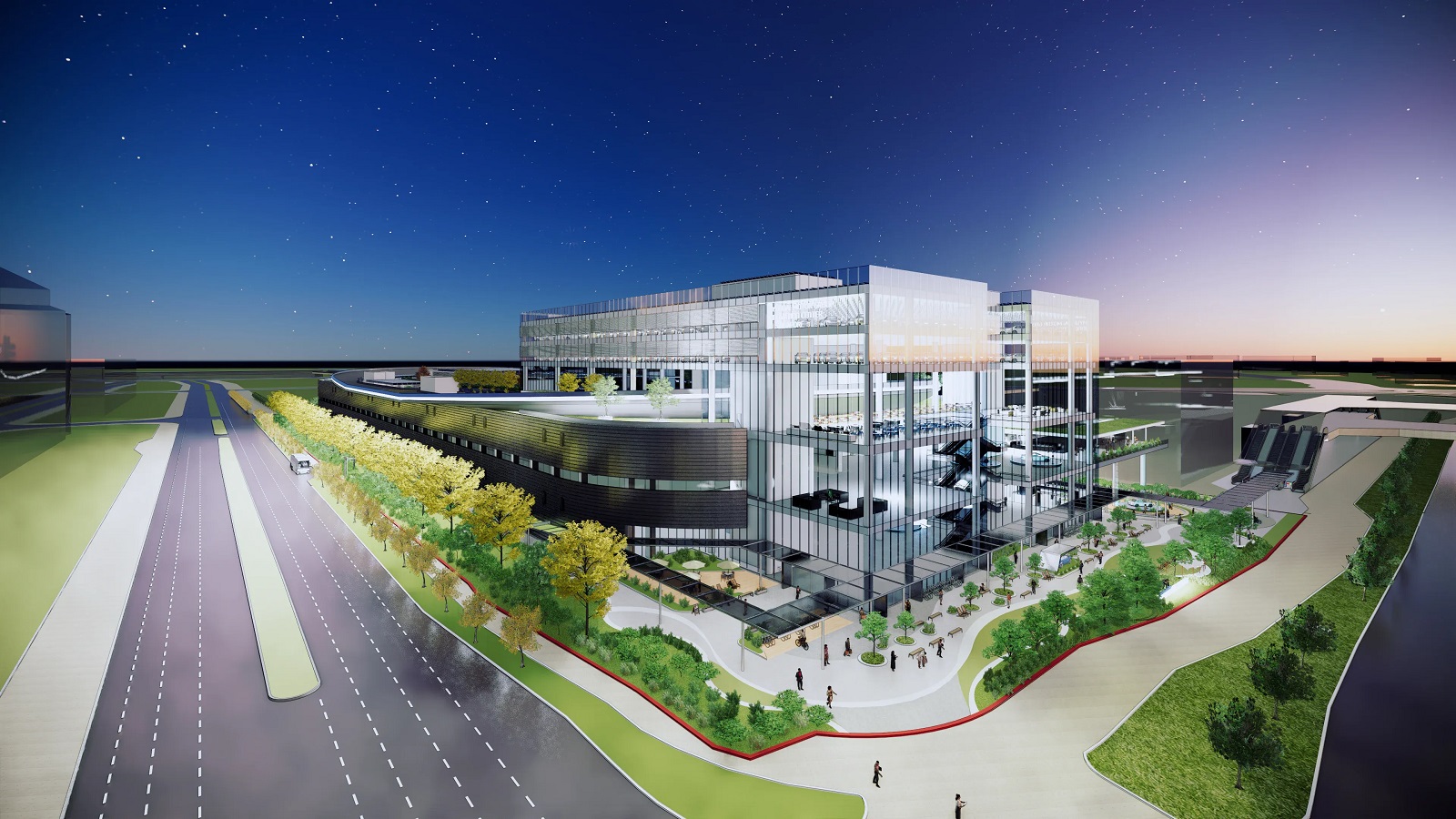 The upcoming Hyundai Motor Group Innovation Centre in Singapore will be located at Jurong Innovation District. Photo: Hyundai Motor Group
Overcoming road bumps in EV adoption
For Singapore to reach its EV targets, all stakeholders will have a part to play. Coordinated efforts and a shared interest across government agencies, manufacturers, network operators, and energy providers can facilitate the deployment of the charging infrastructure, and ultimately, drive the adoption of EVs among consumers.

As the master planner and developer of Singapore's industrial landscape, JTC will support Singapore's push to expand the national network of EV chargers. "The first step is to make provisions in our development plans to have more charging points and trial alternative charging methods in our estates and developments. This will help with the national drive to switch to a more environmentally friendly option for our mobility needs," explains Anil Das, director of the Logistics and Land Transport cluster at JTC.

By providing charging points within the industrial estates and developments, EV owners can charge their vehicles while they are at work. As part of a pilot tender by the Urban Redevelopment Authority and the Land Transport Authority, a total of 126 EV chargers will be progressively installed at 34 JTC carparks, with installation expected to be completed sometime in 2022.

At the upcoming Punggol Digital District, plans are also underway for 80 EV charging points to be made available to EV owners, with at least 14 of them designated as high-speed direct current chargers. These chargers will only take 30 minutes to fully charge a car.

In addition, JTC's estates can also serve as testbeds for new EV technologies. "One of the deeper conversations we are having at JTC is about creating a future of mobility ecosystem in Jurong Innovation District (JID), a next-generation mixed-use estate that will be home to the advanced manufacturing cluster," offers Mr Das. "The 600-hectare JID represents the perfect canvas for mobility players since it already has the requisite industrial, research, and testing infrastructure in place."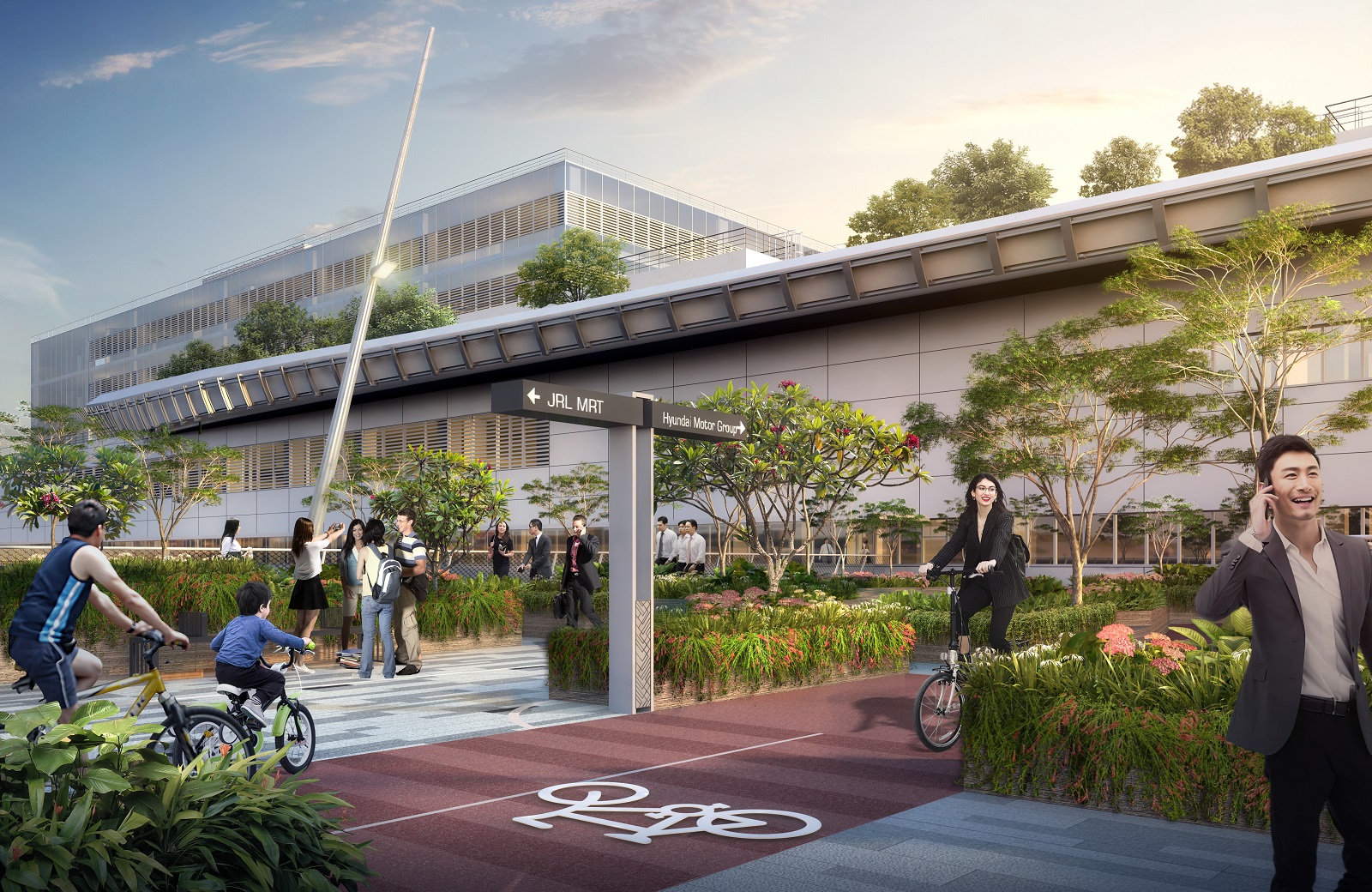 Jurong Innovation District's Sky Corridor aims to redefine the future of mobility within the advanced manufacturing hub.
One industry heavyweight with a presence in JID is Hyundai Motor Group ― it is setting up the Hyundai Motor Group Innovation Center in Singapore (HMGICS), a 28,00sqm facility that will function as an open innovation lab for the company's future mobility research and development.

The South Korean automaker has also signed a Memorandum of Understanding (MOU) with JTC to co-develop smart transport and logistics models for the advanced manufacturing hub. The automaker will utilise its expertise to analyse data from JID and devise transport models for mobility solutions such as autonomous vehicles and EVs. These not only optimise transport flows for people and goods in JID, but also establish urban planning guidelines for smart mobility options in the next-generation estates.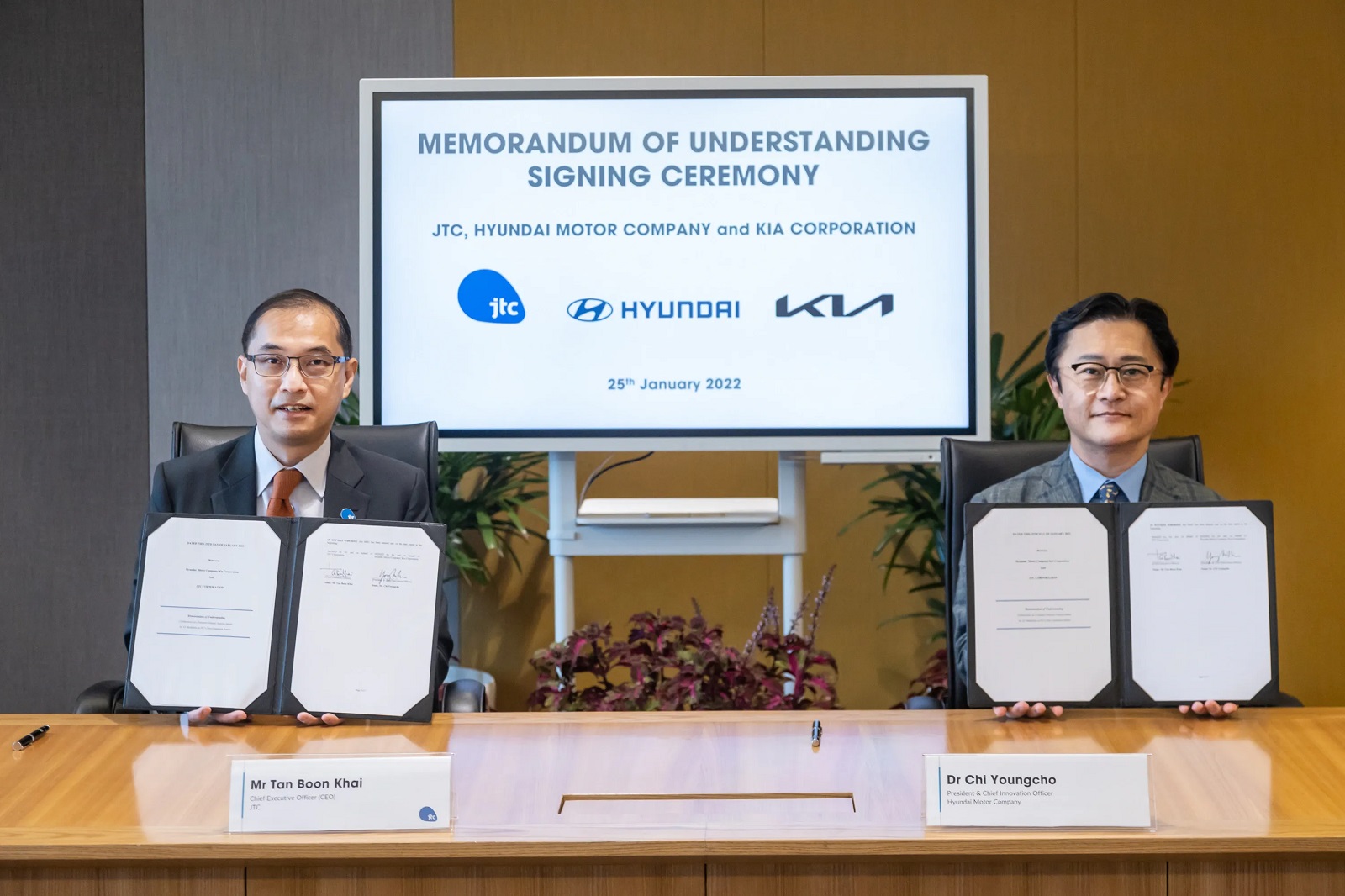 JTC CEO Tan Boon Khai (left) and Hyundai Motor Group president and chief innovation officer Dr Chi Youngcho at the MOU signing ceremony.
Meanwhile, Hyundai has also entered into an agreement with Nanyang Technological University (NTU) for a series of joint research projects focused on advanced solutions for EV manufacturing. Projects include the use of artificial intelligence and 3D printing in manufacturing processes. "The EV movement has helped to catalyse conversations with mobility-related enterprises on how they can grow and scale," adds Mr Das.

Development of EV technologies is also shifting into gear at one-north. ION Mobility, a smart electric motorbike and energy storage solutions start-up housed in LaunchPad @ one-north, unveiled the first electric motorcycle to be conceptualised, designed, and assembled in Singapore. ION Mobility has received support from various government agencies during its development, and will continue to expand its overseas operations in the future.

The transition to a fully electric vehicle population requires time and concerted effort from both public and private sector players, but will have a palpable impact on Singapore's sustainability as a nation and serve to strengthen the country's economic, climate and resource resilience, and improve the lives of Singaporeans as a whole.