"From handwritten notes to digital delivery orders, this is our digitalisation journey" — Plony Industries

Digitalisation is the new wave driving business transformation, and companies both big and small are riding it. This also includes Plony Industries, a wholesale distributor of a wide range of industrial products such as processed timber wood products, premium welding consumables, and safety personal protective equipment (PPE) items.

Zee Ng, general manager of Plony Industries, shares how the company kickstarted its digitalisation plan:
When the work was labour-intensive
"The majority of companies in the timber industry are following a traditional set-up. For years, the workflow of processing timber and wood orders has been rather manual and labour-intensive.

When I joined Plony Industries five years ago, the work orders were handwritten, and the workers would have to collect the handwritten orders and process the work accordingly. Staff would have to walk to and from the shop floor to the office to communicate work instructions. The workflow was non-productive and prone to many errors. As such, I saw the need to improve our workflows and thereby, increase efficiency."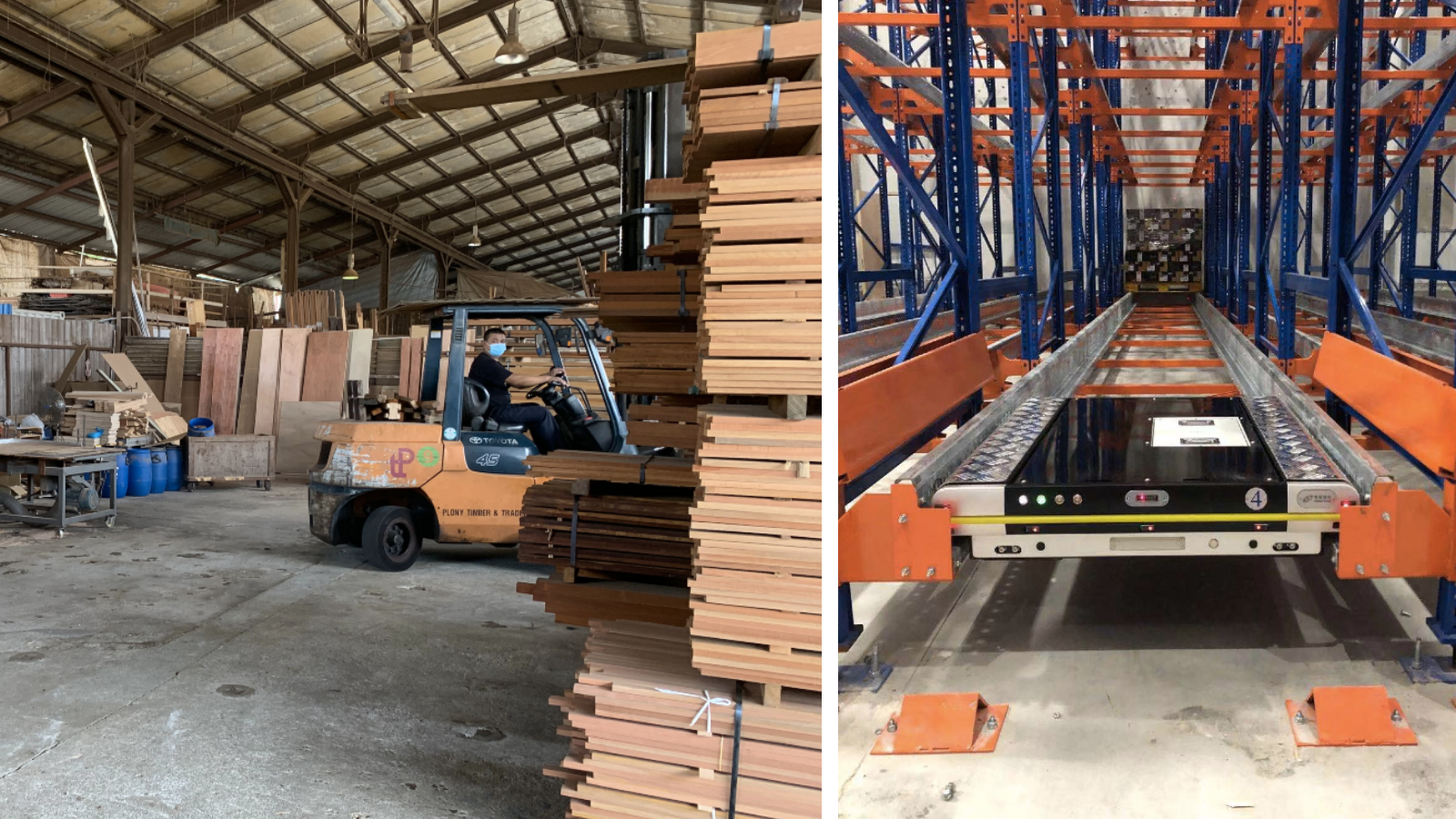 A traditional set-up at Plony Industries and their plans to upgrade the system at TimMac
Digitalisation begins with one small step
"We started our digitalisation journey small – by changing our mode of accounting from using basic Microsoft Excel sheets to using proper accounting software. From this small change, we started to see improvements in our documentation. This greatly encouraged us, and we wanted to push for even more changes that would further improve our workflows.

We decided that digital marketing would be the next step for us, and we started by creating our own website and doing online advertising. We managed to achieve good results with our digital marketing efforts, and this made us more motivated to up our digitalisation efforts for other aspects of our operations."
Tapping the expertise of industry partners
"With our upcoming relocation to TimMac, we have been working closely with Sandy, our liaison at JTC, to see how we can make the move a smooth one. She encouraged us to take this relocation opportunity to implement new technologies in our warehouse as these may help improve our operation workflows.

As we will be moving from a larger land area to an industrial building, space constraint will be a big challenge for us. We hope to address the challenges through the pursuit of new technological solutions, and at the same time also improve our productivity levels. Through JTC's recommendation, we participated in the Industry 4.0 Human Capital Initiative (IHCI) Enabler Programme by Singapore Business Federation and set ourselves on the Industry 4.0 journey.

The Mckinsey consultant that was assigned to us from the IHCI programme helped identify the bottlenecks that we were facing and recommended customised solutions to help address the challenges we faced. The programme has helped us gain many important insights for our digitalisation journey and the programme has allowed us to come up with a customised roadmap to execute our digitalisation plans."
New technologies and solutions to be implemented at TimMac
"The company will be looking to roll out and implement new solutions such as Radio Shuttle System for smart space optimisation pallet storage, Digital Performance Engine, a cloud-based work order tracking system and Cloud Accounting, a cloud-based ERP system. These solutions will allow us to digitalise the different aspects of our operations and better prepare ourselves to move to the new facility at TimMac.
For example, the Radio Shuttle System will help with space optimisation by almost 200% and reduce order loading and picking turnaround time by up to 50%. The Digital Performance Engine will help the company to digitalise its process flows and enable real-time communication among the office, warehouse and delivery teams, as well as collect data for work orders.

This can potentially help increase our labour productivity by 50%. Information from the work orders will be captured by the platform and used for tracking and analytic purposes that can help improve our workflow processes by identifying bottlenecks at each stage. This platform can also provide real-time status updates for our customer work orders.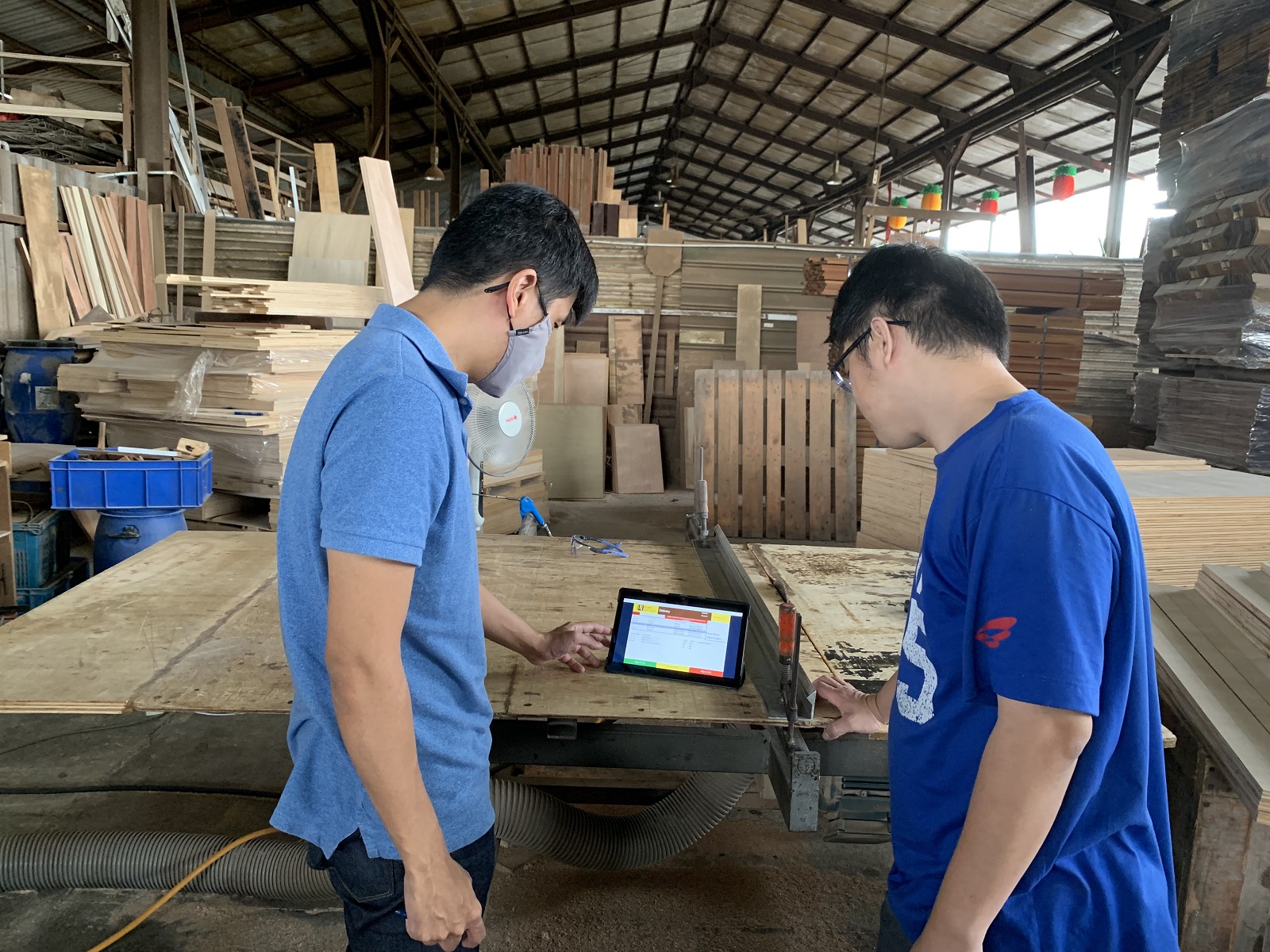 Plony Industries' staff using the Digital Performance Engine at work
Earlier this year, we also further upgraded our accounting software to a cloud-based accounting platform, which will allow our staff to have flexi working arrangements and cover each other roles seamlessly when another staff is away. With these flexi working arrangements, we do not need to stay in the office to get the work done."
Looking towards collaborations to increase efficiency and savings
"On the non-technological front, we have also initiated talks with like-minded partners on the potential for collaboration. As space constraints will be a common issue for most of us, the best way out is to work together and share resources.

For example, we can look at some of the common products that our companies need, and we can each help to stock certain range of products. Not only does this minimise overlapping of resources, it also can help with cost savings as we can purchase quantity in bulk and potentially get a better price. Both parties can save on storage space as well."
Enhancing the value of digitalisation with new talent
"We believe in doing more with less and digitalisation has enabled us to do it with the help of technology. Digitalisation can help traditional businesses evolve into sustainable and profitable entities by cutting down on the unnecessary, while finding precise services and solutions.

For Plony, we encourage our staff to constantly find ways to improve our workflows and processes. In the last five years, we have been expanding our team and recruiting younger staff to complement our current mix of more senior staff.

We have also relooked and redesigned the work scope of our staff and proposed new incentive schemes to encourage them to adopt the new technologies. Many of our senior staff were initially resistant to the changes as they were uncertain about how technology would affect their jobs. Things started to change when they saw that we were able to complete the same amount of work in less time and they could leave work earlier once the job was completed. In short, we were able to use technology to help us achieve more with less resources.

Our staff slowly realised that they were spending less time at work and earning more. That was when they started to change their perspective and became more open to the changes. Having a culture that encourages innovation also allows us to retain and attract younger employees to the company. We are proud to say that the eight new employees that joined us in the past five years are still with us and we are constantly expanding our team to bring in more talent."