Want a bite of the aquaculture industry? Here's what you need to know
Imagine enjoying a dinner of fresh seafood, farmed right in the heart of the city. Instead of growing out at sea, the fish are nurtured in indoor multi-storey ponds. Every element influencing their growth is carefully controlled and optimised – underwater sensors monitor everything from the water temperature to the salinity and oxygen level. Even lighting and water flow are carefully adjusted to mimic natural conditions.
This meticulous and modern approach by Apollo Aquaculture Group (AAG) not only makes it possible to grow marine fish on land, but also increases productivity and yield, says the company's Group Deputy CEO, Mr Lucky Phua.
"Because of the total environment control, we don't need hormones or antibiotics to keep our fish healthy. It's very safe and healthy for consumers," adds Mr Phua.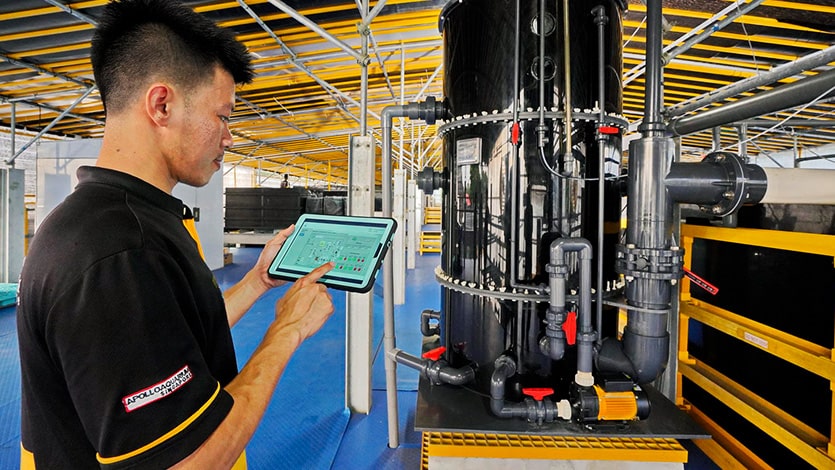 AAG uses a centralised, cloud-based system with automated sensors to remotely monitor and control their fish farms across three sites. The highly controlled process helps them maintain optimal conditions for high-density farming
AAG's tech-enabled urban farming innovation supports Singapore's efforts to be less reliant on imports and produce more of what we eat, especially as the global seafood supply faces threats such as climate change, overfishing and pollution.
Similar agri-food technology innovations will be encouraged at Sungei Kadut's upcoming Agri-Food Innovation Park (AFIP), as part of JTC's plans to reimagine the industrial area to support businesses that are working to boost the nation's food security.
Opening in phases from 2021, AFIP aims to become an urban agriculture and aquaculture technology hub that encourages collaborations and research across the agri-food value chain.
Singapore is an ideal place to develop and demonstrate solutions for food security, especially for inland cities. For Sungei Kadut to be an eco-district, you need to attract relevant agri-tech players by giving them a place to test their innovations.
In high-tech controlled farming environment, optimising the feed ingredients could reduce overall farming cost. Creating the best feed for fishes reared in high-tech farms is one of the growing areas of opportunity in research and development for urban farming players and future entrants/partners in AFIP.
Mr Phua points out, though, that while there are companies looking to get into aquaculture, it is often a challenge for those who are new to rearing fish to fully understand the challenges and concerns.
"In fish farming, you need to take care of the fishes for months without failing. If anything goes wrong and the fishes die, you bear the risk to lose everything" explains Mr Phua. "You need a platform to test first. The more you farm, the more you learn. Today, we're still learning to do things better."
AAG's upcoming eight-storey vertical fish farm at Neo Tiew Crescent will house 96 independent farming systems, which can produce a total of up to 2,700 ton per year when at its full production by 2023. This is about 5% of Singapore's current fish consumption. The farming systems in this 8-tier facility will also help facilitate aquaculture R&D by validating the R&D result in its controlled farming environment.
AAG, a home-grown company, launched its current three-tier fish farm in Lim Chu Kang with a capacity of up to 150 tonnes of seafood including grouper and coral trout in 2015. This was AAG's first foray into the seafood business, diversifying beyond its specialty in ornamental fish since 1969. Drawing from its decades of experience, AAG adapted its existing innovations for freshwater fish, such as a water recirculating system that filters and recycles water for indoor tanks, to grow marine fish for consumption.
Each pond in the multi-storey farm functions as a modular, closed-loop ecosystem, meaning production can be scaled according to consumer demand. "We can put these in the city, find out what consumers want to eat, then grow enough to cater to them," says Mr Phua.
With sensors, automation and other technology powering the system, this tech-driven approach revolutionises what it means to be a "fish farmer". It creates value-added jobs for workers, who can learn to operate high-tech systems, analyse data from sensors and even make adjustments remotely through the cloud-based system.
This could be a key way to attract younger talent to the budding agri-tech sector. "Hopefully, with government support and more success stories, we can attract more Singaporeans with the right passion and skillset to join the industry," says Mr Phua, adding that it is "not true that farming offers low wages".
On their part, AAG offers internships and training programmes for Temasek Polytechnic students in aquaculture engineering, production and support. He describes this as a "win-win situation", as students can learn new techniques and skills, and possibly return to work for AAG after they graduate.
Part of attracting talent is also tied to AAG's preference to be as near the city as possible. Typically, farms tend to be located on huge plots far from urban centres, because of cost concerns. "The land is cheap, yes. Then you set up a farm. Then you want to employ good people, but who will want to go there?" In line with this vision of a liveable workplace with recreational options, the upcoming AFIP at the reimagined Sungei Kadut Eco-District features various lifestyle offerings such as weekend farmers' markets and farm-to-fork cafes.
Looking towards the future, Mr Phua shares that the company will continue researching ways to industralise fish farming safely and sustainably. "Besides increasing our farming output, we also have plans to strengthen our capabilities in hatchery and nursery, farming techniques and technology, and waste management."
Underlying this focus on innovation is the need to keep up with changing tides, with new developments in technology, materials and market demand. "We need to adapt and stay relevant. We cannot be content and stop here – with technology, people are catching up even faster than you think."