Unmanned convenience: Bringing the future of retail to Jurong Island
An octopus with tentacles that are flexible enough to reach many different areas – this analogy sums up Mr Jeffrey Soon's hopes for his one-year-old start-up, Octobox.
It aims to make unmanned convenience stores a norm in places from schools and neighbourhoods, to industrial estates.
Octobox's upcoming Jurong Island store will give the estate's 18,000 workers a new, fast and fuss-free way to shop. They simply scan their palm on a biometric reader to enter the store and select their purchases. When they enter the checkout area, a radio-frequency identification (RFID) system automatically detects all the items they are carrying and generates a price list on screen.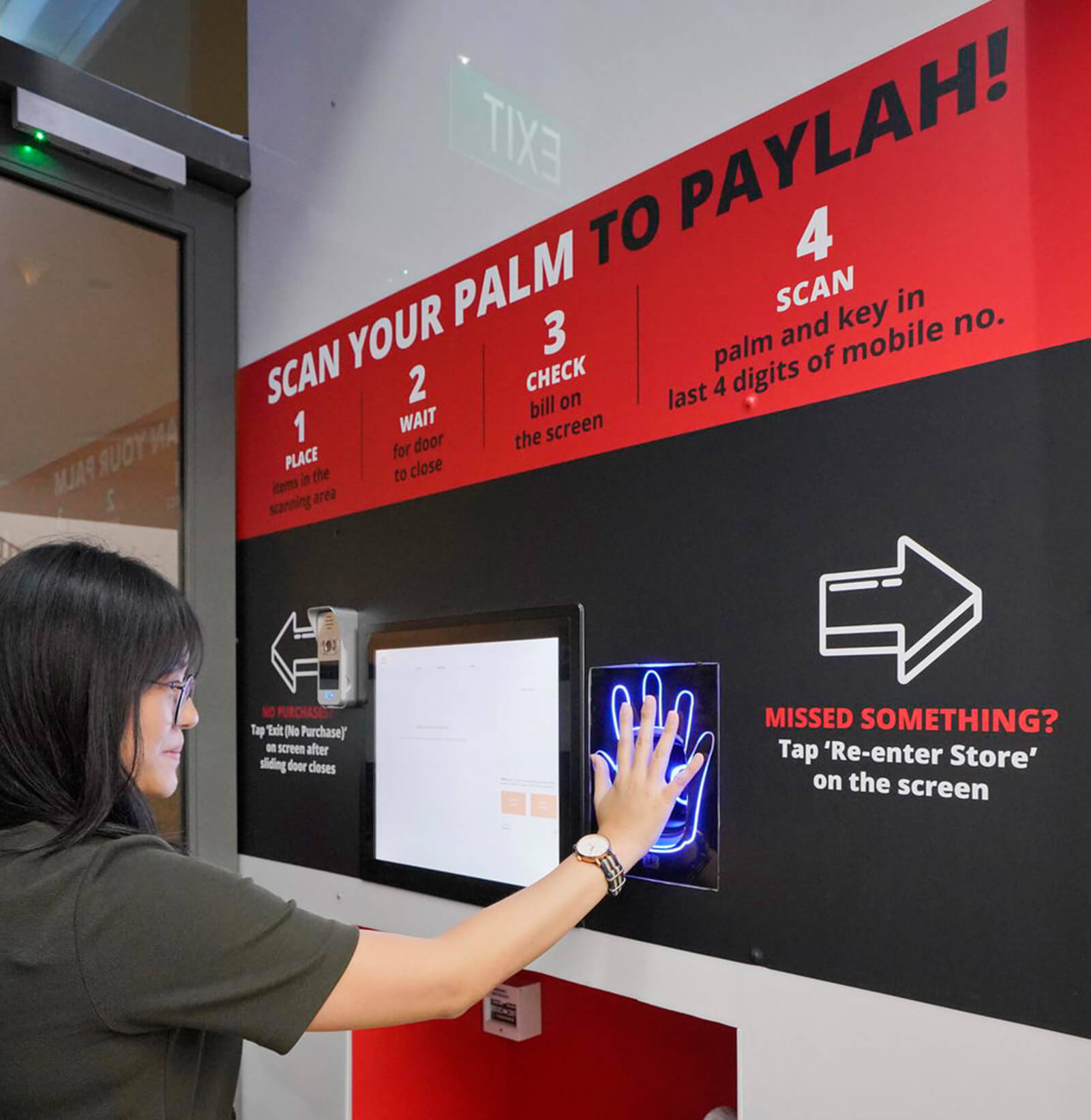 Shoppers are required to scan their palm on a biometric reader to enter the store.
Shoppers are required to scan their palm on a biometric reader to enter the store.
"It works even if you hide the item behind your back," demonstrates Mr Soon, pointing out that every product contains an RFID tag with a cheery octopus graphic – Octobox's logo. This approach eliminates the time-consuming process of having to scan every item's barcode during checkout, reducing queues.
Instead of the traditional model of having at least three shifts of two workers, Octobox only requires one staff to handle the logistics such as arranging the goods and stocktaking for two hours every few days instead.
These cost savings mean Octobox can offer consumers lower prices – a bottle of Ice Mountain mineral water only costs $0.50, compared to over four times that at other convenience stores.
The idea to reinvent convenience stores stemmed from the manpower crunch in the retail industry, shares Mr Soon. "The long hours and night shifts associated with operating 24-hour convenience stores make it tough to hire labour," Mr Soon explains.
Mr Soon and his team came up with the technology behind Octobox after extensive research on overseas models. "We studied similar unmanned stores in China as well as Amazon's Seattle store. In Amazon's case, their set-up cost was too high due to the large number of cameras required to detect the purchased items," Mr Soon shares.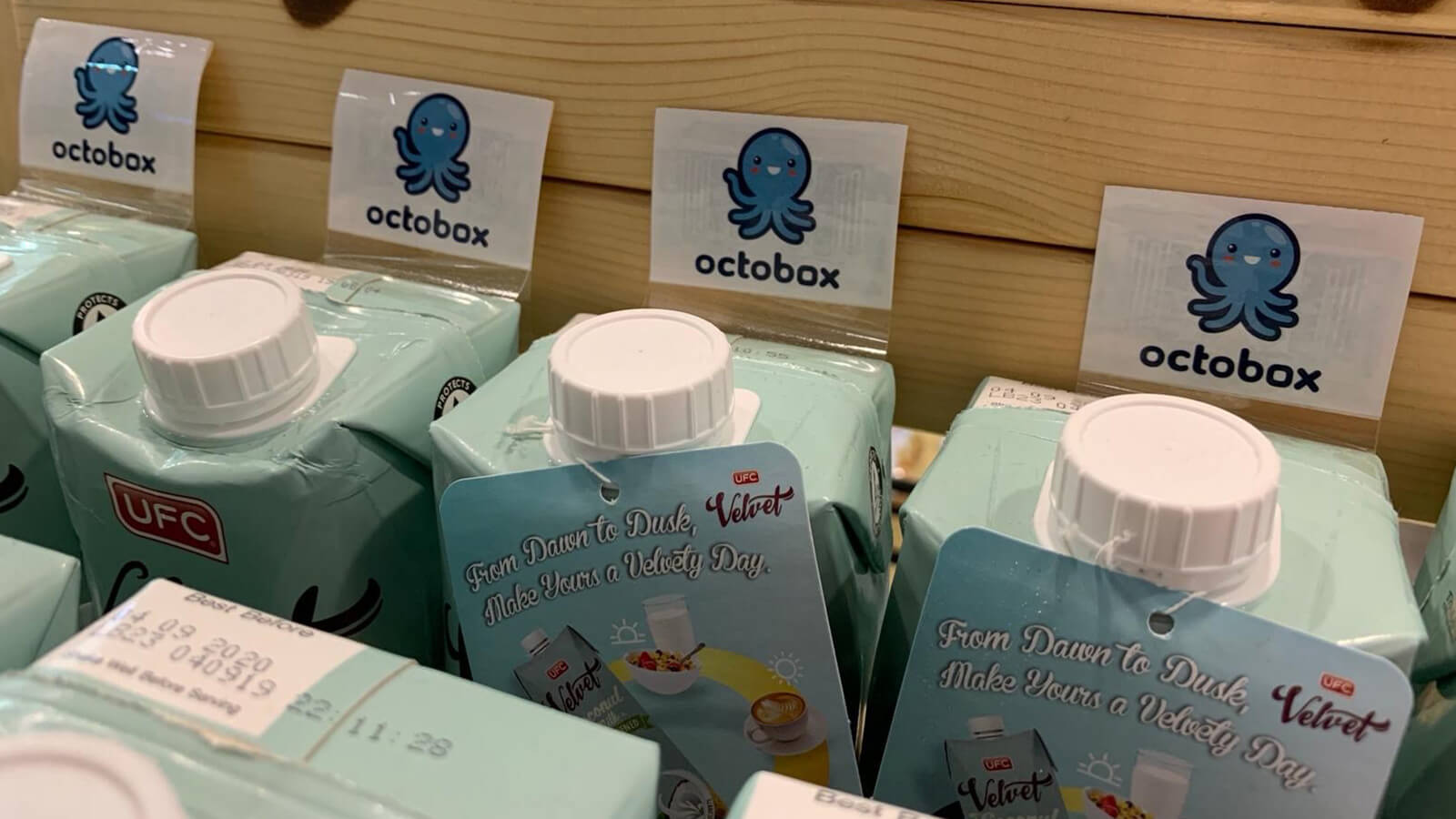 Each product in the store is attached with an RFID tag that is used for payment.
"As for China, some of the unmanned stores are unsuccessful because they lack retail experience and understanding of the customers' needs."
Octobox learnt from these examples to ensure that they balanced both technology and customer experience. For example, they ensured that shoppers do not need to download a mobile app – they only need to sign up for an account the first time they visit any Octobox store, to maximise convenience. Mr Soon's experience and network of contacts from running a wholesale business supplying products to supermarkets also gave Octobox an edge in securing a wider range of products at competitive prices, he added.
Beyond RFID technology, Octobox also utilises data analytics to help it decide which products to sell. Its pilot store at the National University of Singapore's (NUS) University Town was launched in August 2019 and has garnered more than 7,000 sign-ups to date. "Our data tells us that pimple creams and snacks are very popular. Based on this data, we started selling related items such as herbal tea and other pimple products," says Mr Soon.
"The data gathered from our NUS pilot store will also be applicable to other schools. This means that we can replicate the NUS product range in other schools." Octobox hopes to work with more schools and partners, and has plans for another store in NUS' Bukit Timah campus, set to be up and running by end of February 2020. Mr Soon aims to expand the number of Octobox stores to 20 in the next one and a half years.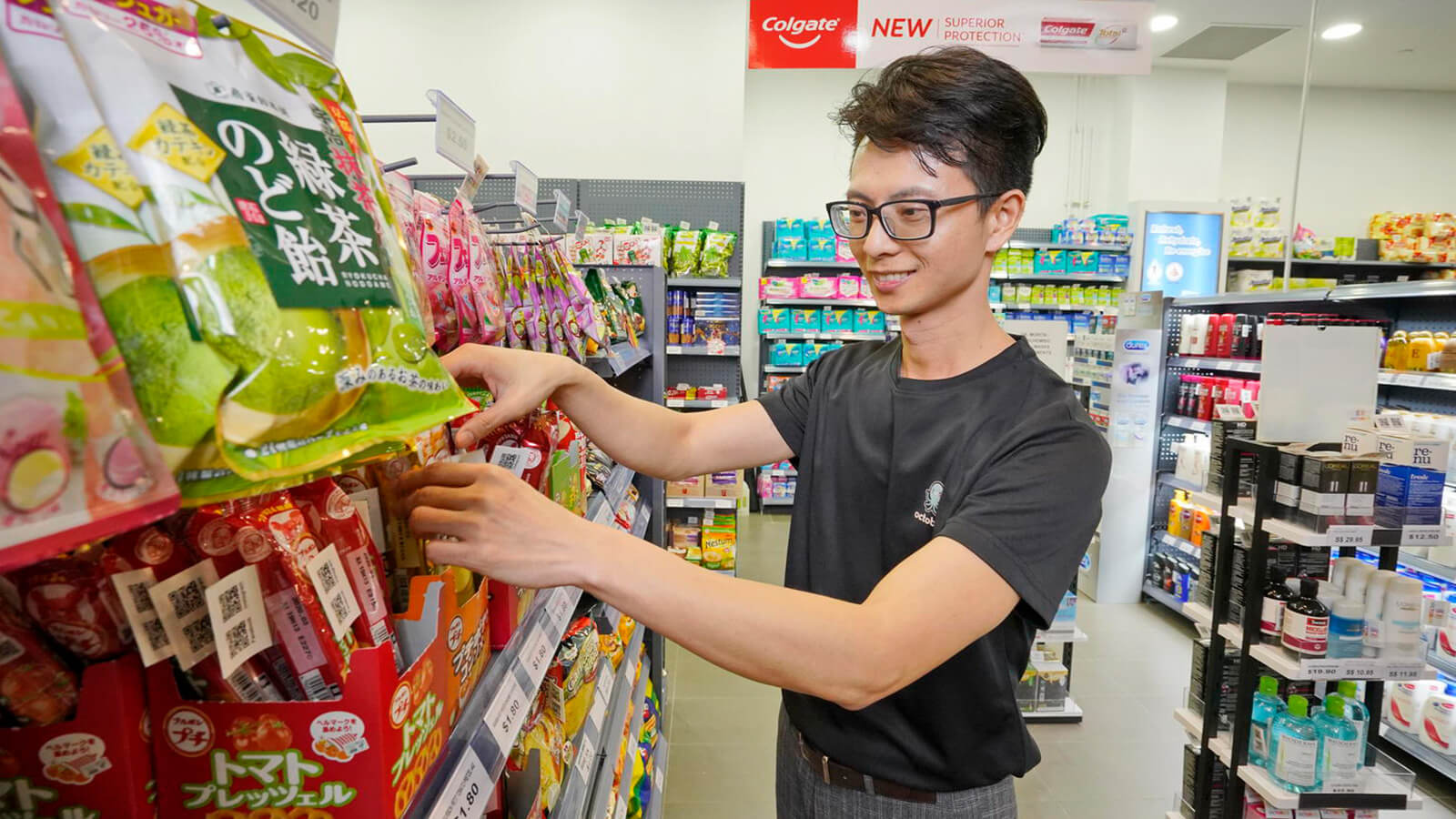 Mr Soon at Octobox's pilot store at NUS.
For the Jurong Island store, which will open in February 2020, Octobox also plans to analyse data and customise their products to provide greater value to customers. One idea could be to stock work tools or safety gear, such as boots, to help workers who might have forgotten their gear. Other innovations that Octobox is exploring include delivering products to workers within Jurong Island, or using robotics to automate the stocktaking process to further cut down on manpower.
What motivates Mr Soon and his team to constantly innovate is a drive to tackle challenges for the future. "The threats we face now will continue to exist even if we do not deal with them, so we need to be brave to take the first step. As Singapore becomes smarter, with robots and driverless vehicles, we can find new ways to tap technology to solve problems."