Meet the head honcho steering her company forward in the electric vehicle market
Ms Coleen Kwok is perhaps the only woman in Singapore's automotive industry who has successfully built her business from scratch. "When I first started, many people had doubts about a woman being in this line," she tells Lianhe Zaobao. "I was a dark horse in their eyes!"
From offering backend servicing support to owning a service workshop, and then selling new cars, Ms Kwok has plied her trade in the automotive sector for the past 30 years. Now, the director of Esteem Performance is making her next big move into the world of electric vehicles (EVs).
Ms Kwok has encountered many difficulties throughout the course of her career. However, change and improvisation can lead to breakthroughs during such moments. Ms Kwok discovered she could tap the help of government agencies to open up new channels – including expansion of garages and exploring EV business in overseas markets. With the government pushing for the adoption of EVs, Ms Kwok sees more opportunities and prospects ahead.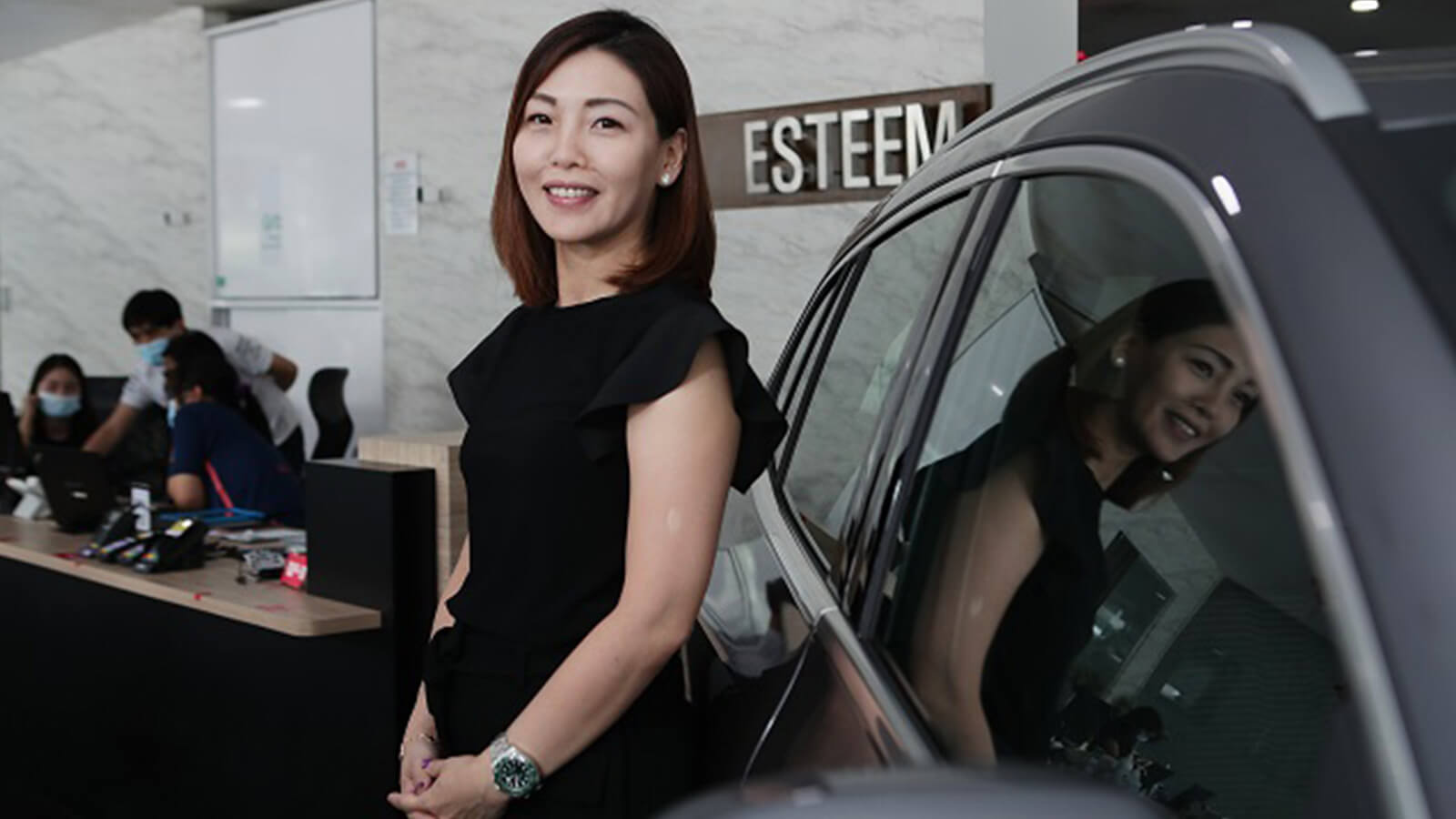 Ms Coleen Kwok, director of auto group Esteem Performance
"In the past, the learning environment wasn't good. No one would teach you and you had to figure things out on your own as you went along. I managed to learn the ropes after 10 years," she says.
Ms Kwok got to know several business owners while she was running various projects as a marketer. When she set up her own business 10 years later and started taking on projects, Ms Kwok brought along two female comrades-in-arms with her. They have remained alongside her since. "I've met many benefactors in my years of running the business, and I am most thankful for this team. They've never once given up on me and continue to work hard together with me," Ms Kwok says.
Even though there was no need for a large capital investment in offering backend servicing support for a big company, the profit margin was low and one still had to cope with rising wages. So at her friend's suggestion, Ms Kwok rented a terrace workshop then managed by the Housing & Development Board (HDB), and opened her own auto service workshop to repair cars for customers. She ran both operations in tandem.
"The first 10 years of starting the business was quite hard. The results were just passable," Ms Kwok recalls. With the lack of a house brand and reputation, Ms Kwok realised that she could not rely on getting customers using only sales tactics, and the number of customers she had gradually fell. She had to find a way out.
"[Business magnate] Li Ka-shing once said that a brand's name should contribute 70% to a company's overall revenue. It hit the nail on the head for us," Ms Kwok says. "We thought of selling cars because customers were slowly becoming fewer due to a lack of brand name. The brand image can be established with the sale of cars, as customers who purchase from the company will also return for maintenance and repair services."
To run their dealership business, Esteem Performance expanded their operations from a garage in Ang Mo Kio Industrial Park to a showroom-workshop in Sin Ming Drive. The start of the dealership business was not all smooth sailing, and business only stabilised a few years later. Ms Kwok felt that she was lucky to have entered the business at a good time when many people were changing cars.
According to Ms Kwok, the willingness to evolve has allowed the company to become what it is today. "I am like a cockroach that can't be beaten dead! We are always changing, from doing business in car servicing to importing. As the company becomes systemised, a staff in charge of processing claims also must learn to procure. Our team is very willing to learn," says Ms Kwok.
She adds: "Whenever we have a new business development, we will send our staff on learning journeys. These include overseas training. The staff will return and impart the learnings to everyone else. Everyone has to learn, keep up with changing times, and gear up for the future of hybrid vehicles and EVs."
SMEs can thrive despite market challenges brought forth by the pandemic
Although Covid-19 has brought forth many challenges to the market last year, some small and medium-sized enterprises (SMEs) are still making bold progress through business transformation and diversification — according to JTC's Enterprise Cluster Group Director Mr Leong Hong Yew,
"These companies have managed to grasp new opportunities and expand their businesses locally. We encourage more SMEs to leverage on the talent and capabilities enhancement solutions provided by our network of partners to support their business growth," says Mr Leong.
After sharing her business expansion plans with JTC, Ms Kwok managed to secure a unit at Sin Ming AutoCare with JTC's help. Her company is now renovating the unit to allow customers to watch a technician do spray painting work behind glass panels.
Providing EV battery repair services at a dedicated centre
Esteem Performance is also in the midst of setting up a dedicated service centre to provide battery maintenance and repair services for hybrid vehicles and EVs. The service centre will be equipped with systems to diagnose every battery unit in a vehicle, and can repair or replace an individual battery unit without having to change the entire set of car batteries.
"We are optimistic about the development of EVs in Singapore. If everyone transitions to EVs, the next generation of talents will enjoy better opportunities here and abroad. As we have adopted EVs earlier, when neighbouring countries such as Cambodia and Vietnam make the transition, our young talents will have the chance to experience growth and development there," observes Ms Kwok. "I hope more young people, especially women, can join this industry. Together, we can pave the way and create a promising future for the EV market!"
This article first appeared in and is translated from Lianhe Zaobao, Page 23, and zaobao.sg, 绿色出行料成风潮 车行"女将"要在电动车市场开创一片蓝天 on 22 April 2021. Any errors, please check back with JTC.