Pressing on in biopharma: How seven companies kept things running despite a global pandemic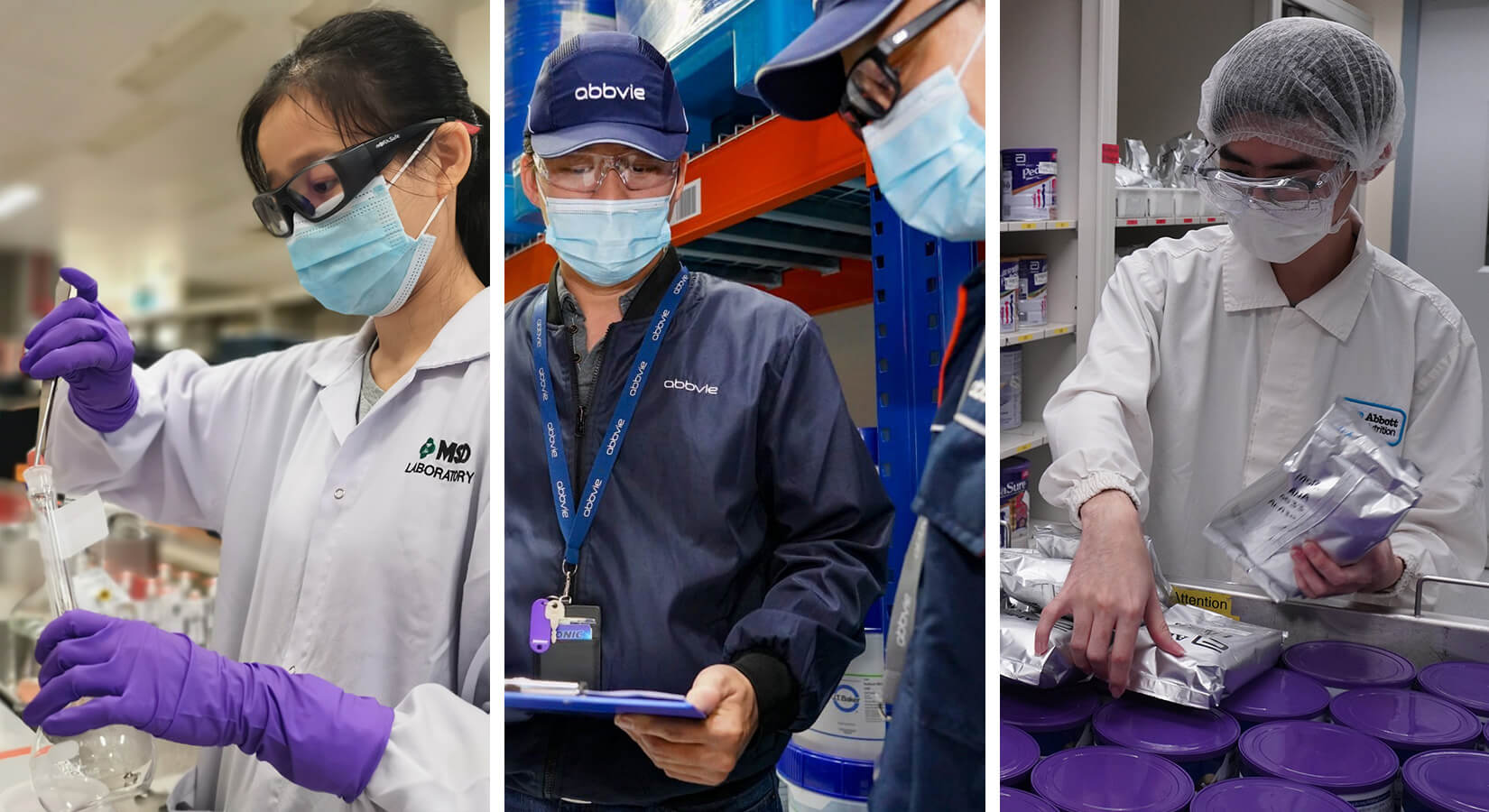 Photo (left to right): MSD, AbbVie, Abbott.
Biopharma plays an often unsung, but essential role in our lives. With COVID-19, lockdowns have disrupted working arrangements and supply chains alike, with mandatory workplace safety measures implemented to protect employees. Amidst these unprecedented challenges, how have biopharmaceutical companies operating in Singapore continued to produce essential drugs for patients worldwide?
Learn how seven companies from Singapore's Biopharmaceutical Manufacturers' Advisory Council (BMAC), an industry group comprising local biologics and pharmaceutical manufacturing companies, have adapted to new regulations while doing their part to spread compassion amidst a pandemic.
1. Continuing production despite supply chain disruptions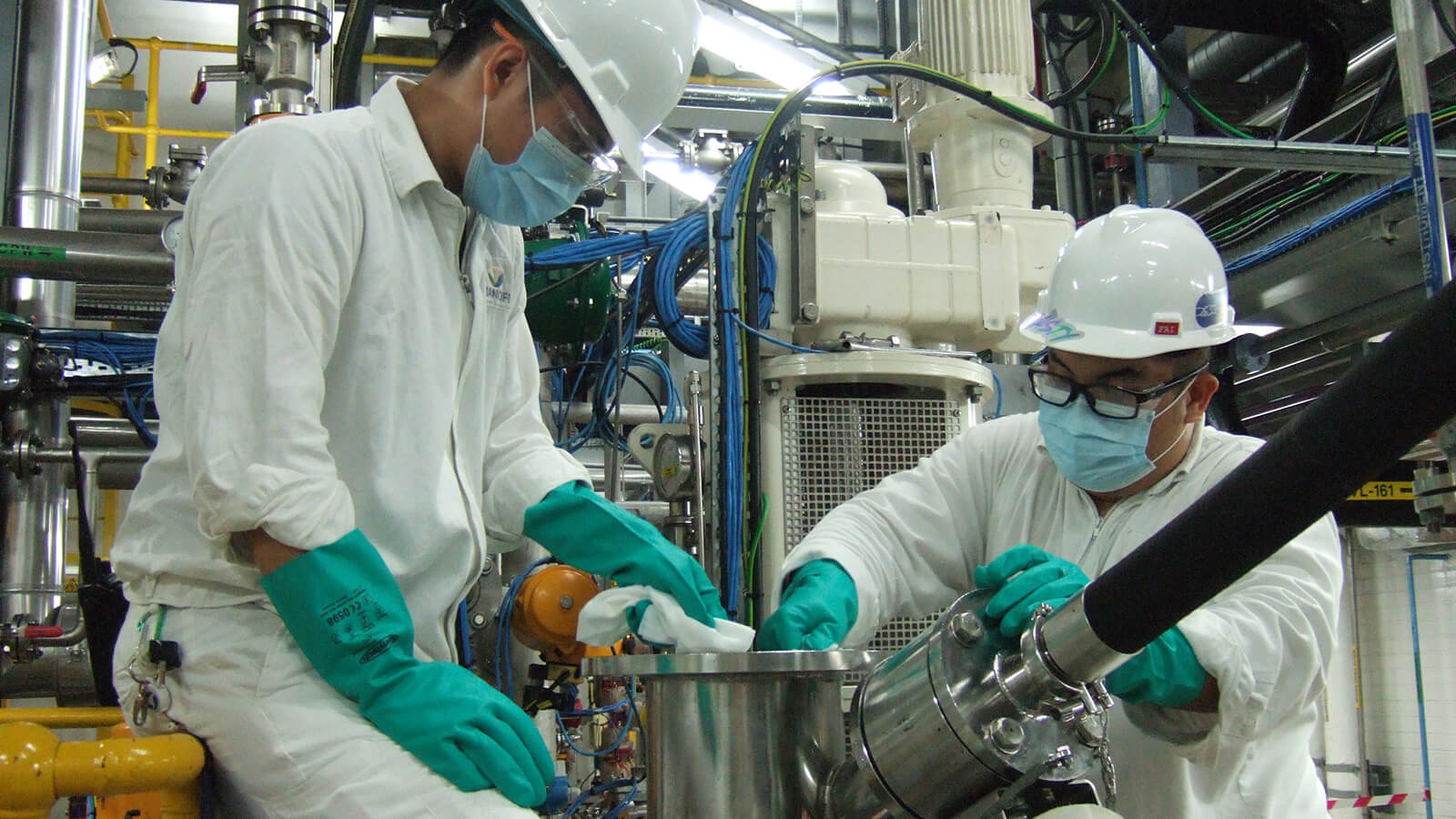 Sanofi's staff masked up while working hard to continue operations. Photo: Sanofi.
With patients relying on the medication produced by biopharmaceutical companies, halting production was not an option — even with a manpower shortage.
When some of their employees were stuck abroad due to border controls in various countries, Sanofi continued to work with reduced manpower to secure shipments and maintain operations.
"Sustaining production and exporting the ingredients needed for anticoagulant medicine was more critical than ever, as they are used to treat existing patients and those bedridden due to COVID-19 who are at risk of getting blood clots," said Johnny Lim, head of Sanofi's site office in Jurong.
2. Ensuring the safety of employees
Social distancing and safety measures for Abbott employees. Photo: Abbott.
With the introduction of safe distancing regulations and other safety measures, firms had to adapt and rethink the way they worked.
For the safety of staff, workers at Abbott's Tuas Biomedical Park (TBP) facility are assigned to different teams. Shift handovers, as well as daily and weekly operations meetings, are held virtually.
Pfizer, too, has made their staff's well-being a top priority. Since the start of the pandemic, the company, which operates across four sites in Singapore, has implemented temperature screening and safe management measures, and set up facial recognition machines at their premises.
3. Looking after workers affected by country lockdowns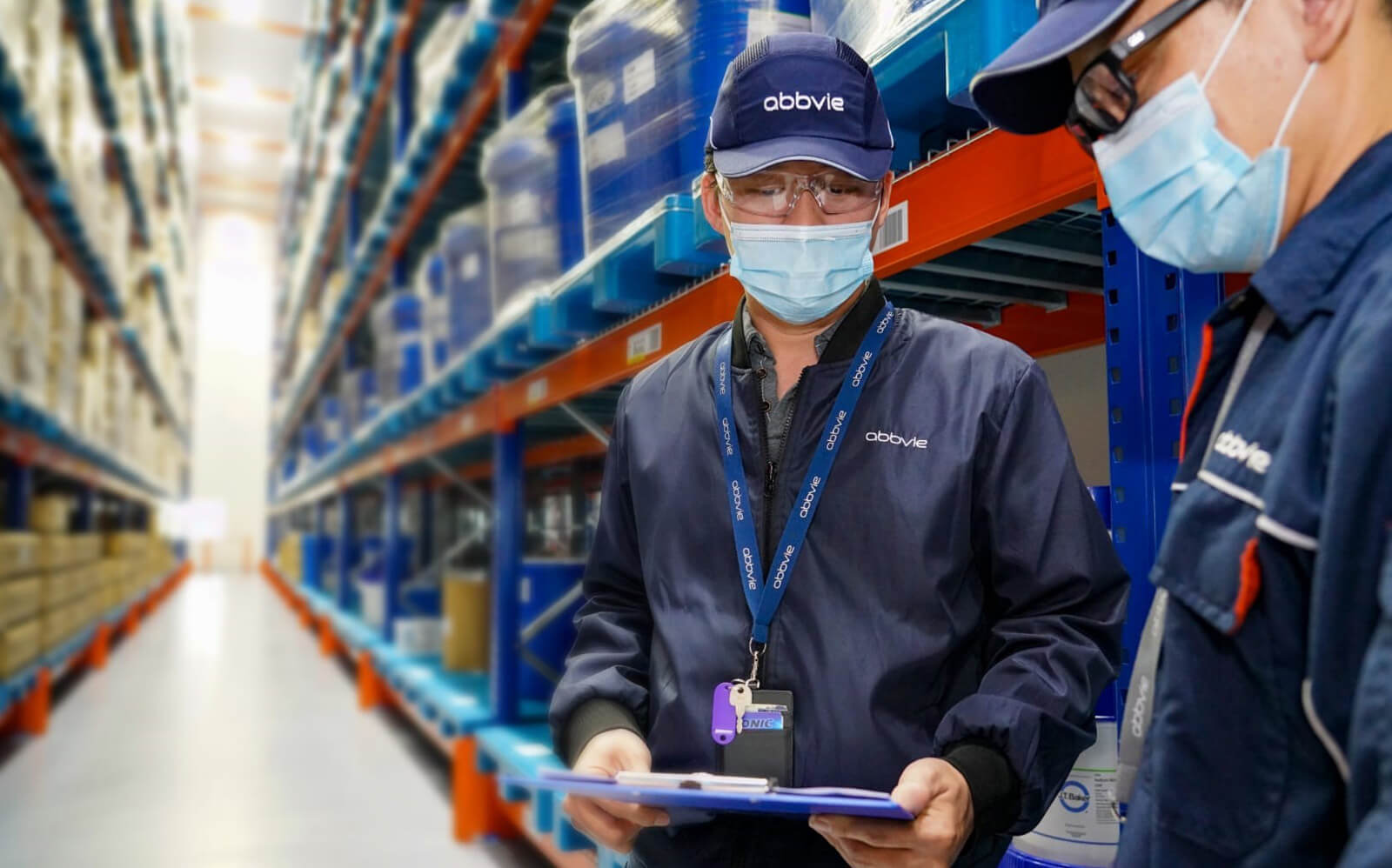 Logistics Manager Mike Ng benefited from accommodation and living expenses provided. Photo: AbbVie.
The announcement of Malaysia's movement control order in March forced people who commuted regularly between Malaysia and Singapore for work to make hard choices.
When some of AbbVie's Malaysian staff were affected by border controls, the company readily provided accommodation and living expenses to support them.
"This is not an easy time, but I choose to remain in Singapore because I believe my work has a direct impact on our patients' lives," said Mike Ng, AbbVie Operation Singapore's Logistics Manager who has been staying apart from his family in Malaysia.
4. Helping staff cope with telecommuting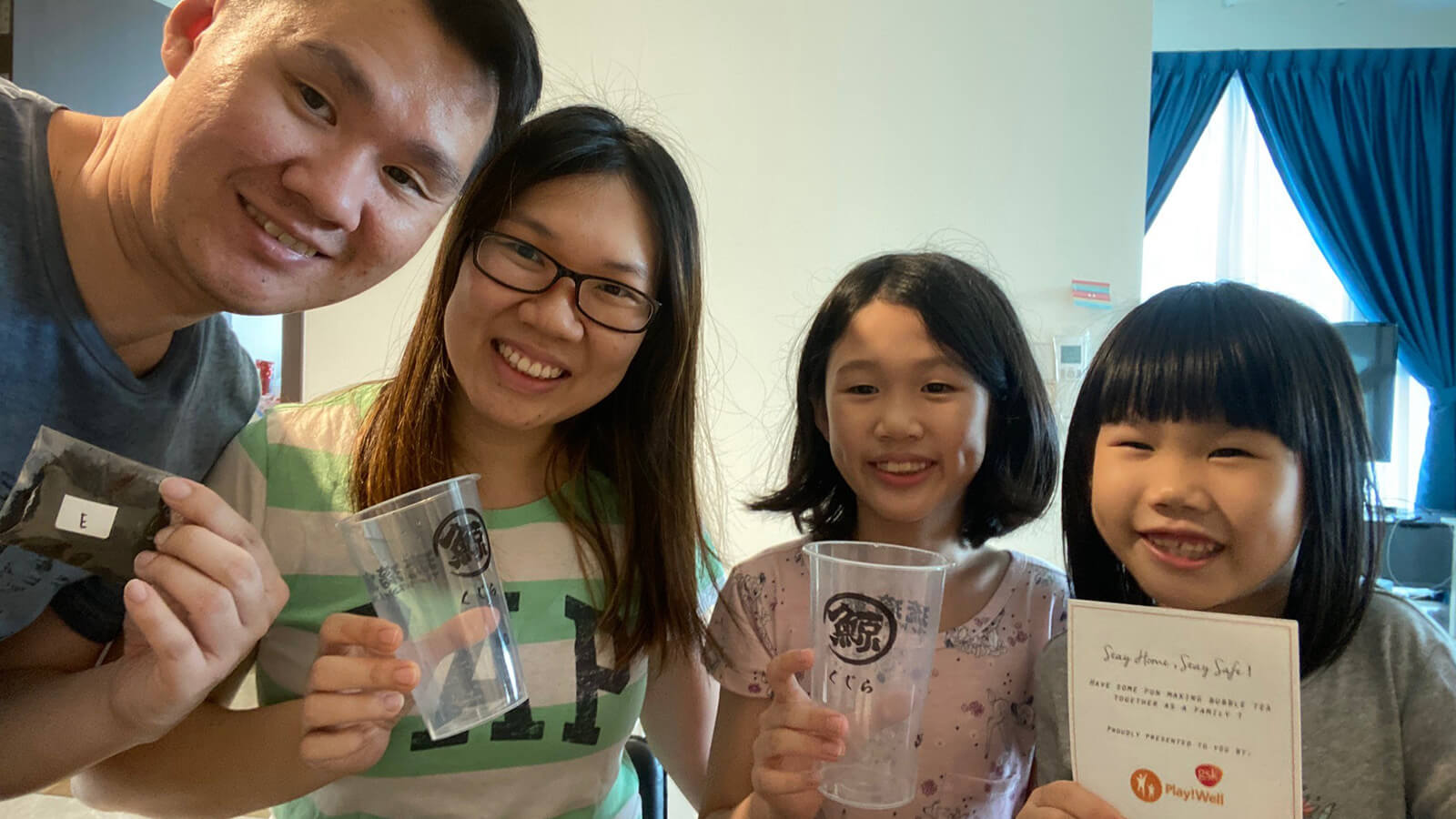 Staff were given bubble tea kits. Photo: GSK.
Companies also rolled out a series of measures to look after the welfare of employees while they worked from home.
GSK, for example, sent their employees DIY activities like bubble tea and leather-making kits to engage staff even as interactions moved online.
The company, located in TBP, also organised developmental programmes on virtual presentations and anxiety management to support employees.
Circuit breaker challenges. Photo: Takeda.
Takeda also focused on employee welfare, especially with their staff doubling down efforts to ensure that operations can continue.
Besides engaging employees via online conversations, the company organised Circuit Breaker challenges to boost staff morale.
5. Giving back to the community
While these companies remained focused on ensuring a continuous supply of medicines and vaccines to patients in need, they did not forget to lend support to the wider community.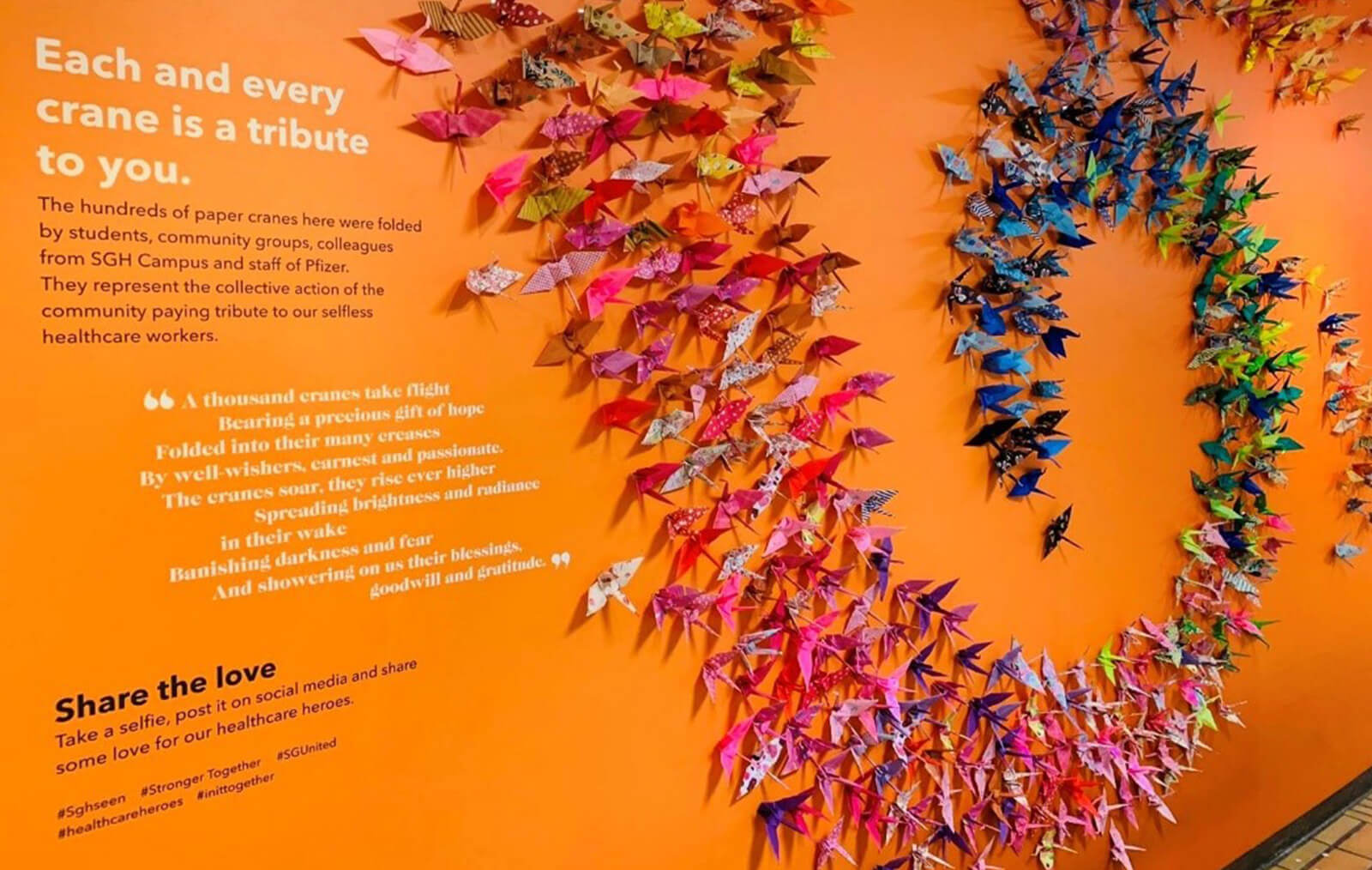 Pfizer's tribute project featured at Singapore General Hospital's Arts Expressions wall. Photo: Pfizer.
Pfizer employees, for instance, initiated a tribute project to salute healthcare workers, where they folded over 1,000 paper cranes. 'Thank You', an exhibition at Singapore General Hospital supported by Pfizer, features this display of paper cranes, alongside other artworks by various community groups and schools.
Meanwhile, MSD, based in TBP, made donations to The Courage Fund, and separately raised funds with other members of the Singapore Association of Pharmaceutical Industries to purchase masks and PPEs for frontline workers and the healthcare community. Currently, MSD is also working with global partners to develop vaccines and antivirals in response to the pandemic.
Takeda, too, donated $3 million of their Job Support Scheme funds to the Migrant Workers' Assistance Fund, ITE, and Temasek Polytechnic. The funds render help to migrant workers in Singapore, as well as support tertiary students who require financial assistance during this difficult time.
Despite the different challenges thrown their way, these biopharma companies have carried on with grit, adaptability and a strong community spirit.