Shielding the frontlines with 3D printing
COVID-19 will be remembered for many things, but not all of them are dire. Businesses across many sectors are showing true grit, quick to adapt despite an upended economy. The additive manufacturing community, in particular, plays a critical role.
With supply chains disrupted and hospitals facing a shortage of personal protective equipment (PPE), manufacturers worldwide have turned to 3D printing as a solution. Similarly, when a hospital in Singapore needed face shields, stat, it approached the National Additive Manufacturing Innovation Cluster (NAMIC) to reach out to its network.
Industry collaboration is key to scaling up production for 3D printing
The challenge of accelerating the volume of production and improving the hospital's existing face shield design for long-wear comfort found its way to Siemens. An industry leader in additive manufacturing, Siemens possessed the know-how to optimise the 3D printing process in order to meet this demand. However, it takes a collaborative effort from the wider additive manufacturing community for the vision to come true.
Fortunately, an established network helped put the pieces together. For a project of this scale, Siemens suggested upgrading the 3D printing technology to industrial-grade hardware and software. Through NAMIC, Siemens connected with partners like HP and Jabil, who provided the necessary machines and technical expertise to carry out large-scale 3D printing.
To increase the output from 200 to 3,000 monthly, Siemens repurposed their production line at its Advance Manufacturing Transformation Centre (AMTC) into a temporary space to mass produce the face shields.
The final product cuts down on wastage with a more sustainable alternative to disposal PPEs, lasting between three to four months. The improved design also allows healthcare workers and volunteers to wear the shields over long periods of time without compromising their comfort.
Pivoting the business to adapt to changing times and demands
This face shield project marked a shift in Siemens' modus operandi. But doing so was not without its roadblocks.
For one, Siemens found themselves in relatively unfamiliar territory, compared to their usual areas of expertise in aerospace and marine offshore.
"Even though 3D printing spans across industries, the biggest challenge for us was [that] the regulations are different for each and every sector," recalls Mr Benjamin Moey, Siemens' Head of Additive Manufacturing (Asia Pacific), Digital Industries.
Manufacturing for the medical sector had different requirements — medical devices must meet the international ISO 13485 standard. While typical 3D printing uses polymer powder, this presents a porosity issue as the shields would contain holes that bacteria and viruses could permeate through.
To solve this, Siemens tapped on Agency for Science, Technology and Research (A*STAR), which was instrumental in helping them obtain the right medical coating layer for these face shields and developing the final product. Mr Moey's team also sought the guidance of hospital clinicians, as well as the Health Sciences Authority (HSA) in Singapore, on regulations for medical grade equipment. Having attained the manufacturer's licence for medical devices, Siemens isolated their production lines for their relevant certifications to produce the face shields locally.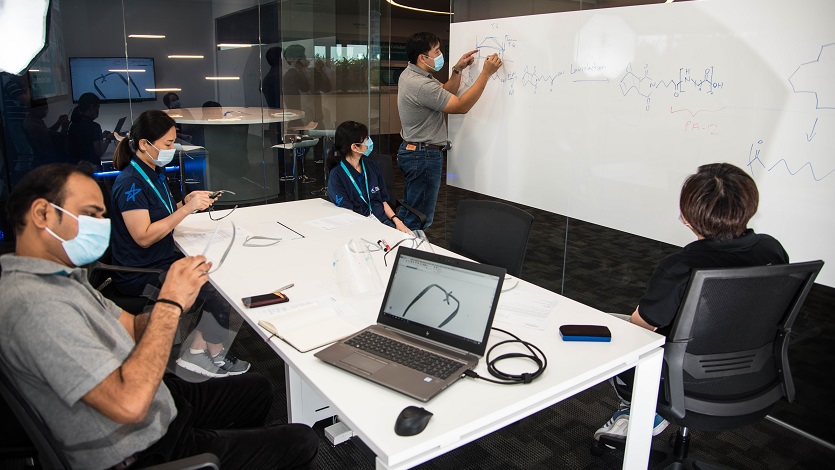 Siemens and ASTAR discussion about the production of the face shields
Despite the stumbling blocks, the whole process took just over a month, including shipping of materials from Japan — thanks to 3D printing technology. Mr Moey believes that this is encouraging for businesses.
"I think the engineer's dream is to see a product in its commercial environment," he says. "When I was a semicon engineer back then, it took anything from a year to 18 months to finally see your product on the line. To see it accelerated within a month [is] something unique and enabling… We have all the tools and software capabilities today that we can harness."
How does additive manufacturing fit in a post-COVID-19 world?
For many, the crisis has brought 3D printing into their lives for the very first time. And this is not about to change; Mr Moey believes this will pave the way for more additive manufacturing solutions in the future.
"COVID-19 has accelerated [companies'] aspirations to digitally transform," Mr Moey observes. "When I first came into the [advanced manufacturing] scene two to three years ago, there was a lot of talk, no action. Now we see more interest in going that path."
The face shield project demonstrates the potential of additive manufacturing, and how it can create solutions for unforeseen challenges in a post-COVID-19 world. Through Siemens' example, it is clear that additive manufacturing has evolved beyond prototyping to actual development of functional parts. This could be the impetus the wider industry needs to drive adoption of such technology.
How can SMEs in Singapore adopt 3D printing?
However, adapting to meet the challenges of the new normal is not as simple as just acquiring 3D printers. He notes that while the infrastructure and tools are already in place, SMEs and MNCs still lack the mindset and know-how to put the wheels for the next phase of Singapore's digital adoption in motion. They also struggle to justify the huge capital investments in industrialised 3D printing.
Hence, centres like AMTC are built to bridge that gap and accelerate the adoption by collaborating with partners along the value chain to bring the right experience and knowledge to allow the industry to grow as a whole.
In the additive manufacturing realm, you really need to be creative - you need to be open minded, you need to throw away whatever engineering basics you've learnt in school and really think out of the box. - Mr Benjamin Moey, Siemens Head of Additive Manufacturing (Asia Pacific), Digital Industries
Besides having the know-how, Mr Moey also advises SMEs to embrace creativity and keep an open mind. "I believe in the new generation where they are a little bit more creative," he says. "In the 3D realm or additive manufacturing sort of realm, you really need to be creative — you need to be open minded, you need to throw away whatever engineering basics you've learnt in school and really think out of the box."
Advancing the future of manufacturing together
Siemens' AMTC, set up to train businesses in digital adoption, will be located in the heart of Jurong Innovation District (JID), a growing advanced manufacturing hub for Singapore and the region. It is home to a thriving ecosystem, made up of industry players with different roles and specialisations to support different stages of the journey towards Industry 4.0.
This strategic location gives innovators and manufacturers like Siemens an ideal platform to share ideas and knowledge with a like-minded community, and work together with this network to drive the progress and adoption of new digital solutions in Singapore and beyond.
Mr Moey succinctly states the importance of having a supportive community within the industry: "No one is able to do this alone. Everyone has a part to play in this ecosystem…so that the industry can grow as a whole."