Business

People, businesses and opportunities. This northern gateway has it all.

A gateway to Malaysia and at the heart of Woodlands Regional Centre, Woodlands North Coast is going to be an economic hub brimming with life and activities. Move here and enjoy the diverse offerings that make this place a top business location.

Business

Your business needs can change. So can our spaces.

Thanks to flexible zoning (the first of its kind), Woodlands North Coast offers you the freedom to adjust the amount of space required for your manufacturing and ancillary activities. Expanding your R&D department? Go ahead. Need room for a protoyping facility? No problem. You can keep your operations all under one roof, even as your business begins to evolve.

Explore 1 North Coast for these flexible spaces.

Business

Vibrant and lively. It's clearly not just another estate.

Cast the old stereotypes aside. This is an industrial estate that feels as dynamic as it looks. Big open spaces. Creative energy everywhere. It has all the vibes of a modern campus which puts you in the perfect mood for innovating or just enjoying life. For an environment that's positively different, this is the place.
Talent

Republic Polytechnic: Your partner for accessing training, hiring and innovating.

With nearly 14,000 students, Republic Polytechnic introduces a massive pool of quality talent literally at your doorstep.

Honed by the Polytechnic's Problem-based Learning pedagogy, these students are known for their creativity, and for their ability to solve problems or devise innovative solutions. Get in touch with Republic Polytechnic and explore how you can tap on their immense potential for your business.

Talent

Republic Polytechnic: Your partner for accessing training, hiring and innovating.

Each time your employees need to pick up new skills, or upgrade themselves through industry-relevant training, just pay your academic neighbour a visit.

Republic Polytechnic's Academy for Continuing Education (RP ACE) offers a broad range of over 200 training programmes. Enrol in industry-specific courses, or empower your employees with skills in emerging areas such as data analytics, advanced manufacturing, digital media, tech-enabled services and urban solutions.

Talent

Republic Polytechnic: Your partner for accessing training, hiring and innovating.

When it comes to industry-academia collaborations, things couldn't be easier for you.

Partner Republic Polytechnic and leverage their multi-disciplinary expertise to develop innovative solutions, improve productivity and drive capability development. With their help, you can even create prototypes to test-bed right in the estate.
Play
Fun and relaxation are all around you.
North Coast Vista
This 750 m car-lite boulevard runs from one end of Woodlands North Coast to the scenic northern coastline.
Go on a leisurely bicycle ride. Or indulge in some retail therapy at the shops lining the pathway. Wonder why there aren't many vehicles around? That's because commercial vehicles use a dedicated network that operates underground. Efficient for business and pleasant for pedestrians. It's just another design feature that makes everyone feel great at Woodlands North Coast.
Parks and Panoramic Coastline
You don't have to be a nature lover to be wowed by Woodlands Waterfront Park. Besides magnificent views of the sprawling 1.4 km coastline, there are quiet spaces and activity areas that you can enjoy. Just a stone's throw away is the iconic Admiralty Park where greenery, a river and playground slides make it an irresistible visit for families.
Nostalgic Bungalows
For a little trip back in time, head over to the colonial-era black and white bungalows that stand proudly among the contemporary architectures. Soon to be adapted into lifestyle destinations, the iconic structures let you experience a little of Woodlands' past while appreciating everything the modern hub has to offer.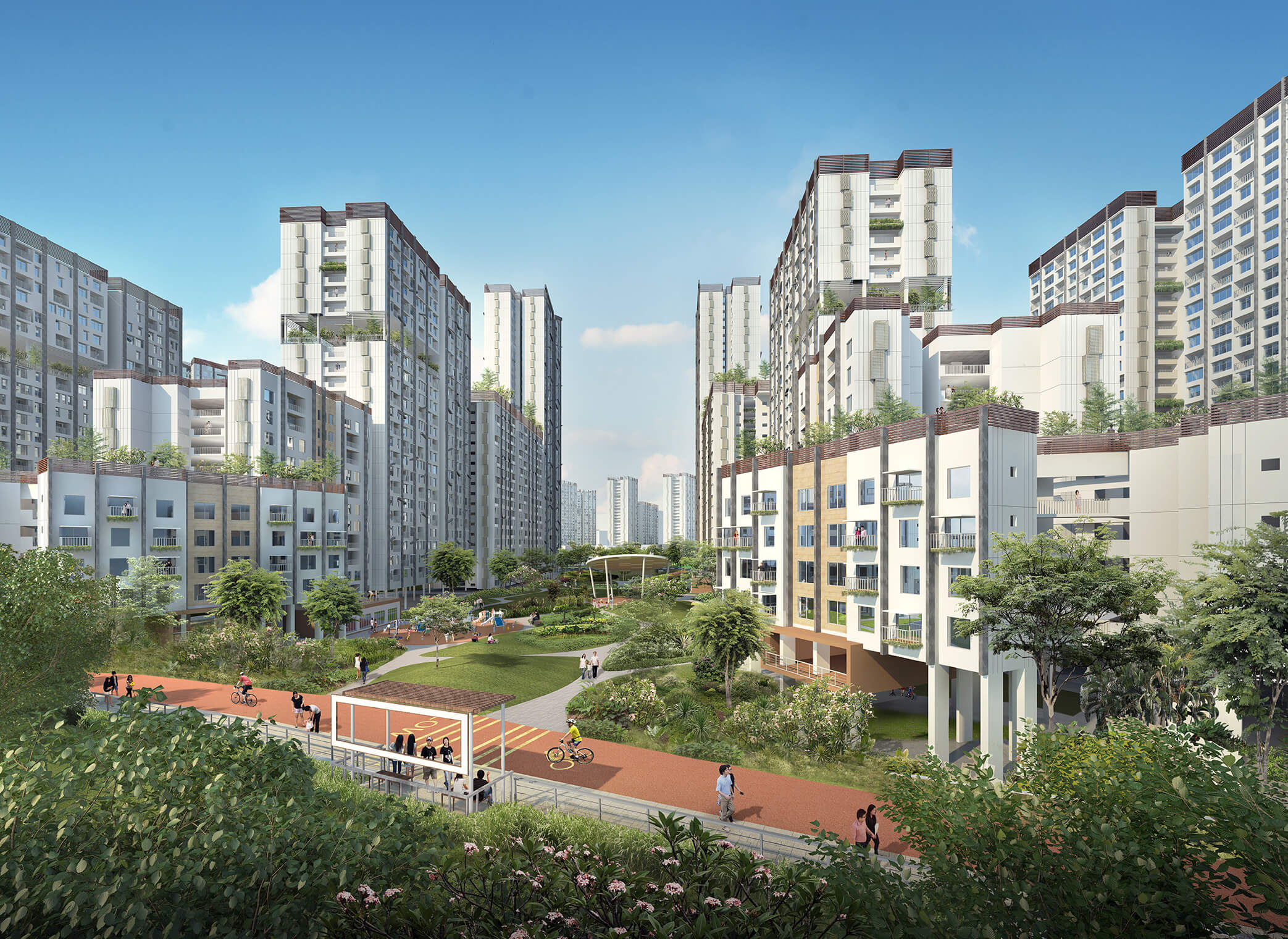 Live
Residences and talent galore.
With several housing estates within walking distance, plus another 10,000 new homes to be added soon, you and your employees will have no lack of choices when it comes to living near your workplace.
Woodland's plentiful housing also means you'll have an impressive mix of residents seeking jobs at Woodlands North Coast. The talent you've been looking for will soon come knocking on your company's door.
Seamless Access
Reach anywhere, any time, easily.
Causeway and Rapid Transit System (RTS)
If you often do business in Malaysia, or has a sizeable workforce from across the strait, locating here will be a big advantage.
For one, the Causeway is just around the corner. And by 2026, the much anticipated RTS linking to Johor Bahru will be in operation, making intercountry commuting even faster and easier.
Multi-modal Transport Hub
Largest in Singapore, the multi-modal transport hub connects the community to the RTS, the Woodlands North MRT station and the future bus interchange. Woodlands MRT station, also near the estate, is another convenient transportation option for you and your workers.
A. Woodlands North MRT Station (Thomson-East Coast Line)
B. Woodlands MRT Station (Thomson-East Coast Line & North South Line)
Expressways
Doing deliveries, transporting supplies, or just going for meetings. The three cross-island expressways (BKE/KJE, CTE/SLE and TPE/SLE) passing by the estate will get you to your destination with the least hassle.