3D printing: a dawn for surgical implants
3D printing is a technological advancement that is disrupting the manufacturing industry.
Founded in 2003, Osteopore International produces bioresorbable 3D-printed implants to replace conventional metal implants and help patients with bone regeneration after surgery.
According to Dr Lim Jing, Chief Technology Officer of Osteopore International, most surgical implants on the market today are made using polymers such as Polyether ether ketone (PEEK) and titanium alloy. These materials cannot be absorbed by the human body and may cause complications five to eight years post-surgery.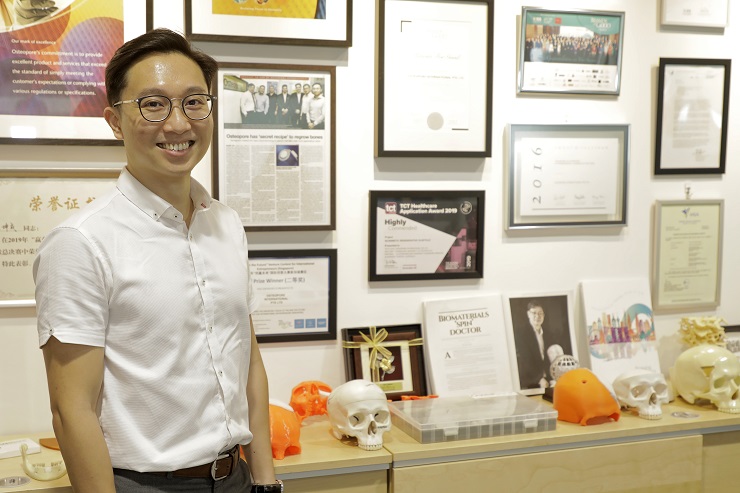 According to Dr Lim Jing, the use of bioresorbable materials in 3D-printed implants reduces post-surgery complications and allows patients to recover faster. (Photo: zaobao.sg)
"Our competitive advantage lies in two core aspects: our 3D printing technology, and the use of degradable materials."
"When we combine these two technical aspects, we can produce a bioresorbable product that allows blood vessel infiltration through the 3D-printed biomimetic microarchitecture, thereby promoting bone recovery. Over two years, the implant gradually disintegrates into carbon dioxide and water, which are naturally metabolised. This can completely prevent or reduce the adverse effects of having a permanent implant in your body," explains Dr Lim.
Customisable 3D printing: A world of diverse applications
Surgical implants can be customised through 3D printing based on the needs of different surgical procedures. Using the Singapore market as an example, 3D-printed implants are mostly used in the treatment of traumatic injuries or bone damage following tumour removal surgery. Examples of such surgeries include skull and orbital floor reconstruction. By using 3D-printed implants, a good fit to the defect can be achieved; this makes it easier for surgeons to perform the implant procedure while reducing the risk of post-surgery complications. These 3D-printed implants can also be used in dental surgeries to help patients recover in a shorter period of time.
The product's versatile design and use of degradable material have driven its demand, and it is currently distributed in many markets, including the United States, Australia, South Korea, Vietnam, and Thailand. In South Korea, 3D-printed implants are mostly used in plastic surgery procedures such as rhinoplasty, where the product is inserted into the nasal tip. Over time, the body regenerates tissue in the area, preventing the problem of shifting or collapsing that may occur with silicone implants.
As market demand increases, Osteopore is also looking at ways to improve its production processes. At JTC's recommendation, Osteopore participated in a 20-week programme specially designed by McKinsey & Company, a leading global management consulting firm, for medical technology (medtech) companies. The programme is part of Industry Connect, an initiative introduced by JTC in 2020 aimed at providing more opportunities for enterprises located in JTC estates to connect with Industry 4.0 network partners, thereby creating new business opportunities and elevating employee skills.
Through this programme, Osteopore's has managed to improve its low-efficiency production processes. Monthly production has increased from approximately 1,000 units in the past to 2,700 units at present. Even when half the staff strength could not be deployed to work between March and May this year at the height of the Covid-19 pandemic in Singapore, Osteopore still saw a steady increase in production output.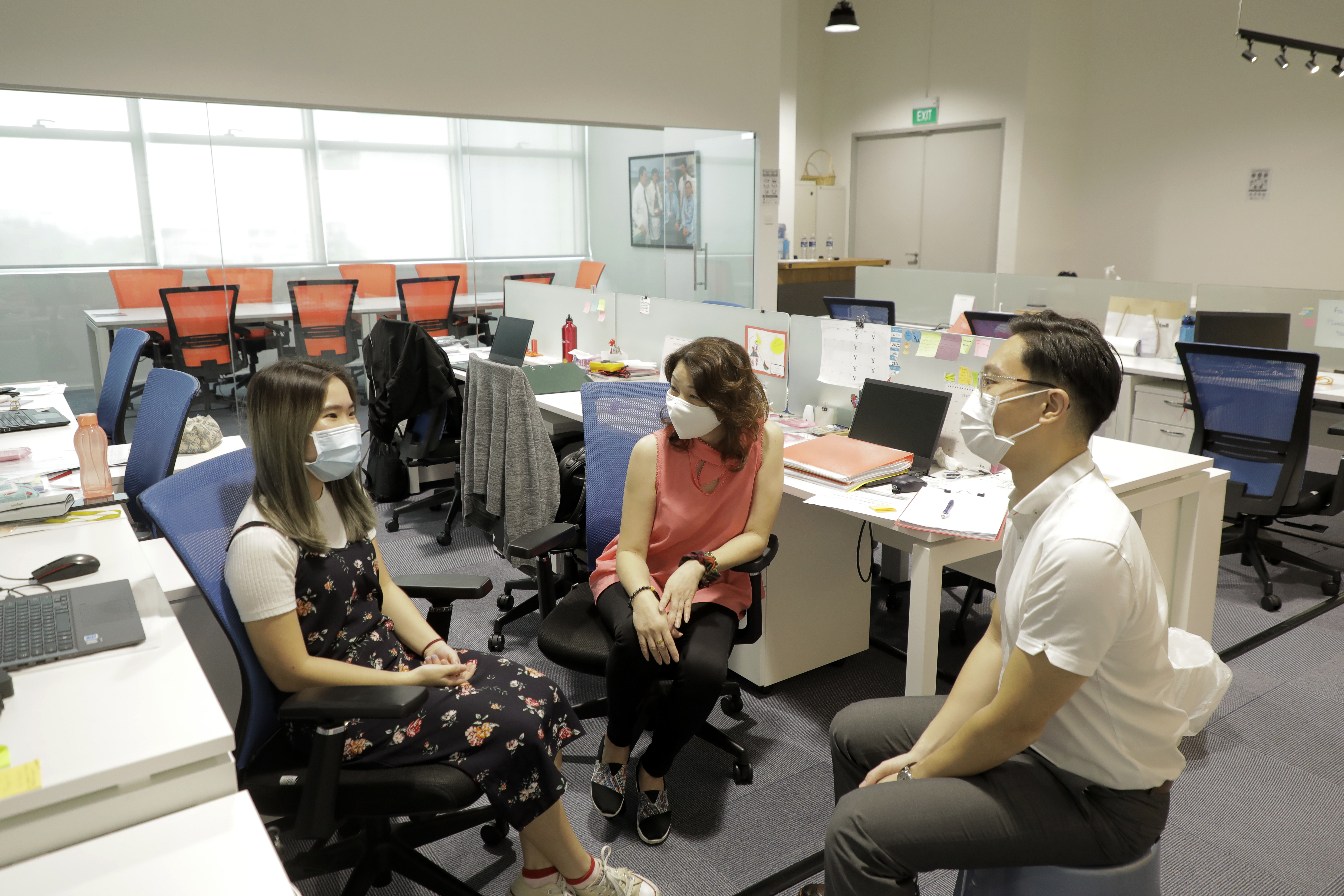 Dr Lim Jing (right) notes that building a "smart factory" does not mean that employees will be replaced by machines. He regularly communicates the importance of upskilling to his employees, such as intern-turned-full-time employee Ms Vivien Cheng (left), and older workers like 55-year-old Ms Perlin Lim (centre), a hairdresser-turned-3D printer production operator. (Photo: zaobao.sg)
Embarking on the Industry 4.0 journey: Placing greater emphasis on staff retraining
"The aim of Industry 4.0 is to combine different production technologies and processes and analyse them using Artificial Intelligence (AI) to create a smart factory. This smart factory has the ability to adapt, predict, and improve resource integration efficiency," says Dr Lim.
When it comes to Industry 4.0, employees are most concerned about job security and if they will be replaced by machines.
To Dr Lim, such concerns are misguided. Even though moving into Industry 4.0 may result in a decrease in manual labour production, companies should still set up programmes to upskill their employees and enhance their abilities to analyse data, he elaborates.
At the moment, 50% of Osteopore's employees are aged 30 and below, while 30% of the staff are above 50. This age distribution shows that the company's labour pool deviates from the stereotype of an ageing workforce in the manufacturing industry. The main reason for this relatively younger staff profile lies in the company's decision to tap on various government support plans to attract younger talent. 22-year-old Ms Vivien Cheng, who joined the company as a full-time Production Technician after completing a five-month internship programme, is one such example.
From intern to full-timer: Maximise learning opportunities in your youth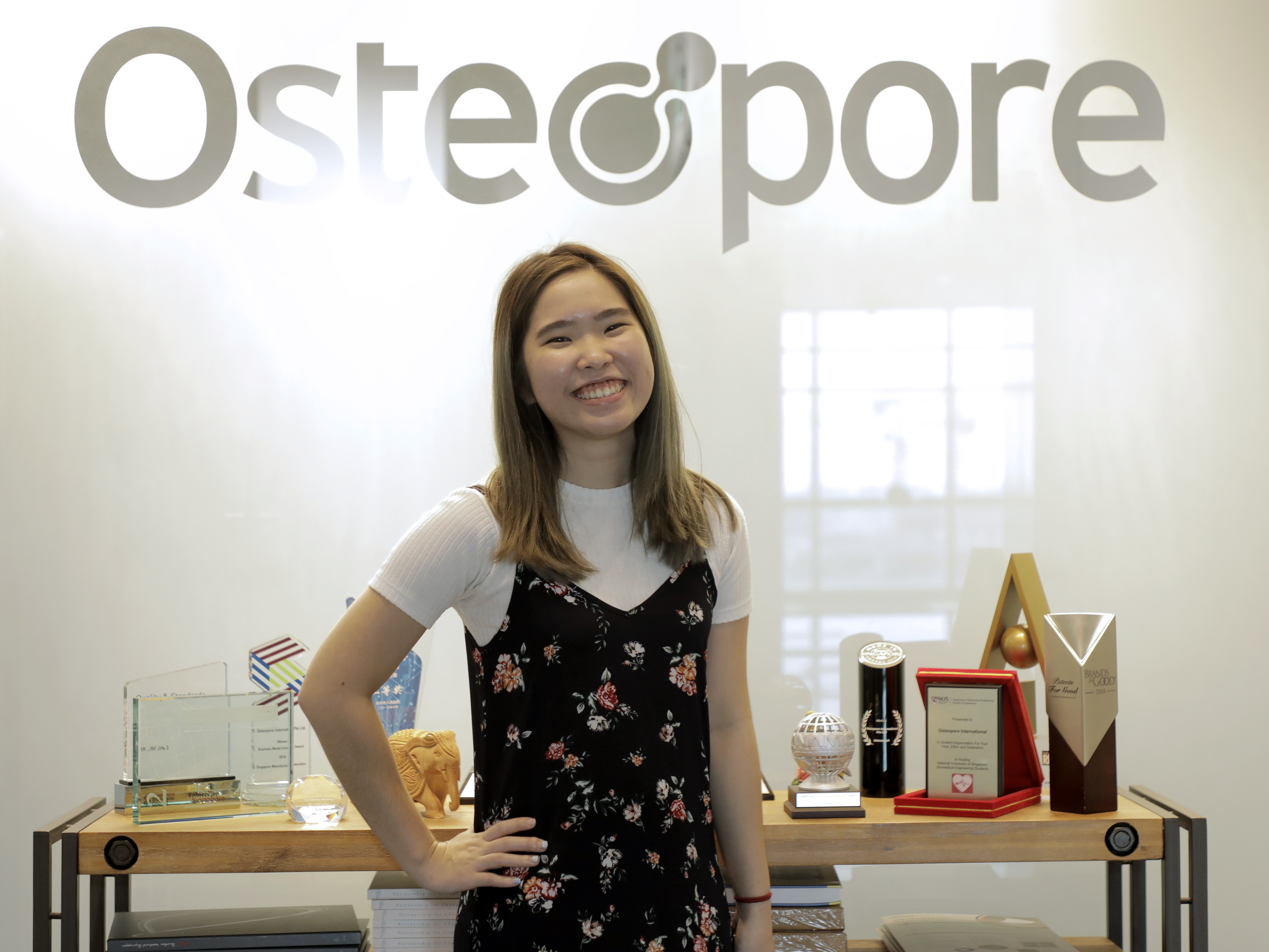 Ms Vivien Cheng, a graduate of Republic Polytechnic, chose to major in Materials Science because she was optimistic about the future potential of 3D printing technologies. (Photo: zaobao.sg)
Ms Cheng graduated from Republic Polytechnic where she majored in Materials Science. Optimistic about the future potential of 3D printing technologies, she was thrilled to join Osteopore. Her current job scope includes operational planning of the company's 3D printers and serving as the first touchpoint in the quality control process.
"I was nervous when I first started the internship as I had to liaise with many people outside of school, including suppliers and distributors. But that was just a transitional phase, and my confidence has grown as I connected with them more frequently. Since I joined the company one year ago, I've been gaining new knowledge every day. The company sends us for different types of training, which makes us feel that it cares about our growth," says Ms Cheng.
Ms Cheng's relatives and friends were initially doubtful of her decision to join the manufacturing industry. One such instance was when they knew that one of her duties include "managing the cleanroom".
"My aunt thought that I had to clean the rooms, but I explained that because the company makes surgical implants, production needs to take place in a sterile and safe environment, so 'managing the cleanroom' has a significantly different meaning from what they originally understood," Ms Cheng says with a smile.
A new lease of life: Giving older workers a chance at building second careers
Ms Perlin Lim, 55, worked as a hairdresser for more than 20 years before she joined Osteopore as a Production Operator over two years ago. Back then, she was seeking employment when she came across the company's recruitment notice. Even though she had no relevant job experiences, Ms Lim mustered the courage to apply for the job because of the convenient work location and flexible work hours. She confesses that she had never thought of joining the manufacturing industry as it is vastly different from her earlier career path.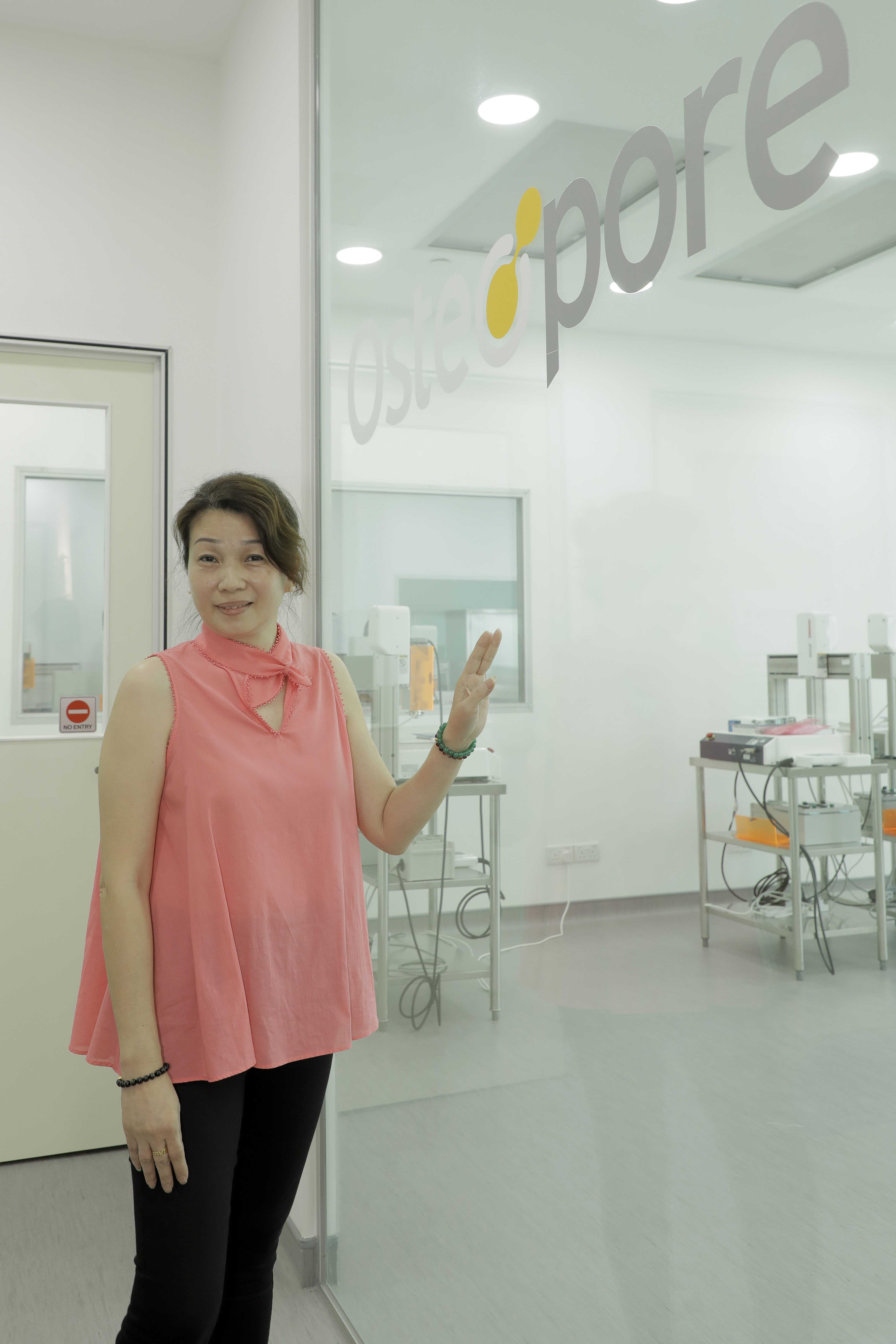 It took Ms Perlin Lim several months to pick up mechanical operations and application of digital technology. She is surprised that she managed to overcome her initial fears and can now operate 3D printers expertly. (Photo: zaobao.sg)  
It took Ms Lim several months to learn about mechanical operations and application of digital technology, which were undoubtedly challenging for her. Despite her initial trepidation, she eventually overcame her fear of digital technology under the patient guidance of her superiors and colleagues.
With the company's training, Ms Lim is now able to manage 3D printer operations such as real-time monitoring, production data input, and product quality monitoring, among other duties. She is surprised by her abilities to fulfil these responsibilities.
Regardless of age, if you are willing to take the first step, just like I did, you will not regret it. - Ms Perlin Lim, Production Operator, Osteopore International
According to Dr Lim, the company does not have special prerequisites when it comes to hiring older workers. As long as the employees keep an open attitude towards learning, Osteopore is willing to provide training so that older workers can get a greater sense of purpose from their work and in their lives.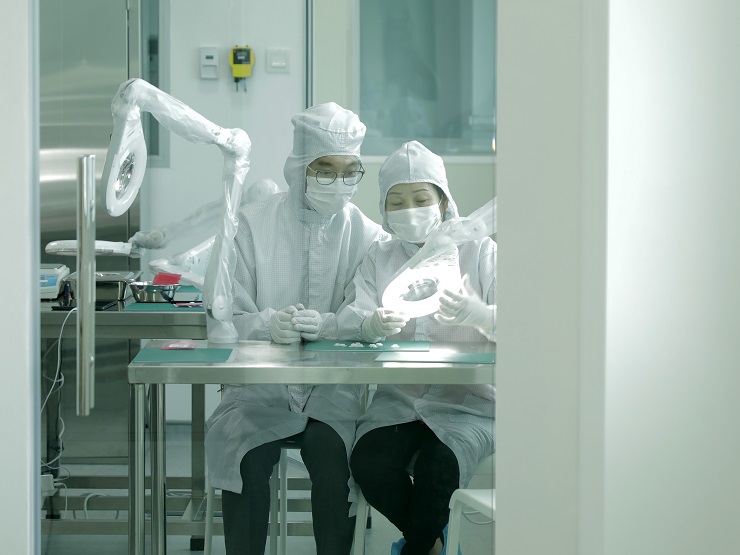 From hairdresser to production operator, Ms Perlin Lim (right) is deeply aware of the importance of upskilling. With her is Dr Lim Jing (left), Chief Technology Officer of Osteopore International. (Photo: zaobao.sg)
As the era of Industry 4.0 approaches, Dr Lim believes that businesses must continue to fine-tune their workflow and production processes. More importantly, there should be more emphasis on employee training, especially in areas such as digital know-how and application. Research and analysis can also be utilised to improve production systems so that they meet the needs of economic transformation.
Get a glimpse into the world of 3D-printed surgical implants in this behind-the-scenes video