Get Trained in Industry 4.0 at Jurong Innovation District
31 July 2019 - Even with the advent of Industry 4.0 technology, many small and medium-sized manufacturing firms in Singapore still find it difficult to put these in action, shares Mr Raymond Toh, general manager of Bosch Rexroth, a global supplier for drive and control technologies.
"While many companies have expressed enthusiasm in embracing automation and data generation in their processes, many still find it difficult to integrate disparate solutions available in the market, let alone deploy them on site to generate data-driven insights, which is an essential outcome from Industry 4.0," says Mr Toh.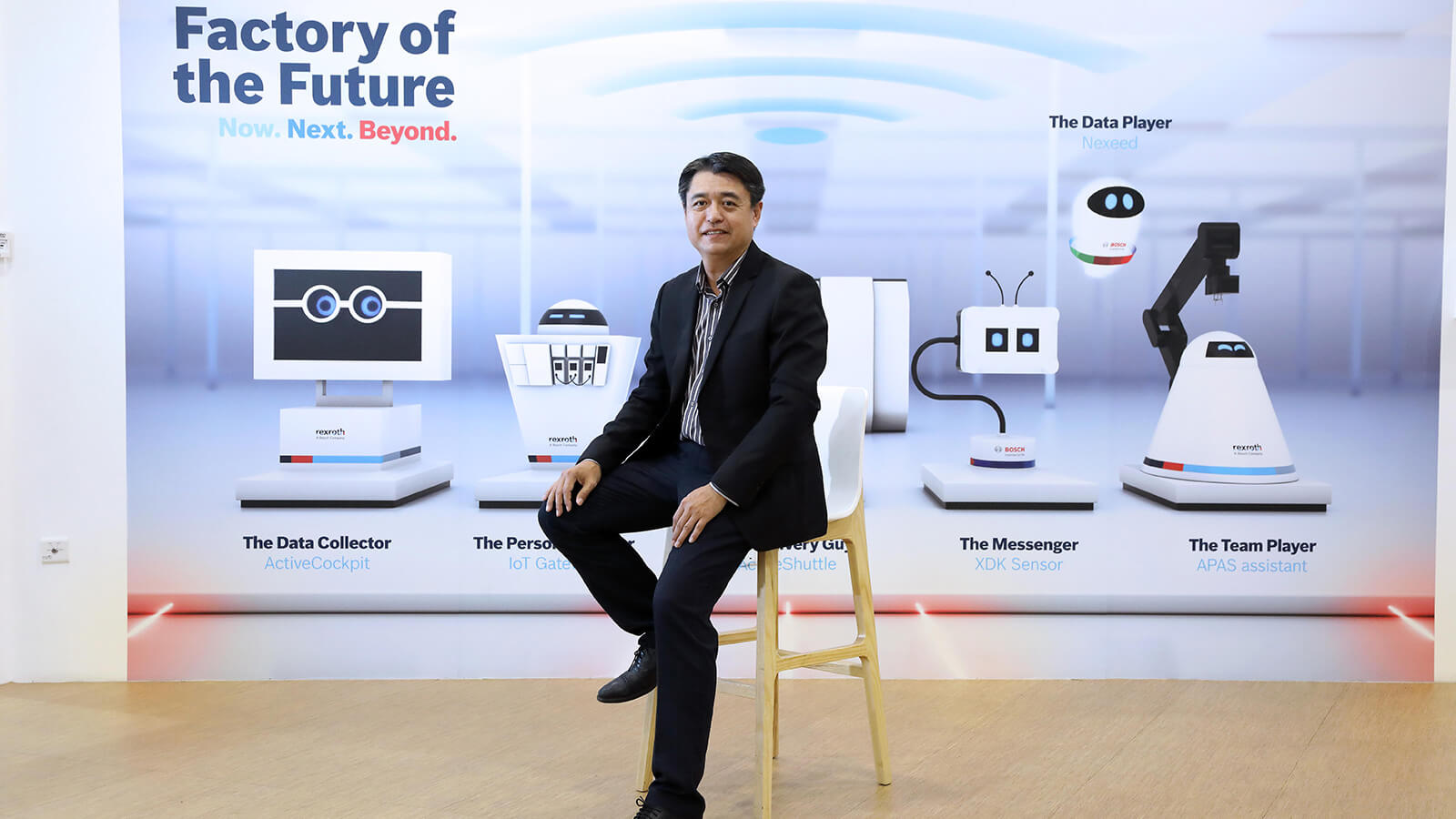 Mr Raymond Toh, General Manager of Bosch Rexroth
A new training centre by Bosch Rexroth in Jurong Innovation District (JID) seeks to be the game changer by teaching companies the ropes of Industry 4.0.
Expected to be ready by July 2020, the Bosch Rexroth Regional Training Centre is a tie-up between Bosch Rexroth, JTC, SkillsFuture SG, Singapore Polytechnic (SP) and Singapore Chamber of Commerce.
This centre will be the first in Singapore to offer the Industrie 4.0 Specialist course – a German federal standardised training programme on Industry 4.0. It was developed by Bosch's experts in Germany together with the Chamber of Industry and Commerce Region Stuttgart. The five-module course aims to give industry players a strong foundation in the fundamentals of Industry 4.0 so they can apply the methods and technologies to their workplace. SP trainers will lead the programme here, after undergoing training by Bosch Rexroth's German experts.
The parties involved in the centre will also co-develop local training content in areas such as industrial artificial intelligence (AI), industrial automation and robotics, and mobility and urban solutions.
The decision to site the centre in JID was clear from the start – Mr Toh describes the concentration of technology companies, service providers, and academic institutions putting their heads together to create solutions that solve pressing advanced manufacturing challenges as "impressive".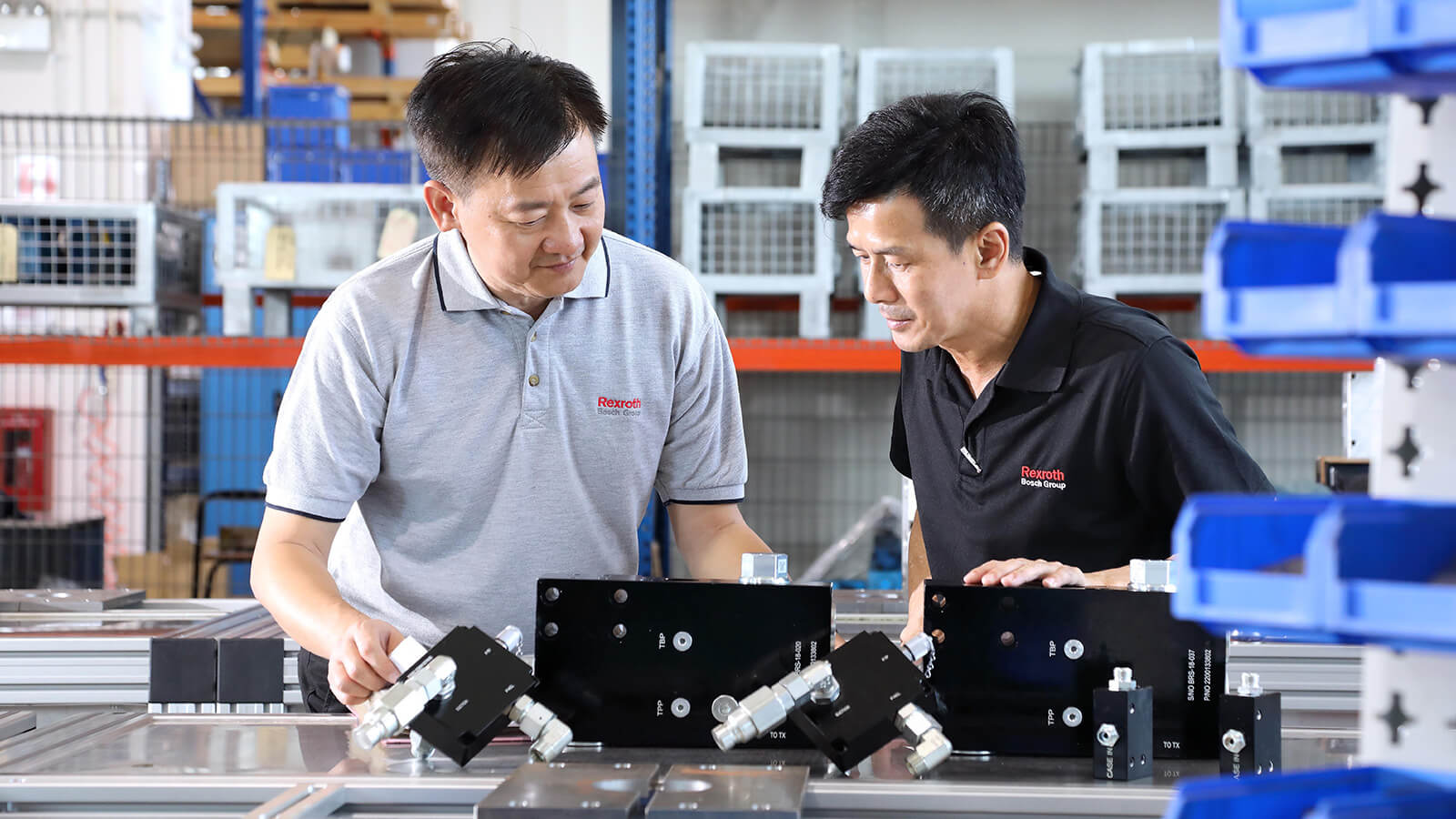 Bosch Rexroth's R&D facility at JTC Space @ Tuas
The centre's proximity to their partners and other industry players will put them in a better position to "gather momentum in innovation" to address the industry's needs, says Mr Toh. Additionally, Bosch Rexroth will work with JTC to grow the advanced manufacturing community by organising industry sharing, seminars and workshops.
Beyond the classroom, Bosch Rexroth plans to guide companies to apply the theory to real-life industry problems. Its specialists will offer technical advice and solutions for practical issues such as equipment maintenance.
"This centre will equip the workforce with the skills to stay relevant in this digital age," says Mr Toh.
Some of the costly bugbears in the trade include repairing faulty machines and undetected product defect, explains Mr Toh. Companies can shift to predictive maintenance by tapping on technology and process and rule-based monitoring, to develop a machine learning model that can predict when machines are likely to require maintenance. With AI-aided computer vision, laborious tasks of visual inspection can also be automated with high degrees of accuracy, to detect miniscule defects that would normally go unnoticed.
Bosch Rexroth's centre will feature an autonomous intralogistics transport solution and collaborative robots. The autonomous transport solution draws on the company's strength in the autonomous mobility field and enables plant-wide Fleet Management. The collaborative robots make human-machine collaboration safe without any guardrails, thanks to its highly responsive skin that can sense approaching human and momentarily stop the robot.
The centre will provide an avenue for firms to gain access to such capital-intensive technologies with minimum upfront cost, testbed their proof-of-concepts, facilitate their implementation and scale it up.
Already, 15 companies are onboard for the first phase, from industries ranging from offshore, food and packaging, electronics and medical.
Grooming Singapore's next generation of manufacturing talent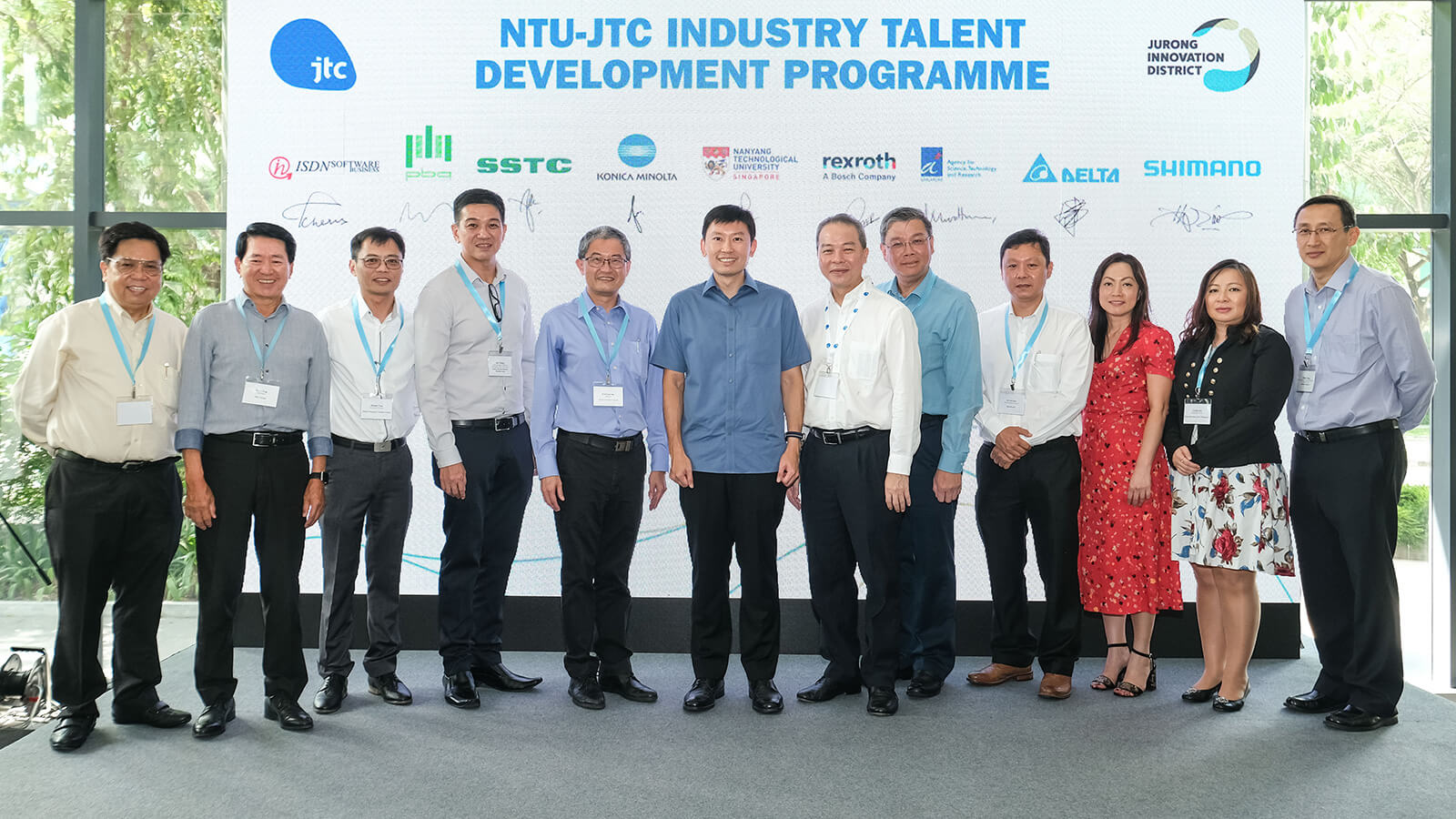 Senior Minister of State Mr Chee Hong Tat with the programme partners at the launch of the NTU-JTC ITDP
Another initiative that Bosch Rexroth will participate in is the Nanyang Technological University (NTU)-JTC Industry Talent Development Programme (ITDP), launched during the inaugural JTC Advanced Manufacturing Day on July 17.
The first batch of students will start their first 10-week internship from May 2020. The ITDP will give over 200 NTU students a chance to gain a first-hand look at the inner workings of some of the world's leading advanced manufacturing companies from the first two years of the programme.
For instance, they can take on internships and projects with technology providers such as Konica Minolta and Delta, engineering firms PBA Group and ISDN, research institute Advanced Remanufacturing and Technology Centre and manufacturers like Shimano.
NTU Provost and Vice-President (Academic), Professor Ling San notes that the NTU-JTC ITDP is geared towards the field of advanced manufacturing, and allows students "early access into a sector that is expected to be in demand in the future."
It builds on NTU's existing work-learn programmes, which vary in format from school to school but focus on giving students opportunities to "learn on the job and turn textbook knowledge into real-life applications".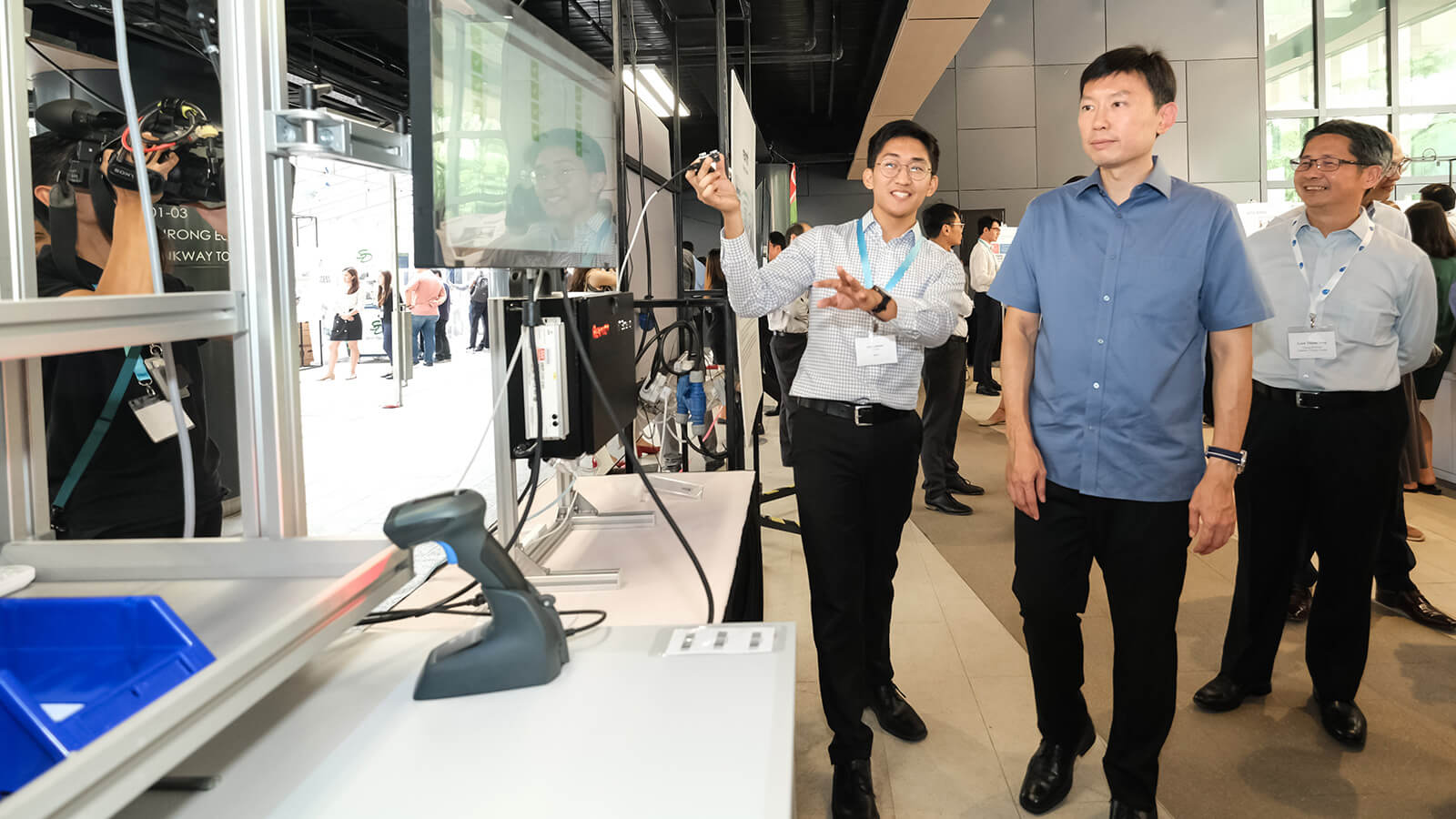 Singapore Polytechnic intern, Kyle Ledesma, showcasing the Bosch Rexroth smart workstation at Advanced Manufacturing Day
For instance, Brian Lim, a recent Mechanical Engineering graduate, got the chance to work on a SingTel Corporate Lab project on sound recognition through the NTU Equipping and Development via Guided Exposures (EDGE) programme. "This gave him the opportunity to explore his interest in other areas such as artificial intelligence and machine learning, beyond his core field in Mechanical Engineering," says Professor Ling.
Opening their doors to NTU interns is a "win-win" situation in Mr Toh's eyes, as his company has benefited from similar partnerships with polytechnics.
He shares the example of an outstanding Singapore Polytechnic intern who took the initiative to set up a new Bosch Rexroth smart workstation before it was launched locally. He reached out to their German counterparts and tirelessly pored over the instructions, eventually presenting the completed model at an exhibition.
"The students benefit from learning about the state-of-the-art technology that we have from Germany to gain practical know-how" said Mr Toh. "When they go back to the workplace even in other companies, they would hopefully think of Bosch Rexroth when they apply what they have learnt."